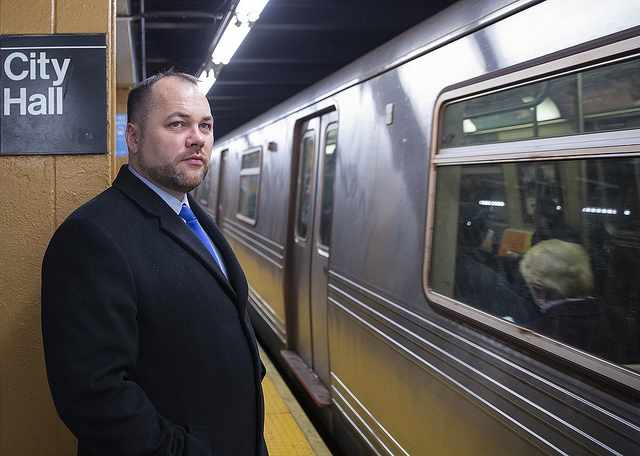 Speaker Johnson (photo: William Alatriste/City Council)
---
New York City Council Speaker Corey Johnson unveiled an ambitious proposal for municipal control of the city's mass transit system on Tuesday at his first State of the City speech at LaGuardia Community College in Queens.
"I am not here to be typical," Johnson, who is considering a run for mayor in 2021, promised early on as he delivered a speech focused on nothing but transit, including a forceful push for replacing the Metropolitan Transportation Authority, the state entity that controls the city's subways and buses, with a new entity called Big Apple Transit (BAT), under the control of the mayor. While the complex proposal would need approval from state lawmakers and likely faces a challenging path to passage, something Johnson acknowledged, he also outlined various plans and ideas for city transit and use of public space that are under the control of the city.
The speaker, who just began his second year leading the 51-member Council, also revealed that he intends to introduce legislation to require the city produce a "master plan for city streets" in order to improve surface transportation and street safety infrastructure, make the city more hospitable to bikers and pedestrians, and reduce the number of cars on city streets. He also made a number of suggestions to speed buses up that the city can execute, and Johnson also proposed a new deputy mayor position to oversee transportation policy and programs.
Johnson's speech was accompanied by the release of a 101-page report titled "Let's Go" that dives deep into the issues plaguing the city's mass transit system, the history of the current bureaucratic system that control it, and a soup-to-nuts vision for transforming it over the next few decades.
"This is a ticking time bomb," Johnson said, bemoaning the decline in subway and bus ridership in the last few years. "If we can't move people around, New York City can't function." In many ways, the city's mass transit system is the engine of its economy. In October 2017, City Comptroller Scott Stringer found that subway delays cost the city about $389 million every year in lost productivity and wages. Johnson emphasized that point on Tuesday as he criticized recent efforts to improve the MTA as "Band-Aid solutions to mortal wounds."
Johnson pitched his own bold vision in direct contrast to what he said was insufficient new plans from Governor Andrew Cuomo and Mayor Bill de Blasio, though he did not name them. The two recently released a ten-point plan to "transform and fund the MTA" that includes implementation of a congestion pricing scheme. Johnson said he was presenting his plan because no one was doing "anything real" to save the city's lifeblood transit network.
Johnson said his proposed new transit agency would be funded through several dedicated streams including local congestion tolls if the state Legislature and governor fail to pass a comprehensive congestion pricing program this year. He indicated he had the votes in the City Council to make it happen. He also called on the state to give the city the authority to raise taxes on corporations that are fully deductible at the federal level.
The BAT would also not suffer from the issues that currently plague the bloated bureaucracy of the MTA, he said. "Right now, it's a Frankenstein's monster of transit subsidiaries with a 3,000 person headquarters layered on top," he said of the state authority, run by a board with representatives of several officials, where the governor has a plurality of appointees and names the chair. The BAT, on the other hand, would be leaner, more efficient, and with clear lines of accountability with the mayor on top. "Under municipal control, we will do a full audit of every part of the MTA we take over," he said.
Municipal control would also allow the city to better control the costs of subway construction, which are exponentially higher than other developed nations with similar transit needs, Johnson said. "Adding a single mile of subway track in New York City costs the same as sending a rover to Mars," he quipped.
Though the city does not control the subways and buses, Johnson does plan to flex the Council's authority to mandate improvements to streets and sidewalks through the proposed "master plan," to be required every five years. Among its top-line mandates would be the creation of 50 miles of protected bike lanes every year with a "fully connected bike network covering the city by 2030"; installing transit signal priority at all of the city's 325 bus routes by 2030, up from the 12 where it is currently in place; making all intersections with pedestrian signals accessible by 2030; and expanding accessibility for disabled New Yorkers to all 472 subway stations, of which only 118 are currently accessible.
He said the Council will develop a zoning proposal to facilitate those subway accessibility improvements at 300 stations located adjacent to underdeveloped land and offer a "density bonus" to developers for other station improvements.
"Let's break the car culture. We have been living in Robert Moses' New York for almost a century, and it is time to move on," Johnson declared, taking aim at the infamous public official who was responsible for building a transit infrastructure network that favored wealthier car-owning residents and sidelined lower-income New Yorkers who relied on mass transit. Johnson also suggested that the city's plan to rebuild a mile-and-a-half section of the Brooklyn-Queens Expressway (BQE), a Moses legacy item, at a cost of $4 billion was misguided. "That's almost two Mars rovers," he joked, going on to say that there has to be a better way that isn't so car-focused.
Johnson's speech repeatedly appeared as a rebuke to Cuomo and de Blasio, who have feuded over subway funding for years but recently came together to support a congestion pricing program with few details. Cuomo has repeatedly tried to distance himself from the subway crisis, claiming that he does not control the MTA even though he appoints a plurality of its board members and its senior leadership and the board has never gone against Cuomo's wishes. Cuomo is also fond of invoking Robert Moses when talking of his own infrastructure record. The mayor, in turn, has tried to wash his hands of the MTA's troubles by blaming the governor, though de Blasio appoints four MTA board members and the city has more control over the buses than the subways, by virtue of its powers over the streets. De Blasio has taken little interest in reducing congestion and speeding buses, though he announced during his own recent State of the City speech several plans to address the bus crisis facing the city. Johnson's go further.
And though de Blasio's Vision Zero plan to eliminate traffic fatalities through street redesigns and other projects has been successful, the mayor continues to face criticism for not going far enough and for being an avid proponent of car culture. Case in point, he rarely rides the subways unless it is to promote a transit-related announcement and he drives 12 miles to the gym.
Both de Blasio and Cuomo's offices were quick to throw cold water on Johnson's announcement. "A City takeover of the subways is a worthy discussion that in a best-case scenario would take years to achieve," de Blasio spokesperson Eric Phillips said in a statement. "While he appreciates the Speaker's transit vision and contribution, the Mayor is focused on immediate actions to fix the broken subway system. Our subways are in the middle of a crisis that needs an immediate solution. The Mayor stands with millions of riders depending on action right now. We have four weeks to deliver sustainable revenue sources capable of turning this crisis around."
Dani Lever, a spokesperson for the governor, tweeted, "A few facts -- NYC owns the NYC transit system and can cancel the MTA lease with one year's notice; the City's civil service staffs the system; and the Mayor has total veto over the State and City funded NYCT capital plan."
Johnson made clear in his speech on Tuesday that his focus on mass transit was more than just about reducing train delays or traffic deaths. "This is a progressive issue. It always has been," he said, as he spoke of the low-income New Yorkers who are most affected by failing transit and the heavy cost on the environment of the city's car culture. "We need to change the way we think about big problems," he said.
Note - This article has been updated with statements from spokespeople for Mayor de Blasio and Governor Cuomo.