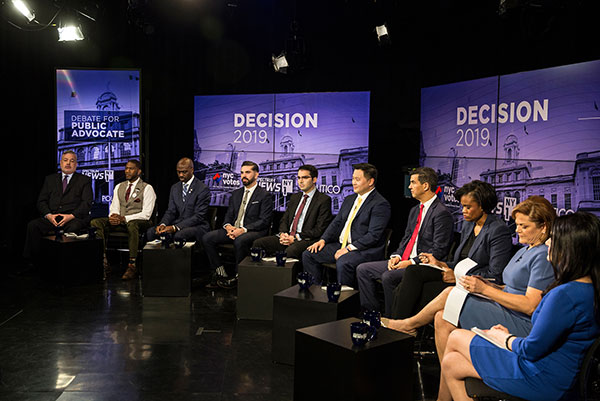 The first public advocate debate (photo: Holly Pickett for The New York Times (pool))
---
Small-dollar donors were behind 63 percent of the first wave of campaign contributions to candidates who ran in the February special election for public advocate, up from 26.3 percent in 2013 when there was an open race for the seat, according to an analysis by New York City Council Member Ben Kallos. The Manhattan Council member sponsored the law to implement in the public advocate special election the new campaign finance rules overwhelmingly approved by voters in a ballot referendum last year.
The public advocate special election, in which City Council Member Jumaane Williams emerged victorious, was the first citywide race under the new rules that lowered contribution limits for special elections for citywide offices from $2,550 to $1,000 (special election limits are half of the regular election limits, which changed from $5,100 to $2,000), increased the ratio of public matching funds given to candidates from 6-to-1 for the first $175 of a qualifying contribution to 8-to-1 for the first $250, and increased the limit for public funds payments from 55 percent of the spending limit for a race to 75 percent. Soon after the referendum was approved -- by just over 80 percent of voters -- the City Council and Mayor Bill de Blasio expedited legislation in order to apply the rules to elections before 2021, after which they were set to be mandatory. For the special election and those through 2021, the next citywide election year, candidates must choose the old or new system.
Of the 17 candidates on the public advocate ballot, all but one opted into the voluntary public matching funds program, which is administered by the New York City Campaign Finance Board. Only four decided to stick with the outgoing matching program while the rest chose lower contribution limits that came with higher public matching funds. In total, the 11 candidates who eventually qualified for public funds received $7,178,120 via the CFB.
According CFB's own analysis released the day after the election, the most common contribution amount was $10, down from $100 in previous public advocate elections. "The matching funds give candidates the incentives to raise money the right way, by going to the New York City voters they want to represent in government, not to big-money donors or special interests," said Amy Loprest, CFB executive director, in a statement on February 27. "If we want a government that is closer and more responsive to the people, it has to start with how candidates fund their campaigns."
Kallos, the City Council's resident good government wonk, has pushed improvements to the city's campaign finance law for years and felt vindicated by seeing the campaign finance numbers behind the election. The ballot question, proposed by a charter revision commission created by Mayor Bill de Blasio, was largely similar to a bill Kallos had sponsored in the previous legislative session of the Council.
"One of the reasons I was so eager for this to apply in the public advocate's race is I was worried about the time between the vote in November [2018] and 2021 and I wanted to prove to people that this could work," he said. There will be another public advocate election this fall to decide who will hold the seat vacated by Attorney General letitia James for the final two years of her public advocate term. Kallos' bill also lowered the thresholds for candidates to qualify for official debates sponsored by the CFB and for public funds payments.
His analysis, which covers the candidates' pre-election campaign finance disclosures till February 11 (the most recent filing deadline - final numbers are due March 25), found that contributions of $1,000 and more accounted for 26 percent of the $2.2 million raised to that point in the election, compared with 60 percent throughout 2013. In total, all the candidates raised $2.6 million for the special election, which was "nonpartisan" and did not have party primaries. In 2013, candidates raised $4.9 million running for public advocate in the primary and general.
Kallos has long been critical of big money in elections, particularly donations from the real estate industry which have been a large force at the city and state level. "This is the first time a citywide elected official has been elected without real estate money," said Kallos, who himself rejects real estate donations.
Several candidates in the special election similarly refused real estate cash, which is of a piece with broader calls for candidates to rely on small donors. Public Advocate-elect Williams was among those who signed a pledge floated by New York Communities for Change, a housing justice advocacy organization, to refuse corporate and real estate money.
"New York City has changed forever: we will no longer be held hostage by big-money real estate developers and landlords who aim to profit through policies that incentivize the displacement and gouging of low-income tenants," said Jonathan Westin, NYCC executive director, in a statement calling on other candidates to follow Williams' lead.
Several candidates running for citywide office in 2021, or exploring a candidacy, have already said that they will rely on the new campaign finance system, including Comptroller Scott Stringer and City Council Speaker Corey Johnson.
Real estate donations are increasingly becoming a litmus test for progressive Democrats, some of whom were elected to the state Legislature last year and are also pushing to implement a public financing program for state elections similar to the city's model. For advocates and labor leaders, the public advocate election was proof positive that small-dollar financing is effective and should be replicated by the state. "Jumaane Williams's victory, and the public participation in the process, is a glimpse of what we could accomplish if we pass campaign finance reform at the state level," said Stanley Fritz, campaigns manager for Citizen Action. Hector Figueroa, president of 32BJ SEIU, said, "The major shift towards small donor financing in city wide elections shows that working people in our state want a more democratic system.
Kallos notes that candidates can spend fewer hours dialling for dollars from wealthy donors if they rely on small contributions from the tens of thousands of residents of their districts, or from millions in the case of citywide races. "My hypothesis was that if we increase the public match...that that would halve big money and it actually did that," he said. "It wasn't a modest success. It literally cut it almost in half."
The expanded matching funds program has been widely praised for elevating the voices of everyday New Yorkers. "Normally, a special election for public advocate would probably be very much of an insider's race. It would be funded by insiders and people who follow politics closely," said Alex Camarda, senior policy advisor at Reinvent Albany, a good government advocacy group. "And I think that what putting this legislation into effect now did was incentivized candidates to reach out to ordinary New Yorkers to campaign." Camarda also expects this momentum to carry forward and that candidates will feel "real pressure" to participate.
Many of the candidates who ran for public advocate were also first-time contenders, including Nomiki Konst and Dawn Smalls, who were among the ten candidates on stage at the first official debate in the race, and among the seven candidates at the second official debate.
There have been arguments levelled against the public funds system, of course, and it's hard to predict exactly how it will work for a full-fledged citywide race rather than a truncated special election. Some candidates have said the regulators of the program are sometimes overly harsh and fine them for small, technical violations. Others criticize the cost to taxpayers -- the entire special election is estimated to cost the city around $20 million in administrative and public campaign financing while the annual budget of the public advocate was only about $3.6 million last year. Former City Council Speaker Melissa Mark-Viverito, who stuck with the old campaign finance rules and came in third in the special election, argued that the new system was being pushed through to prevent her from winning, apparently in part because she was transferring a significant sum of funds from her prior campaign account, an advantage more easily mitigated with the new system.
But there is otherwise broad agreement that the city's program is a model to be emulated, as other jurisdictions have done across the country, and it is progressively being improved. "I'm still not done yet," Kallos said.
Note - This article has been updated to clarify that total candidate fundraising was $2.6 million for the special election. It has also been updated to clarify the contribution limits for special elections.