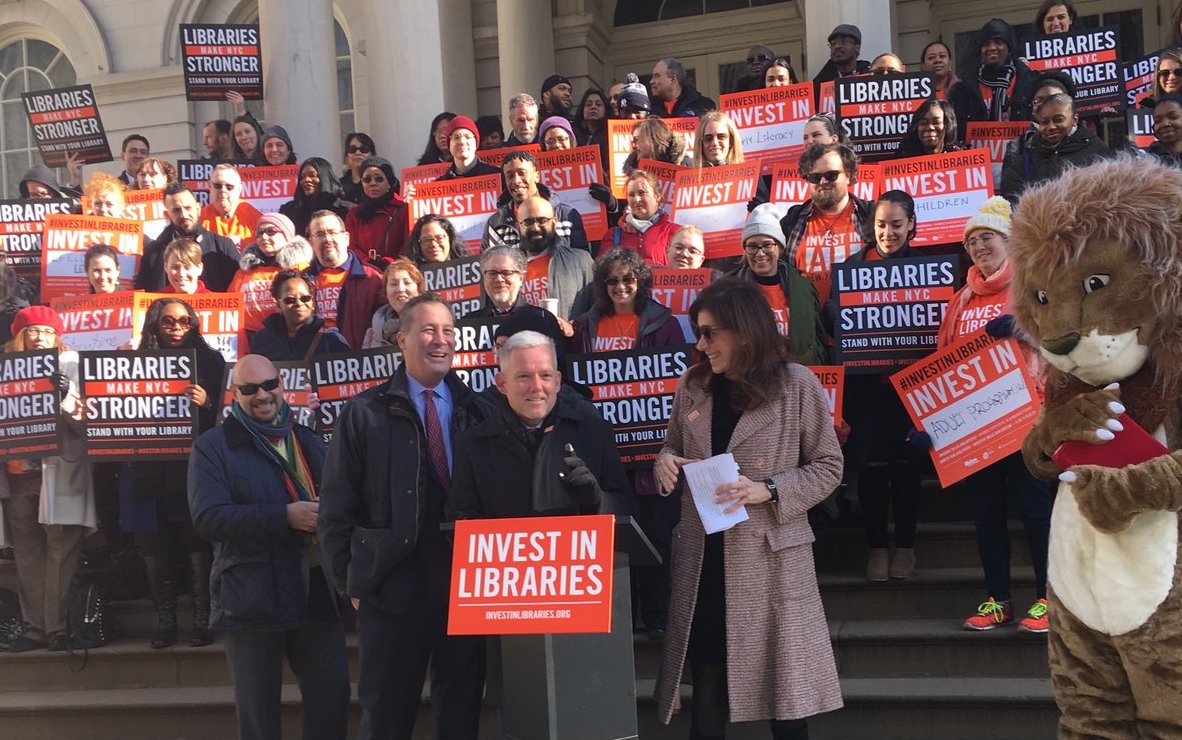 Library rally before the Council hearing (photo: @NYCLibraries)
---
The presidents of the city's three public library systems on Monday requested from the City Council an additional $35 million in operating support and $15 million in capital funding, allowing the libraries to maintain and expand collections, hire more workers, fund more programming, make necessary building repairs and expansions, and respond to emergencies.
Mayor Bill de Blasio's preliminary budget proposes a $388.8 million subsidy for the public library systems, which are separated into the New York Public Library (serving the Bronx, Manhattan, and Staten Island), the Brooklyn Public Library, and the Queens Library, as well as four Research Centers. City Council documents note that the combined system contains 216 branches across the five boroughs, and has over 65 million items, including books, DVDs, and periodicals, in circulation.
Under the budget proposal, the NYPL would receive $142.9 million, the BPL would receive $106.7 million, the QBPL would receive $110.2 million, and the research libraries would receive $29 million. This would be a decrease for the NYPL and an increase for the other systems from this year's adopted budget. The city's fiscal year begins July 1; in February, de Blasio released his preliminary spending plan, coming in at $92.2 billion, that is now the focus of City Council hearings and will be the subject of negotiations before a new budget is agreed upon in June.
The de Blasio administration has significantly increased funding for libraries. De Blasio's first budget as mayor, the Fiscal Year 2015 budget, included $311.4 million for the systems, which itself was a large increase after several years of post-recession austerity in library funding under Mayor Michael Bloomberg.
The presidents of the three library systems testified in front of the Council's Cultural Affairs Committee, chaired by Queens Council Member Jimmy Van Bramer, and to a packed audience of library workers wearing orange "Invest in Libraries" shirts. The presidents are Tony Marx of NYPL, Linda Johnson of BPL, and Dennis Walcott of QBPL.
Van Bramer, who before the hearing addressed a rally of library workers outside City Hall, was broadly sympathetic to the argument for more funding.
"Just about anything good that happens in this city couldn't happen without libraries and without library workers, and we've gotten to a good place on public libraries in this city, but we can do even better," Van Bramer said at the beginning of the hearing. "And I want to frame the discussion there and make sure that we're all working towards that goal."
The city's public libraries provide far more services than just book lending and study space. The public libraries provide literacy programs, instruction in coding, and outreach to incarcerated individuals. They are, for many people, the only access point to the internet. The libraries are currently gearing up to play a critical role in ensuring an accurate count in the upcoming U.S. Census. And, according to Marx, 20 percent of IDNYCs are obtained at library branches.
"We cannot do all of this if we don't get increased funding simply because our costs have been increased," Marx said at the hearing. "We want to do everything in partnership with you, and we're proud of what we have done. But it is simply unsustainable without additional support."
Collective bargaining increases led to small proposed increases in the budgets for the BPL and QBPL, but the presidents signalled that this was not enough to cover rising labor and health care costs that would be met by the additional $35 million investment.
The additional funding would, according to the presidents, allow the libraries to maintain current funding for their host of programs, instead of directing money towards fulfilling labor obligations.
"[Allocating $35 million] will ensure our growing programs remain strong and have new and expanded spaces, are staffed with library workers, program rich, and filled with materials our patrons deserve," said Johnson. She went on to note that the administration had instead asked the libraries to identify $8 million in savings as part of the mayor's "Program to Eliminate the Gap."
While funding for libraries has substantially increased, there are some obvious areas where new funding could greatly improve the situation. One hundred percent of the city's libraries are now open six days per week, but the percentage open seven days per week is in the single digits. While everyone in the room expressed support for having 100 percent of locations open seven days per week, the presidents dismissed this possibility as impossible in the short term, and that additional funding would be needed just to maintain six day weeks.
On the capital front, de Blasio's preliminary ten-year capital plan unveiled in February allocates $778.3 million to the city's libraries, which will go towards renovations, expansions, or relocations for certain existing branches. Those present noted that branches often have to close in the summer due to broken air conditioning and in the winter due to broken boilers.
The presidents asked for the additional $15 million capital allocation this year, $5 million for each system, in order to fund critical maintenance at branches, such as air conditioning or boiler failures.
The spectators, library workers and allies, expressed satisfaction with the work of the library presidents and with Van Bramer via silent, jazz hands applause. Nonetheless, as their shirts indicated, they also were calling for greater investment in the systems.
"The libraries have to advocate for funding because they have to make their points known why they need the funding in the first place," said Kleon Battersby, a technology resource specialist at BPL. "New York is ever increasing as far as population, and they have to know that the funding is being used for the right reasons. So as long as they keep advocating for the libraries, I personally think the hearing went very well, and I hope that they give them the funding that they need."