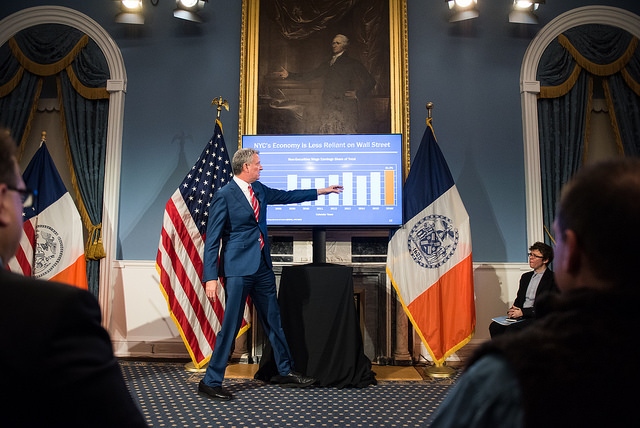 (photo: Edwin J. Torres/ Mayoral Photo Office)
---
The 2019 Charter Revision Commission, which is looking at ways to improve the city's central governing document, heard suggestions on Monday from community-based organizations, fiscal watchdogs, and former and current city officials about potential changes to the city's byzantine budgeting process.
Over the course of more than three hours, experts weighed in on the city's flawed contract procurement system, the severe lack of transparency in spending on capital projects, the possibility of creating a rainy day fund for the city, and measures to generally improve accountability in city spending. There was general agreement that city procurement needs to be overhauled to make it more efficient and transparent, but broader opposition to changes in the budgeting process and the administration's ability to set revenues and expenditures.
The city's budget and budgeting processes are one of four areas of focus for the commission, which will sift through the hours of testimony it has heard, and has yet to hear, before releasing a draft of ballot proposals sometime next month. The proposals will go through another round of public input before the final questions are approved in June. The proposals will then be presented to voters on the November election ballot. The commission has already held hearings on elections reform, exploring issues such as ranked-choice voting, redistricting and campaign finance improvements, and another on police accountability measures. The next hearing is scheduled on Thursday, where the commission will look at issues involving finance and governance including the city's pension system, a Chief Diversity Officer proposal, and issues around corruption and conflicts of interest.
City Contracting
At Monday's hearing, there was broad consensus from those within and outside government about how the city's contracting process works, or rather, doesn't. Advocates representing human-service nonprofits, which receive most of their funding from the city, bemoaned the now well-known sorry state of the system, with contracts delayed for months, threatening their financial security and their ability to provide uninterrupted services. Unlike private contractors, they cannot cancel the services they provide, advocates said, since they fill the gaps where the city is not meeting the needs of vulnerable New Yorkers. "We've entered an era for nonprofits that's very dangerous," said Janelle Faris, executive director of Brooklyn Community Services.
Michelle Jackson, deputy executive director of the Human Services Council, which represents more than 100 nonprofits, noted that the city spends $6.5 billion on human services each year, which also allows nonprofits to leverage state and federal funding and philanthropic dollars. "We're an economic engine," she said. "The sector nationally is larger than the airline industry yet we do not treat nonprofits the same way we treat airline executives."
Jackson recommended several measures to improve procurement including established contracting timeframes, interest or other penalties on late payments by the city, and more detailed annual reporting in the Mayor's Management Report, which tracks performance indicators for city services. Marla Simpson, a former director of the Mayor's Office of Contract Services (MOCS), however, said financial penalties may not be effective and the best solution may be to name-and-shame agencies for their failures. "Transparency and sunlight is a much more important cure," she said.
Officials from the comptroller's office and the Mayor's Office of Contract Services concurred that city contracting is inefficient though they outlined steps they have already taken to improve it and promised that improvements are slowly coming to fruition. "I agree that New York City's procurement must be overhauled," said Daniel Symon, acting director of MOCS, in his opening statement. "Reliance on paper, a patchwork of siloed agency systems and a sometimes necessarily risk-averse culture combine to limit achievable results."
Lisa Flores, deputy comptroller for contracts, said the procurement system is "notoriously slow, bureaucratic and opaque," and leads to delays that increase project costs for city vendors, which end up being passed on to taxpayers. She noted, for instance, that in fiscal year 2018, 80 percent of all new and renewal contracts submitted to the comptroller's office for registration came in after the start date (40 percent of those contracts were late by six months or more) and for human services contracts, the number increased to 89 percent. She called for more transparency and accountability, particularly by setting specific timelines for agencies to submit contracts. Currently, the city charter only requires the comptroller's office to register contracts within a timeframe.
The commissioners recognized that procurement reform is an age-old issue. "I was on the City Council 20 years ago and we were having the same discussions," said Commissioner Stephen Fiala, though he expressed doubts about imposing penalties on agencies for late submission of contracts. Other commissioners pressed the expert panel on oversight at agencies and the institutional issues with procurement.
Flores suggested more outward transparency for the process and establishing metrics to track whether agencies are working in a timely manner. Symon, though, was wary of creating timelines for agencies that could potentially allow them to delay their work or lead to clashes with vendors. "What I don't want to do is start with an arbitrary time-frame when we don't know how fast it can be," he said. Both agreed that the contracting process needs to be more structured and predictable, with vendors being able to track the progress of their contracts in real time. A time-frame, Flores said, would be an important first step. Advocates agreed.
City Budgeting
There was similarly consensus on the subsequent panels where experts testified on the city's expense, revenue, and capital budget procedures. But rather than agreeing on ways to improve the budget, they mostly were on the same page in warning the commissioners to be careful about interfering in what is already a strong fiscal management system.
"Changing our fiscal discipline practices will cause unintended and perhaps adverse consequences," said Chuck Brisky, deputy director for expense and capital coordination for the Mayor's Office of Management and Budget. He opposed any shift in responsibility for the city's revenue forecast, which is set by the mayor. Brisky said the mayor is accountable to New Yorkers for providing services and so must be responsible for setting the revenue projections that funds those services.
"If the budget isn't balanced by even one-tenth of one percent at our current revenue and spending level, the city could lose control of its finances to the Financial Control Board under the Emergency Financial Act," he said. The state, he noted, doesn't have the same stringent budget and accounting standards as the city. Brisky also opposed any changes to the mayor's power to impound revenues, which allows for short-term fixes during times of crisis such as natural disasters, financial recessions or terror attacks.
Preston Niblack, deputy comptroller for budget, echoed that sentiment, as did Mark Page, a former director of OMB, and Anthony Shorris, previously the first deputy mayor under Mayor Bill de Blasio. Both Page and Shorris repeatedly cautioned the commission to tread lightly around imposing new mandates on the administration's budgeting powers.
Niblack did raise several measures that could make the budget more transparent. It's "very hard to understand exactly what you're getting for your money," he said, noting that the budget process is not linked to the delivery of services. The MMR, he said, is ineffective and does not report measures attached to spending.
When Commissioner James Caras posed a question about the mayor's ability to impound revenue, Niblack did agree that there could be limits on it to prevent misuse for political reasons. "Right now it's open ended and should probably be restricted," he said.
The city's capital spending process has been particularly fraught, leading to hundreds of millions in cost overruns and delayed projects. At the hearing, Jon Kaufman, chief operating officer at the Department of City Planning, outlined several reforms DCP has implemented and said that his department works with agencies to appropriately plan their future capital needs. But, he said, "I don't think additional charter mandates are going to lead to materially increased collaboration."
Independent fiscal watchdogs also bolstered the administration's argument. Carol Kellermann, former president of the Citizens Budget Commission (CBC), gave the commission two pieces of advice: "First, do no harm...Second, don't use the charter to do things that can be done by local law."
This question, what can and should be done by local law as opposed to amending the city charter, has been a theme raised throughout charter revision processes, including the one formed last year by Mayor Bill de Blasio, which saw three charter amendments passed by voters, all of which, some argued, could have simply been passed as local law.
Kellermann and her successor at CBC, Andrew Rein, did recommend that the charter consider a proposal to create a rainy day fund for the city. Though Kellerman noted that it would require authorization from the state as well, she said the charter commission could create the criteria for it and present it to voters for their approval, strengthening the city's case in front of the state. She also pushed for greater transparency in the capital budget, including by expanding the annual statement of needs that agencies provide to all city-controlled public authority assets.
On a proposal to create independent budgeting for certain offices -- such as the public advocate, comptroller, and the Civilian Complaint Review Board -- Kellerman warned that it would be "dangerous" and could disrupt the city's budget process by giving other elected officials besides the mayor creeping authority over the budget.
"The City Charter calls for a lot more clarity on programmatic spending and performance in the city's operating budget than we actually see in practice," said George Sweeting, deputy director of the Independent Budget Office, a nonpartisan city agency. He noted that the budget includes units of appropriation that are overly broad and that obscure spending, and that the charter should be strengthened to require units to be linked to individual programs. Kellermann also said as much, though she laid some blame at the City Council's feet. "The Council really needs to insist more on doing this...but the definition in the charter is already clear that they need to be more specific than they are," she said.
Sweeting recommended that the charter commission start looking at ways to improve the Retiree Health Benefits Trust, which the city uses as a form of reserves, as a means of testing the appropriate way to create a dedicated rainy day fund. That could include specific "rules for when deposits have to be made and when withdrawals could be made."