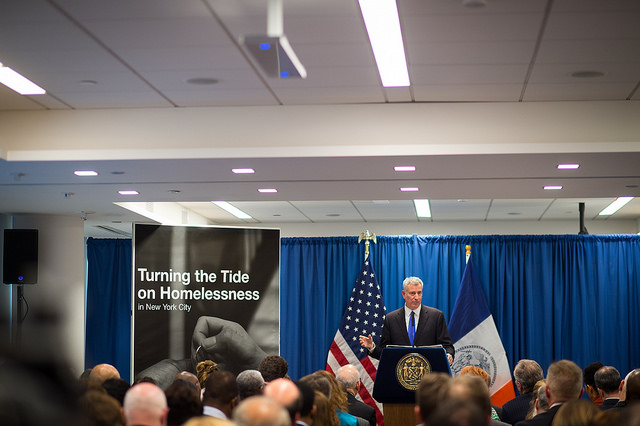 (photo: Edwin J. Torres/Mayoral Photo Office)
---
As examination of Mayor Bill de Blasio's preliminary budget for next city fiscal year continues, the Citizens' Committee for Children, a small data- and advocacy-focused non-profit, is releasing a new infographic capturing key aspects of the city's homelessness crisis, particularly the high proportions of families with children and black and Latino families that make up the city's homeless population.
It also points to the high number of students experiencing homelessness and raises the issue of the impact of homelessness on learning and schools, as well as the relationship between rising rents and the housing crunch that has left tens of thousands of people in shelter.
The data, drawn together from public and private sources from across the city, shows a variety of stark facts about the city's homelessness crisis. For example, that "homelessness is a citywide issue, but it has a disproportionate impact on young children and families of color in poverty."
Over 13,000 families with children lived in shelters, or are sheltered by the city in hotels or cluster sites without access to social services that the city provides to those in most shelters, like childcare and after-school care. In city fiscal year 2018, the average number of families with children in city shelters per day was 12,619 -- a 28 percent increase form the average 9,480 in fiscal year 2013.
And overall, more students than ever before are in temporary housing, with over 114,000 students in elementary through high school living doubled up with relatives or friends, in a homeless shelter, in a hotel where in some cases there is no kitchen and the neighborhoods can be challenging to afford food.
"This is particularly traumatic for children," said Jennifer March in a phone interview, executive director of the Citizens' Committee of Children of New York, in an interview with Gotham Gazette. "And I think the point of the infographic is to draw attention to the fact that the vast majority of people who are homeless in the city are families with children." CCC is pushing for greater attention from city and state government leaders to the family homelessness crisis and for specific policy and funding changes.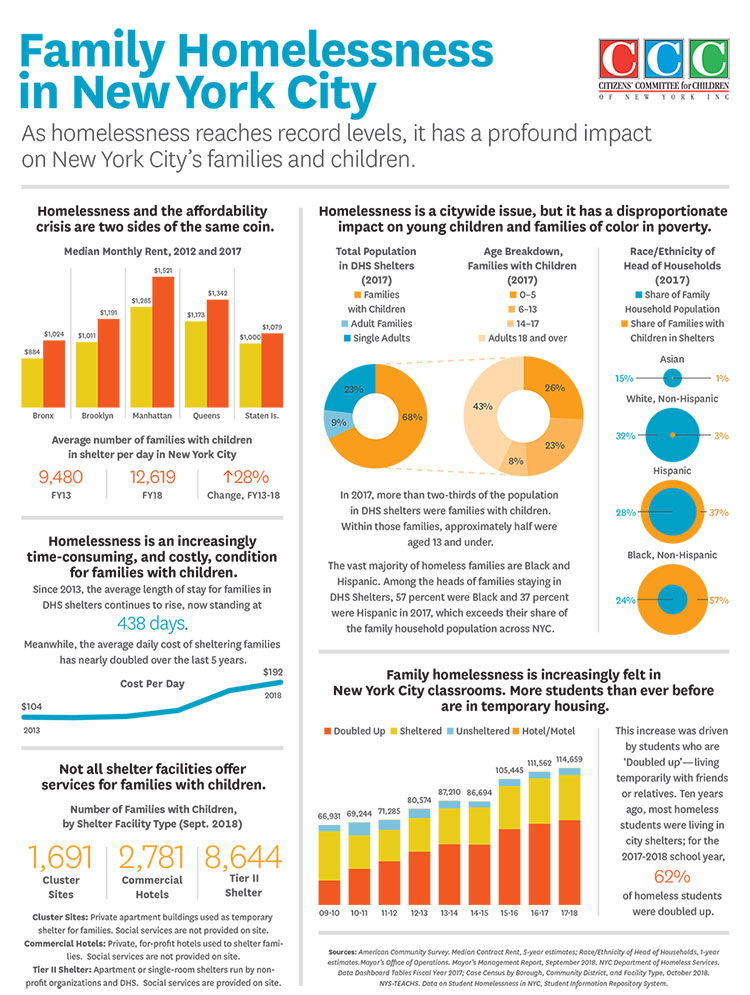 The data shows the burden disproportionately placed on black and Latino families, which is not a new finding, but increasingly shows the disparity between housing and homelessness along racialized lines. "Among the heads of families staying in [Department of Homeless Services] shelters," the infographic states, "57 percent were Black and 37 percent Hispanic in 2017, which exceeds their share of family household population across" the city. Roughly 24 percent of households in New York City have black heads of household, while 28 percent are home to Latino heads of household.
The numbers are pulled from Census data, public city data from the Department of Homeless Services, and other sources, according to Jack Mullen, CCC's research associate, who led the data collection and analyses.
The data also offers a comparison of city rents from 2012 to 2017 — with a median monthly rent increase of $236 in Manhattan, $169 in Queens, $180 in Brooklyn, $140 in the Bronx, and $79 on Staten Island.
Mayor de Blasio has put in place a variety of plans and programs to address the city's affordable housing and homelessness crises, including his 12-year, 300,000-unit affordable housing plan and a number of often successful efforts to reduce evictions, as well as rent-voucher programs. And while the overall number of people in city homeless shelters has leveled off over the past year or so, the census is still at about a record high, with the mayor only aiming to reduce the homeless population to about 57,500 by 2022, at which point he'll be out of office.
Many non-profit and grassroots organizations, as well as elected officials, are asking for the mayor to double the amount of units in his housing plan that are reserved for individuals leaving homeless shelters — currently 5 percent of the 300,000 units are set aside for them. He has vehemently and repeatedly resisted that push, saying that his housing plan is balanced the way he believes is best for the city.
And, given the need, that's not the only ask.
"This is a crisis that's not going away, and we are smack in the middle of the budget process for next year and this is the time when we might be able to get more funding for Bridge the Gap workers, for neighborhood subsidies that help center formerly or on-the-edge homeless folks to remain stably in their homes," said March.
CCC is advocating for continued financing for that Bridging the Gap program, which puts social workers inside city schools in an effort to manage social services for homeless students. This call for an increase to Bridging the Gap comes at a time when the mayor has called for agencies to tighten their belts and removed funding for those counselors from his preliminary budget, a repeated move from past years that he says is only part of the budget process wherein his administration is reassessing where to spend the money to best help homeless kids and their families.
"CCC is right that homelessness and the affordability crisis are two sides of the same coin," said Giselle Routhier, policy director of the Coalition for the Homeless, in a statement to Gotham Gazette. "Record homelessness and its negative impacts on children continue to persist due to inaction by Mayor de Blasio on building deeply subsidized affordable housing for New Yorkers most in need. We have consistently called on him to build 24,000 new apartments through his Housing New York 2.0 plan, as part of a larger goal to secure 30,000 units of housing for homeless New Yorkers. This is a proven solution needed to reduce all-time record homelessness and the suffering of 23,000 children sleeping in shelters each night."
Advocates and service-providers like CCC and Coalition for the Homeless, among others, are also looking at city and state legislation that's on the table. CCC's data appears to lend support to the Home Stability Support bill in the state Legislature -- lead sponsors are Assembly Member Andrew Hevesi of Queens and Senator Liz Krueger of Manhattan (S2375/A1620) -- which would add statewide subsidy for rental housing for New Yorkers on the border of homelessness, and a New York City Council bill sponsored by Council Members Rafael Salamanca and Stephen Levin that would mandate set-asides for homeless New Yorkers at 15% for every housing development in the city that receives any city subsidy.
A new state budget is due by April 1, a new city budget by July 1. CCC plans to release its new infographic and use the data therein to push for more attention to the city's homelessness crisis, especially as it relates to children and families.