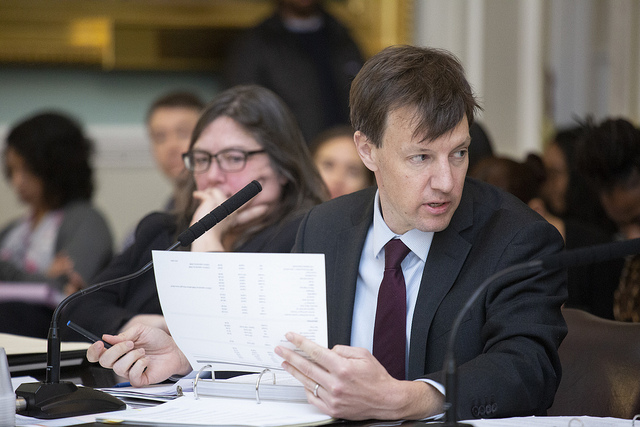 EDC President James Patchett (photo: John McCarten/City Council)
---
In 2017, Mayor Bill de Blasio unveiled a plan to create 100,000 "good-paying" jobs, with annual salaries of $50,000 or more, within 10 years, giving New Yorkers a pathway to the middle class. On Monday, City Council members held an oversight hearing on that plan, attempting to more fully gauge how the de Blasio administration is doing on its promise.
Bronx Council Member Ritchie Torres, chair of the Council's Committee on Oversight and Investigation, co-led a tense Council hearing where the head of New York City's Economic Development Corporation (EDC), James Patchett, was grilled about how many jobs had been created as part of de Blasio's jobs plan and who has been getting them.
"Anyone who heard the mayor's [2017] State of the City would believe there are actual jobs," said Torres, "but anyone who believes that is operating under a false assumption."
Patchett responded to Torres's rapid-fire questioning about unclear jobs numbers with a consistent message: answering a simple question like "how many jobs have been created" is not so easy.
De Blasio declared good-paying jobs to be those that pay $50,000 or more, and said those in his plan would be in economic sectors that will be around for years to come. When de Blasio, Patchett, and then-Deputy Mayor Alicia Glen laid out the plan a few months after de Blasio announced the goal during his 2017 State of the City speech, they said that they would only count jobs spurred by some kind of city action.
On Monday, Patchett said jobs are only counted towards the mayor's 100,000 goal if they are created as a direct result of the five-point strategy laid out in the jobs plan, known as "New York Works."
The plan focuses on investing in city-owned property, providing tax incentives to small and large businesses, making infrastructure investments, using zoning tools, and directly investing in companies that can bring 21st century jobs to New York City.
About $1.3 billion in capital funding has been allocated to New York Works, with about $300 million already spent, Patchett said, on projects like the Steiner Studios at the Brooklyn Navy Yard and the FutureWorks advanced manufacturing shop at Brooklyn Army Terminal.
But even with specific strategies and budget numbers, there still remains a fair amount of estimation in gauging the impact of the plan.
At one particularly tense point in Monday's hearing, Patchett was asked about the 2018 New York Works progress report, where EDC reported the city had "laid the foundation for 19,000 good paying jobs."
"Of the 19,000, how many are actually working today?" asked Torres.
"3,000," replied Patchett.
"We make projections based on the best available data," said Patchett, explaining that in some scenarios, when EDC completes a project under the New York Works plan, actual jobs are still yet to come.
The economic development agency tries its best to project how many jobs will be created based on the expertise of their in-house economists, detailed economic data, and, in some cases, specific contracts that have been signed.
A recent example can be found in the Staten Island Teleport Campus.
In 2018, EDC reported in the New York Works progress report that it had "closed a deal" to create office space on the Staten Island campus meant for medical tenants, a charter school, adult education programs, and a variety of social ventures. Though no businesses had formally moved in, the agency estimated 750 jobs would be created and counted that towards de Blasio's goal.
In the same report, EDC also noted the city "opened 500,000 square feet of space" at the Brooklyn Army Terminal, creating 1,000 good-paying jobs towards the mayor's 100,000 jobs goal. It is unclear whether these jobs have actually been created or are still a projection, according documents published by the Council.
Patchett also confirmed that if out-of-state residents were to get a good-paying job created under de Blasio's jobs plan, it would count towards the mayor's goal.
When de Blasio announced the New York Works jobs plan in June 2017, he said the good-paying jobs would be meant primarily for New Yorkers who wouldn't necessarily otherwise have access to such opportunities.
"These are jobs that we intend to be open to New Yorkers of every background," he said at the time, "we can't address the affordability crisis if we don't turn the city into a place where more and more good people get a good paying job."
But for City Council members that represent the city's lowest-income residents, there are persistent concerns whether these good-paying jobs end up accessible to people in their districts.
Brooklyn Democrat Inez Barron, who represents the 42nd Council District where more than 30% of residents are under the poverty line according to census data, wanted to know why most of the $1.3 billion allocated to New York Works is for building and development projects rather than programs that could help train residents to actually qualify for the good-paying jobs de Blasio's plan sets out to create.
Patchett mentioned that workforce development strategy is outside the purview of EDC, but he reassured the Council member that the agency works closely with higher education institutions such as LaGuardia Community College and other CUNY schools, along with the New York City Department of Education to inform them of what they think the skills of the future are that educational institutions should be aware of when creating training programs.
Monday's hearing was also co-led by Queens Council Member Paul Vallone, chair of the Council's Committee on Economic Development. Vallone left the hearing unimpressed.
"We just had a hearing on the progress of a jobs plan that revealed that there is no conclusive data on the jobs created by that plan," Vallone said in a statement. "How can we rely on projections and job pathways when there is no tracking to ensure that they actually materialize into real jobs for New Yorkers?"
Near the end of the hearing, tensions between Torres and Patchett simmered down a bit, with Patchett offering a solution to Torres' contention around confusing jobs numbers.
"I will try to provide not just projections," Patchett said, "but an estimate as to actual jobs created based on the best data available."
Torres responded with the crux of his complaint: "If my constituents ask me how many jobs are created by that plan, I want to be able to answer that question."
***
by Pranshu Verma for Gotham Gazette
@GothamGazette