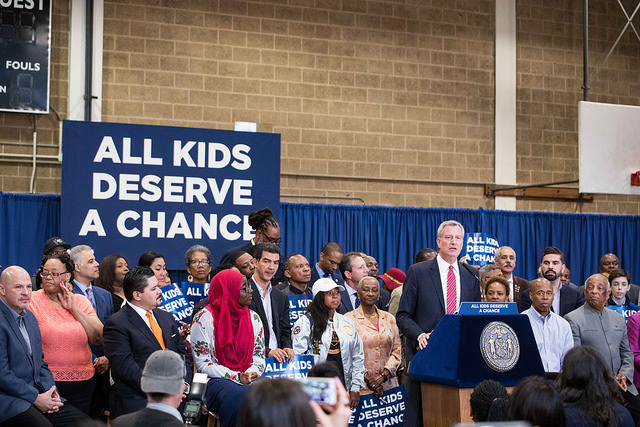 Mayor de Blasio announces specialized high schools plan (photo: Benjamin Kanter/Mayor's Office)
---
In June of 2018, Mayor Bill de Blasio rolled out a plan to eliminate the Specialized High School Admissions Test (SHSAT) for New York City's specialized public high schools, in an effort to increase diversity, especially for black and Latino youth, at the city's eight elite test-based institutions. Joined for a press conference in Brooklyn's JHS 292 school by a Hunter College student, Schools Chancellor Richard Carranza, and a number of City Council members and State Assembly members, he hosted a rally-like announcement, where he initiated a call-and-response: "Time for change?" de Blasio asked three times. "Yes!" the audience yelled back.
"For thousands and thousands of students and neighborhoods all over New York City, the message has been these specialized schools aren't for you," de Blasio said in June. "So, the solution is simple: the test has to go."
But it's not simple. He received swift backlash from the city's Asian-American community––especially those of low income, who comprise a significant portion of the specialized public high school student body. Though his plan was celebrated by some local politicians, as months passed, some began to shy away from their support for de Blasio's plan and insisted on a more broadly palatable path.
De Blasio had not gotten much of the necessary buy-in to move his plan in the state Legislature -- state law dictates that the SHSAT is the sole criteria for entry into the three largest specialized high schools, Stuyvesant, Bronx Science, and Brooklyn Tech -- the mayor did little else to push his plan, and the discussion fizzled.
Then came the news earlier this month that of the 895 students offered admission to Stuyvesant High School, the city's most rigorous and exclusive public school, only seven of those students were black. The controversy reenergized the debate around school admissions, the SHSAT, the city's larger school system, and other key issues, embroiling not only city politicians, but also those who work in Albany.
The latest data for admissions to Stuyvesant and the other specialized schools set off a new round of questioning the use of the SHSAT (few if any other learning institutions at any level across the country use a single test to determine admissions) and reinvigorated interest in plans put forth by de Blasio and others to ensure more racial and ethnic diversity at the schools. While those who prefer the current system dug in.
Governor Andrew Cuomo agreed the lack of diversity at the schools is a problem and said the city should change admissions at the five schools it controls and then put pressure on state legislators to follow suit for the other three. He did not offer any specifics on what he believes to be the right admissions criteria.
Neither Assembly Speaker Carl Heastie nor Senate Majority Leader Andrea Stewart-Cousins has taken a concrete position on the SHSAT and specialized high school admissions. Heastie did say on March 8 that he wants to see "more specialized slots" and the schools "more reflective of the city's population," but he did not go further. He said the Assembly majority would take the issue up at some point.
A group of state senators called for "open dialogue and consensus-building on school diversity and admissions." Queens Senator John Liu, who chairs the Senate's New York City schools subcommittee, said de Blasio's plan exacerbates racial tension, but brought together colleagues to announce a plan to hold hearings later this year.
"What we need is open-mindedness and open dialogue in order to build a consensus for a plan going forward," Liu said. Other senators echoed Liu, decrying the city's diversity statistics and calling for a series of community forums, but neglecting to offer any other concrete solutions.
De Blasio said he looked forward to future dialogue. A couple of weeks later, on Thursday, he acknowledged that he did not roll out his plan well, and pledged more engagement with the city's Asian communities.
City Council Speaker Corey Johnson wrote an op-ed in Chalkbeat NY on Thursday in which he called for the eventual elimination of the use of the SHSAT for admissions to the city's specialized high schools and for "additional City-designated elite high schools, separate from the eight test-based high schools governed by state law." Johnson wrote that this process "would allow the [Department of Education] to pilot new admissions criteria that will promote diversity without needing state approval."
Johnson also wrote that City Council will soon consider new legislation addressing diversity in specialized high schools and beyond, including a task force to determine new admissions criteria, codification of the School Diversity Advisory Group, establishing District Diversity Working Groups in each school district, and the creation of an oversight role housed in the city Human Rights Commission called a School Diversity Monitor.
"The problem with the specialized high schools' admissions process runs much deeper than one test," said Council Member Mark Treyger, chair of the education committee, in a statement, noting that he will hold a hearing on school segregation next month. Treyger also cited an op-ed published in the New York Daily News on Wednesday by Public Advocate Jumaane Williams, who argued against eliminating the test and pushed for expanding gifted-and-talented programs citywide.
"I won't support a plan that solely abolishes an exam, which was essentially the Mayor's plan," Treyger said. "I'm open to a plan that includes revamping and expanding enrichment programs, adding more crucial seats, across all districts, particularly in communities of color. We must engage with all marginalized communities as we examine how to better integrate schools, from pre-k to high school. We need full integration, which means examining evidence-based multiple measures to enter specialized schools, and the pipeline of schools that populate them and the rest of our school system."
Brooklyn Borough President Eric Adams initially backed de Blasio's plan to eliminate the use of the SHSAT and move to multiple measures for admissions to the specialized schools, even appearing at the announcement to lend his support, but he then backtracked.
Adams penned an op-ed in the Amsterdam News last July voicing his support for the SHSAT––with caveats. He called for "free preparatory services for every student who wants to take the SHSAT but faces economic hardship," funded by the city, in addition to expanding middle school gifted and talented programs. Additionally, he advocated creating five new specialized high schools, one per borough, and incorporating other academic metrics like class performance into the admissions process. This week, Adams' office told the Gotham Gazette that his position remains the same.
After de Blasio announced his plan, Bronx Borough President Ruben Diaz, Jr. also voiced his support, calling it a "welcome step forward" and a "validation of the diligent work of so many elected officials, educators, activists and parents whose efforts have focused on this issue for years, if not decades." Like Adams, he has since walked back his support, telling the Max & Murphy podcast this week that he favors a more holistic admissions approach that includes the SHSAT in addition to a number of other academic criteria.
Asked for her position by Gotham Gazette, Manhattan Borough President Gale Brewer advocated for methods of improving diversity beyond eliminating the entrance exam and also called for community forums. The city should engage in "a back and forth with students and parents about the many options to reform the admissions at these specific high schools," she said.
City Comptroller Scott Stringer has not responded to a request for comment.
Ben Max contributed to this article.
Note - This article has been updated with comment from Council Member Mark Treyger, who chairs the Committee on Education.