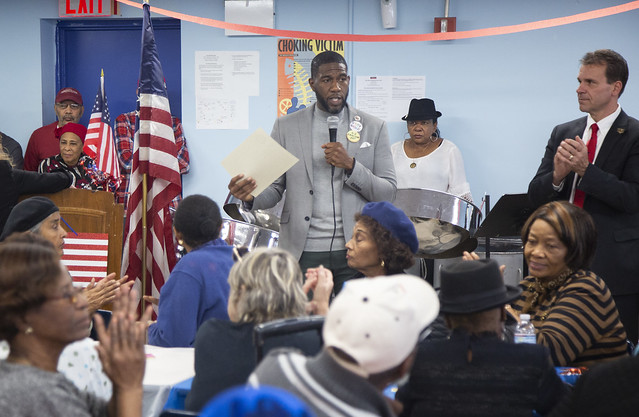 Jumaane Williams (photo: John McCarten/City Council)
---
Jumaane Williams' victory in the February special election for Public Advocate has created a ripple effect, namely a special election for his former City Council seat, representing Brooklyn's Council District 45, set for May 14.
The district encompasses parts of the Central Brooklyn neighborhoods of Flatbush, East Flatbush, Flatlands, Midwood, and Canarsie. According to 2010 Census data, the district is majority black, at 76.1%, with Afro-Caribbeans like Williams making up the bulk of the population. Another 10.5% of the district is white, largely composed of Orthodox Jews.
There's a crowded field of candidates that has assembled to try to replace Williams in what is a nonpartisan election, meaning candidates cannot run on traditional party lines, and there are no party primaries. The winner of the special election will subsequently have to compete in the June primary, about six weeks after the special election, if challenged by someone from their party, and the November general election, if challenged. While some have decried the calendar, Mayor Bill de Blasio had no choice by law in calling the special election after Williams resigned to become public advocate.
The special election is expected to be a very low turnout affair, making voter mobilization all the more important. Candidates have quickly been appearing at local forums and jockeying for and announcing endorsements from officials and groups.
Those in the running range from close confidantes of Williams to longtime antagonists. The new public advocate has not made an endorsement at this point, but has repeatedly stated that he is excited by the prospect of his successor being a woman of color, given the dearth of women in the City Council.
As of Wednesday, ten candidates have filed with the city's Campaign Finance Board, while the voter-signature petitioning period, whereby candidates secure their places on the ballot, just ended. Notice for a candidate forum set for April 18 shows 11 candidates participating.
Williams' former deputy chief of staff, Farah Louis, is seen by many as the frontrunner, with support from Assemblymember Rodneyse Bichotte and several other officials and groups. She recently picked up endorsements from two LGBTQ clubs: the Jim Owles Democratic Club and Lambda Independent Democrats of Brooklyn.
Others in the running include attorney Jovia Radix and Monique Waterman, founder of the nonprofit group East Flatbush Village, who also has close ties to Williams. Radix originally had the support of Brooklyn Democratic Party Chair Frank Seddio in his personal capacity (the party itself may not endorse a candidate), but Seddio recently moved his endorsement to Louis, according to a source close to the party.
Also contesting the race are previous electoral opponents and critics of Williams, namely activist Anthony Beckford. Another Williams critic and electoral opponent, Lou Cespedes, quickly dropped out of the race according to Kings County Politics.
Other candidates include Health + Hospitals executive Rickie Tulloch; Adina Sash, often known as "FlatbushGirl," who has a very active social media presence; Anthony Alexis, a former Assembly and Council aide who now supervises city-funded senior centers; Victor Jordan, a member of Community Board 17; Xamayla Rose, an anti-violence community activist; Hercules Reid, the legislative director of the CUNY University Student Senate and an advocate for CUNY students; and Jean Similien, who ran against Williams in 2013.
Affordable housing, a main focus for Williams, appears to be the marquee issue in the election, as residents worry about gentrification and displacement. The Institute for Poverty, Children, and Homelessness found in 2017 that 29 percent of District 45 is "severely rent burdened," meaning those residents pay 50 percent or more of their income in rent. Candidates generally agree that more affordable housing needs to be developed and that the current methodology through which housing is determined to be "affordable" is flawed.
Candidates in the special election had until Wednesday to present 450 valid signatures from voters in the district in order to appear on the ballot -- we'll soon know who exactly has qualified to appear on the May 14 ballot. Some candidates may see their signatures challenged at the Board of Elections. And the first filing deadline with the Campaign Finance Board is on April 12, which will give the initial indication of how fundraising efforts are going for each official candidate.
A closer look at each candidate in the mix (in alphabetical order by last name):
Anthony Alexis
Alexis has worked in both the Assembly and the Council as a staff aide, and in 2001 unsuccessfully ran for Council, losing to Kendall Stewart. He currently works in a supervisory role at city-funded senior centers.
Anthony Beckford
Beckford is a longtime activist in the district who has been critical of Williams. He ran against Williams in 2017 on the True Freedom party line, calling attention to the fact that Williams, who has worked on issues of police accountability, had voted to add 1,000 police officers to the NYPD despite record low crime rates and instances of police brutality, though he has also discussed working with Williams in support of various causes more recently.
In 2018, Beckford unsuccessfully ran for Assembly in the 42nd District on the Green Party line.
According to his Facebook page, Beckford leads the Brooklyn CopWatch Patrol unit, a group that monitors law enforcement officers for instances of police abuse and brutality. He is the president of Black Lives Matter Brooklyn; though the group is not affiliated with the larger nationwide network, Beckford's group has lobbied state and city government on numerous issues, such as for a bill to criminalize discriminatory 911 calls and against the 421-a tax incentive program for real estate developers. He is also affiliated with the Democratic Socialists of America.
Last month, Beckford excoriated Mayor de Blasio for proposing to cut social workers for homeless students in the upcoming budget. "The Mayor has truly abandoned our children and we should not be surprised," Beckford said. "His loyalty is only to those who are against our communities and our schools." He called for adding $1.4 billion in funding for city schools, to remove police officers from schools and cease payments by the Department of Education to the NYPD, and to hire more counselors and psychologists.
Victor Jordan
Jordan is a small business owner and economist originally from Guyana; he has taught either high school or college level economics and math classes in Guyana, Jamaica, and New York, and also once worked as a trade economist for Trinidad's Ministry of Trade and Industry, according to a video he recorded for the Campaign Finance Board in 2017. A former chair of the land use and education committees of Community Board 17, Jordan has unsuccessfully run for the Assembly seat in District 42 three times, in 2014, 2016, and 2018, and most recently got 28% of the Democratic primary vote against incumbent Rodneyse Bichotte. He also ran in the open 2017 primary for the 41st City Council district seat, winning 5% of the vote and losing to Alicka Ampry-Samuel.
At Community Board 17, Jordan helped establish and leads a local chapter of the Community Emergency Response Team, an organization that educates community members about disaster and emergency preparedness, according to his CFB page. At a recent candidate forum, Jordan identified gentrification and high foreclosure rates as major problems in the district that he would attempt to tackle in the Council.
Farah Louis
Louis, described by Kings County Politics as the "early favorite" in the race, most recently served as Williams' deputy chief of staff after filling other roles in his Council office, including as budget director. Previously, she worked as both a reporter and an organizer.
In an interview with Gotham Gazette, Louis said that there's "room for change" in the mayor's affordable housing plan, but did not display the outright opposition to it that Williams has regularly shown.
"I believe that there's room for change. The former Council member had his views, I do believe that there's room to change," she said. "And it's not just the mayor, but it's working with those agencies, HPD in particular regarding AMIs [area median income] and MIH [mandatory inclusionary housing], to really fit the character and the income of the folks that really live in our district."
Asked what work she was proudest of from her tenure in Williams' office, Louis noted her work on the Community Safety Act, which created the NYPD Inspector General's office and new protections against racial profiling by police; anti-gun violence initiatives; and her work in constituent services. She singled out issues related to small businesses as an area where she would like to improve upon Williams' work, but she did not take a position on the Small Business Jobs Survival Act when asked about the long-stalled legislation that would institute new rules around commercial lease agreements to help small businesses with more favorable terms.
Jovia Radix
Radix is an attorney who has previously worked for the Brooklyn Democratic Party and as Governor Andrew Cuomo's Brooklyn Regional Representative, handling constituent affairs. She most recently was a vice president at Kasirer LLC, a consultancy.
In an interview with Gotham Gazette, Radix identified the quality of sanitation service as a major but less discussed issue for the district, noting that residents and business owners she speaks to often complain of poor or infrequent service. She also named major issues defining the race, especially affordable housing and the ability of seniors to stay in the district. On affordable housing, Radix said that the use of AMI, which is an average based on the whole city and wealthy suburbs, in the district has resulted in the development of unaffordable units, and that AMI needs reform.
"We too often find that young people leave our district, go to college, get good jobs, are making money where they should be able to sustain themselves but they can't afford to live in the communities where they grew up," Radix said. "That's a concern of our community. We want to ensure those young people come back and are able to put into the community what the community put into them."
Hercules Reid
Reid, who at 26 is the youngest candidate in the race and would be the youngest Council member if elected, currently serves as legislative director for the CUNY University Student Senate and has been a long-time advocate on behalf of CUNY students, particularly for increased funding of CUNY and tuition-free CUNY. Reid is a critic of "predictable" tuition increases at CUNY and of Governor Cuomo's Excelsior Scholarship, and helped lobby successfully for a tuition freeze at CUNY in 2015.
At a recent candidate forum, Reid spoke of how homeownership should be encouraged as a means of building generational wealth within low-income communities, and for expanding access to senior affordable housing. On his website, Reid's campaign notes his support for the "No New Jails" movement opposed to building borough-based jails to replace Rikers Island.
In a campaign video and at the recent candidate forum, Reid spoke of how young people are often discouraged from participating in politics by the older people who run the show. "Young leaders like me are ready to lead and are often discouraged by the 'wait your turn, you're too young, you have no experience,'" Reid said in the video. "We have heard it all, and enough is enough."
Xamayla Rose
Rose is a community activist who was spurred into her role after the 2005 killing of her brother Christopher over an iPod. In the wake of that, she and her family founded the Christopher Rose Community Empowerment Campaign (CRCEC), which aims to prevent youth violence and to provide community development for local youth.
The organization has three programs: CAMERA, which facilitates neighborhood watches to observe and prevent violence; PACE, which provides after-school "physical, academic, and cultural enrichment" to young people to keep them away from violence; and HOPE, which provides resources to the families of victims and education to others.
Rose has served as the chair of Community Board 17's education committee. She previously worked for the Brooklyn Borough President's office, where her work centered on juvenile justice issues.
At a recent forum, Rose said she believes that AMI needs to be reconfigured to more adequately reflect the income composition of the community. She is also in favor of ending third party transfers.
Adina Sash
Sash is a comedian and activist, active on Instagram with over 45,000 followers on the platform (more than double that of Williams), who has become well-known for challenging gender norms within the insular Orthodox Jewish community. She previously ran for District Leader in the 45th Assembly District but lost to incumbent Margarita Kagan.
Sash has released several policy proposals on her Instagram account, many affecting the district's Jewish community, though not all. Despite controversy surrounding a lack of mandatory secular education at some yeshivas, Sash calls for increasing public funding for STEM education at the religious schools, arguing that yeshiva students are unfairly denied funding that public school students receive.
She is also pledging to donate half of her $148,500 Council salary, which she argues is too high, to local nonprofits, in both the Jewish and non-Jewish parts of the district, and to maintain a staff reflective of the district's diversity. She also believes that the Met Council on Housing should receive greater funding to prevent evictions.
Despite her alignment with the conservative Orthodox community on certain issues, she has defied the community on several others. For example, she defended a lesbian comedian who was bumped from a performance at a kosher restaurant due to her sexual orientation.
Jean Similien
Similien has worked as a union representative for SSEU Local 371, the social services employee union. In 2013, he ran in the Democratic primary against Williams but came up far short, winning 12% of the vote. In his 2013 run, Similien's platform included measures to reduce crime, lower the size of classrooms, and opposition to a neighborhood rezoning.
Rickie Tulloch
Tulloch currently serves as the Senior Director for Capital Contracts at NYC Health + Hospitals, the city's public hospital network, where he has filled various positions over 33 years, including as Deputy Chief Financial Officer at Harlem Hospital, he told Gotham Gazette in an interview. He also served on Community Board 17 for 18 years, with terms as land use chair and treasurer, and unsuccessfully ran for the 40th Council District in 2009 and the 42nd Assembly District in 2014.
Tulloch, who said he immigrated to Brooklyn from Jamaica as a teenager, stressed in the interview that his experience sets him apart from his opponents, noting in particular his experience at H+H managing large budgets and procurements and his long community board tenure.
Like his opponents, Tulloch noted in the interview that affordable housing and the district's rent burden are the top issues in the election. He proposed upzoning commercial corridors for more housing while downzoning residential areas to preserve the "essence" of the neighborhood. He also castigated the use of AMI to determine affordability thresholds, noting the city's AMI is higher than that of the district.
"We want it to be based not on the AMI, but the poverty level," he said. "That way it captures just about everybody in the community and makes it affordable to folks."
Monique Waterman
Waterman is the founder and CEO of East Flatbush Village, a local nonprofit dedicated to combating violence in the community through a variety of after-school and civic programs for low-income youth; she is currently on a leave of absence from the organization to focus on her campaign. Waterman has been profiled several times by local media as head of the organization, including by NY1 and the Brooklyn Paper.
At a recent candidate forum, Waterman took a similar line to Williams on rezonings in the neighborhood, arguing that the rezonings needed to be tailored to the district and not haphazardly applied.
The Waterman campaign did not respond to multiple requests for an interview.
Note: after publication of this article a source close to the Brooklyn Democratic Party contacted Gotham Gazette to explain that Frank Seddio, in his personal capacity, not on behalf of the party, had expressed support for Radix but had then changed his endorsement to Louis. The article has been adjusted to reflect that information.