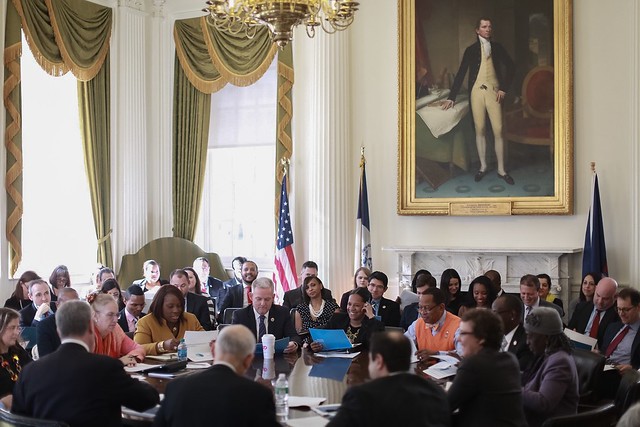 (photo: William Alatriste/City Council)
---
Last November, more than 1 million New Yorkers voted "yes" on a ballot question to create a new New York City Civic Engagement Commission tasked with launching a citywide participatory budgeting program, providing interpreting services at poll sites, and more broadly working with community based organizations to get the city's residents more involved in city civic life and government. Once approved by voters, the measure called for 15 commission members appointed by several top city elected officials, mostly by the mayor, who also gets to name the chair.
But those officials missed the April 1 deadline to create the commission. As of Sunday, April 14, a representative for Mayor Bill de Blasio indicated the commission would be named soon, while representatives for other appointing officials -- the City Council speaker and five borough presidents -- provided varying responses to Gotham Gazette inquiries.
The question on the November ballot was one of three proposed by a Charter Revision Commission de Blasio created last year. The other two, also overwhelmingly approved by voters, significantly enhanced the city's campaign finance program and established term limits and other reforms for community boards.
The Civic Engagement Commission's 15 members are to include eight appointees by the mayor (including the chair), two by the City Council speaker, and one each by the five borough presidents. According to the charter amendment, the appointing officials would have to consider candidates "who are representative of, or have experience working with, immigrants, individuals with limited English proficiency, people with disabilities, students, youth, seniors, veterans, community groups, good government groups, civil rights advocates, and categories of residents that are historically underrepresented in or underserved by City government."
The initial commission members will serve staggered terms of two or four years, except the chair, who will also serve as executive director. Only the chair will be a full-time appointee and will receive compensation for their work; the other members will be unpaid.
The mayor's office did not say why the commission appointments were delayed but noted that they would be named shortly. "The Civic Engagement Commission will play a crucial role in encouraging more New Yorkers to participate in our democracy," said Raul Contreras, a mayoral spokesperson. "We received over 340 applications from a talented and diverse pool of New York City residents. We are on the cusp of appointing our commission members and we'll share more details once that decision is made, which will be soon."
Other appointing officials also seem to be moving slowly to pick their members.
A City Council spokesperson acknowledged a request for comment but did not respond with comment.
"We're in the process of finalizing our appointment," said John DeSio, a spokesperson for Bronx Borough President Ruben Diaz Jr., in an email.
Stefan Ringel, a spokesperson for Brooklyn Borough President Eric Adams, said, "Borough President Adams has sent formal correspondence to the individual he has decided to offer an appointment. He is currently awaiting confirmation of that offer."
Manhattan Borough President Gale Brewer's spokesperson, Jon Houston, said, "We're working on it, but have no appointee yet."
Staten Island Borough President James Oddo's office did not respond to requests for comment. Queens Borough President Melinda Katz's office acknowledged Gotham Gazette's inquiry but did not provide comment.
There is time for the commission to carry out its mandates. Per the charter amendment, the participatory budgeting program -- currently used by many City Council members to democratically allocate funds to projects in their districts -- must be launched by July 1, 2020, and poll site interpreting services must be provided no later than the general election in November 2020.
Note: this article as been updated to reflect that the commission has not been named as of April 14.