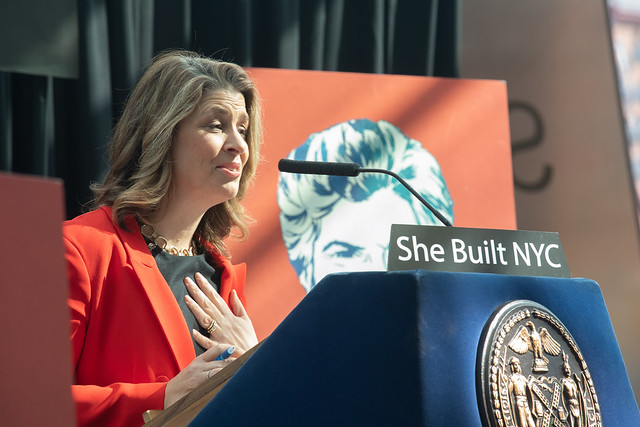 Alicia Glen (photo: Paige Polk/Mayoral Photography Office)
---
After more than five years as New York City's Deputy Mayor for Housing and Economic Development, Alicia Glen recently left City Hall, having spearheaded a major affordable housing plan, efforts to diversify the city economy, and other aspects of Mayor Bill de Blasio's agenda, which she helped shape.
Glen oversaw the city's troubled public housing authority, the implementation of a new ferry system, investments into public land to spur business development and the rezoning of East Midtown, and more. In a recent lengthy and wide-ranging interview, she reflected on her work as deputy mayor, the state of the city as she leaves its government, some of the unfinished work she started, and the fact that for an official with her portfolio, much of the legacy will not come to fruition for years.
Appearing on the What's the [Data] Point? podcast from Citizens Budget Commission and Gotham Gazette, Glen also gave her take on the recently-opened Hudson Yards, what should be done with Rikers Island when the jails there are closed, the fallout from the undoing of the deal to bring Amazon to Queens, whether she might ever run for elected office herself, and more. Glen said that she came to the position with a different background from some of her predecessors in prior administrations, which fit the goals de Blasio had laid out as a candidate, to use the tools of government to fight inequality.
"I had come from a background of having really spent time on all sides of the issues," Glen said. "I had been a legal services lawyer, I had worked in city government before, I had run an urban development platform that was focused on public-private partnerships, and I was really truly truly like a born and bred New Yorker who had grown up in a sort of lefty upper west side household and that was a major change."
"I came in after three men who had come from Wall Street, as had I, but had come from sort of a different perspective," she continued, "all terrific people in their own way, but I certainly felt a pressure of being a woman in this job with a difference in political perspective."
"I am a woman and I think you do think about the world differently and how you structure deals. And clearly, I was a person in the administration who had come from more of a financial and pro-business background, but not to be conflated with somebody who had never actually been in the trenches working with all these issues, which I had been working on my whole life," she said, explaining her perspective as she came into the job in 2014.
When asked about her mission coming into office, she said, "I think most people felt really positive about the city. I get it, people look and these big metrics and crime was down, tax collection was up. Things were generally good by those broad metrics. By the same token, it was clear that both the mayor's election itself was a bit of a referendum on how some people were left out of the recovery, if you will, from both 9/11 and the financial crisis of 2008."
"We clearly were elected as change agents with a mandate," she said.
[LISTEN: Alicia Glen on What's The [Data] Point?]
Until de Blasio named Vicki Been, a former city housing commissioner in his administration, as Glen's successor, Glen was the only deputy mayor for housing and economic development in this mayor's tenure. She helped design, redesign, and push ahead the administration's 300,000-unit affordable housing plan, which has coincided with changes to the city's land use rules to help spur affordable housing and the upzonings of several neighborhoods. The plan has been criticized by some on the left as too broad, not targered enough on the lowest-income New Yorkers and those experiencing homelessness, with too many subsidized units for individuals of moderate and middle incomes.
"Many many folks, many communities felt not included in that good part of the story and [Mayor Bill de Blasio] came in on a platform of ways we can address those issues, and so for me, obviously, thinking about how we could make a real dent and shift into a more proactive stance both on inclusive economic development for job growth and a more five borough economy and thinking about what that meant in the 21st century and then obviously his signature initiative of trying to do something in housing that was much bigger than been done, even in prior administrations," Glen said.
Now out of government, Glen was asked if the affordable housing mix was the right one. Unsurprisingly, she said yes, arguing it is important that New York not become a "barbell city" with only wealthy and poor people. She touted the administration's work on the "messy middle," helping to provide moderate- and middle-income people with subsidized housing.
"There's a natural inclination for people to say we should put every single dime and all the resources we have into serving our most vulnerable people," she said. "But what kind of city are we going to be if literally people who make eighty to ninety thousand dollars a year cannot live here and are forced to commute two hours out of town."
The de Blasio administration has been criticized for exclusively upzoning lower-income neighborhoods, communities of color, to both create more housing density and invest in local areas. Developers are thus allowed to build bigger, but have more affordable housing requirements in the mix.
"I continue to think the mayor's position and our position was that you have to link density to more equitable growth and you have to buy into the notion of growth," Glen said.
"We are now building a significant number of permanently affordable units across the city, both in private projects and neighborhood-wide rezoning. And that's going to take a while to bake into the zeitgeist and for communities to realize that we meant it and that we have permanently changed the blueprint for how you do increased residential growth across the city," she said.
"These are fights. Every single inch you have to fight, and you have to take. It takes political leadership and courage," Glen continued. "There are several deals where I really wish the [City] Council had shown a little bit more guts around these issues and I really hope going forward people understand the tradeoff of some increase in density in order to assure we are proportionally building permanent affordable housing in New York City in the right deal for New Yorkers. I wish I could have done more of that."
Asked which neighborhoods she would upzone if she could snap her fingers and do it -- a laughable concept given how notoriously contentious New York City land use decisions can be -- Glen returned to the list of neighborhood rezonings that the administration said it wanted to at least explore a few years ago, citing Flushing and Southern Boulevard in the Bronx as places she'd still like to see rezonings move ahead. The city has moved ahead on fewer than expected, though several major rezonings have happened, in places like East New York and East Harlem, with others on the docket for this year and beyond.
The city's public housing authority, NYCHA, has had a tumultuous past few years, from charges of mismanagement to illegality, with questions about mold and lead paint remediation, and forged documents, plus ongoing sagas around buildings that are falling apart. Recently, NYCHA and the city entered into an agreement with federal authorities at the Department of Housing and Urban Development (HUD), which includes a federal monitor of NYCHA.
Asked about her role on NYCHA and whether she saw it from the beginning as a key part of her portfolio, Glen said absolutely. "[I]t was 100% under me," she said, while acknowledging it is a complicated situation given it is an authority, not a city agency. "I worked very closely with the chair of the housing authority and the staff there and we did make a lot of progress."
"It is something we have to own in many ways, not literally because it's a federal authority, but we have to own it in terms of what we see the future of New York City to be and the incredible resource that the housing authority can and should continue to be for low-income New Yorkers," Glen said. "It is an enormously complex issue and, as I said, this is something, it took 80 years to get to where we were. If it takes four years to figure out how to have a housing authority in the 21st century given federal policy, that doesn't feel good if you are the person living in the housing authority and your conditions are terrible and I would ever want to suggest that that isn't a real issue, but systemically, it's a very complicated issue."
Glen expressed excitement about the "NYCHA 2.0" plan the administration announced at the end of last year, which includes a more aggressive program to build new housing on underused NYCHA land, housing that will be a mix of market-rate and affordable housing and the proceeds from the leases to developers will go into NYCHA repairs.
On economic development, Glen also highlighted investments that she believes will pay off long-term for the city, including development of the Brooklyn Navy Yard and Brooklyn Army Terminal, key city assets that the city is now more fully utilizing to help spur job creation.
She also cited the rezoning of East Midtown to foster modernization and growth of the key office and retail hub. Glen worked with City Council Member Daniel Garodnick to pass a complicated rezoning of the area that had faltered, she noted, during the end of the Bloomberg administration.
Glen's economic development legacy will also include her role in helping strike the deal, later undone, to bring an Amazon headquarters to New York City.
"I think Amazon underestimated what it would and should take to establish a major presence in New York City," she said. "I think they misunderstood how much that needed to be front and center as they continued to engage."
"At the end of the day, they may not be as sophisticated as they should be and it's too bad because ultimately having up to 40,000 jobs would have been a very good thing for New York City," Glen said.
But what does the undoing of the Amazon deal mean for New York City in terms of attracting companies? Not much, Glen said. While she acknowledged an anti-corporate energy as evidenced by the public backlash against the Amazon deal, she said, "what I worry about and what I'd say to all the advocates and folks who have been against Amazon is if you create an atmosphere that companies do want to participate in a smarter, more collaborative engagement process around workforce development and public benefits, if you send a message that folks are not welcome in those areas, all you're going to do is send them back to Manhattan. Is that really what you wanted?"
However, she doesn't see the failed Amazon deal disincentivizing other businesses from expanding into New York offices. "The fundamental reasons why Amazon wanted to be here are still here," Glen said. "We still have the most extraordinarily diverse, educated talent pool and we have the coolest city." She cited Google's recent expansion in the city, which she said she helped negotiate over the course of years.
In terms of future projects, Glen still thinks the planned Brooklyn Queens Connector, or BQX, will happen, just that it won't "happen on the original timeframe." She also wants the city to look further into an aerial gondola to connect lower Manhattan and Governors Island. Glen wants a new soccer stadium in New York so New York FC doesn't have to play in Yankee Stadium. She called development of Sunnyside Yard, "it's the future," explaining that "if you're pro-growth, Sunnyside Yard is going to be the next great community." Glen said it would be a "more scaled and a more inclusive version of Hudson Yards," with a great "open space ratio" and the "best of the planning principles that the de Blasio administration embraces: true mixed use, but not scared of density."
Asked about the newly-opened Hudson Yards development of office, retail, and residential space on the far west side of Manhattan, Glen said, "It's not my personal favorite place. It's not a 'neighborhood' as they are characterizing it." But, she also called it an "extraordinarily important piece of the broader New York City economic puzzle" because of the new office space coming online. "Architecturally and design-wise," however, "it seems very male to me," she said. The investments made have "proven to be true" and provide an important revenue stream.
On the future of Rikers Island, where the jails are targeted for closure over the next several years, Glen said the administration had looked at it closely, including for housing development, but few things make "economic sense" for the island given "its in the flight path, it's very hard to get to."
"I think that Rikers Island could be and should be a place where there are a lot of really important city services that can be relocated there, so that we can free up some of the other spaces that could be more highly utilized for housing, for schools, for job creation," she said. She also said there could be "an interesting deal to be made possibly with the Port [Authority], to sell it to them to do the next [LaGuardia Airport] runway." She indicated she has several ideas for land swaps with the Port Authority.
As for her own future, Glen said she doesn't know what the next thing will be yet, though she will continue to be involved as chair in one of her recently-launched initiatives, women.nyc, a multi-service platform for women, with a variety of resources, because, she said, "New York City really has the opportunity to be the place where women can succeed -- and to say that as such, to brand ourselves as such."
Asked if she would ever run for elected office, Glen indicated it might be on the table. "Right now, I'm still recovering and trying to go to yoga a few times a week," she said, but added: "I think I wouldn't rule it out because the fact that New York City doesn't have, right now, a lot of women candidates. There are an unbelievable number of young women out there who blow my mind every single day, but there's still a dearth of women who have executive experience, have run complex organizations, who've had multiple experiences, both in politics and the private sector, and in the nonprofit sector. You know, it's something I would obviously think about at the right time."
[LISTEN: Alicia Glen on What's The [Data] Point?]
Ben Max contributed to this story.