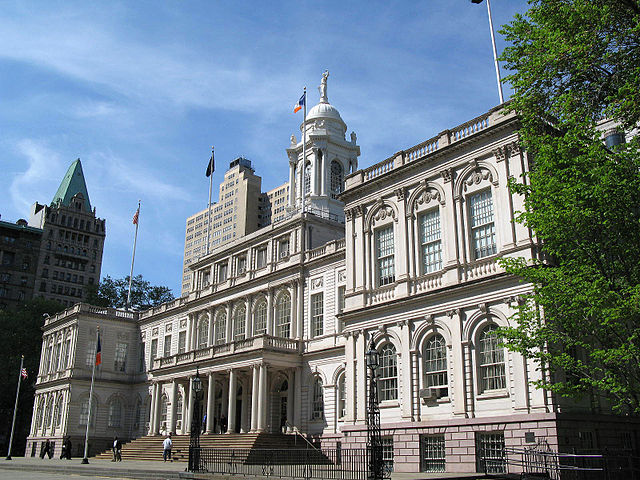 New York City Hall
---
What to watch for this week in New York politics:
The latest round of MTA fare hikes are now fully in effect. The changes come as subway service has shown improvements, the state passed a congestion pricing plan and other measures to help bolster MTA finances, and debate heats up about where the transit authority is heading long-term, including the leadership of MTA New York City Transit President Andy Byford.
Mayor Bill de Blasio, who last week announced details of a plan to speed up city buses, starts the week trying to downplay ongoing questions about new revelations related to old fundraising. A recently-released Department of Investigation report, first unearthed by The City, shows that the DOI found de Blasio had violated conflict of interest guidance when he did fundraising for the now-defunct Campaign for One New York, which was the source of several law enforcement investigations that results in no criminal charges against the mayor but widespread condemnation of his practices as unethical. The DOI revelations add to that condemnation with another formal finding. De Blasio attempted to side-step questions about the report during a press conference and during his weekly WNYC radio appearance this past week, providing no new answers, justification for his actions, or admittance of improper behavior.
The new round of scrutiny comes as de Blasio continues to toy with a run for president, saying repeatedly over the course of many weeks that he will make an announcement one way or the other "sooner rather than later." Monday may be the day: the mayor is scheduled to appear on MSNBC's Morning Joe in the morning. It may not be a presidential announcement, however, as the mayor might be outlining for a national audience the announcement he's set to make at 12:30 p.m. Monday in Queens related to "New York City's Green New Deal" in honor of Earth Day.
Monday is indeed Earth Day, and will see a variety of activity related to protecting the environment and fighting climate change, from the mayor and many others. The City Council just passed sweeping climate-related legislation, "the Climate Mobilization Act, a nine-piece legislative package" that aim to "significantly reduce carbon emissions from large buildings, better optimize their roofs for green planting and renewable energy, and take the first steps to fostering clean power throughout the five boroughs," according to a press release from City Council Member Costa Constantinides, chair of the Council's environmental committee. Mayor de Blasio is expected to soon sign the package of bills. Expect other climate-related initiatives to be announced on Monday. [Listen: Max & Murphy Podcast: The City Council Takes on Climate Change]
While the City Council and State Legislature are both on their annual mid-April breaks this week, there are a variety of events to be aware of, including two state Senate committee hearings on the farmworkers' rights act. [Hear State Senator Jessica Ramos discuss the legislation, which she sponsors, on last week's Max & Murphy podcast]
And there are a variety of events to be aware of throughout the week -- see our day-by-day rundown below. Also of note: Thursday (April 25) marks two months until the June 25 primary, with the main race the Queens District Attorney contest among seven Democrats. Before that, the marquee vote is the May 14 special election to replace Public Advocate Jumaane Williams in the City Council.
***Do you have events or topics for us to include in an upcoming Week Ahead in New York Politics?
e-mail Gotham Gazette editor Ben Max: This email address is being protected from spambots. You need JavaScript enabled to view it.***
The run of the week in detail:
Monday
Monday is Earth Day. Several elected officials will hold events where reusable grocery bags will be distributed. The state just passed a near-ban on single-use plastic bags, set to go into effect in 2021, and the city is on its way to passing an accompanying 5 cent fee on paper bags.
On Monday at 8 a.m., "Brooklyn Borough President Eric L. Adams will lead dozens of Brooklynites on his fifth annual Bike-to-Work ride, highlighting the need for safe cycling infrastructure in Central Brooklyn as he kicks off his Earth Week celebrations in and around the borough. Prior to their ride, which will take place in Borough President Adams' native Brownsville for the first time, cyclists and safe streets advocates in attendance will highlight the positive impact that New Yorkers can have on their local environment by using pedal power to get around the city...Along with State Senator Zellnor Myrie, Assembly Member Latrice Walker, and Council Member Alicka Ampry-Samuel, groups that are participating in Borough President Adams' ride include the Brown Bike Girl, Citi Bike, New York City Police Department (NYPD), Park Slope Neighbors, Pitkin Avenue Business Improvement District (BID), Prospect Heights Neighborhood Development Corporation (PHNDC), StreetsPAC, and Transportation Alternatives." Participants will hold a press conference at Zion Triangle just before the ride starts.
Mayor de Blasio will appear on MSNBC's Morning Joe at 8:45 a.m. Monday. At 12:30 p.m. at Hunter's Point South Park in Long Island City, "the Mayor will make an announcement regarding the implementation of New York City's Green New Deal." "In the evening, the Mayor will appear live on NY1's Inside City Hall with Errol Louis."
Tuesday
At 9 a.m. Tuesday, the New York City Board of Correction will meet at the ACS Children's Center in Kips Bay.
At 10 a.m. Tuesday, the Board of Standards and Appeals will meet at Spector Hall.
Wednesday
At 9 a.m. Wednesday, City & State will host the "Healthy NY Summit" at Baruch College, hosting policymakers and other notable people in the field of public health to discuss health policy objectives in New York. Mitchell Katz, President and CEO of NYC Health + Hospitals, will deliver keynote remarks. Other speakers will include Manhattan Borough President Gale Brewer, Senate Health Committee Chair Gustavo Rivera, Assembly Health Committee Chair Dick Gottfried, City Council Health Committee Chair Mark Levine, State Mental Health Commissioner Ann Marie Sullivan, State Aging Department Director Greg Olsen, and CityMD CEO Richard Park, among others.
At 10 a.m. Wednesday, the City Planning Commission will hold a public meeting at 120 Broadway.
At 5 p.m. Wednesday, this week's Max & Murphy program will air on WBAI radio, 99.5FM or wbai.org. This week's show will focus on the work of the 2019 charter revision commission that will soon announce what changes to city governance and structures it will propose to voters this fall. Guests will include commission Chair Gail Benjamin and Carol Kellermann, former president of the Citizens Budget Commission.
At 6 p.m. Wednesday, the Association for a Better New York will host City Council Member Keith Powers at a happy hour at the WeWork at 135 Madison Ave.
Thursday
At 8 a.m. Thursday, the Center for an Urban Future will host "Rethinking Public Benefits for the Future of Work" at the New School's Starr Foundation Hall, discussing how the public benefits system can be retooled for the age of independent contracting. Speakers will include Deputy Mayor Phillip Thompson, Workers Benefit Fund CEO Ben Geyerhahn, former White House policy advisor Andrei Greenawalt, Freelancers Union executive director Caitlin Pearce, and Future of Work Initiative research manager Shelly Steward.
At 9:30 a.m. Thursday, the Rent Guidelines Board will meet at the Manhattan Municipal Building.
At 11 a.m. Thursday, the Senate Standing Committees on Agriculture and Labor will meet jointly at SUNY Morrisville's Little Theater for a public hearing on the proposed Farmworkers Fair Labor Act, which would grant seasonal farmworkers in New York with the state's labor protections, including overtime, collective bargaining, unemployment insurance, workers' compensation, a day of rest per week, and applying the state's health code to food processing facilities staffed by migrants.
At 6 p.m. Thursday, the Intercept and CUNY School of Law will host "Mass Injustice: What Happened After the Largest Gang Raid in NYC History," discussing the 2016 "Bronx 120" raid and the role of gang raids and prosecutions "in the mass criminalization of communities of color." Speakers will include Bronx 120 member Kraig Lewis, Alice Speri of the Intercept, Priscilla Bustamante of the CUNY Graduate Center, CUNY Law professor Babe Howell, JustLeadershipUSA organizer Vidal Guzman, Trouble Finds You director Stephanie Tangkilisan, and community organizers Afrika Owes and Taylonn Murphy Sr.
Friday and the weekend
At 8:15 a.m. Friday, the Center for New York City Law will honor Stanley Brezenoff, former first deputy mayor who also held a variety of other roles in and around city government, most recently interim NYCHA Chair, at its fifth annual "Civic Fame Awards." Brezenoff will speak regarding what's changed in New York City in his 40 years of public service.
At 10 a.m. Friday Mayor de Blasio may make his weekly appearance on WNYC's The Brian Lehrer Show.
At 11:30 a.m. Friday, U.S. Rep. Nydia Velazquez will hold a "community roundtable" on the 2020 Census at the New Jerusalem United Methodist Church in Bushwick.
At 2:30 p.m. Friday, the Senate Standing Committees on Agriculture and Labor will meet jointly at the William H. Rogers Building in Smithtown, Suffolk County for a public hearing on the proposed Farmworkers Fair Labor Act.
At 6 p.m. Friday, 32BJ, Indivisible Nation BK, 350 BK, One Queens Indivisible, and Sunrise NYC will host a town hall on the Green New Deal at 32BJ's headquarters in the Flatiron district. Elected officials, advocates, and experts will speak regarding what a Green New Deal policy could entail. Elected officials in attendance will include U.S. Reps Nydia Velazquez, Yvette Clarke, and Carolyn Maloney, among others.
At 10 a.m. Saturday, the Southeast Queens Leadership Coalition will host a forum for Queens District Attorney candidates at the Robert Ross Johnson Family Life Center in Jamaica. Participating candidates will include Melinda Katz, Rory Lancman, Tiffany Caban, Gregory Lasak, Betty Lugo, Mina Malik, and Jose Nieves. The forum will be moderated by NY1 anchor Cheryl Wills.
At 6 p.m. Saturday, the New York Progressive Action Network will host "The Grassroots Gala" at Judson Church in Greenwich Village. NYPAN will be honoring, for their contributions to the "progressive movement" in New York, Public Advocate Jumaane Williams, State Senator Alessandra Biaggi, TWU Local 100, Fighting for Children PAC founder Gary Greenberg, and UPROSE executive director Elizabeth Yeampierre.
***
Have events or topics for us to include in an upcoming Week Ahead in New York Politics? E-mail Gotham Gazette executive editor Ben Max any time: This email address is being protected from spambots. You need JavaScript enabled to view it. (please use "For Week Ahead" as email subject).
***
by Ben Brachfeld and Ben Max
@GothamGazette