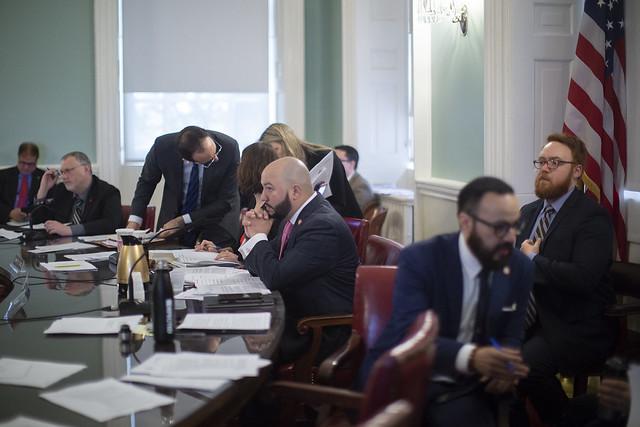 Council Member Salamanca, center (photo: William Alatriste/City Council)
---
A Tuesday City Council hearing about how city planning is done revealed major flaws in the process and showed significant divides between the mayoral administration and the Council over a set of bills aimed at changing relevant processes. Specifically, the legislation addresses how the outcomes of neighborhood rezonings -- where land use rules are adjusted in certain geographic areas to meet new development goals -- are projected and evaluated.
The hearing, which included racial overtones, was centered on oversight of the "City Environmental Quality Review," known by its initials, CEQR, the city's pre-rezoning assessment of the potential impact discretionary changes may have on the area and its residents.
Questions from members of the Council's land use committee to representatives from the de Blasio administration brought into focus what planning and evaluation tools the city does and does not use when it pursues a major neighborhood overhaul or plans key infrastructure developments, and in measuring what impact these developments have on the communities.
A key concern expressed at the hearing was whether the Department of City Planning and the City Planning Commission are appropriately and accurately evaluating the local impact of zoning changes to inform future studies and planning. Several of the Council members present sponsor bills intended to improve the way the city evaluates the potential impact of rezonings on local transportation, schools, and residential displacement, changes that often fall along racial and economic lines.
With real estate always at a premium in New York City, the restrictions the city places on how land can be used in the five boroughs has incredibly broad effects on the character and utility of neighborhoods. Anything from the number of apartments available (and the number of affordable ones), what commerce and industry operates, the density of sidewalks and public transportation, and what city services will be accessible, can all be dramatically affected by zoning decisions.
The shifting needs of neighborhoods and the interplay of local economies throughout the metropolitan area makes development -- and, consequently, land use rule changes -- a necessary reality in New York City. But as has been the case in other periods of its history, with drastic recent changes over the last two decades, the city has had to grapple with how to grow responsibly.
City government has a lengthy process for considering and making changes to zoning restrictions, which requires that a lead city agency be designated to conduct a review of the "potential adverse environmental effects" of a rezoning proposal. Except for certain actions deemed by the lead agency to be too minor to warrant review, the study must result in an Environmental Impact Statement with proposals for mitigation strategies to avoid unfavorable outcomes.
The rezoning of Downtown Brooklyn in 2004 and of parts of Greenpoint and Williamsburg in 2006 both required Environmental Impact Statements, and were the subject of scrutiny at Tuesday's oversight hearing.
While representatives of the Department of City Planning and the Mayor's Office of Environmental Coordination (MOEC) spoke to the process of conducting and assessing environmental impact studies, they could not speak to the outcomes of these rezonings and whether the environmental reviews have been able to accurately predict the reality that followed.
What became painfully evident during the hearing was the fact that there is no procedure, or even an intention, to assess the accuracy of environmental impact predictions integral to the city's consequential decisions to change the way land may be used.
The reality in those two cases is far different from what was predicted by the environmental impact statements, both Council members and administration representatives agreed. Downtown Brooklyn was rezoned largely to create opportunities for commercial development, while allowing some residential expansion; the result 15 years later is a vastly different neighborhood dominated by residential development, and a new economic landscape that has pushed out most of the community there before the rezoning, according to several of the Council members present.
While the Greenpoint-Williamsburg rezoning was intended for residential development to accommodate what was a growing need in 2006, an "explosion" of land speculation, land use variances, and illegal conversions in the years since have also displaced a large portion of residents, according to Council Member Antonio Reynoso, whose district includes parts of the neighborhood. The Environmental Impact Statement for that rezoning predicted a number of adverse impacts, including the indirect displacement of approximately 2,510 residents, and suggested mitigation strategies including the preservation and creation of additional affordable housing in the neighborhood.
The Department of City Planning has never revisited these figures or strategies. (Nevertheless, it considers Downtown Brooklyn to be a "very successful rezoning," according to Susan Amron, general counsel at DCP, who testified on Tuesday.)
Amron told Council members at the oversight hearing that such a post-rezoning review does not fall under the agency's purview.
"It is important to remember that environmental review is a disclosure process that applies only to discretionary decision-making, and not to the as-of-right developments that constitute nearly 80% of projects in the City," she said. "Environmental review is also not a tool that looks backward to identify causes of current conditions...Again, it is a disclosure tool prepared at a specific moment in time, intended to aid decision-makers."
But Council members present at the hearing could not understand why such a process wouldn't include a retrospective assessment of whether the methodologies employed are sound and instructive, at times expressing shock and frustration.
"That answer doesn't sit right with me," Salamanca said. "How can the City of New York put a report out, submit it to the City Council, and then not go back and double-check to see how accurate that report was?"
Two of the bills being discussed would require city agencies to produce a comparative report on the projected and actual effects of a rezoning on transportation and school overcrowding, sponsored by Council Members Mark Gjonaj and Francisco Moya, respectively. They would further require the Department of City planning or the lead agency to make recommendations on how to amend the CEQR Technical Manual, which provides technical guidance on environmental impact studies, to "more accurately forecast such impacts in future land use actions."
Another bill, sponsored by Moya, on the table Tuesday would require the city's housing agency to produce a similar comparative report on residential displacement, and a fourth bill, sponsored by Reynoso, would require the city to track mitigation commitments.
At the hearing, Hilary Semel, director and general counsel of MOEC, the agency responsible for producing the CEQR Technical Manual, said that the office will soon launch an update to the manual, but has not yet determined its scope or the timeline of its release. City agencies "with expert jurisdiction over certain technical areas led the updating to those methodologies" in the past, Semel told the committee. But the manual has only been updated four times since it was first published in 1993, the most recent update in 2014, largely to accommodate changes to local, state, and federal law and policy.
In terms of tracking mitigation strategies, Semel said, OEC "is currently actively working on initiatives that will incorporate aspects of mitigation tracking. OEC will be able to apply its unique CEQR expertise, the developmental process, and the development of a public mitigation tracker."
These initiatives, while still in the early stages of development, missed the crux of the matter for a number of the Council members present, many of whom are black and Latino and represent districts in which communities of color have been displaced or are under extreme economic pressure. Under Mayor de Blasio, a series of lower-income communities of color -- including East New York, East Harlem, Inwood, and others -- have been home to rezonings targeted at increasing housing density while providing broader public benefits. Several other proposed rezonings, in a more diverse mix of neighborhoods, are at various points in the lengthy process.
"The fact that you believe CEQR requires some changes because...everything can be improved and not speak to the gross miscalculations made by whatever formula exists in the CEQR manual, that you would come in here and say the Downtown Brooklyn rezoning was a success and that it's something you're proud of, is beyond me," said an emphatic Antonio Reynoso, Council member from Williamsburg, Bushwick, and other areas who sponsors the bill to track mitigation strategies.
"You are part of the reason why 30,000 Latinos were displaced in ten years," he continued. "You did that intentionally if you don't think you have a problem with your manual. The manual needs to be modified so it can speak to real world problems."
Council Member I. Daneek Miller of Queens wondered aloud about the racial make-up of the Department of City Planning. Only 28% of the department is black or Latino, according to the Department of Citywide Administrative Services, as of the 2017 fiscal year. For the Department of Housing Preservation and Development, an agency involved in mitigating displacement through affordable housing, that metric is a much higher 61%.