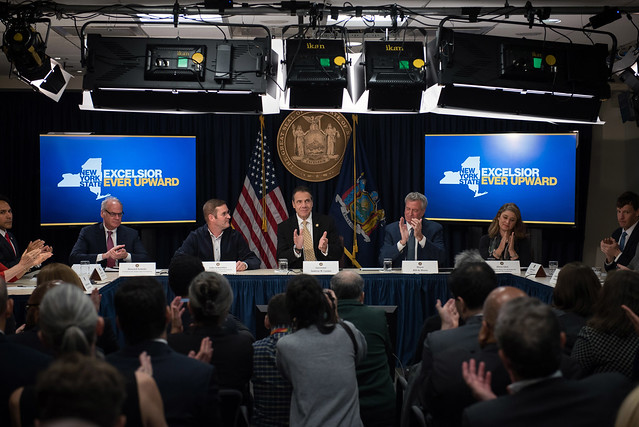 Announcing the Amazon deal that later fell apart (photo: Ed Reed/Mayor's Office)
---
Current and former city officials and veteran city planners met Monday night to discuss the interplay of politics and policy in the notorious demise of the plan to site an Amazon campus in Long Island City.
A central theme of the panel discussion, hosted by the Urban Land Institute in midtown Manhattan, was the balance the city must strike between articulating and acting on its long-term need for growth and the experiences of people immediately impacted by development.
How the dynamics of those relationships played out in the lifecycle of the Amazon deal was the source of regret and reflection amongst the panel participants, all of whom presented views in support of the tech giant's migration to New York.
Entitled "Does Amazon Signal the End of a Pro-Growth Political Climate in NYC?," the discussion occurred before an audience of many urbanists, developers, and architects; and featured James Patchett, president and CEO of the city's Economic Development Corporation; Carl Weisbrod, former chair of the City Planning Commission; Vishaan Chakrabarti, an architect who oversaw the Manhattan office of the Department of City Planning in the early 2000s; and Kathryn Wylde, president and CEO of the Partnership for New York City, who served as moderator.
The conversation had an air of familiarity -- the result, for the most part, of decades working at the center of New York City development efforts. While all four participants agreed that continued growth is a necessity and the Amazon campus was a lost opportunity, there were nuanced opinions on whether growth is inevitable in a city as big and diverse as New York, and what the political climate has to do with it.
As they agreed on the need for growth, the panelists also agreed populist opposition to economic development projects around the city has shown that the city needs to do a better job communicating the benefits of those projects to the city as a whole.
"We do have a process problem," Chakrabarti said. "Process is important and I think that people needed to feel like things weren't happening in some backroom deal."
Shortly before Amazon announced its plan to move to Queens last November, Crain's reported that the state intended to circumvent the city's land use review process, which gives deference to local City Council members and incorporates a lengthy public process. Days later, Amazon announced it would come to New York, triggering a backlash to the project, expressed largely by a core of progressive politicians and advocates expressing a range of criticisms about Amazon as a company, as well as the deal and the process that led to it.
"I think it's less what we -- we meaning the city and state governments -- did wrong than the times that we are in, in New York," said Weisbrod, who after decades mostly in city government is now a consultant. "And I do think we all know we're in a period, on one hand, of extraordinary success in New York, and at the same time that success has created a lot of anxiety among a lot of people."
Patchett, who was intimately involved in wooing Amazon to the city, expanded on the idea of an emerging psychology of anxiety around growth as opposed to stagnation, remarking that the city is experiencing "a moment in time when we're having a lot of growth -- we're not in a recession. So it feels like what we have today, we don't need to be as worried about what we might have tomorrow."
"We have a youngish population who has experienced brutal housing prices and a congested subway system, who really have no memory or inkling of a time when this city was against the ropes," added Chakrabarti, who helped lead post-9/11 economic recovery efforts, a bit later in the program. "And it's really hard to explain to people that that could and will happen again, probably at some point for some shock we don't know about sitting here today, and that those 25,000 jobs and the multiplier effects it would have had would help insulate us against that future shock."
For Weisbrod, who has been a fixture in New York City urban development projects since the 1970s, this represents a "fundamental change" in the conversation. "We've always been a city that has, irrespective of political ideology, sort of implicitly if not explicitly recognized that we have to grow, not only for growth's sake, but because we are a city that provides more in the way of social benefits to our residents than any other city in the country."
Because of the particularities of New York City -- it's incorporation of five counties rather than being a part of a single one, its commitment to providing broad social services, and the lack of federal contributions to the tax base -- "we are increasingly dependent on our own ability to generate revenue," Weisbrod added.
Another shift in the public dialogue, revealed by opposition to Amazon moving to a so-called outer borough, has to do with location.
"For 50 years at least...the city has had an economic development strategy of diversifying and dispersing jobs outside of the Manhattan core," said Weisbrod. "And the irony is that this resistance to 25,000 jobs, however narrow-minded that resistance was, is the kind of resistance that took place because this was an effort to further the city's economic development policy, not simply in terms of tech, but also in terms of geography."
Wylde challenged the panel to consider whether the problem had as much to do with the city's approach to the deal -- especially its ability to engage with community stakeholders -- as the evening's conversation suggested.
"Do we really think that this would have happened if it wasn't the biggest corporation, run by the richest man in the world, after the 2018 primary election?" she asked, with apparent reference to Alexandria Ocasio-Cortez's upset victory over Joe Crowley in last year's congressional primary, representing a Queens and Bronx district.
For Chakrabarti, it is a combination of the political moment's hostility toward "big corporate" and local anxieties Weisbrod referred to. "It's really hard to extricate that because people were taking advantage of those anxieties in order to make their political point," he said.
During a question-and-answer session, one audience member disagreed with the thrust of the conversation. The spectator told the panel, "I'm a little disturbed by the attitude that I hear from the EDC and also the Mayor that the primary problems involved in this were around communication, Amazon not being willing to work with the city, the national climate, and not really lending a lot of credence to people's opposition, that either for a large number of people this would negatively impact their lives or at very least they have very few mechanisms for pushing back at the way the city is transforming around them."
According to Patchett, of the EDC, two-thirds of New Yorkers thought the Amazon deal would be good for the city, including more than 70 percent of Queens residents. "But that is not to undermine the very legitimate concerns that people had about this case" and about growth in general, he told the audience. "That's not just a feeling, that's a reality for a lot of people."
But for the panel of city planners and economic development experts with pro-growth lenses, the look back at the Amazon deal was more of a post-mortem than an assessment of local concerns.
"I sort of have a sense like I'm at a memorial service here," Weisbrod said at the outset.