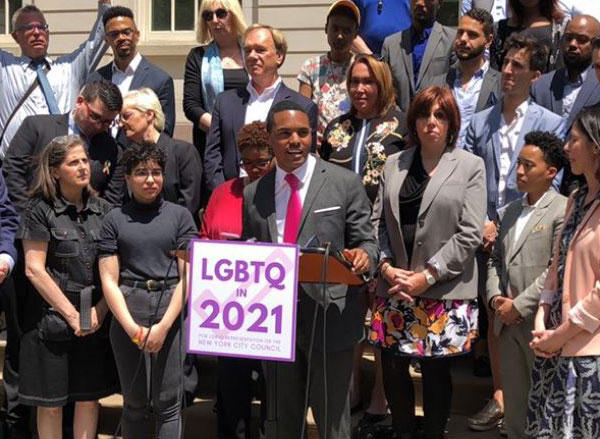 (photo: @RitchieTorres)
---
On the steps of City Hall Wednesday afternoon, a coalition of LGBTQ rights advocates and current and former City Council members announced the launch of an initiative to elect queer candidates to the Council in 2021, when 35 seats will be open because of term limits.
There are currently five members of the 51-member City Council who identify as LGBT, all of whom are a part of the body's Lesbian, Gay, Bisexual, and Transgender Caucus, and all of whom are not elligible for reelection to the Council: Speaker Corey Johnson and Council Members Danny Dromm, Ritchie Torres, Jimmy Van Bramer, and Carlos Menchaca.
The effort launched Wednesday, dubbed "LGBTQ in 2021," is intended to ensure that the outgoing cohort of Council members from the queer community is replaced by another, larger, and more diverse group of LGBTQ electeds.
"We want to make sure that we elect lesbians to the City Council, we want to ensure that we elect transgender women to the City Council, we want to ensure we elect LGBT people of color to the City Council," Speaker Johnson, who is openly gay and HIV positive, said to cheers from the audience assembled.
A number of other Council members were also present at the press conference, including Dromm and Torres of the LGBT Caucus, as well as former Council Members Tom Duane, who was the first openly gay person elected to the City Council, and Elizabeth Crowley, who has helped spearhead the "21 in '21" initiative to elect more women to the City Council, which was the inspiration for the project announced Monday. The City Council currently has 12 women out of its 51 members.
In the next City Council election in 2021, at least 35 of the body's 51 seats will be open, meaning no incumbent will be running.
Whereas incumbents enjoy incredibly high reelection rates, races for open seats tend to be vastly more competitive, often comprising more candidates and resulting in narrower margins of victory. Initiatives like LGBTQ in 2021 and 21 in '21 are harnessing the opportunities of open seats at the same time that they are meant to combat any loss in representation that may result.
Coming out is "the deepest political thing anyone can do. And that goes for people who are out in legislative bodies. There is no substitute for a seat at the table," Duane said at the press conference. "We have elected people here in New York City, but we have many more people that we need to get elected to the City Council."
The coalition, which also includes LGBTQ Democratic political clubs like the Stonewall Demorats and advocacy groups like New York Transgender Advocacy Group and Queer-Amisú, plans to recruit and support queer candidates to run for City Council through training, mentorship, and networking resources. At the moment, LGBTQ in 2021 has a social media presence but an informal operational structure as its members determine its direction. It is currently focused on City Council elections, but may expand its mission in the future.
"It's only been ten years since Queens has had openly gay elected officials," Dromm reminded the crowd, after acknowledging Duane and other predecessors as rolemodels for him. "And of course we began to see the Council expand in terms of the numbers of openly LGBT people who were in it."
"Invisibility is our biggest enemy," Dromm added. "We had no role models in those days."
Members of the coalition have drawn lessons from their personal experiences and those of activists in a number of overlapping and intersecting causes -- namely the struggle for LGBTQ rights in New York and nationally, but also the Civil Rights Movement and movements for gender equity.
Melissa Sklarz, a transgender activist, 2018 Assembly candidate from Queens, and former president of the Stonewall Democrats, spoke after Dromm. "I don't think invisibility is a problem. It's fear! 'I can't run for office, Melissa, I don't know what to do.' We've got a solution for that. We know what to do. We've been involved, we have passion, and vision, and experience, and intelligence. We will help you."
Torres, a Bronx Democrat planning to run for Congress in the 2020 election, emphasized the active nature of this type of recruitment and mentorship operation. "Progress doesn't happen by accident. We have to organize for it, we have to fight for it, we have to recruit candidates, raise funds, knock on doors, and win elections," Torres said. (Sklarz later told reporters that LGBTQ in 2021 does not have plans to raise money for candidates, but intends to educate them on how to create a campaign, and can assist with staffing and grassroots efforts in their neighborhoods.)
Along with the aforementioned groups, the coalition includes Jim Owles Liberal Democratic Club, Lesbian Gay Democratic Club of Queens, Lambda Independent Democrats of Brooklyn, NYC Pride and Power, and LGBT Democrats of Color.
"One of the epiphanies of the Civil Rights Movement is the realization that progress is not inevitable even when it has the aura of inevitability," Torres observed. "We had more LGBT members of the City Council two years ago than we do today. Or when it comes to gender inequality...we had more women in the City Council in the 1990s than we do today."
Despite overall progress made in LGBTQ representation in New York City elected office, members of the coalition pointed to significant shortcomings in the political landscape and barriers that still need to be overcome.
Ivy Frias of the New York Transgender Advocacy Group wondered why "only one letter of the LGBT community is represented here in the City Council," referring to the fact that the City Council's current queer membership are all gay men. "I think it's time, as a queer, nonbinary, Dominican person, to tell you guys that it's time to be here," Frias said, adding later, "the LGBT community is beautifully diverse and intersectional."
Sklarz also identified barriers. When asked whether she intends to run for City Council after her unsuccessful bid for the Assembly last year, she told Gotham Gazette, "Where I live is a difficult Council race. Neighborhood is everything. So however big my visage may be in the LGBT community, it's very difficult in my neighborhood to run for City Council." The 22nd Council District in Queens, where Sklarz lives, has been represented by Costa Constantinides since 2014 and has never had an openly queer Council member. Constantinides is term-limited and likely to run for Queens Borough President.
Those dynamics at the neighborhood level can play out in the Council itself. "There continues to be places in New York City where even vicious homophobes can be and have been elected to the City Council," Torres told the crowd. "The homophobic antics of [City Council Member] Ruben Diaz Sr. is a cautionary tale of what happens when we, as a community, take for granted the inevitability of progress." (Diaz Sr., who was recently punished by the Council for his latest homophobic remarks, is seeking the same congressional seat as Torres.)
"If you think someone's going to come and save the day for you, then you're naive. We're not going take that chance," Sklarz said to applause. "LGBT people are going to come together, we are going to create a moment, we are going to take care of our own, and make sure something happens."