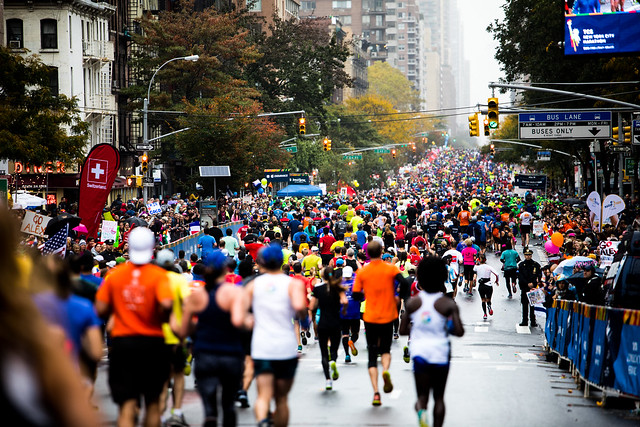 (photo: Benjamin Kanter/Mayor's Office)
---
The city's Campaign Finance Board is gearing up for what is likely to be the biggest and most competitive municipal election in its 30-year history. In 2021, 35 of the City Council's 51 incumbents, as well as the mayor, comptroller, and all five borough presidents, will be ineligible for reelection due to term-limits, providing an inviting playing field for dozens upon dozens of candidates to seek elected office, whether for the first time or in pursuit of a promotion.
Some candidates have already filed with the Board to indicate which office they are seeking, while others have made their intentions known, and many more will declare in the coming months. With party primaries now scheduled for June of any election year for city or state contests, the 2021 city election cycle will likely be in full swing in 2020.
The CFB, responsible for administering New York City's campaign finance program, is planning a "5 Borough Tour" of candidate trainings this summer to prepare potential candidates for the rigor of the city's system and the fundraising, spending, and disclosures. Most candidates will also participate in the public matching program, which will ultimately involve many millions of dollars in public funds the board will distribute starting in December 2020.
The Campaign Finance Board anticipates up to or even beyond 500 campaigns will register in New York City for the 2021 cycle based on turnout from similar elections in previous years. To meet the high demand and ensure each campaign receives its legally required trainings, the CFB plans to hold over 250 training sessions over the next year and a half, both at its offices in downtown Manhattan and throughout the five boroughs.
Thousands of individuals may need to be trained, as candidates, campaign treasurers, and other staff are brought up to speed on the rules regulating campaigning, fundraising, spending, and participating in the matching funds program.
"The CFB's matching funds program helps more candidates run for city office, so we want to expand the pool of potential candidates by making our trainings accessible to more New Yorkers," said Amy Loprest, Executive Director of the CFB, said in a statement announcing the new effort, which will begin in June.
The CFB is partnering with public libraries in each borough to provide a venue for the upcoming satellite trainings, in addition to the regular sessions held at the Board's Manhattan offices.
The five-borough tour will include a new training course geared specifically toward first-time candidates, with information intended to orient them to the demands of waging a campaign in New York City, where they will be subject to strict fundraising and disclosure obligations.
Unlike other trainings related to compliance rules and navigating the CFB's online portal, which campaigns are mandated by law to attend, the new courses are not required but are strongly encouraged by the CFB, which wants to lay as much groundwork as possible for a smooth election cycle, which also includes a variety of new donation limits, matching rates, and other specifications passed by voters during a 2018 ballot referendum.
The city may be facing a perfect storm of potential stresses on campaign finance administrators in 2021, including the high number of officeholders who are term-limited from pursuing reelection.
Open seats tend to be far more competitive than races with incumbents, typically comprising more candidates and resulting in narrower margins of victory. As intended, the public matching system also appears to encourage more candidates to run.
In 2001, an election year similar to 2021, 37 City Council seats, all citywide offices, and four out of five borough presidencies were open due to new term limits imposed and upheld by voters in successive ballot referenda in the early- and mid-nineties. That year 443 candidates filed petitions to run for those offices, and 353 of them participated in the matching funds program.
Somewhat similar dynamics played out two city election cycles ago, when, after the one-time term-limit extension pushed through under Mayor Michael Bloomberg and City Council Speaker Christine Quinn, in 2013 a majority of the City Council faced term limits, as did Bloomberg and most of the borough presidents. The public advocate and comptroller at the time -- Bill de Blasio and John Liu, respectively -- also left their posts to run for mayor, creating additional "open seats."
In Brooklyn, the borough that will see the most City Council turnover in 2021, 12 out of 16 Council seats will be open because of term limits. Also opening up: 10 out of 14 seats in Queens, two out of three seats on Staten Island, five out of eight seats in the Bronx, and six out of 10 seats in Manhattan. Some of the openings for City Council, Queens Borough President, and other seats could change if there are special elections before the 2021 election hits, potentially introducing new incumbents seeking reelection.
The ballot referendum passed last year expands the public matching funds program from a 6-to-1 match of qualifying contributions to an 8-to-1 match, while it also lowered individual contribution limits. Candidates participating in the CFB program in 2021 will have the option of raising money either under the 6-to-1 rules or the new 8-to-1 rules (in subsequent elections they will only have the option of the 8-to-1 matching system). The referendum also encourages candidates for citywide offices, who tend to rely on larger contributions, to participate in the public matching program by increasing the amount that can be matched in a single donation.
The Campaign Finance Board advocated for those changes before the 2018 Charter Revision Commission, empanelled by the mayor, that put the referendum on the ballot. The reforms are intended to "make running for office more accessible for all New Yorkers" by providing more support for newcomers who may not have access to the same networks of well-heeled donors and political allies that more established politicians have, Matt Solars, director of public relations at the CFB, told Gotham Gazette.
The new landscape in 2021 means the CFB will have to reach more potential candidates and, eventually, pay out more money.
"We estimated that the increases to the maximum public funds payments would lead to about a 30 percent increase" over the cost for the public matching program in 2013, Sollars said. The Board paid out $38.2 million in matching funds to 149 participating candidates that cycle. And the increase could be even higher as the Board expects the new rules to encourage more people to get into local races (it's also yet to be seen if more challenges to incumbents are waged given the current political climate).
The Board has not yet determined exactly how much it estimates the public matches and operational costs of the program will be for the 2021 cycle.
To reach potential candidates the CFB will rely on its public library partnerships to publicize the trainings and is identifying community-based organizations to collaborate on this and other efforts of NYC Votes, which leads the board's voter engagement campaigns.
The first event of the five borough tour will take place in Queens on June 8 (at Queens Central Library), followed by June 22 in Brooklyn (Eastern Parkway Library), July 20 at Bronx Library Center, August 3 on Staten Island (at Richmondtown Library; and September 14 in Manhattan (at Schomburg Center).
"From the voter's perspective, 2021 may seem like a long way off, but for a candidate who may have a goal of running for office and being elected in 2021, it's right around the corner," Sollars said. "Our program is really strong and powerful but it also requires a lot of the candidates and they need to know those requirements."