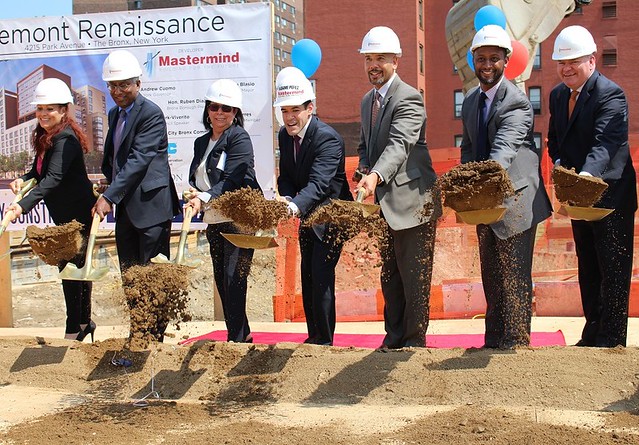 Ruben Diaz Jr., third from the right (photo: Office of Ruben Diaz Jr. )
---
Just as development has defined the Bronx borough presidency of Ruben Diaz Jr., money from the real estate industry has buttressed his political career. Though he has faced virtually no competition in three campaigns for borough president, the real estate donations have flowed in, helping Diaz Jr. prepare for an already-simmering run for mayor.
Over the course of his three campaigns for Bronx borough president, 37.7% of donations to Diaz Jr.'s campaign accounts at the $1,000-level or higher come from individuals or groups associated with the real estate industry, according to an analysis by Gotham Gazette using data from the New York City Campaign Finance Board.
Diaz Jr. has touted his record of what he's deemed progressive development, releasing celebratory reports of new development in the Bronx each year. Many of the developers listed on these reports have also donated to Diaz Jr.'s campaigns.
"Campaign finance considerations have no influence on the work of the borough president and his office," said Diaz Jr.'s spokesperson, John DeSio.
During his three borough president campaigns, contributions for the office were limited to as much as $3,850. The average contribution for his first campaign in 2009 was $581; that number jumped in subsequent campaigns to $943 in 2013 and $934 in 2017, according to the city Campaign Finance Board. It's worth noting that Diaz Jr. has faced little competition in his borough president campaigns, but also that real estate interests are well-known for contributing widely and generously to politicians. Diaz Jr. came to the borough presidency from the state Assembly in a 2009 special election. He is all-but-certain to run for mayor in the upcoming city election cycle, with the all-important Democratic primary in June 2021.
As borough president, Diaz Jr. has few formal responsibilities, but one is to weigh in on significant land use matters, which often include zoning changes related to real estate development, including major residential or commercial projects. Diaz Jr. has prided himself on development that he says he's significantly helped bring the Bronx over the past decade, including projects of all types, from affordable to luxury housing, a FreshDirect distribution center, and more.
Many of Diaz Jr.'s highest-dollar donors have consistently been from the real estate industry. In more recent campaigns, the number of donations he received, across industries, jumped from 307 in 2009 to 1,758 in 2013 and 1,846 in 2017, according to the city campaign finance board.
Diaz Jr. touts his pro-development stance as key to jumpstarting the Bronx economy, which has taken off in the past ten years coming out of the Great Recession that rocked the nation. Under his borough presidency, there's been 96.8 million square feet of development in the borough, 65% of which has been for residential use, 18% for commercial use, and 17% for institutional use, according to his office's most recent annual development report.
Land use is at the crux of the job of a borough president. Input into planning and zoning issues are important, though not binding. "They are in contact with a lot of developers, and a lot of developers are in contact with them for their support," said Bob Kappstatter, a political and media consultant, and longtime former Bronx bureau chief for the New York Daily News.
Maddd Equities and Joy Construction are a powerful alliance behind much of the city's development and major financiers of Diaz Jr.'s campaigns. Of donations of $1,000 or more across his three borough president campaigns, individuals affiliated with Maddd Equities and Joy Construction have given Diaz Jr. a total of $88,000. The Hudson Yards builders have worked on at least three major projects in the Bronx.
Few other groups have contributed sums in that range to Diaz Jr., and many who have donated much less to the borough president have developed more projects. Donations at the $1,000 or more level from Touria Weissman from the Jackson Development Group, for example, totaled $11,700 over the course of Diaz Jr.'s three campaigns, while the group has developed seven major projects in the Bronx.
Executives from the Stagg Group's donations to Diaz Jr. at the $1,000 or more level total $10,700. They've developed two major projects. Adolfo Carrión Jr., the former Bronx borough president, is a consultant for the group.
Keith and Inga Rubenstein, the controversial developers from Somerset Partners who recently sold a development on the Harlem River Waterfront in Mott Haven to Brookfield, have donated a total of $9,100 to Diaz Jr.
And high-dollar contributions from Sabino and Martha Fogliano of JF Everlasting Contracting, the Bronx-based construction contractors, total $13,300.
Other groups have given Diaz Jr. little to nothing despite developing several major projects, including L+M Development Partners, an associate of which gave Diaz Jr. $1,000 in 2017, and Signature Urban Properties, which has developed a dozen major projects in the Bronx but is not affiliated with any of his high-dollar contributors.
Meanwhile, Diaz Jr.'s top two high-dollar individual donors are not directly affiliated with the development industry. Andrea Squitieri's donations at $1,000 or above total $21,980, and Stephen Jerome's contributions at that level total $13,800.
Jerome is president emeritus and chairman of the board of Monroe College, a Bronx-based university. Squitieri is married to Stephen Squitieri, of Sanitation Salvage––the now defunct garbage disposal group with dismal business practices that have led to some workers deaths, as reported by ProPublica in 2018, and eventually shut down by the city.
Diaz Jr. also receives considerable money from the healthcare and hospital industry, which is the biggest job creator in the borough, according to an economic report from state Comptroller Tom DiNapoli. Many of Diaz Jr.'s high-dollar donors are physicians or hospital executives.
Other contributions to Diaz Jr. span other industries housed in the Bronx. Many high-dollar donors are local business owners, from Bronx-based jewelers to restaurant owners.
Diaz Jr. has made no secret of his plans to run for mayor in 2021, and already has $767,476.50 stored in his war chest from 649 contributions, according to the city campaign finance board. So far, all patterns appear to be carrying over.
[READ: For Diaz Jr., A Booming Bronx and Plan to Run on Development]
Note: this article has been corrected to reflect the correct total of donations to Diaz Jr.'s campaigns from those associated with Maddd Equities and Joy Construction: it is $88,000, not $1.86 million as originally stated.