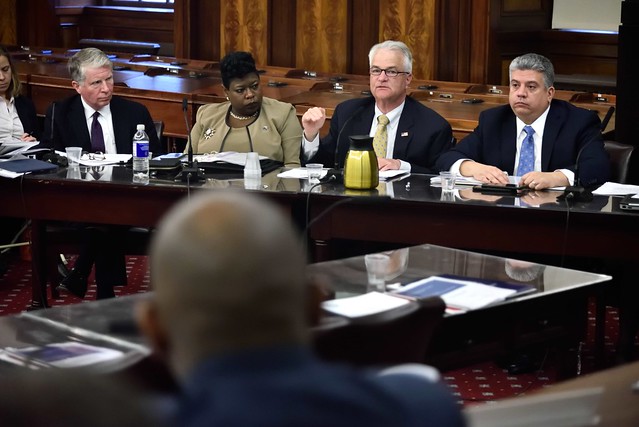 Four sitting New York City District Attorneys (photo: John McCarten/City Council)
---
Does the top prosecutor for one of New York City's most populous boroughs need to have prosecutorial experience? Should the top prosecutor have spent significant time -- years, maybe decades -- arguing in court proceedings? Do they need to know how to put people in prison? Do they need to know to keep them there?
That's part of the "qualifications" debate ignited in recent weeks in the Democratic primary for Queens District Attorney, an election to replace the late DA Richard Brown. Seven candidates are on the ballot for the June 25 election: Queens Borough President Melinda Katz; City Council Member Rory Lancman; former State Supreme Court Justice Greg Lasak; Tiffany Cabán, a public defender in Manhattan; Betty Lugo, a former Nassau County assistant district attorney; Mina Malik, a Harvard professor and former prosecutor; and Jose Nieves, formerly deputy chief in the Special Investigations and Prosecutions Unit at the Office of the New York State Attorney General.
All of the candidates are, of course, licensed attorneys; some are former prosecutors without elected experience; two are elected officials without prosecutorial experience; and one is a public defender that has been neither an elected official nor a prosecutor but has been operating in the trenches of the system. The election is taking place amid record low crime and a criminal justice reform movement that aims to shift the paradigm of what a district attorney can, and should, do with the powers at their disposal.
Key to the race in the overwhelmingly Democratic borough of over 2 million residents is an evolving view of the qualifications for district attorney, and questions not only about what experience someone should have before becoming a top law enforcement official with immense powers to forever alter people's lives, but what exactly the Queens electorate wants in its first newly-elected DA in almost 30 years.
District Attorneys have broad (some say overly so) discretionary powers over how laws are enforced in their county. They can bring -- or decline to bring -- criminal charges as well as initiate civil cases. Their decisions can influence whether police arrest people for specific crimes. Among the city's district attorneys, Brown was slow to adapt to the evolving conversation on restorative and alternative criminal justice approaches.
His office did take efforts to provide some alternatives to incarceration and clear thousands of open warrants for low-level crimes, but often only after others had done so, refused City Council funding to create a dedicated wrongful conviction review unit, and continued to prosecute low-level offenses such as marijuana possession and fare evasion while some counterparts announced policies not to.
The candidates running to replace Brown have pledged to different degrees to break from that tradition, making broad promises to refuse prosecutions for various minor offenses. Most have said they will not seek cash bail for a majority of crimes, and over the course of the race have taken positions on issues that would have been unheard of a few years ago, including pledging to decriminalize sex work (though candidates vary on how they would approach that particular issue).
Last week, the Queens Daily Eagle reported, the Queens County Bar Association gave its ratings to the seven candidates in the race, finding five of them "qualified" except for Cabán and Lugo. The Bar Association judiciary committee said Cabán was "not approved" while Lugo was the only candidate to not appear for an interview. Lasak was found to be "well qualified" for the position.
The New York City Bar Association, which conducted interviews simultaneously with the Queens Bar Association, released its own ratings for the candidates on Friday, giving all candidates except for Lugo an "approved" rating. Eric Friedman, a spokesperson, said in an email to Gotham Gazette, "We have a policy of not commenting regarding the specifics of our evaluation process." Friedman noted that the process is "essentially the same" for evaluating judicial candidates.
The Queens Bar Association's ratings immediately drew strong reactions from the campaigns. Lasak quickly began to fundraise off the designation, sending out an email with the subject line, "well qualified," followed soon by a mailer – viewed by some, including Katz supporters, as a sexist attack – in which he juxtaposed himself with Katz, the perceived frontrunner in the race.
Lancman, who was rated "qualified" along with four others, tweeted the night of the interviews, "Purported gatekeepers for most diverse county in USA. About 40 lawyers. Every single one white. Not a person of color in room. Eyes roll when I discuss #racism in criminal justice system, no surprise."
Cabán's campaign quickly pushed back against the Queens Bar Association's assessment, citing her years of work as a public defender. Throughout her campaign, the 31-year-old Latina, who identifies as queer, has painted herself as the most qualified to carry out what she believes is the right mission of the District Attorney's office: to decarcerate and target the socioeconomic drivers of crime. What's she outlined is little short of a revolutionary approach to the position, but one that career prosecutors like Lasak scoff at as unrealistic, indicative of her lack of experience.
The question of qualifications is far from simple. Former prosecutors say that, in order to do the job, a candidate should ideally have done it in some form before, perhaps as an assistant district attorney. But principles, management ability, and leadership skills are far from evident from a resume. Reformers and advocates argue that a former prosecutor may be the furthest from what Queens needs, and wants, in its top law enforcement official, after nearly three decades of having lived under tough-on-crime policies that disproportionately target the low-income communities of color who make up large, and growing, parts of the borough.
"It's definitely important to have criminal law experience," said Jennifer Rodgers, a former prosecutor with the U.S. Attorney's Office for the Southern District of New York and lecturer-in-law at Columbia Law School. "You can obviously have that experience on either side. You can have it as a prosecutor, you can have it as a defense lawyer."
Rodgers acknowledged the now widely-recognized trend of prosecutors running as progressives, focused more greatly on restorative justice and decarceration. The victories of progressive district attorneys like Larry Krasner in Philadelphia and Rachael Rollins in Boston signalled the beginning of that shift. (Krasner, a former public defender and longtime civil rights attorney, came to Queens to endorse Cabán on Thursday. "There are an awful lot of people who have said they're progressive. And yet their deeds, their history, does not match their words. Tiffany's history matches her words," Krasner said.)
In the Queens race, all the candidates have promised they will reform the office and its punitive policies, though Cabán's promises go the furthest (earning her a coveted New Yorker profile published on Tuesday, among many others), with Lancman and his legislative record of criminal justice reform not far afield. But Rodgers noted that even longtime prosecutors have successfully transformed their systems of criminal justice, pointing to Brooklyn DA Eric Gonzalez as a prime example.
Gonzalez was named to and then won the position after the death of Ken Thompson, who himself was a reformer and put into place progressive policies of his own. "[Gonzalez] is a lifelong assistant district attorney, the sort of person that people might look at and say, 'Well look, this guy is just kind of poisoned from having put people in jail for his whole career. He's never going to see the benefit of these sorts of policies,' and yet he does. And a lot of prosecutors now are more like him," Rodgers said.
Of the other current district attorneys, both Manhattan DA Cy Vance and Bronx DA Darcel Clark worked as assistant district attorneys before ascending to their top prosecutor jobs. Staten Island's Michael McMahon did not have prior prosecutorial experience before being elected DA, though he "was a practicing trial attorney for 30 years, appearing in courts at all levels throughout New York State," according to his website, as well as a member of the City Council and member of Congress.
Of the seven candidates in Queens, Katz, Lancman, and Cabán are the only ones who have not been prosecutors. Increasingly, the race is being viewed as a two-way battle between Katz – the establishment candidate with a solid base as borough president, strong union support, deep campaign coffers, and even the endorsement of Governor Andrew Cuomo – and Cabán, who has built a grassroots campaign, received thousands of individual campaign donations outnumbering her opponents', and pulled in prominent endorsements from progressive organizations and elected officials, including Congressional Rep. Alexandria Ocasio-Cortez.
Lancman's campaign argues he has a path to victory that includes Jewish and African-American voting blocs, including from the areas he has represented in the City Council and state Assembly, and the crucial battleground of predominantly-black southeast Queens. Lasak, who was a prosecutor in the Queens DA office for 25 years before becoming a judge, has received many endorsements from law enforcement unions.
"I would not say 100% that a chief prosecutor must be a former prosecutor but I would say there should be a strong presumption that that person be a former prosecutor," said Daniel R. Alonso, managing director and general counsel at Exiger, and formerly a prosecutor at the U.S. Attorney's Office for the Eastern District of New York and chief assistant district attorney in Manhattan.
Alonso conceded that there are examples of lauded prosecutors who previously had no prosecutorial experience. For instance Robert Morgenthau, who was appointed U.S. Attorney for the Southern District in 1961, had not previously prosecuted cases. Alonso worked under Morgenthau, who went on to become the longest serving district attorney in New York State. Even Richard Brown, when he first became Queens DA, had not been a prosecutor but rather a judge, Alonso pointed out.
But, he said, "It is a very difficult job and in any job, it's very hard to do it for the first time as the person who is in charge, particularly for something as specialized as prosecution. So you have to be constantly making decisions, weighing evidence, deciding some issues of policy but those issues of policy have to be informed by real experience in the criminal justice system and understanding what makes a good case and a bad case."
That's a measure that Lasak, Malik, Nieves, and Lugo have used to pitch their campaign.
Lasak's success at homicide prosecutions in the Queens DA's office earned him the moniker "Mr. Murder" -- mentioned in a New York Times profile in 2003. He also touts his work to set up a wrongful conviction review team, and his experience later as a state Supreme Court judge.
"Judge Lasak is the most qualified candidate in this race, bar none. And that qualification is of the utmost importance when seeking a job where lives are on the line - lives of victims, of witnesses, and of defendants who are innocent until proven guilty," said Bill Driscoll, Lasak's campaign chair, in a statement to Gotham Gazette. "Judge Lasak has spent his career keeping us safe and freeing the innocent. The District Attorney's office is no landing pad for a term-limited politician, nor is it a launching pad for bids for higher office."
Some of Lasak's opponents, chiefly Cabán and Lancman, argue he's a relic of the old-school approach to public safety that led to mass incarceration, especially of poor people of color.
At a March 12 candidate debate, Lugo said, "My entire life I have been involved with the criminal justice system." She emphasized her work for the Nassau County DA, Manhattan DA, and Albany County DA. Nieves, at the same debate, said he is an "18-year progressive prosecutor." "I chose to go into criminal justice not because I wanted to charge or incarcerate, but because I wanted to change the system," he said.
Malik, in a statement, said, prosecutorial experience is "absolutely essential" to become Queens DA. "In fact, it should be a prerequisite. You would not go to a podiatrist if you have a heart problem; you'd go to an experienced cardiologist," she said, noting her two decades of experience, including managing staff at three different agencies and working both as a prosecutor and defense lawyer.
"We cannot play with the lives of 2.4 million Queens residents when it comes to criminal justice and the safety of our communities," said Malik, who has at times pointedly compared herself and Cabán to highlight differences in resumes. "To be the highest ranking law enforcement agent in Queens, experience matters."
Though they have been on the defensive at times, Katz, Lancman, and Cabán, have in some instances tried to flip the script, emphasizing the fact that they have not served as prosecutors.
In a statement to Gotham Gazette, Katz emphasized her experience as a licensed attorney for 30 years, including litigation, her time as a local and state legislator, and her work as borough president. She has not practiced in criminal court before. "But I'm not a career prosecutor who spent their career perpetuating our broken criminal justice system," she said. "Instead, I'm the only candidate in the race with experience managing a Borough-wide office, with trusted relationships from every corner of Queens, who can walk in on day one knowing exactly how to implement the reforms we need."
Grant Fox, a Katz campaign spokesperson, also took a shot at Cabán, her "unqualified" (really "not approved") rating from the Queens Bar Association, "her incredibly short career" and her "reckless and dishonest campaign to cover up for her total lack of managerial experience."
Katz's campaign has a deep bench of endorsements from elected officials and prominent unions, including 32BJ SEIU, the buildings services workers union that is also a potent political operation. "Throughout her extensive career in public service, Melinda Katz has always protected the rights and safety of the most vulnerable in our community and we are confident she has the skills and experience to continue doing so as District Attorney," said Hector Figueroa, president of 32BJ SEIU, in a statement. "Prosecutors only know how to prosecute and it's these prosecutors who created the broken system that Melinda Katz plans to fix."
Lancman has made a similar argument for his candidacy. "The next Queens District Attorney must have robust legal experience, be a proven public official, and boast a track record of criminal justice reform," he said in a statement, pointing to his record representing victims of workplace harassment, wage theft, and on-the-job injuries.
As with Katz, Lancman has served as both a state and local elected official, and he touts his advocacy for closing Rikers Island jails, ending cash bail, police reform and accountability, and fighting against sexual assault. Lancman has chaired a City Council committee with oversight of the city's five district attorney offices.
"We have a once-in-a-generation opportunity to radically transform the criminal justice system here in Queens, but it requires a District Attorney with real litigation, public policy and criminal justice reform experience to get the job done," he said, in part as an apparent attempt to contrast himself with Katz and Cabán.
Stuart Appelbaum, president of the Retail, Wholesale and Department Store Union (RWDSU), which endorsed Lancman, said three qualifications are necessary for the next DA: "One is experience as a practicing attorney involved in litigation, because you're running a huge law office and you need to be familiar with the courtroom and you need to be familiar with litigation. The second is to be involved in criminal justice issues. And thirdly, you have to have the right values and the right ideas for what you want to do with the office...I think that Rory has those qualifications."
Cabán's campaign has drawn a clear distinction from both Lancman and Katz. "As a public defender, Tiffany Cabán is the only one who has defended over 1,000 clients in court who couldn't afford to defend themselves—who are sent to Rikers simply because they couldn't make bail; because they jumped a turnstile; because they struggled with mental health issues or substance use disorder," said Monica Klein, a campaign spokesperson, in an email.
"Her opponents are career prosecutors who worked to throw people in jail, and career politicians that thrive in the very system they say now has to be reformed," Klein continued. "Tiffany knows better than anyone what it will take to bring real justice to working people in Queens—because she's the only one who has been doing this work on the front lines for years."
Several criminal justice reformers say their best hope of achieving key goals lie with Cabán.
Assemblymember Dan Quart, who endorsed Cabán and is rumored to be considering a run for Manhattan District Attorney next year, said in a phone interview that prosecutorial experience is not a prerequisite for becoming a district attorney (Quart has no prosecutorial experience but was a criminal defense attorney). "Each individual county's bar association is allowed to operate under whatever rules they want but any reasonable view of Tiffany's qualifications, she is certainly qualified. To say otherwise is ridiculous," he said, referencing the Queens Bar Association's ratings. "I think they made a mistake in judgement. Look at Tiffany's experience. Seven years as a public defender...that is significant experience. Certainly significant litigation, courtroom experience that under any definition of the word 'qualified' would satisfy it."
None of the candidates in the race, he pointed out, can rightfully claim to have managed an office as large as the Queens District Attorney office, with its 600-odd lawyers on staff. "So to single Tiffany out seems extremely selective to me," he said.
Alyssa Aguilera, executive director of VOCAL-NY Action Fund, which also endorsed Cabán, said the debate around prosecutorial experience "comes from a place of gatekeeping and a desire to maintain a status quo that has fueled mass incarceration, that has perpetuated racial disparities in the criminal legal system and comes with a mindset that punishment is prioritized over finding real solutions to repair harm and create stronger communities."
Alonso, the former federal prosecutor, did not take a position on any specific candidate but he did issue some notes of caution. He said he'd be "deeply skeptical" of someone without any courtroom experience -- a distinction that only applies to Katz in this race. And he added, "The nightmare scenario is that somebody who is an elected official or has a constituency decides, 'Boy it would be fun to be DA.' Unlike being a legislator and unlike being other kinds of elected officials, this is a professional job where you have to actually do a very specialized job day-to-day. It's not primarily a policy job."
Note - This article has been updated with the New York City Bar Association's ratings for the Queens DA candidates, which were released after this article was published.