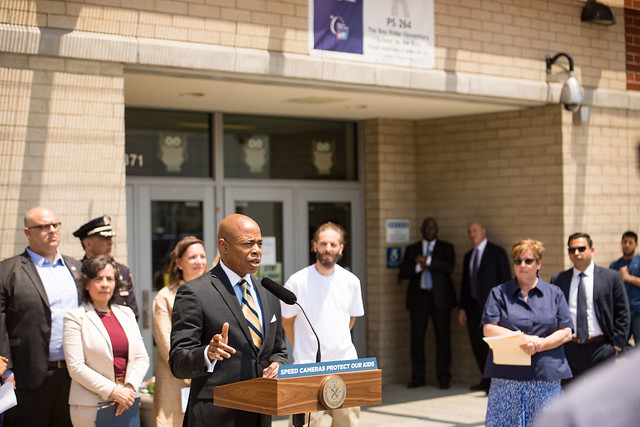 Eric Adams (photo: Benjamin Kanter/Mayoral Photo Office)
---
During a recent interview, Brooklyn Borough President Eric Adams discussed a number of pressing topics, including the end of the legislative session in Albany, criminal justice reform and plans for a larger jail in downtown Brooklyn, controversy around campaign finance reform that is heating up the 2021 mayoral race, which Adams is a part of, and more.
On the Max & Murphy podcast last week, Adams, a former state senator before being elected borough president in 2013, said he is happy to see the progress being made by the all-Democratic led state government in Albany, including recently-passed, sweeping rent regulations that Adams had pushed for.
Democratic control of both houses of the Legislature "makes it much easier to accomplish the task," Adams said, but he added "there's so much more to do," and expressed his support for driver's licenses for undocumented immigrants, which has since passed both the Assembly and Senate and was signed by Governor Cuomo, and legalization of adult-use marijuana, which has stalled.
According to Adams, being arrested for a non-violent drug offense, such as possession of marijuna, "really impacts your quality of life around employment, and other areas that a person can be productive in society." The Marijuana Regulation and Taxation Act being debated in Albany and unlikely to pass this session, scheduled to end June 19, has the potential to prevent many of the 800,000 arrests made for marijuana possession in New York each year.
Adams called extending driver's licenses to all who can earn one, through requisite paperwork and driving test, a "win-win," and noted that the ability to drive legally allows immigrants to step out "from the shadows of government." Furthermore, Adams noted that equal access to driver's license allows for more accountability and safety on the road.
A former longtime member of the NYPD, Adams said, "It would deal with reporting incidents and accidents, it would allow people to be employed, and that's just a win-win all the way around."
Adams raised issues of education funding out of Albany and the city budget negotiations around "pay parity" for early childhood educators at Department of Education schools and community-based organizations funded by the city. Speaking just before an agreement was announced by Mayor de Blasio and the City Council on a new city budget for next fiscal year with a "commitment" to agreeing on a pay parity structure through collective bargaining with the labor unions involved, Adams said, "you need to ensure that our teachers in these pre-K locations are receiving the same salaries." For Adams, this is especially concerning considering that "many of these local community based organizations are in poorer communities."
Asked about the city's plan to close the Rikers Island jail complex and replace it with new or larger jail facilities in the four boroughs other than Staten Island, Adams said he plans to wait before releasing his official recommendation on the expanded Brooklyn jail plan. Adams said he was listening to local stakeholders, including community boards and other members of the public, and that he would soon issue his opinion as the jail plan moves through the formal land use review process, in which borough presidents like Adams have an advisory role.
Adams, who is in favor of closing the Rikers jails, argues more needs to be done in criminal justice reform to prevent people from engaging in crime in the first place and to ensure that communities are safe.
He said it is essential to "properly address the issue of not giving [young people] the services at the beginning of their educational opportunities." Asked about bail and other reforms recently passed in Albany that will impact the city's criminal justice system and jail population, Adams said, "I don't believe that a person who commits a non-violent act, as I said earlier, should be incarcerated in Rikers merely because they do not have enough money to pay for bail." Adams made a distinction when it comes to violent crime, though.
On the perpetually hot-button topic of public housing in New York City, Adams voiced strong support for housing development on NYCHA land, and said that the city should make a greater effort to help the struggling housing authority. NYCHA is crucial, Adams said, because 40% of New Yorkers experience a "sufficiency deficit," meaning they do not make enough money to afford necessities such as, "food, shelter, and clothing."
"We must get back into the affordable housing mindset," Adams said, arguing it is important for both low- and middle-income New Yorkers. While expressing concern for NYCHA residents who may be hesitant to move apartments or see major change at their overall developments, he noted the extreme need NYCHA has for tens of billions of dollars in repairs and that many older NYCHA residents in multi-bedroom apartments could downsize, freeing up room.
"I think that we should utilize the infill buildings," Adams said, and "I believe that all of this should be done with a conversation with the NYCHA residents." Warning that the city must be smarter about managing its properties, Adams said there must be better use of technology and data. As he often does, he cited CompStat, the NYPD tool, and said its essential to use tech and data to eliminate "waste and mismanagement" and bring NYCHA into "the 21st century."
Turning to politics, Adams was asked about a recent controversy over City Council legislation that was on the verge of passage. Other likely mayoral candidates in the next election -- with the all-important Democratic primary set for June 2021 -- have been embroiled in a back-and-forth over the last few weeks, with Comptroller Scott Stringer accusing City Council Speaker Corey Johnson of moving campaign finance reform legislation to benefit Johnson and hurt his competition, particularly Stringer.
Under the legislation, which Mayor de Blasio appears supportive of, any candidate who wants to opt into a new system with higher public matching of smaller contributions must retroactively abide by new rules, including returning money raised in 2018 that exceeded the new maximum donation limits from individual donors. Candidates can, for one more election cycle, choose whether to use the old system, with lower public matches but higher individual donations, or the new system. If Stringer -- and Adams and Bronx Borough President Ruben Diaz Jr., the other likely mayoral candidate at this point -- wants to use the new system, he'll have to refund potentially many thousands of dollars.
Adams claimed he stands alone on the issue of campaign finance reform, stating that he does not believe there should be any donor money in politics at all, calling for full public financing of campaigns. Fighting about dollar amounts is a "first world problem," he said when asked about the controversy over the Council bill, and because of the barriers associated with having to raise money for campaigns, "good, qualified people are unable to run for mayor and we will never hear their voices," he said.
Adams said campaigns "should be publicly financed," and that, "it's almost an insult to think that lowering dollar amounts is going to change the corruption problem in politics."
On the issue at hand, Adams criticized Johnson, saying, "It's wrong for any elected official to do something that's going to impact them while they are in service." He said he is still reviewing which system he'll choose for the election.
[LISTEN: Max & Murphy Podcast: Brooklyn Borough President Eric Adams]