Council Member Farah Louis is sworn in (photo: John McCarten/City Council)
---
City Council Member Farah Louis was officially sworn in at City Hall on Thursday, a few weeks after winning a crowded special election to succeed Public Advocate Jumaane Williams to represent the Council's 45 District in Brooklyn. But thanks to New York's laws for special elections, she is already running for reelection in another special election, with the all-important Democratic primary set for June 25, in which Louis is facing several opponents she outpaced in the May 14 election.
The first special election was to serve through the rest of this calendar year, while the June primary and November general elections will determine who holds the Council seat for 2020 and 2021, the final two years of the four-year term. There will then be an election for the seat as part of the full city election cycle in June and November of 2021.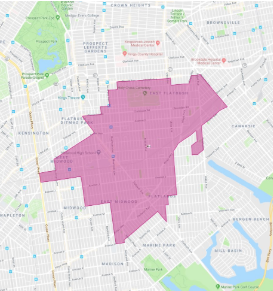 The district includes parts of Central Brooklyn including areas of Flatbush, Flatlands, Canarsie, and Midwood.
Louis won the May special election with 42% of the vote in an eight-candidate field. Monique Chandler-Waterman finished second with 30%, and is running again in the June 25 primary.
The other six candidates from May – Jovia Radix, Xamayla Rose, L. Rickie Tulloch, Adina Sash, Anthony Alexis, and Victor Jordan – all received under 10% of the vote. Several of the other candidates are also campaigning ahead of the June vote.
All eight candidates who ran in May will appear on the ballot again in June, but only some are actively campaigning, led by Louis, Chandler-Waterman, and Rose.
Louis, now the incumbent, is of course running again, this time with the institutional support of the City Council behind her, including Speaker Corey Johnson. Runner-up Chandler-Waterman is actively campaigning, as is fifth-place finisher Rose, who got 6% of the vote in May. Anthony Alexis has also continued to campaign and raise money, but he received only 1% of the vote in May. Jovia Radix, L. Rickie Tulloch, and Adina Sash have all suspended their campaigns, while last-place finisher Victor Jordan's plans are unclear.
Four candidates have filed with the Campaign Finance Board to receive public matching funds: Louis, Chandler-Waterman, Rose, and Alexis. As of June 7, only Louis and Chandler-Waterman raised enough to receive matching funds; Rose and Alexis are actively fundraising but have not yet hit the threshold needed to qualify for public funding.
With just a week before primary day, it appears to again be a two-candidate race between Louis, a Judicial Delegate and former aide to now-Public Advocate Williams, and Chandler-Waterman, who continues to have Williams' endorsement for his old seat. Chandler-Waterman is also a former Williams aide and more recently led East Flatbush Village, a non-profit she founded that aims to eliminate violence through after-school programs and mental health workshops, according to its website.
Though the election has been contentious and closely fought, policy differences among the leading candidates are few and far between. Louis' and Chandler-Waterman's websites both lack sections devoted to issue positions; Rose is the only candidate with a clear policy agenda laid out. Most social media and news coverage has instead focused on their differing biographies, resumes, and political supporters.
Differences, when they do emerge, are largely matters of emphasis, though they have expressed different top priorities. In an interview with NY1's Errol Louis, Farah Louis prioritized zoning and development regulations, "ensur[ing] that the neighborhoods continue to look the way they looked when we first invested into them."
Chandler-Waterman, in her interview with NY1's Louis, stressed the need for police reform and mental health initiatives, saying that she does "not believe the NYPD should be responding to any individual that has mental health illnesses."
For the voters' guide published by the New York City Campaign Finance Board, Louis listed her top three issues as "preserve and expand affordable housing," "invest in educational" [sic], and "support economic development and jobs."
For the CFB guide, Chandler-Waterman listed her top three issues as "affordable housing," "education," and "public safety."
The candidates' answers to questionnaires from Citizens Union, a good government group, show similar differences. Louis lists housing initiatives as her top two of five main priorities, while Chandler-Waterman's first two points concern gun violence and public safety.
The questionnaires also illuminate small policy differences between the two candidates relating to voting and City Council reform. Chandler-Waterman supports changes to reduce the number of City Council committees and to require that laws enacted through a referendum can only be changed by voters; Louis opposes both reforms.
For the June 25 election, as of the June 14 filing, Louis raised $42,289 and received $75,308 in public matching funds, while Chandler-Waterman raised $33,555 and received $66,576 in public funds. The two candidates led the field in fundraising ahead of the May special election as well.
Both candidates have significant endorsements in their corner. In addition to Johnson, Louis has been endorsed by Brooklyn Borough President Eric Adams and Assemblymember Rodneyse Bichotte, who represents an overlapping Assembly district, as well as many other City Council members, Assembly members, and 1199 SEIU, the powerful health care workers union that Louis used to belong to and then worked for. Louis also has the backing of the district's large and powerful Orthodox Jewish community leadership, which endorsed and voted for her over Adina Sash (who is Orthodox Jewish) in May and appears to be fully behind her again this month. On Wednesday, Bklyner reported that Mayor Bill de Blasio and the Hotel Trades Council labor union had both thrown their support behind Louis.
For her part, Chandler-Waterman has Williams's backing – a point of consternation for Louis, who was until recently his staffer. Williams is continuing to fundraise for Chandler-Waterman. Following her special election loss, Chandler-Waterman appears to have lost the endorsement of City Council Majority Leader Laurie Cumbo, who represents a nearby district (Cumbo's name has been removed from the endorsements page of Chandler-Waterman's website). However, she picked up endorsements from the politically-potent property service workers union 32BJ SEIU and former opponent L. Rickie Tulloch, and maintained the support of Assembly Member Nick Perry, State Senator Zellnor Myrie, and other local politicians.
Chandler-Waterman was also endorsed by the City Council Progressive Caucus and the Working Families Party in the first round, indicating that her progressive bona-fides may be stronger than Louis'. The Working Families Party has recently reaffirmed its support for Chandler-Waterman, but the Progressive Caucus appears to have rescinded its for the second special election.
Rose, the third particularly active candidate in the race, is the founder of an anti-violence nonprofit and a member of Community Board 17.
Both Louis and Chandler-Waterman have made and addressed controversial comments recently. Louis apologized for tweets from 2010 which demeaned Jews and the LGBT community; she nonetheless maintained her endorsements from LGBT Democratic clubs and Jewish representatives like Council Member Chaim Deutsch.
Waterman-Chandler, meanwhile, was recorded yelling at NYPD officers outside her child's school in October of 2018 following an unverified charge against her husband. More recently, in an interview with City & State just after the May 14 election, she accused Louis of winning the special election on the backs of "Trump supporters." Her claim appears to be supported by voting data; the Midwood precincts where Louis won overwhelmingly, which are mostly Orthodox Jewish, were also the 45th District's most Trump-friendly in 2016. Louis' campaign itself did not respond to Chandler-Waterman's comments, but City Council Member Kalman Yeger, a Louis ally, called them offensive.
While Louis, after winning in May by a large margin and now having at least the buzz of incumbency, is clearly the favorite in the June 25 election, it's not clear what the electorate may look like and whether Waterman-Chandler is taking any new measures to alter the race this time.
Turnout was incredibly low in the May 14 election – only 9,235 people cast votes out of 94,089 active registered voters in District 45. While the May special election was non-partisan and open to all registered voters in the district, the June vote is a Democratic primary, wherein only registered Democrats in the district can vote. There are no other major races bringing voters to the polls.
Although the 45th Council District is heavily Democratic, the winner of the primary election may not have the ballot to themselves in November. Anthony Beckford, who ran for the same seat in 2017 on the True Freedom line against then-incumbent Jumaane Williams, has said he's running but has yet to report raising any money. There's also the chance that Louis or Chandler-Waterman could appear on one or more other ballot lines - like Working Families Party - after the Democratic primary.
Note: Gotham Gazette is an independent publication of Citizens Union Foundation, sister organization of Citizens Union.