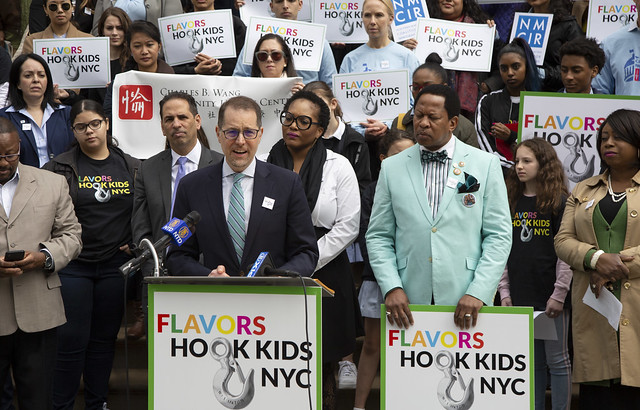 Council Members Levine, center, & Cabrera, behind him (photo: John McCarten/City Council)
---
The New York chapter of the NAACP and four of the nation's largest anti-smoking groups are urging City Council Speaker Corey Johnson to support two bills that would effectively ban the sale of flavored tobacco products in New York City. The groups recently sent a letter urging Speaker Johnson to bring the two proposals up for a vote in the City Council.
The first bill, Intro. 1345, sponsored by Bronx Council Member Fernando Cabrera, would end an exemption in a previous city law that banned the sale of flavored cigarettes to allow for the continued sale of menthol, mint, and wintergreen flavors.
The second bill, Intro. 1362, sponsored by Manhattan Council Member Mark Levine, who chairs the Council's Health Committee, would ban the sale of flavored e-cigarettes.
The American Heart Association, Campaign for Tobacco-Free Kids, American Lung Association, and American Cancer Society joined the NAACP's New York State Conference in calling for flavored tobacco products to be banned in New York City. They say the tobacco industry uses flavored products to specifically target young people and communities of color.
"We strongly urge you to enact two proposals pending before the Council – both cracking down on flavored tobacco products that lure and addict our children," reads the letter.
The letter states that 85% of African-American smokers use flavored productions (compared to 29% of white smokers). These organizations believe this is a leading reason why "African Americans suffer the greatest burden of tobacco-related mortality of any racial or ethnic group in the United States."
Last year, youth e-cigarette use, which increased 80% in 2018, was declared an "epidemic" by the U.S. Surgeon General. The advocacy groups' letter points to a survey that found that "81.5% of youth e-cigarette users and 73.8 percent of youth cigar users saying they used the product 'because they come in flavors I like.'"
The letter calls these trends "simply unacceptable" and implores Speaker Johnson to act on the issue. Both bills were first introduced in January and hearings were held in that same month, but there has been no change in the legislation's status for five months, save additional sponsors signing on.
In May, all five borough presidents signed on to a letter drafted by Brooklyn Borough President Eric Adams supporting the two bills. Both Adams, who has made public health a signature issue, and Bronx Borough President Ruben Diaz Jr. are considering runs for mayor, as is Johnson, who has also had a focus on health and chaired the Council's health committee last term.
Johnson has been waging a public battle to quit smoking cigarettes, recently tweeting that he had hit 40 days without one (he told Gothamist he bought a juul, but did not indicate if it is flavored).
"The Council is always working to improve the public health outcomes of all New Yorkers, and we are continuing to review these proposals as they go through the legislative process," according to a spokesperson for Johnson, who did not indicate where the speaker himself falls on the bills.
Neither bill has a majority of sponsors in the Council.
Eighteen of 51 Council members have sponsored Cabrera's bill. "Flavored tobacco leads to the preventable deaths of thousands of New Yorkers each year and it is people of color and our children who are most at risk of getting hooked," Cabrera said in a statement to Gotham Gazette. "We must move quickly to significantly restrict menthol cigarettes and flavored cigarettes in our city."
Fourteen Council members have sponsored Levine's bill. Twelve of the 14 also sponsor Cabrera's bill. "To protect kids and our communities, we have to end the sale of flavored tobacco products in New York," Levine said in a statement, adding that he is "working hard in the City Council to pass legislation to ban these products and ensure they can no longer be used to addict the most vulnerable New Yorkers."
Some anti-tobacco advocates have posited that the bills haven't moved because the National Action Network, a civil rights organization led by Rev. Al Sharpton, has come out against Cabrera's proposal.
During the Council health committee hearing on the bills in January, Kyra Stephenson-Valley, NAN's cessation coordinator, said "it is proven that increased regulation does not necessarily stop users, but rather criminalizes addicts without resource," pointing out that there have been "disparate impacts."
She went further, declaring that "bans and prohibitions can lead to an increase in negative interactions between law enforcement and African-Americans." She also alluded to Eric Garner's death, saying "history has shown us here in New York City that can take your life over a loose cigarette."
In addition to City Council testimony, according to Politico, NAN "has held town halls at prominent black churches throughout the United States to talk about how menthol bans criminalize the black community." According to a spokesperson for Council Speaker Johnson, Sharpton has mentioned the issue to him in passing, but has not directly lobbied Johnson or the Council.
City Council Member Keith Powers, a Manhattan Democrat who supports Levine's bill but not Cabrera's, said in a statement, "I have been an ardent supporter of stricter laws on smoking but want to ensure that no community feels targeted." He did not respond when asked whether any individual or group personally lobbied him against Intro. 1345.
According to FairWarning, NAN receives funding from R.J. Reynolds, the second-largest tobacco company in America. The company produces Newports, which are the nation's best-selling menthol cigarette brand. According to FairWarning, R.J. Reynolds' donations to NAN are part of a broader corporate strategy of "seizing on the hot button issue of police harassment of blacks to counter efforts by public health advocates to restrict menthol sales," with the help of prominent African-Americna leaders and advocacy groups.
The tobacco industry has a long history of employing similar tactics. According to the CDC, tobacco companies have historically attempted "to maintain a positive image among African Americans have included such efforts as supporting cultural events and making contributions to minority higher education institutions, elected officials, civic and community organizations, and scholarship programs."