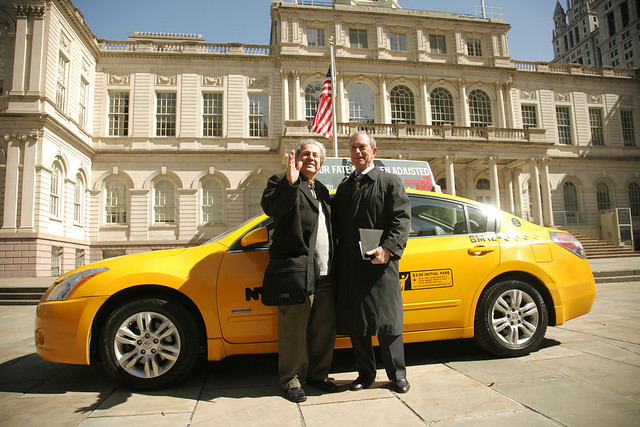 (photo Credit: Edward Reed/City Council)
---
Amid a new flurry of attention to challenges faced by taxi drivers in New York City, the City Council will hold an oversight hearing Monday on the city's Taxi and Limousine Commission's "role in the taxi medallion crisis."
As a New York Times two-part investigation published in May helped bring back into extensive public conversation, taxi medallion prices rose to extreme heights between 2002 and 2014 – as high as $1.3 million – before crashing down amid a boom in the launch of the app-based for-hire vehicle sector. Thousands of medallion owners are in immense debt with their medallions, which allow them to operate a city-sanctioned yellow taxi, worth far less than at point of purchase, when they bought them from the city through loans provided by private banks.
Reporting prior to the Times' exposé had already documented the mounting debt crisis for medallion owners, connecting it largely to the rise of ride-hailing apps such as Uber and Lyft. All of the city's 13,587 taxi medallions took significant hits in value, both those owned by individual drivers themselves and those constituting larger taxi fleets. The City Council passed and Mayor Bill de Blasio signed a cap on new for-hire vehicle licenses and new wage guarantees for drivers amid a series of driver suicides in 2018, tragedies that pushed the medallion crisis into public view.
Now, the Times' investigation has caused a new flurry of legislation after it showed how the Taxi and Limousine Commission (TLC) was instrumental in the extraordinary inflation of medallion prices. Though the TLC was not directly involved in the reckless lending practices that led to the taxi drivers' debt, it stood to benefit from skyrocketing prices at medallion auctions and chose to ignore signs that the market was highly unstable. The TLC is charged with regulating the taxi industry, and the Mayor oversees it and the city budget, which has included and relied on revenue from medallion sales.
While much of the Times' reporting focused on other culprits, including predatory lenders and the National Credit Union Association, medallion owners and their representatives have laid a lot of blame on city government.
Sergio Cabrera and Carolyn Protz, two medallion owners, wrote in a scathing Crain's New York Business op-ed that "the real scandal...is how the Taxi and Limousine Commission, as well as elected officials, played a pivotal role in taxis' demise."
Bhairavi Desai, executive director of the New York Taxi Workers Alliance, similarly charged that "the city raked in profit while working-class immigrant drivers of color were swindled and pushed into financial despair."
Many elected officials agree. In an interview with City & State, City Council Member Mark Levine stated that "the city itself also bears responsibility for this, because we were selling medallions with the goal of bringing in revenue to the city and we were promoting them and pumping them up in ways that I think masks the true risks that drivers were taking on."
The hearing on Monday, which will be jointly held by the Committee on Transportation and the Committee on Oversight and Investigations, will likely feature significant grilling and criticism of the TLC, as well as testimony from non-governmental parties, like medallion owners, pointing the finger at city government. On its website, the Taxi Workers Alliance has already promised to "pack the hearing room."
Council Member Ritchie Torres, who will be leading the hearing as chair of the Oversight and Investigations Committee, said in a phone interview with Gotham Gazette that "the purpose of the hearing is to examine TLC's role in creating a speculative bubble in the medallion market, and to identify the regulatory failures, the policy failures, that led to the collapse of the medallion market and the resulting humanitarian crisis."
"There's a sense in which TLC was functioning both as a market regulator and a market purchaser, and there is a conflict of interest between those two parts," Torres said, echoing concerns outlined in the Times articles.
Although his committee began an investigation into the commission in November of 2018, "TLC has [since] been insufficiently cooperative with the City Council," and the hearing is intended as a continuation of this inquiry. Despite the TLC's stonewalling, Torres did disclose that the investigation has been productive, saying "there's more evidence that the City is culpable than even the New York Times exposé suggests."
In addition to the oversight portion of the hearing, which will begin at 10 a.m. Monday, four new bills aimed at mitigating the crisis will be introduced and discussed.
The first, from Council Member Ydanis Rodriguez, chair of the Transportation Committee, would require the TLC to "evaluate the character and integrity" of medallion brokers. Another, from Torres, would create a department within the TLC to evaluate the financial stability of the industry. This could theoretically prevent another bubble from forming based on false assertions of taxi market infallibility.
A third bill, sponsored by Council Member Adrienne Adams, would require the TLC to collect annual financial disclosures from individuals with interest in a taxi license. Finally, Council Member Francisco Moya is introducing a bill to prohibit the sale or transfer of a taxi license unless the funds used have been reviewed by the TLC.
These four bills are far from the only ones being drafted and discussed. On May 21, Rodriguez and fellow Council Member Fernando Cabrera proposed an exemption for taxi drivers from congestion pricing to lower their costs, saying that legislators had a "moral obligation" to do so.
Rodriguez also recently saw the City Council pass his bill to reduce the commercial motor vehicle tax on medallion owners from $1000 to $400. In a statement, he pledged to continue "to find ways to ensure that Taxi Medallion owners receive the justice they deserve."
Meanwhile, in the state legislature, State Senators Jessica Ramos and Leroy Comrie have proposed a bill that would establish a taxi medallion guaranty program to help medallion owners who are unable to pay off their loans.
For some activists and lawmakers, these proposed changes don't go far enough. Levine, writing in the Bronx Free Press, proposed "dramatic plans" to buy back medallions and forgive taxi drivers' debt to augment smaller changes such as waiving fees and establishing task forces; City Comptroller Scott Stringer has expressed support for a similar solution.
The Taxi Workers Alliance, one day after the Times article was published, proposed a slightly less drastic plan. It would create a Council-appointed task force to determine the proper current value of taxi medallions, and any loan amounts exceeding that value would be forgiven (the specifics of how the loans would be forgiven have not been made clear).
Unlike Levine's proposal, this would still likely leave many drivers hundreds of thousands of dollars in debt. And as transportation expert Bruce Schaller pointed out to City & State, many medallion owners have already spent hundreds of thousands of dollars to pay off their loans, money that a debt forgiveness program would not help them reclaim.
Any debt forgiveness bill may also face a difficult path under the de Blasio administration. Though the mayor has embraced investigations of lenders and higher wages for drivers, he dismissed the possibility of bailouts in an interview with Brian Lehrer, calling the crisis a "private market reality" that the city is not culpable for, mostly side-stepping city government's role in selling such inflated medallions and TLC's lack of oversight. De Blasio did acknowledge that the city allowed something of a bubble to develop, but cited his administration's efforts to stop selling medallions and to cap app-based for-hire vehicles (a 2015 push by de Blasio to cap FHVs failed, only to be achieved three years later).
The June 24 Council hearing comes at a time of upheaval at the TLC. On June 18, de Blasio announced that Department of Veterans' Services official Jeffrey Roth will become the new TLC commissioner. He replaces Meera Joshi, who departed the agency in March.
Joshi, for her part, was concerned that direct bailouts would benefit banks too much and drivers too little. Her preferred solution instead was to encourage banks to take a loss and downsize the loans. That way, the banks could "at least have a good live loan at the right price, [rather] than have someone who's out of work and the bank with a loss." Roth, who will need to be approved by the City Council before he becomes commissioner, does not yet have a stated position on the issue.
Though relief for medallion owners is likely still a long way off regardless of policy direction, Council Member Torres hopes that the upcoming hearing can begin the process of recovery. "My overall message is this: the city has been part of the problem, and it's time to make the city part of the solution."