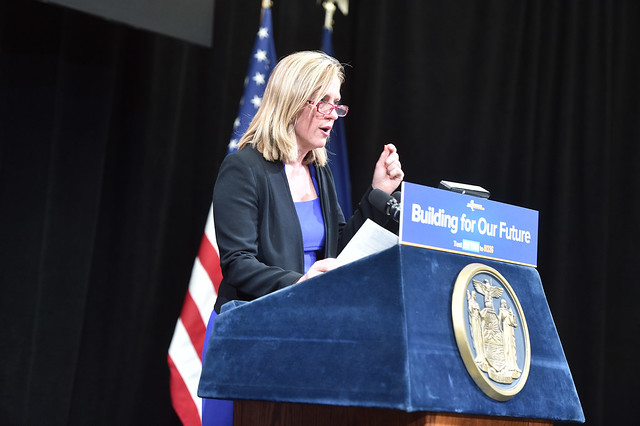 Melinda Katz (photo: Kevin P. Coughlin/Governor's Office)
---
"If it's good for families, it's good for Queens," Melinda Katz likes to say. It's a line she used in her first State of the Borough speech as borough president, a position she has held for six years and she now hopes will propel her to the office of Queens District Attorney.
Katz is one of six Democratic candidates running to be the top prosecutor in Queens, home to more than 2 million people, 48% of whom are foreign-born. About 190 nationalities are represented across the borough's population, with more than 200 languages spoken by its residents.
Though she is the perceived frontrunner due to her borough-wide position, name recognition, and support from labor unions, elected officials, and others, Katz is the only candidate in the race who lacks courtroom experience. She hasn't shown much interest in criminal justice reform in well over a decade, and she's been accused of being most interested in figuring out her next political job than in any particular mission to help the people of Queens. Yet she has served the people of Queens in some form or another for much of the last 25 years, including as a state legislator, City Council member, attorney, real estate lobbyist, and borough president.
Seen by many, including her opponents, as the most likely to win, Katz has won many endorsements from officials and groups, but they credit her mostly with simply having been around -- holding office, developing good relationships, and showing an interest in community concerns -- while the editorial boards of the three major New York City daily newspapers (The New York Times, Daily News, and Post) all deemed her unqualified for the position of district attorney and endorsed other candidates.
Besides Katz, on the ballot for the June 25 primary election are former State Supreme Court Justice and Assistant District Attorney Greg Lasak, who was endorsed by the News and the Post; Tiffany Cabán, a public defender in Manhattan endorsed by the Times; Betty Lugo, a former Nassau County assistant district attorney; Mina Malik, a Harvard professor and former prosecutor; Jose Nieves, formerly deputy chief in the Special Investigations and Prosecutions Unit at the Office of the New York State Attorney General; and City Council Member Rory Lancman, who dropped out of the race Friday and threw his support behind Katz.
Running for District Attorney, Katz has promised, like most of the other candidates, to pursue broad progressive reforms that break with the tough-on-crime reputation that the Queens DA's office fostered for decades under the late DA Richard Brown, who recently passed away just shy of his planned retirement after nearly 28 years in the position. Katz has both leaned into the notion that she has "establishment" support, claiming many ties to communities in the borough, and distanced herself from the traditional power structures that she is aligned with.
To her critics and opponents, Katz is a career politician looking for her next gig, eyeing the term-limitless district attorney post as she faces term limits on her borough presidency at the end of 2021. To her supporters, she is a dedicated public servant searching for her next assignment on behalf of the people. But to both, she is not easily characterized. Katz does not appear to have had one or more clear focus areas as an elected official, and, particularly germane to the position she's seeking, she has not appeared especially interested in criminal justice reform.
Katz's list of projects and accomplishments is long, and varied, and there aren't easy associations with her public image, unlike some of the other borough presidents -- indicative of her lack of clear issue focus, but also the fact that she has often sat out debates over some of the most pressing issues in the city.
"My biggest pride comes from knowing that every day that I have been in public service, I have stood up to powerful interests but I've also been a voice for people who didn't have one," Katz said in a phone interview, just a few days before the primary election. "And at every level that I've served, I have brought justice to people."
Katz was clear that she believes she alone has the experience and the trust of Queens communities that would make for a successful next district attorney. She has spent years on the ground, she says, across the borough, face-to-face with the very people whose lives will be affected by the decisions she will make if elected.
"She's hard to define," said City Council Member Daniel Dromm, a Queens Democrat who has not made an endorsement in the district attorney race. "She's got a finger in everything."
Broadly seen as the frontrunner in the race, with a slew of endorsements from prominent labor unions, community leaders, and elected officials, and a hefty campaign war chest, Katz is banking on her resume and wide name recognition in the borough to take her to victory on June 25. The winner of the Democratic primary is all but assured to win in the November general in the overwhelmingly Democratic borough, with only nominal opposition from the Republican candidate, attorney Daniel Kogan.
A Queens native and graduate of the University of Massachusetts, Katz earned a law degree at St. John's School of Law. She was an intern at the Legal Aid Society representing tenants in forcible eviction cases and later interned in the Organized Crime Unit for the United States Attorney for the Southern District of New York and for U.S. District Court judge Michael Mukasey. After law school, Katz worked in securities litigation for the white-shoe firm Weil, Gotshal and Manges.
Katz first won elected office in 1994, in a special election to the New York State Assembly, running as an outsider candidate on the Liberal and Good Government Party lines. She defeated local Democratic district leader Michael Cohen by just 420 votes in a low-turnout election and filled the seat vacated by Alan Hevesi, who had been elected comptroller. Hevesi supported Katz's bid to be his successor.
Over her first five years in office, Katz was successful in passing 16 bills, including several related to the legal system and criminal justice reform, such as Kendall's Law, which allows prosecutors to pursue cases of long-term child abuse by extending the statute of limitations for victims to report child sexual abuse.
"I had to stand up to the Catholic Church," Katz said on Thursday. "It was not easy 25 years ago. Nobody wanted to talk about sexual abuse as a child, it was not an open conversation by anybody in the church and I had to pass this bill against a very powerful interest."
Her other bills included giving women direct access to gynecological care, increasing penalties for domestic violence, and adding sexual orientation as a protected class under the state hate crimes law. In 1995, just a year into office, the New York Daily News named her "one of the one hundred up-and-coming young leaders for the 21st Century."
But Katz would soon face defeat at the ballot box when she attempted to run for Congress, seeking the Democratic nomination for the 9th Congressional District, formerly held by now U.S. Senator Charles Schumer. She lost by 285 votes to Anthony Weiner, a former aide to Schumer. The Queens Democratic Party, which was on the opposing side when she first ran for Assembly, was in her corner. Even the New York Times editorial board endorsed Katz, writing at the time that she "has only been in office four years, but she has distinguished herself as an advocate of health and women's issues and for her constituent services."
Following her stint in the Assembly, Katz took a role under then-Queens Borough President Claire Shulman, as director of community boards. She served there for three years before being elected to the New York City Council.
It was perhaps on the Council, where she served from 2002 through 2009, that Katz made her most significant mark on the city, as chair of the powerful land use committee. Her campaign says she helped secure private-sector partnerships that created 15,000 units of affordable housing and that she fought to protect communities from overdevelopment. Most importantly, she says, she changed the culture of the land use process: "changed the discussion from 'how many units' to 'how we're going to build' as well. Whether or not we're going to use union labor, the importance of union labor to make sure we had safe work sites and the importance of hiring from the community."
Her push for safety protections at construction sites, she says, cost developers hundreds of millions of dollars. She insists that's one of her major accomplishments and one that undercuts her opponents' claims that she is far too allied with real estate interests, a critique that has dogged her since her time on the Council and persists to her current race for district attorney.
Her work after the Council gives those criticisms credence. In 2009, Katz gave up her Council seat and ran for city comptroller, aided by hundreds of thousands of dollars in campaign donations from real estate firms, according to the New York Times. She ran on a platform of "common sense and accountability" amid the financial crisis that was roiling the city, pledging to audit city agencies to eliminate wasteful spending, expand effective programs and ensure federal stimulus money was creating jobs. Katz lost that election to John Liu, also of Queens, and went on to work for the law firm of Greenberg Traurig for the next three years, lobbying on behalf of real estate clients.
In each race since then, including two for borough president and now for district attorney, Katz has continued to gather large donations from prominent real estate firms. (She notes that several of her opponents are throwing stones from glass houses, having also received large contributions from corporate donors.)
"Melinda Katz has an expansive resume and her relationships are very, very deep. I don't really buy into that critique," said Queens City Council Member Adrienne Adams, who has endorsed her, of the real estate ties.
In 2013, Katz was elected borough president and handily won reelection in 2017 for a second and final term. Katz has also cemented her ties to the Queens Democratic Party, which is often criticized as one of the last bastions of calcified political power in the city. The Party protects and promotes its own and, in any race, brings to bear a large cadre of local, state, and national elected officials that originated from its ranks or owe it some allegiance, as well as the allies of those officials, other local party officials like members of the state committee, political club members, and others.
The Queens Democratic Party was previously headed by Congressional representative-turned-lobbyist Joe Crowley, who lost to Alexandria Ocasio-Cortez and has been fundraising for Katz. (Ocasio-Cortez is backing Caban.) The current county party chair, Congressional Rep. Gregory Meeks, has rallied the party behind Katz, who has also been endorsed by the likes of Governor Andrew Cuomo, State Comptroller Tom DiNapoli, state Assembly Speaker Carl Heastie of the Bronx, and others. It's what makes Katz the establishment candidate, a moniker with connotations akin to party nepotism and one that her opponents have employed as a cudgel. She pushes back against it.
"My campaign started with 300 people standing in a park that were not elected officials," she said. (There were indeed local elected officials present, according to a Queens Daily Eagle report.) "They were civic leaders, they were Cure Violence groups, they were immigration groups, who said to the city of New York and the borough of Queens, 'We trust Melinda Katz to make the decisions as the district attorney of Queens County.' That's how my campaign started."
The office of borough president, though far less powerful now than in the past and lacking the policy clout of an elected legislator, is nonetheless a prominent position in which officials have wielded significant influence. Borough presidents can sponsor legislation in the City Council. They are advocates and cheerleaders for their boroughs, figureheads of sorts who are supposed to keep a finger on the pulse of their many constituents and neighborhoods. They have a strong voice (though not a binding one) in land use applications.
The office also controls millions of dollars in discretionary capital and expense funding each year, to distribute to pet causes, nonprofits, schools and cultural institutions, and the politically-potent power to name hundreds of members of community boards.
Katz has embraced the various aspects of the role, lending her visibility across the borough. "I believe that she's the strongest candidate," said Council Member Adams. "Melinda has a scope that reaches far beyond any of her opponents as far as I'm concerned. Her experience as far as managing the entire borough of Queens along with her experience as an attorney to me, again, put her as a very strong frontrunner for this race. A lot of people talk about experience in the courtroom, but no one has managed the number of people that Melinda Katz has."
Caban and others, including the three editorial boards and good government group Citizens Union, which backed Lasak, have been particularly critical of Katz's lack of time in court, but the borough president has parried by touting her managerial experience, insisting that it sets her up to lead the large complement of attorney that comprise the DA's office.
Among the accomplishments Katz touts are her creation of an Immigration Task Force, which works with nearly 100 nonprofits and city agencies to provide services to immigrants. She secured funding for the Queens Family Justice Center, which serves domestic violence and human trafficking victims. She launched the Jamaica Now Action Plan, a $153-million city funded revitalization project for Jamaica Center.
She has advocated for Hurricane Sandy victims, for veterans, for public housing residents. And she's channelled nearly $200 million in investments towards schools, hospitals, NYCHA, and parks in the borough. And she led a campaign to restore the New York State Pavilion, including putting $11.5 million in capital funds towards the project.
Katz's opponents and critics, however, say her record on criminal justice issues has been lacklustre at best, and harmful at worst. They point to her past votes as a legislator: as an Assembly member in 1995, she voted to reinstate the death penalty, while as a Council member she voted against it. In the Council, she voted to increase penalties for low-level offenses, voted to create a new category of crime (gang recruitment), and in favor of increased police surveillance in city schools.
They also see her as moving with the political winds and shifting her positions, even during the current race -- for instance, she has taken a more expansive position on ending cash bail in recent weeks compared to most of her first several months on the trail.
"Melinda Katz could never be a champion of the policies that the people of Queens, specifically black and brown residents, need and have been calling out for," said Milan Taylor of the Rockaway Youth Action Fund, which endorsed Lancman but moved to Caban upon his departure from the race. "[Katz] embraces the establishment's tradition of lackluster reform and discriminatory practices. Katz has done an unsatisfactory job on criminal justice reform as Borough President and will do the same as District Attorney."
Alyssa Aguilera, executive director of VOCAL-NY Action Fund, which endorsed Cabán's insurgent campaign, said her organization has worked on criminal justice reforms in all aspects -- policing, bail reform, access to jobs and reentry -- and "Melinda Katz is not somebody that we ever interact with. She's not somebody who's known as standing behind organizations, community members in these big fights to, for instance, end stop-and-frisk, or when Eric Garner was killed, or the fight to close Rikers. She was a nonplayer in all of those efforts."
Over the course of the race and more so in the last few weeks, Lancman levelled direct criticism at Katz, running an ad blasting her vote for the death penalty, and confronting her at a May forum for a lack of interest in criminal justice reform both as a Council member and borough president.
But, on Friday Lancman said he feared splitting the vote of Southeast Queens residents, who are predominantly African-American, and withdrew from the race. He endorsed Katz "because she has made the effort to successfully garner support within every community in our borough, the experience as a public official to see essential criminal justice reforms through to completion, and the relationships with the civic and community organizations and institutions throughout Queens necessary to effect real change."
On Wednesday, Katz rejected four city-led land use applications related to building a 1,500-bed jail in Kew Gardens, Queens that is meant to help speed up the closure of Rikers Island jails. She said that closing Rikers is "a moral imperative" but raised concerns that the community did not have sufficient buy-in on the Kew Gardens jail plan and that large borough facilities would replicate the problems on Rikers.
Council Members I. Daneek Miller and Donovan Richards, fellow Queens Democrats, in an interview defended Katz from charges that she is a political climber. "For you to get up there every day, that your charge and your mission is to serve others, is noble," said Miller, standing with Richards at City Hall. "And anyone who would speak against that, I would question their motives."
"It's called a sacrifice," Richards said. Katz has "delivered" for Queens, he said. "Between our districts, you look at infrastructure, you look at investments in parks, investments in healthcare...there's been no shortage of equitable things she's done to work with us to shift resources into communities that were sorely missing the investment that they needed."
Miller said Katz has successfully raised the issue of predatory real estate practices in Southeast Queens and has worked with him on labor issues and workers rights. "She's been an excellent partner who really understands the needs and values of Southeast Queens." Hector Figueroa, president of 32BJ, the property services union, similarly praised Katz in a statement announcing his union's endorsement. "Her plan to protect Queens residents from wage theft, unsafe workplaces, and hostile work environments will make New York a better, safer place for working families."
Katz has carefully sought to counter critiques of her record. Her campaign points to her work in sponsoring warrant forgiveness and conviction sealing programs, hate crime forums, and gun violence town halls.
"Those are real-life instances of standing up for criminal justice reform," she said in the interview. She also pushed for the creation of a new police precinct in the borough. And she cites her managerial experience, noting the other candidates' lack thereof.
"If you're going to get meaningful criminal justice reform, it also requires having the skill-set to run a $59 million budget with 530 employees. As the borough president, I run an enormous office that's borough-wide and have answered to the community voter by voter, constituent by constituent, every single day for the last six years across a huge and vast borough," she said.
She has also lamented her original death penalty vote. "I would say that is my deepest regret," she said.
And she believes that her record makes her the one candidate with the strongest chance of bringing about the reforms that have taken centerplace in the race. "I don't know how many people that are running for this race have had to actually answer to their constituents in the borough of Queens, who have had to take a lot of heat for the decisions that they've made and the policies they've stood up for," she said. "But I always stand up strong for the things that I believe in."
Aguilera said, nonetheless, Katz's bid raises one key question. "Are you doing this because you're a true believer, you're really down for the issues that we care about, or is this just your next political move?"
Note: Gotham Gazette is an independent publication of Citizens Union Foundation, sister organization of Citizens Union.