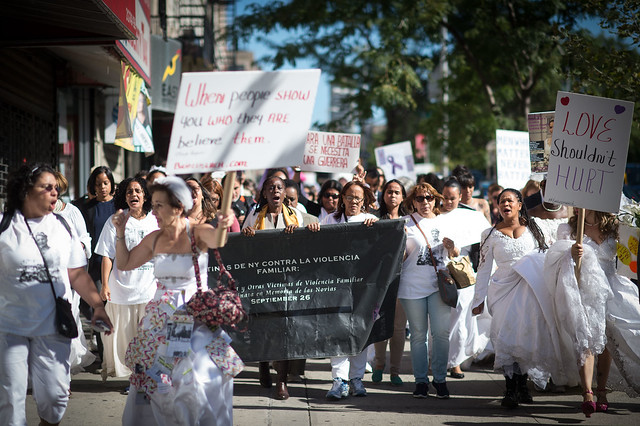 Annual Gladys Ricard and Victims of Domestic Violence Memorial Walk/Brides' March (2016) (photo: Michael Appleton/Mayor's Office)
---
The City Council held an oversight hearing Monday to discuss an annual report on domestic violence in New York City, including city initiatives to help victims. The hearing featured testimony from Cecile Noel, commissioner of the Mayor's Office to End Domestic and Gender-Based Violence (ENDGBV), and advocacy groups.
"As more survivors come forward to report abuse we must make sure the city is capturing the demand for services," said City Council Member Helen Rosenthal, chair of the Council's Committee on Women and Gender Equity, at the hearing. Indicators continue to show that reports of domestic violence are on the rise in the city, though it's unclear if that is more a result of victims reporting the abuse than more incidents actually taking place.
ENDGBV was re-launched in 2018 by Mayor Bill de Blasio to develop policies, organize training, and operate the New York City Family Justice Centers, among other responsibilities. With one located in each borough, Family Justice Centers connect survivors of domestic and gender-based violence with organizations that provide case management, economic empowerment, counseling, civil legal, and criminal legal assistance. Many of these services are located within the Family Justice Center, so survivors only need to go to one location.
In 2018, 25,222 different clients visited a Family Justice Center, according to ENDGVB statistics, and made a total of over 65,000 visits to the centers.
The new report - the first of its kind mandated by a recent city law - and the Council hearing, come at a time of higher reporting of domestic violence in the city. While the "Me Too Movement" and associated cultural awareness has brought more attention over the last few years to domestic violence and sexual assault, after spiking, NYPD "radio runs" responding to alleged or suspected domestic violence decreased slightly last year.
Police officers responded to 241,584 domestic violence calls in 2018, down from 245,577 in 2017, according to an NYPD spokesperson. Police officers received 287,549 domestic violence incident reports in 2017, a number that dropped by about 5,000 in 2018, according to the spokesperson. More domestic violence incident reports were received by the NYPD in 2017 than in any year since 2014.
However, the number of felony assault complaints related to domestic violence increased from 7,800 in 2017 to 8,200 in 2018, according to data from the NYPD's website.
A dozen years ago, in 2007, 4.8 percent of all major crimes in the city were related to domestic violence. In 2016, domestic violence constituted 11.6 percent -- a function of both most other major crimes continuing to drop and reporting of domestic violence increasing.
Domestic violence was a factor in 17.5 percent of homicides and 20 percent of assaults in the city in 2017, according to ENDGVB's annual report. The number of homicides related to domestic violence increased from 51 in 2017 to 54 in 2018, according to NYPD statistics. There were just under 300 total murders in the city in each of those years, meaning roughly one in six murders in the city are related to domestic violence.
Vulnerable New Yorkers are disproportionately affected by domestic violence, especially low-income New Yorkers and people of color, Council Member Rosenthal pointed out at the hearing.
While Family Justice Centers provide integral services to often underserved communities, they are still in need of improvements, said Rosenthal, a Manhattan Democrat. Rosenthal highlighted the significant number of New Yorkers that speak a language other than English, and the challenges posed to them by using a contracted interpretation service to communicate at Family Justice Centers.
To communicate with clients who do not speak English, Family Justice Centers employ Voiance, a telephonic interpretation contractor. Rosenthal pressed Noel on the sensitivity of the subject requiring interpretation, suggesting that interpreters should receive training on how to discuss trauma with survivors.
"Given the inherently sensitive nature of this work and what we've learned about the implications for people who are not trained for survivors, it would be of the interest of the committee and the counsel to find out how that's working out," Rosenthal said at the hearing. "Perhaps there should be more preventative training for these workers," she said.
"To every degree possible we make sure the contractor understands both the Family Justice Center and our issues," Noel said. "We don't provide direct training to Voiance but if issues come up that present any problem to the contractor those are immediately addressed."
The language barrier has not gotten in the way of the Family Justice Centers doing the work, Noel said. Every one of the unique clients who visited a Family Justice Center in 2018 filled out a client intake form, the first step in receiving services.
Rosenthal encouraged the Family Justice Centers to bolster their economic empowerment initiatives. ENDGVB operates a learning lab at the Manhattan Family Justice Center, increasing the capacity of ENDGVB's existing four-month career training program by 50 percent. Learning labs do not exist at Family Justice Centers in any other borough.
"We are aware of no public investments specifically allocated to workforce programming for gender-based violence survivors," said Sarah Hayes, Deputy Director of Economic Empowerment Program at Sanctuary for Families, a group providing services for survivors of domestic and gender-based violence.
While the Family Justice Centers track their visitors and the services they use, they do not track from where the clients are referred.
"A tracking mechanism is essential because it will tell us where the bulk of our constituents are coming from and will allow us to better engage with them," Council Member Diana Ayala said at the hearing.
De Blasio has taken several steps to address domestic violence as incident reports have grown, introducing in 2017 the Domestic Violence Task Force, which invested nearly $11 million in programs to enhance legal protections for survivors of domestic violence and improve education on the issue, according to a press release from that year.
"This report sends a loud and clear message – we will not tolerate domestic violence, survivors have the City's full support, and abusers must be held accountable. We will do everything we can to ensure that New York City is safer for everyone, everywhere, at all times," de Blasio said in a May 2017 press release announcing the results of the task force's report. As the city saw increased domestic violence reporting, de Blasio and other city officials were pushed to take action.
In 2018, de Blasio signed bills to combat workplace sexual harassment, expand the city's paid leave laws to employees who are survivors of domestic violence, and enacted ENDGBV by executive order, mandating the city to address and coordinate a response to domestic violence.
First Lady Chirlane McCray has taken a primary role in the city's efforts to combat domestic violence, announcing in 2018 Interrupting Violence At Home, a citywide program to address domestic violence through services, training, and intervention for abusive partners who are not involved in the criminal justice system.
"Any kind of violence is unacceptable. But as we keep survivors and families safe, we must also do everything we can to intervene directly with their abusive partners," McCray said in a 2018 press release announcing the initiative. "Hurt people hurt people."
The Council committee also discussed on Monday a resolution to encourage the federal passage of the Violence Against Women Reauthorization Act of 2019. The Violence Against Women Act was first passed under President Bill Clinton in 1994, but must be renewed by Congress. The bill has been renewed in every subsequent administration and was last renewed in 2013.
The bill passed in the House of Representatives in April, but has stalled in the Republican-controlled Senate. Opposition to the bill has focused on a provision, known as the "boyfriend loophole," that would make it easier for law enforcement to strip perpetrators of domestic violence of their guns.