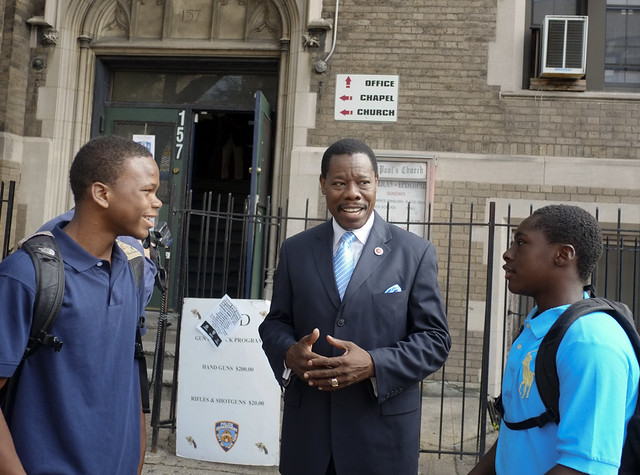 Council Member Mathieu Eugene (photo: William Alatriste/City Council)
---
A task force created in 2017 by City Council legislation aimed at providing better services and more opportunities for out-of-work, out-of-school youth and young adults has been delayed from the start, having met only a few times since its creation and now more than a year overdue in presenting its first report as mandated by law.
The City Council, with help from nonprofit advocacy group and service-provider JobsFirstNYC and other outside partners, passed a bill that would create the Mayor's Disconnected Youth Task Force -- a 25-member committee composed of designees from city agencies, appointees by the mayor and Council speaker, representatives from community-based organizations that provide services to young adults, intermediaries, representatives from the business community, and young people ages 16 to 24 who have been out of work and out of school.
According to the bill, the creation of the Task Force was necessary to "examine the obstacles to education and employment for disconnected youth and to make recommendations regarding measures to improve outcomes for disconnected youth," a group prone to falling through the cracks and into the criminal justice system.
The Task Force is led by the Deputy Mayor for Strategic Policy Initiatives under de Blasio, a position first filled by Richard Buery, and now his successor, Phillip Thompson, who convened the first meeting. Members include Marjorie Parker, the President and CEO of JobsFirstNYC; Stanley Richards, the Executive Vice President of the Fortune Society, an advocacy group and service-provider that works with people who have been in the criminal justice system; representatives from several city agencies including the Departments of Education, Health, Homelessness, Children's Services, Youth and Community Development, and others.
The legislation, sponsored by Brooklyn City Council Member Mathieu Eugene, then the chair of the Council's Youth Services Committee, outlined specific deadlines for the Task Force. It required the appointment of all 25 members within 30 days of the law's April 2017 enactment and an initial report due by March 1, 2018, followed by subsequent biennial reports until the submission of the Task Force's final report on March 1, 2022.
The Task Force didn't meet for the first time until February 1 of this year, well over a year after it was supposed to and despite the fact that the law required it to meet four times before submitting its first report, which was due nearly a year prior to the first actual meeting.
As of Wednesday, the Mayor's Disconnected Youth Task Force is yet to produce its first report, with the calendar closer to the deadline for the second report than the first.
Since the first meeting in February, where two workgroups were named, there have been five Task Force meetings and over a dozen workgroup meetings, according to a spokesperson for JobsFirstNYC. It is unclear when a first report from the Task Force may be out.
It appears that some of the Task Force's delay may be due to the change in leadership from Buery, who left the administration in early 2018, to Thompson, the deputy mayor who now chairs it and led its first meeting last year.
Both the office of Council Member Eugene and the de Blasio administration failed to respond to several attempts by Gotham Gazette to ascertain the status of the Task Force and its first report.
After the first meeting last February, Deputy Mayor Thompson said in a statement, "This task force is seeking to help the most vulnerable young New Yorkers — those who do not finish school, those who are not in the workforce or those who are involved with the criminal justice system."
He continued: "As somebody who was myself in foster care for part of my youth, I truly understand the challenges and the need to create pathways and support. The de Blasio administration is implementing a comprehensive strategy that involves working more closely with industries and companies to create relationships and partnerships that help move at-risk people into long-term careers. Some of these strategies are already producing results to reduce rates of youth disconnection citywide but we need to do so much more. I look forward to working with members of the task force to develop a better coordinated strategy among programs servicing youth citywide."
Over the past nine years and coinciding with an extended economic expansion after the Great Recession, New York City has seen a consistent decline in the number of out-of-school, out-of-work youth. From 2010 to 2019, this population has dropped from 187,588 to 118,000, according to data from the Community Service Society.
The creation of the Task Force is an attempt to increase efforts to assist members of this population to find work or pursue further education, and to improve coordination among city agencies and between city government and outside partners. The main goal of the Task Force is to reframe the way that New York City provides services to OSOW youth by identifying and implementing solutions to the barriers that disconnected youth face.
JobsFirstNYC has been a driving force behind the creation of the task force and attempts to get its work to move ahead at a pace more in line with the legislation creating it. JobsFirst is a nonprofit intermediary organization that focuses attention and resources on what it calls a crisis of disengaged and disconnected young adults in New York City. It was founded in 2006 with an initial investment from the New York City Workforce Funders Group -- an entity that seeks to identify and develop initiatives at a citywide level and make the city's workforce systems more responsive to the needs of workers and employers.
At the Task Force's first meeting in February 2018, 20 of 25 members were named and the two workgroups were established: one focused on prevention and one on re-engagement. These workgroups were created to assess current systems, make observations and identify specific ways to make services and programs for youth and young adults more connected and collaborative.
"We were asking ourselves a couple of framing questions: 'What is it that we need to understand about the issue of disconnected youth?', so we made a lot of requests to try to first understand the way the system is operating," said Richards of The Fortune Society and the Task Force, in an interview, when asked about the work done by the workgroups thus far.
"We had experts from across the spectrum of government officials, service providers, educators, really talk from their viewpoint about how the system operates and then we asked ourselves, 'Where are the gaps, where are the inconsistencies, what gets in the way of a highly functional system?'," Richards said.
Due in 2022, the Task Force's final report must include an "assessment of the obstacles that prevent disconnected youth from pursuing educational opportunities or entering the workforce, including but not limited to, issues related to housing, childcare, health care and substance abuse, criminal justice, transportation, wages, and language and cultural barriers."
The report must also provide an analysis of how to address said obstacles and recommendations for how to better adjust the city's current efforts to helping OSOW youth by working on ways to strengthen the partnerships between public and private providers that serve disconnected youth.
The Task Force is responsible for providing recommendations for how to improve data collection for disconnected youth programs and make the data publicly available, as well as how to better inform the public of the availability of services for disconnected youth.
It is also expected to make recommendations to the city on how it should allocate its $500 million workforce budget in a way that is more efficient and beneficial to OSOW youth.
The legislation outlined that four of the Task Force members had to be appointed by the Mayor, four by the City Council Speaker, and that three members would be youth leaders between the ages of 16 and 24. The additional members had to include other specific government officials or their designees such as the Commissioner of Youth and Community Development and the Executive Director of the Mayor's Center for Youth Employment.
JobsFirstNYC, which conducts research on disconnected youth and ways to help them, is represented on the Task Force and on the prevention and re-engagement workgroups. The organization examines the variety of city services and systems and evaluates how they can be modified to better serve young people, while articulating barriers that prevent young people from gaining full-time employment or pursuing post-secondary education.
The organization -- and likely the Task Force -- aims to encourage employer engagement in improving workforce development and building more structural partnerships so that training and post-secondary opportunities are directly connected to in-demand employment. The Young Adult Sectoral Employment Project (YASEP) is a program conceived by JobsFirst that aims to identify whether different sector strategies can help link OSOW young adults with employers by creating customized pathways to employment.
According to research conducted by JobsFirstNYC in collaboration with Dr. James Parott, formerly of the Fiscal Policy Institute, and Lazar Treschan of the Community Service Society, some of the barriers that dictate a young person's ability to enter the New York City economy include race, geography, education, poverty, and the 2008 recession.
The research, published in 2013 as Barriers to Entry: The Increasing Challenges Faced by Young Adults In the New York City Labor Market, found that OSOW youth are highly concentrated, with 18 of 55 New York City neighborhoods home to over half of the OSOW young adults in the city. These neighborhoods include East Harlem, Ocean Hill, East New York, and Parkchester.
Additionally, race is a dominant characteristic in the OSOW population the research found: of the 48,000 out-of-school, out-of-work young people without a high school diploma, over 83% were black and Latino.
The research helps impact programs such as the Bronx Opportunity Network (BON), launched in 2008, that aims to provide young adults in the South Bronx with intensive tutoring and academic support so that they can enroll in and complete college. Another program through JobsFirstNYC is the Lower East Side Employment Network (LESEN), a program that aims to lower the barriers to access high-quality jobs in high-demand industries for Lower East Side residents.
The Invest in Skills NY campaign, where JobsFirstNYC is a co-chair organization, is an advocacy partnership among key stakeholders -- employers and others doing workforce development -- trying to ensure that state government makes a skilled workforce a priority with programming across New York.
As the Mayor's Disconnected Youth Task Force first met in February, JobsFirst and Invest in Skills NY released a "policy brief" to help guide the Task Force's work. Developing a Single-System Strategy for New York City's Out of School, Out of Work Adults outlines recommendations to the Task Force, including the broad goal of creating, as the brief's name suggests, a "single-system strategy," so that programs support young adults across a cooperative continuum. This system "intervenes before a young person becomes an OSOW, engages and connects OSOW young adults to opportunities and supports the career development of young adults who are marginally connected to the labor market or pursuing post-secondary education."
"Until now, this issue has lacked real leadership," said Kevin Stump, Vice President of Policy, Communications and In-School Practice at JobsFirstNYC, in an interview, "which is why we remain optimistic that Mayor de Blasio's Disconnected Youth Task Force will develop a fully-funded single-strategy system that is data-informed and meets the unique needs of this population and the communities in which they live."