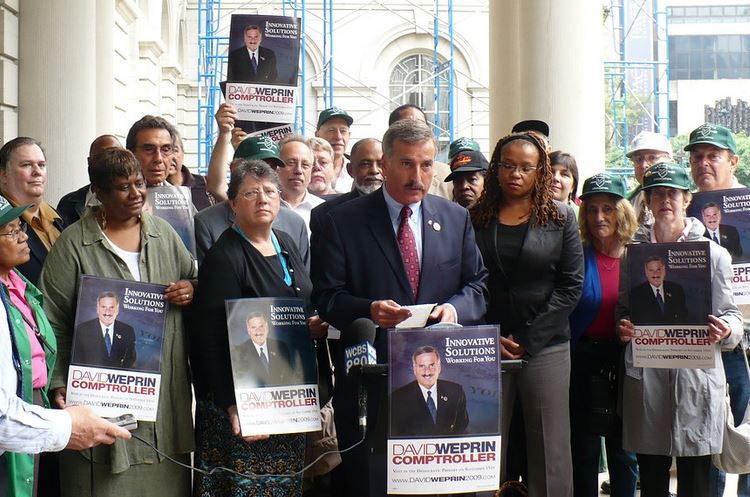 (photo: David Weprin for Comptroller, 2009)
---
State Assemblymember David Weprin of Queens has officially filed papers to run for New York City Comptroller in 2021 and has been raising funds for the race for the last five months. He is the third Democrat to jump into the race, joining New York City Council Members Helen Rosenthal of Manhattan and Brad Lander of Brooklyn.
The 2021 election is expected to be a herculean undertaking, with all three citywide elected officials, the five borough presidents, and all 51 City Council seats on the ballot. Except for the public advocate and about 15 City Council members, most elections will be for an "open" seat because of term limits preventing incumbents from running for reelection.
All-important in most New York City races, the Democratic primaries will be in June of 2021, just under two years from now.
Weprin has represented the Assembly's 24th district since 2010, when he was elected in a special election. He holds the same seat that was once held by his brother, Mark Weprin, and before that his father, Saul Weprin, the former Speaker of the Assembly. Prior to serving on the Assembly, Weprin served two terms on the New York City Council, from 2002 till 2009, chairing the powerful Committee on Finance.
"I like to think that I'm the most qualified candidate for comptroller," Weprin said in a brief phone interview, citing his prior experience as Deputy Superintendent of Banks under Governor Mario Cuomo, Secretary of the Banking Board for New York State, his long career on Wall Street, his time as chair of the Securities Industry Association, and as a member of the Assembly Ways and Means Committee.
This is not Weprin's first attempt to win the office of the chief fiscal officer of New York City, who is charged with overseeing city spending, approving city contracts, and serving as fiduciary to the $200 billion-plus pension funds, among other duties. In 2009, Weprin unsuccessfully sought the Democratic primary nomination for comptroller, getting 10.6% of the vote. The election went to a runoff when no candidate crossed the 40% threshold for victory. John Liu of Queens, now a state Senator, eventually emerged as the winner of the runoff and the general election.
But Weprin expects different circumstances, chiefly, the fact that he may be the only candidate from Queens. "I thought I was the most qualified candidate in '09...but we had three Queens candidates and I think that hurt me significantly," he said, referring to himself, Liu and then City Council Member Melinda Katz. Weprin and Katz got far fewer votes than former City Council Member David Yassky, who advanced to the runoff.
That also wasn't Weprin's only unsuccessful bid at higher office. In 2011, he was the Queens Democratic Party's pick after the resignation amid scandal of Anthony Weiner in the 9th Congressional District, which covers parts of Brooklyn and Queens, in yet another special election. But Weprin lost to Republican candidate Bob Turner by nearly 3,700 votes, giving the GOP that seat for the first time in 88 years.
Filings with the New York City Campaign Finance Board show that Weprin has raised $62,672 for his 2021 campaign from 154 donors. He has spent about $13,290 and has $49,382 in cash on hand as of the filing. Weprin has more than $444,000 in a state campaign account that he could transfer to his citywide account. But he also owes the CFB a debt of nearly $320,000 – a repayment of public funds from his 2009 campaign – which he must first clear before receiving any more public funds.
In terms of fundraising for this race, his two opponents already have a leg up. Lander has $204,468 in the bank, and Rosenthal has $66,777. All three candidates are participating in the CFB's public matching funds program, under new rules that were approved last year and recently strengthened by the City Council. Each of them can raise maximum individual donations of $2,000, with the first $250 of each qualifying contribution being matched at an 8-to-1 ratio. Weprin already has $22,817 in matching claims, but those funds won't be disbursed by the Campaign Finance Board until later in the election cycle. Neither Rosenthal nor Weprin appears to have made a large initial fundraising push, while Lander put some effort into fundraising, including a large 50th birthday party event. In conjunction Lander has also apparently made moves to lock in a number of early supporters among elected officials and activists whose names appeared on the party invitation, though his campaign has not rolled those out formally as of yet.
In the Assembly, Weprin serves as chair of the Committee of Correction, and has advocated for the passage of parole reforms through the Legislature (a major push for parole reforms failed in Albany this year). The Correction Officer's Benevolent Association donated $2,000 to his comptroller campaign last month. He's also received contributions from the Patrolmen's Benevolent Association ($500) and the Uniformed Sanitationmen's Association ($1,000).
As of now, Weprin joins a field with two candidates occupying political space to his left.
"I know both of them, they're both excellent City Council members," Weprin said of his opponents. "I have nothing negative to say about them. I just think my resume for comptroller is superior. That's the only office I'm really interested in. I'm not just interested in running for the sake of running or running for mayor in the future. I have no intention of doing that. I think comptroller is an office I know something about. I think it's an office I'm uniquely qualified for."
Notably, Weprin was among a vocal minority of state lawmakers who, in the run up to the state budget this year, opposed a proposal to create a congestion pricing program in New York City. The program eventually passed, though it will not be implemented till 2021, which could potentially make it an election issue in the city, particularly in Weprin's native stronghold in eastern Queens.
Note - this article has been updated with comment from Assemblymember David Weprin.
Note - this article has been updated to note that Weprin owes the CFB a $320,000 debt for repayment of public funds from his 2009 campaign.