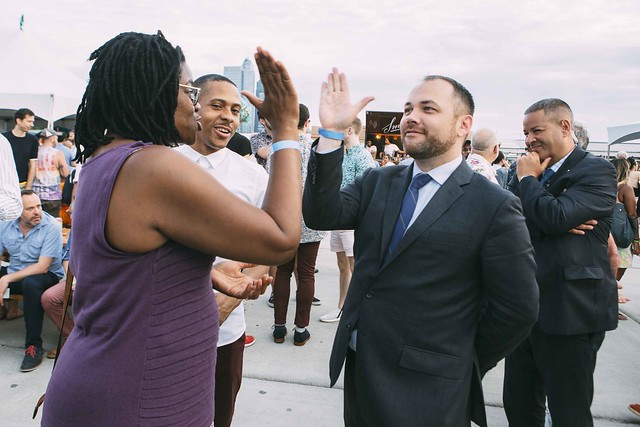 Council Speaker Corey Johnson (photo: Emil Cohen/City Council)
---
City Council Speaker Corey Johnson's expected mayoral campaign is based in part on a big small-dollar gamble.
When Johnson announced in January that he was exploring a bid for mayor – he hasn't made it official yet – he set a $250 limit on all campaign contributions, far below the maximum possible limit of $5,100. And though the latest campaign finance disclosures show him outpacing his three likely Democratic primary opponents in the number of donations he received, he is well behind the pack in total funds and will have to work overtime to fill the gap.
Along with the low self-imposed donation limit ($250 is also the ceiling for how much of each donation can be matched eight-to-one in the city's public campaign finance system), Johnson has also pledged not to take any campaign money from real estate developers, lobbyists, or corporate political action committees.
By constraining himself in these ways, he's making a calculated bet: that New Yorkers will be impressed enough by his voluntary limitations that so many will donate, albeit in small amounts, to still get him the war chest he needs to spend as much as his competitors given the cap on expenditures that comes with the city's matching system. And, that he'll hit those maximums while earning a larger, more enthusiastic grassroots base of supporters than his opponents.
He'll be living out the values that many Democrats espouse, and he'll have a very effective talking point as he seeks to separate himself from the pack, expected to also include City Comptroller Scott Stringer, Bronx Borough President Ruben Diaz, Jr., and Brooklyn Borough President Eric Adams.
"I'm focused on these small-dollar contributions because there's a double benefit," Johnson said in a Wednesday interview. "Of course there's the money you raise, but also you get to meet a lot more people around the city and spread your message to New Yorkers."
"I'm doing this in a way that no one's ever done before," he added, "and I was a little concerned when I made the pledge, wondering if I'd be able to raise the amount of money to be able to compete. But after these last five months, I feel good about where I am and I feel like it's totally doable."
The latest filings with the New York City Campaign Finance Board show that Johnson has raised a total of $379,728 from 3,029 contributions. The money came from 2,612 individual donors, with many of them giving more than once. He also transferred $88,780 from his City Council campaign account, spent only about $32,800 and has just under $432,000 in cash on hand.
"I think it shows the grassroots nature of the campaign and I did it all without raising money from real estate developers or people who work at lobbying firms and with a self-imposed cap of $250," Johnson said Wednesday. "So I feel excited. I worked really hard. I went around the city and met with voters in their neighborhoods, in their living rooms and talked about the issues that matter to New Yorkers."
Johnson will be bolstered by the city's voluntary public matching funds program, which incentivizes small donations by matching them with public funds and has recently been enhanced by the City Council through legislation, a portion of which stirred controversy given its apparent benefit to Johnson and detriment to his rivals.
A ballot referendum approved last year gave candidates the ability to choose one of two versions of the city's public funds program, run by the Campaign Finance Board. For candidates for citywide positions, they can now opt for a new $2,000 contribution limit and receive an 8-to-1 match for the first $250 of an eligible contribution, or they could stick with the older $5,100 limit and receive a 6-to-1 match for the first $175 of an eligible contribution.
The City Council then bolstered the new system further by enhancing the extent of the public match candidates can receive as it relates to the spending cap in their race, and made the new system retroactive to the beginning of the four-year cycle, meaning the start of 2018, which rankled Johnson's rivals, especially Stringer, who would have to return a significant amount of money in order to opt into the new system.
Stringer accused Johnson of playing political games with his government position, while Johnson noted he was acting on a recommendation from the Campaign Finance Board, looking to help take big money out of politics, and that Stringer could stick with the higher donation limits if he'd like (though Stringer had already chosen the new system, not thinking he would have to make refunds from 2018 fundraising). The changes also impact Adams -- who also has criticized Johnson over the move -- and Diaz, Jr., though they have not made clear which system they plan to choose. After this election cycle, the new system will be the only choice.
Johnson chose the new system and of his total fundraising, $315,421 qualifies for public matching funds, meaning he could receive eight times that amount in public funds. When the Council increased the cap on the amount of public funds a candidate can receive – from 75% to 88.8% of the spending limit for a campaign – it meant Johnson will be able to stick to his self-imposed limit and spend as much as his three rivals, who are all expected to participate in the matching funds program and therefore abide by spending limits. It's unclear if any other Democrats will jump into the race, or what the general election field may look like.
It's likely that Johnson, Adams, Diaz Jr., and Stringer are all able to raise as much as they need to, in combination with matching funds, and spend the allowable amount -- $7.3 million for the primary. But Johnson appears to think his pledge will significantly impact how voters and donors see him, and his competitors, which can potentially help him secure more support in the ascendent left wing of the Democratic Party.
Johnson sees significant momentum in his first filing period, noting that he currently has the largest amount of funds that can be matched, compared to the other candidates who had been raising funds for well over a year before he began.
There are also pitfalls to Johnson's approach. He said he can't afford full-time campaign staff and admits that it's "been a challenge" to vet the thousands of contributions he's receiving with a mostly volunteer crew. He's had to return about $4,100 to people who have gone over his campaign limit. It also takes major time and effort to raise so many smaller contributions and not buttress them with larger ones.
"Oh my god, it's very tough. It's grueling. And sort of nonstop, and it's house party by house party, 20-25, 30-35 people at a time," said Johnson, who has been appearing at a variety of small campaign gatherings.
Compared to Adams, Diaz Jr., and Stringer, the Council speaker is currently far behind in money in the bank. Along with taking the larger donations, the other three have been raising funds far longer and have deeper coffers from their own earlier races. No one has received any public matching funds yet, and won't anytime soon -- the Democratic mayoral primary will be in June, 2021. (If Mayor Bill de Blasio, who is running for president, doesn't finish his term for one reason or another, things could speed up a bit.)
Stringer leads the pack with nearly $2.6 million in cash on hand. He raised $336,700 in the last six months from 1,447 individual contributors after having raised at a faster rate previously, when he was toying with a challenge to de Blasio head of the mayor's 2017 reelection. Stringer was able to transfer $1.4 million to his campaign from a previous citywide campaign account and has been prolific in his fundraising. Of his total, he has about $254,554 in funds that qualify for a public match.
Opting in to the newer of the two campaign finance systems, Stringer now has to return many thousands of dollars that represent the retroactive lowering of the individual contribution limit. Stringer called the new regulations a "power grab" by Johnson, critiquing him for changing the rules midway through the race (a criticism that Adams echoed).
"Time and again, Scott Stringer has stood up for bold progressive solutions to our toughest challenges, and this latest filing shows the growing energy behind our people-powered campaign," said Emily Bernstein, finance director for Stringer's campaign, in a statement. "At grassroots events across the city, we've talked with New Yorkers about real ideas to make our city more affordable for working families, build a better future for our children, and deliver true progressive change. We're incredibly humbled by the support we've received, and we're excited to build on our momentum."
After Stringer, Adams has the most funds, with nearly $2.3 million in cash on hand. He raised $583,627 in the last six months from 1,234 donors. He also made an earlier transfer of $332,594 from his borough president campaign account. A total of $273,385 from his fundraising would be matchable by the CFB, though Adams has not yet declared if he is participating in the public matching funds program, much less which of the two versions, and has been accepting donations of the maximum amount allowed, $5,100. "New Yorkers believe in Eric and trust that he shares their vision for our city--that's why so many of them from such diverse backgrounds are supporting his campaign to lead the five boroughs. And he's just getting started," said Evan Thies, a campaign spokesperson, in an email.
In comparison, Diaz Jr. has about $931,228 in the bank. He raised $232,334 in this latest filing period, from 385 donors, and he transferred $219,395 to his campaign for this race. He also hasn't declared whether he will participate in the public funds program but most of his money came from large donations. He has about $57,476 that would qualify for matching funds.
Ben Max contributed to this story.