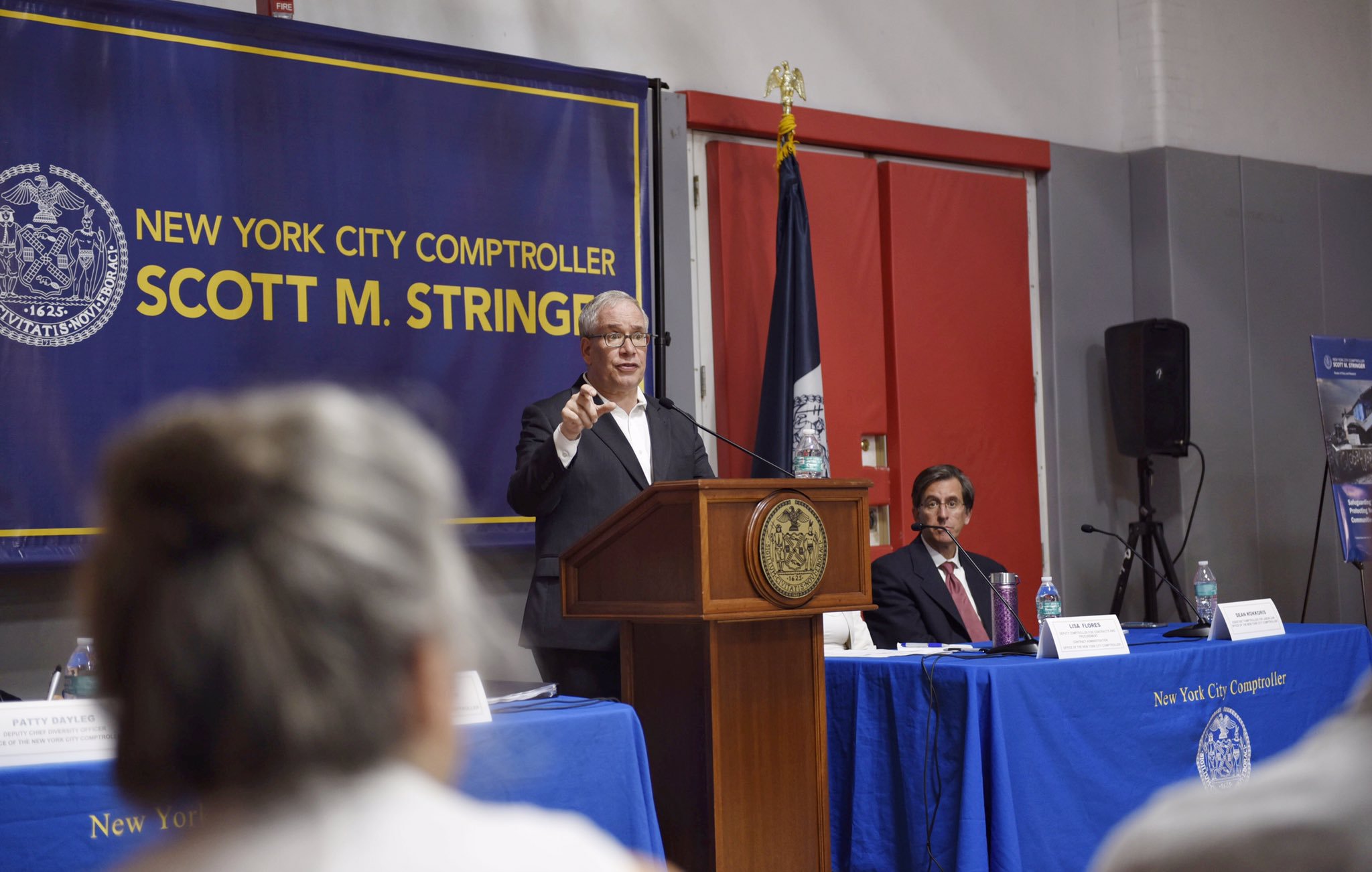 Comptroller Stringer (photo: @NYCComptroller)
---
The first Census to be conducted primarily online may undercount nearly 2.2 million New Yorkers — mostly communities of color, seniors, and those living around or below the poverty line — putting as much as $5.8 billion in federal funds at stake, according to a new report released Tuesday by city Comptroller Scott Stringer.
Stringer held a press conference Tuesday with Congressional Rep. Adriano Espaillat (D-NY), State Senator Jessica Ramos, and census outreach advocates to outline the findings in the report and make recommendations for how the city can tackle challenges presented by a digital census. The decennial count of all people living in the United States that is mandated by the U.S. Constitution, is set to start in April of next year, with local preparations already underway, including city and state funding that was recently allocated for outreach efforts.
The report provides an analysis of which communities and neighborhoods in the city lacked broadband internet connection at home as of 2017, making it more difficult for them to complete the 2020 Census.
The report found that citywide, 29 percent of households lack internet access, but that the disparity hits some communities harder than others. Up to half of residents are without internet in Chinatown and the Lower East Side, Port Richmond, Hunts Point, Kensington, and Jamaica, while 30 percent of Hispanic and black residents also do not have sufficient access. Forty-four percent of New Yorkers in poverty did not have broadband internet and neither did 42 percent of senior residents.
"The very people who may need more federal support are at risk of going undercounted," Stringer said.
The population totals in the Census guide amounts of federal funding — Stringer said around $5.8 billion in total — the city receives for programs like school lunches, Head Start, and winter heating assistance, as well as the number of representatives in Congress and the New York State Legislature.
The comptroller recommended eight ways the city can both use the $40 million allocated in the city budget for Census outreach and resources that already exist to help ensure an accurate count. These include sending paper forms to the communities with the lower rates of internet access, expanding digital resources at public libraries, and providing community-based organizations adequate resources to address potential challenges.
The state has also allocated $20 million for Census outreach.
The Census Bureau is attempting to have as many people as possible fill the Census out online, but expects to provide paper ballots to roughly 20 percent of the population. United States residents will be receiving postcards with a web address to fill the Census out online.
Espaillat, whose district includes Harlem, Inwood, and Washington Heights, said community outreach is key to improving the response rate in hard-to-count areas. He said to improve the response rate in Washington Heights in 2010, his office had an "army" in Upper Manhattan knocking on doors and asking pediatricians to inform mothers that they needed to include their children on the form.
"We really must become innovative in making sure that money goes as far as it can to get boots on the ground to knock on those doors three, four times," Espaillat said.
Ramos emphasized that the 2020 Census will also steer the next legislative redistricting process and an accurate count has the potential to mitigate gerrymandering effects. She said counting every resident helps ensure that the government will be representative.
"We saw the disaster that was the Republican-led State Senate for such a long time, and now we have a Democratic majority, largely because of the work and the political climate that we lived," Ramos said. "But that's not how it should necessarily be decided. Gerrymandering needs to be stopped."
Community stakeholders at the press conference stressed that outreach to some communities will be more difficult than previous years because of the fear stemming from the Trump administration's attempted citizenship question and the president's anti-immigrant rhetoric.
Some said there are concerns that the Muslim community will be undercounted and that undocumented immigrants will be afraid to open doors.
"This is an important fight," Espaillat said. "It has not ended with the citizenship question. Now we have another fight which is to make sure that those neighborhoods in Internet deserts are included in the count."
Julie Samuels — the executive director of Tech NYC, which advocates for policies that support the growth of technology companies and talent in New York City — said at the press conference that while the Census going online will eventually lead to a more accurate and more robust count, the White House has not adequately primed the nation for its rollout.
She added that transitions in general are difficult even with better build-ups.
"The Trump administration was spending its time chasing down this crazy citizenship question. It's becoming clear, if it wasn't already obvious, that in that distraction the administration has failed to properly prepare for the first online Census," Samuels said. "People have to be able to take the census, and they have to understand how it works. And, they need the right access."
Stringer said that with so much money at stake, he hopes the city and state will take his recommendations as a roadmap to tackling internet access disparities and ensuring all communities are counted.
"Without that $5.8 billion this city would be in real jeopardy," Stringer said. "We can't play games with this administration in Washington. They make no secret of their racist and anti-immigrant agenda."