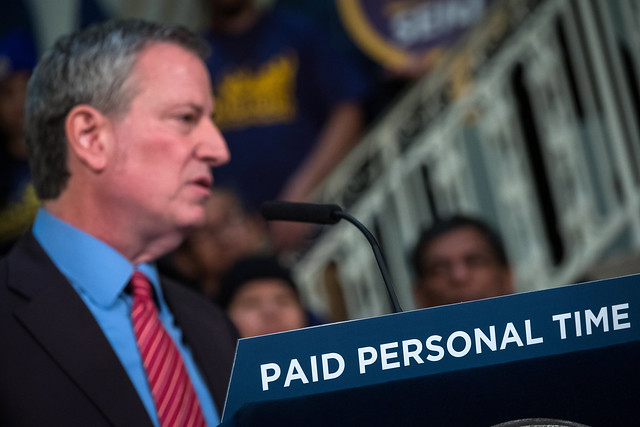 (photo: Ed Reed/Mayoral Photography Office)
---
As he campaigns for president, Mayor Bill de Blasio has repeatedly said that "this year" the city will pass a mandate that most businesses provide employees with two weeks of paid personal time each year, but the City Council, which would have to pass such legislation, has not committed to the timeline the mayor is touting.
De Blasio first announced his support for paid personal leave and said it would get done "this year" in his January State of the City, and he's doubled down on that timeframe a number of times since, including during remarks at a U.S. Conference of Mayors session in late January, despite the fact that he has no public commitment of that sort from the city's legislative body.
In May, the mayor led a rally for paid personal time legislation just ahead of the City Council's initial hearing on the bill, which was first introduced in 2014 by then-City Council Member Jumaane Williams, who is now the public advocate. De Blasio did not back the bill, which would expand the city's paid sick leave law and is facing opposition from business owners, until five years later.
At the rally, both de Blasio and Williams said it would be passed this year.
The push has become a major talking point for de Blasio on the presidential campaign trail -- "we're going to pass a law in New York this year, two weeks paid vacation for every working person," he said this past Sunday on ABC's This Week with George Stephanopoulos -- and he included the idea in his recently-unveiled "21st century workers' bill of rights" campaign agenda.
But there has been no apparent movement on the bill since the May hearing, and it has just eight sponsors in the 51-seat City Council (including Williams, who as public advocate is a non-voting member of the Council but can sponsor bills).
Asked how the mayor could be so certain about it passing this year, a City Hall spokesperson for de Blasio, Laura Feyer, said in a statement, "Since the start of the year, we have been pushing hard and working nonstop with stakeholders and elected officials to get Paid Personal Time legislation passed this year. We look forward achieving this massive win so that New Yorkers get the time off they are owed."
A spokesperson for City Council Speaker Corey Johnson told Gotham Gazette that the speaker continues to be supportive of the aims of the bill but has concerns about potential unintended consequences impacting small businesses. Unlike de Blasio, the Council has no set timetable in mind, the spokesperson said.
"The paid leave proposal is going through the legislative process," a Council spokesperson wrote by email.
Williams remains optimistic, but he appears to have backed off any timeline. "As the bill goes through the legislative process, our office looks forward to continuing to work with the Council and Administration so that Paid Personal Time is no longer a privilege, but a right for all New Yorkers," Williams said in a statement to Gotham Gazette. Despite being asked, Williams did not comment on the timeframe for passage of the bill.
At the May rally, Williams said, "In a couple weeks or a couple months we are going to have paid personal time."
At a January press conference not long after de Blasio announced his support for paid personal time, Johnson said he was supportive of the bill conceptually, but "it will go through the legislative process."
"We want to hear from all the stakeholders. We want to hear from workers and small business owners," he said. The Council created that opportunity in May. Before the hearing, de Blasio and Williams led their rally in support of the bill, while business owners and other critics led a rally in opposition. Proponents and opponents of the bill then testified before the Council's Civil Service and Labor Committee, chair by Council Member I. Daneek Miller.
Miller's office did not respond to a request for comment on the legislation's status and potential timeline for passage.
The legislation would require private employers with five or more employees to offer 10 days of paid personal leave annually, accrued based on employee service hours. For every 30 hours worked, an employee would earn one hour of paid personal time, with a maximum of 80 hours earned per year, according to the bill. De Blasio and other supporters of the legislation have pointed to similar programs in other countries, and lamented the United States as the only "industrialized" nation that does not mandate any paid personal leave.
New York City mandates paid sick leave for employers of the same size that would be affected by the proposed legislation, a law that was passed in late 2013 and then expanded multiple times by de Blasio and the City Council, beginning during the mayor's first year in office in 2014.
"Working people have been working longer and harder with very little to show for it," de Blasio said at the May rally. "Too many people in this city aren't guaranteed any time off – not a single day. That's not what New York City is about," he said.
During Sunday's interview on ABC, de Blasio said, "We need to do things like ensure a $15 minimum wage and paid vacation days....every country on Earth, every major country on Earth provides paid vacation days as a matter of law. Doesn't happen in this country, we're going to pass a law in New York this year, two weeks paid vacation for every working person."
Later in the interview he said it again: "Look, in New York City, we've done pre-k for every child for free. We have done $15 minimum wage. We've done paid sick days. We're giving those two weeks paid vacation to every working person. We're literally guaranteeing health care for anyone who does not have health insurance. These things are happening in the nation's largest city."
Small business owners and advocates have made their opposition to the paid personal time bill known over the last few months, saying that while they want to be able to give paid personal leave, they cannot afford to do so and would be on board if the city funded it. Up to 80 percent of small business owners are concerned that mandated paid personal leave would require "significant operational changes," which could include letting workers go, according to a June survey of 1,471 small business owners.
Supporters for paid personal leave have found a rallying cry in 2014's Earned Safe and Sick Time Law, citing similar pushback from small business owners at the time.
"Yeah, we heard that when we all did paid sick leave together, we heard that when we did the fair work week together, every time we heard the same refrain, it would hurt our economy and we would lose jobs. Well, guess what? We have more jobs in New York City than we've ever had in our history," de Blasio said of opposition at the May rally.
Ben Max contributed to this story.
Note: this story has been updated with comment from the mayor's office.