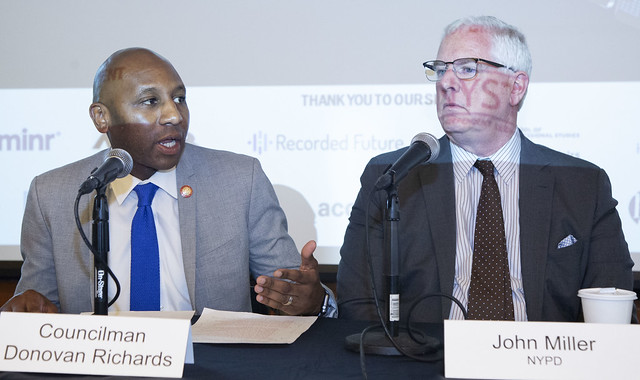 Donovan Richards and John Miller (photo: John McCarten/City Council)
---
As the internet continues to transform the landscape of threats to the United States and New York City specifically, the NYPD has had to adapt, and the police department in the country's largest city, what some call its 'number one terror target,' uses monitoring and surveillance tools that have raised questions. Advancements in technology and tactics -- as well as age-old concerns about privacy, free speech, and due process, plus prior departmental errors in judgement -- have led to calls for more transparency by some advocates and lawmakers.
Amid the push to ensure civil liberties and NYPD transparency, the department has fought to maintain its own privacy, arguing that keeping its strategies and tools secure is necessary to truly provide public safety in the age of internet terrorism. Particularly, the NYPD's intelligence and counterterrorism units must be given wide latitude to fight today's threats, argues NYPD Deputy Commissioner of Intelligence and Counterterrorism John Miller.
Appearing last week at the "Protecting New York Summit" hosted by City & State, Miller spoke about the threats the city faces, the balance between transparency and secrecy, the lines that separate monitoring and investigation, and his work to keep New Yorkers safe. Appearing next to Miller during the discussion, moderated by Gotham Gazette editor Ben Max, was City Council Member Donovan Richards, a Queens Democrat and chair of the Council's public safety committee, who wants to see policing done more fairly and transparently.
Whereas terrorist organizations until recently worked methodically in organized hierarchical structures, they now rely on propaganda-driven operations, Miller said, where senders and recipients often exchange messages without even knowing who is on the other end. Most of these messages move around on the internet, sometimes in public chat forums, providing the NYPD both a challenge and an opportunity.
While Miller and his team, along with other law enforcement partners like the FBI, are able to monitor some conversations that indicate the possibility of illegal activity or threats to public safety, there is also an incredibly vast world of potential danger where individuals are at times moved to do harm after sitting in front of their computers -- an intimate space often difficult for law enforcement to penetrate.
"The world has become a much smaller place. The world is a dangerous place. Now it's a smaller more dangerous place," Miller said at the summit, describing some of his thinking about his patrol.
But as the NYPD and others monitor, surveil, and investigate -- Miller took pains to insist on careful nomenclature, though a common set of definitions was not fully established during the free-wheeling hour-long conversation -- some want to know more about what words and phrases can trigger heightened policing, as well as what specific tools the NYPD is using, and when, where, and how they are being deployed.
When asked about calls for NYPD transparency by the City Council, activists, and advocates, who want to know more about how the NYPD is carrying out surveillance, what tools are being used, and how people are winding up on certain lists, Miller said: "It's the stupidest thing I've ever heard."
"If you give complete transparency you will be ineffective," Miller said. "I have undercover officers who take their lives into their hands and go into places with dangerous people who would kill them if they knew what their role was. To describe what equipment they wear - it would be to put them in danger."
In the interplay between Richards and Miller, one specific potential police oversight measure that the City Council is considering is a bill that would require the NYPD to be transparent about which technological tools it is using, when, and how.
The Public Oversight of Surveillance Technology (POST) Act, originally introduced in 2017 by then-Council Member Dan Garodnick, would require the NYPD to publish the details of equipment it uses to record audio and video, and perform other surveillance tactics. The bill was heard by Council committee, where NYPD representatives vociferously opposed it, did not move in the Council, and was reintroduced in 2018 in the new four-year Council session. It has not received a committee vote. The parties involved say they are continuing to negotiate the details of the bill.
According to Miller, NYPD and Council representatives sat together to go over the bill line by line, whereby the police department explained concerns and outlined changes it wanted to see in order to support the bill. Miller said the legislation showed no signs of changes asked for by the NYPD, that it remained a bill written by advocates.
"I think we believe in the work NYPD does every day but that does not preclude them from being accountable to the public," Richards said. "We wouldn't be the first city to reveal some of the tools the NYPD uses already."
Miller and Richards both said that New Yorkers and visitors to the city, should not have to give up any additional privacy or freedoms due to the need for greater policing and counterterrorism work in the city -- which has been home to 30 mostly foiled terrorist plots since the attacks of September 11, 2001, Miller said, including three that were carried out (Chelsea bombing, subway bombing, West Side bike path truck attack) in the past two years.
They also agreed that there are of course some limits to free speech when it comes to disrupting or making threats to public safety, getting at one of the key tensions in how the NYPD monitors the internet.
"The Supreme Court has decided it's not OK to yell 'fire' in a crowded theater. Not all speech is protected. It's probably OK to yell 'god is great' in a crowded theater; but if you say 'allahu akbar,' does that make it different? My answer is no...But if you're saying something like 'we should do something here, to hurt and kill people,' that's not OK," Miller said.
"Even as we enjoy the freedom as Americans of free speech," Richards said, "it doesn't give individuals the right to go out there and prop up propaganda that can lead to violence and attacks in our city."
Richards pointed to what he sees as unequal treatment of certain groups by the NYPD. He raised the issue of Muslim surveillance, which the department practiced after September 11, 2001, and more recently how the NYPD treated the presence of the Proud Boys, a rightwing extremist group, at the New York Metropolitan Club versus reports that the department has surveiled Black Lives Matter activists.
"Are they being treated equally? The answer to that question to me is no," Richards said. "There has been historically a difference in how certain communities have been surveilled in our city."
Miller denied allegations that the NYPD practiced improper surveillance of Black Lives Matter activists, who have also accused the NYPD of jamming their phones.
"We don't jam anybody's phone," Miller said. "It would be a crime and against the law." He said if members of a protest see their phones stop working it's likely due to the fact that so many people in a concentrated space are trying to connect to wireless networks at the same time.
Among the causes of the recent uptick in white supremacy-motivated attacks of "domestic terrorism," both Miller and Richards cited the increasingly hostile climate surrounding national discussions of race and ethnicity.
Asked if his job has been made more challenging by the fact that the president of the United States, Donald Trump, has promoted conspiracy theories, stoked racial resentment, and encouraged extremist groups, including targeting a New York member of Congress, Rep. Alexandria Ocasio-Cortez, Miller said he wanted to stay away from the politics of it all.
"The things that are said, the names that are called, the calls that are made certainly have set a bar that has unleashed more vitriol that used to live in shadows way out into the open," Miller said. After observing attackers who emerge from "online spaces, you would be foolish to deny that the brittle tone of the national discourse doesn't have something to do with that," he said. (The panel took place before the mass shootings in El Paso, Texas and Dayton, Ohio that rocked the nation this past weekend.)
According to a previously unpublicized FBI document, fringe conspiracy theories can now be considered "domestic terrorism," Yahoo! News reported. The document, released May 30, details a number of arrests related to violent incidents motivated by such theories.
When it comes to surveillance, the NYPD does not treat cases of "domestic terrorism" any differently than other threats that compromise public safety, Miller said.
"If you're talking about committing acts of violence, blowing something up, you're going to be our focus," Miller said. "The rules we use to collect information on rightwing extremists, leftwing extremists, Islamic exteremists, we can't do anymore with one than we do with another," he said.
On August 1, just after the panel discussion, the New York Times reported that the NYPD keeps a database of mugshots, including those of arrested teens, to be cross referenced with facial recognition software. Despite studies demonstrating that facial recognition software is less accurate in identifying people with darker skin, the NYPD defended its use, citing its as a necessity to make "sure we're doing everything to fight crime," NYPD Chief of Detectives Dermot F. Shea told the Times.
The NYPD does not use facial recognition to "lock anyone up," nor as probable cause, but it can serve as a lead in investigations, according to NYPD Commissioner James O'Neill, City & State reported.
"Our committee is ensuring that even as surveillance is done there is a level of accountability," Council Member Richards said at the summit. "One of the things we are trying to focus on is ensuring that we do protect the people's right to the freedom of speech, and done in a way where certain communities don't feel like they are unjustly targeted," he said.
The NYPD has also come under fire for its surveillance of internet forums. However, Miller said that the NYPD does not surveil people unless there is a legitimate threat or allegation.
"When you're in public forums where people know there are other people there. I don't know that anybody is being watched until there is a possibility of illegal activity," Miller said.
Miller said that the NYPD follows the "Handschu agreement" -- a set of guidelines that regulate NYPD activity designated after the department was found to have violated free speech among members of the Black Panther Party in 1985 -- when it comes to opening investigations, getting the approval of a judge. Miller said that compliance with the Handschu agreement precludes the possibility of surveillance that infringes on the constitutional right to free speech, and took issue with the term "surveillance," which he argued has been manipulated by advocates to be misleading and have a negative connotation.
"Surveillance means I send out a surveillance team. If we have a case open we have to write it up," Miller said. "The Handschu committee has to go and say this fits within the agreement. That's not surveillance, that's investigation. Mixing these words together -- surveillance, spying -- advocates know what they're doing by choosing these charged terms. We work within precision, rules, oversight. It bothers me when I hear about 'police surveillance of neighborhoods.' We don't surveil neighborhoods, religions, activities, unless it fits within the guidelines."
Richards drew a comparison between those who inaccurately predicted that drastically reducing the NYPD use of stop-and-frisk would lead to 'streets running red with blood' and those warning of increased transparency in NYPD surveillance.
Miller made a different point about stop-and-frisk, using a metaphor favored by his former boss, former NYPD Commissioner Bill Bratton, who likes to say that policing is like giving medicine to a patient. Doctors often have to give more medicine and treatment the sicker the patient is, but too much medicine (policing) can be counterproductive, and when the patient shows signs of improvement, it's important to adjust the levels of medication. Miller said that in the later years of the Bloomberg administration, dosages of stop-and-frisk had gotten totally out of hand, to the point of being counterproductive, and that the NYPD did not appropriately respond to feedback from its patients.
Miller said that with a more strategic and precise approach, more guns are being taken off the street in recent years than even at the height of the stop-and-frisk era.
Asked about whether he's worried about being blamed if he pursues reform and it is believed to contribute to an increase in crime or major incident, Richards said he is not "too concerned" about increasing transparency because he believes "that once again the more we build that trust collectively together the safer our city will be."
"We've talked a lot about building trust with the NYPD. Why are communities feeling safer? It's because we are building trust. We build trust by being transparent with each other," Richads said. "It enables someone who could learn of a threat to want to communicate that to the NYPD. We close the door on that particular scenario if we are not being transparent."