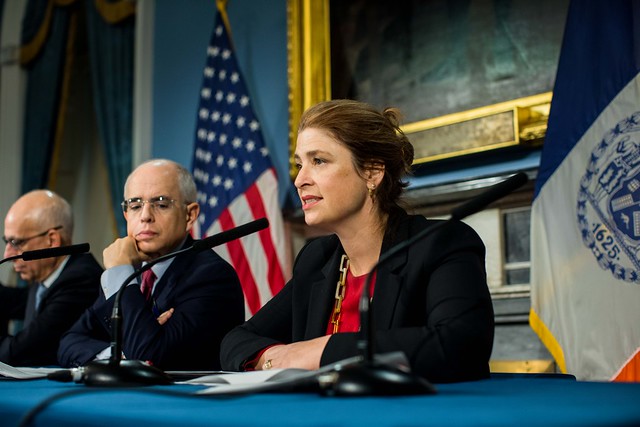 former Deputy Mayor Alicia Glen (photo: Benjamin Kanter/Mayoral Photo Office)
---
While she insists she has no intention to run at this time, former Deputy Mayor Alicia Glen is not ruling out a campaign to become New York City's next mayor, and says the city needs a woman in charge after her former boss, Mayor Bill de Blasio, is term-limited out of office at the end of 2021.
"Right now I have no plans to run for mayor because I think that the constant speculation about who's running for mayor sort of distracts from what the real issue is," she said during a recent interview with Gotham Gazette. "And what the real issue is, is what kind of mayor do we need going into the next decade? And, in my mind, I think this town needs a woman mayor. I think this town needs somebody who actually has experience and a track record of running things."
With the all-important Democratic primary for New York City mayor just under two years away, in June 2021, the four declared and likely Democratic candidates, all men, have begun earnestly raising funds and pitching potential allies for what is expected to be a highly competitive race. Each of the four -- Brooklyn Borough President Eric Adams, Bronx Borough President Ruben Diaz, Jr., City Council Speaker Corey Johnson, and Comptroller Scott Stringer -- has significant political experience, a base of support, and an early, distinct pitch of their vision for leading the city.
While one essential question of the last open race for mayor, in 2013, was whether the city would elect its first female mayor, in then-Council Speaker Christine Quinn, who lost to de Blasio in the Democratic primary, one ongoing question about the 2021 race is whether any female candidate will enter the race. (Assemblymember Nicole Malliotakis challenged de Blasio in the 2017 general election and lost by a wide margin, indicative of Republican chances in today's New York City.)
Given her fairly high-profile status as deputy mayor for housing and economic development for de Blasio's first five-plus years as mayor, Glen's name has been bandied about as a potentially strong contender should she jump into the mayoral race, though she would clearly face an uphill climb given the likely field, and her lack of an electoral base or popular name recognition. And while she would face criticism over various housing-related crises the de Blasio administration has faced, she would be able to boast a series of tangible accomplishments at the highest level of city government.
A controversial figure given the affordable housing program she designed, her work to broker the ill-fated Queens Amazon campus deal, and the state of the city's public housing, Glen would likely face opposition from a growing progressive movement across the city. But some say Glen would present a clear and viable alternative to the other candidates and that her time as deputy mayor makes her perhaps most qualified to be New York City's chief executive. Glen has been in and around city government for decades.
As Mayor Bill de Blasio's top housing and economic development official for nearly five-and-a-half years, and as a former Goldman Sachs executive, Glen has managerial experience and concrete accomplishments that would make for a robust mayoral resume. She's helmed the mayor's housing program, which is on schedule to create and preserve 300,000 units of affordable housing over 12 years (2014-2026); she spearheaded large economic development projects, like those at the Brooklyn Navy Yard, that are expected to directly and indirectly create tens of thousands of jobs; she helped turn around the operating finances of the New York City Housing Authority; and she oversaw the expansion of the Citi Bike program and the launch of the new ferry system.
But with each item on her resume comes an asterisk, especially in a Democratic primary. Housing advocates say the mayor's plan doesn't target enough housing for the lowest-income New Yorkers and marginalizes the homeless; the ferry system is massively subsidized and isn't linked to the current MTA fare system for buses and subways. The biggest blot is the public housing system, home to more than 400,000 New Yorkers and scandal after scandal. As residents continue to live in squalid and dangerous conditions, a federal monitor is now in place. And while de Blasio and Glen have accurately pointed to a lack of adequate federal and state support for NYCHA, with crises dating back into past administrations, the turnaround job they promised is far from complete.
Those who have worked with Glen believe that she has the chops to be mayor. Vishaan Chakrabarti, associate professor of practice at Columbia GSAPP and founder of the Practice for Architecture and Urbanism, said he would vote for her. "I think that position [of deputy mayor] definitely qualifies one to run for mayor," said Chakrabarti, formerly a city planner under Mayor Michael Bloomberg.
"I'm hoping we get to a place where we can reconcile the...very progressive agenda that...many people want to see with the ability to really get things done on the ground, where it's not just rhetoric, right? It's actually being able to deal with the controversy of bringing change," he added, insisting that Glen has the "toughness" for the job of mayor.
Glen is no stranger to controversy and she has never shied away from tough decisions. And she sees the job of mayor as more than a political position. "[I]t's also a job that requires you to be able, in a very complex economy, in a very complex jurisdictional construct between state, regional, national politics, in a city which is still, I would argue, the global capital of commerce, culture and hopefully innovation -- that requires I think some skills that are not necessarily the skills that people who are always in the political class appreciate as much," she said, insisting that she was not referring to any of the current candidates in the race.
Mary Ann Tighe, CEO of the New York Tri-State Region for CBRE, a commercial real estate services firm and chair emeritus of the Real Estate Board of New York, said Glen "would make a great mayor."
"It would be thrilling to have a mayor who would place all her energy in the job and who knows how to manage," she said. "You know, at the end of the day, a mayor's job is that of a manager. It's not setting national policy, if you know what I mean. It's sticking up and getting the garbage picked up. It's making the life of the city fair and safe. I think Alicia would do thrilling things that would really benefit New York City if she were to be elected."
One of the challenges for Glen may be her close association with de Blasio in a race where most of the candidate will be running as a break from him. Organizations like the Working Families Party and the Democratic Socialists of America, ascendant in recent state and city elections, would also be heavily opposed to Glen, given her ties to real estate and business.
Some Democratic consultants believe Glen's chances of victory would be slim. "She has no constituency to count on. She is not well known in the city," said George Arzt, a veteran of citywide races. "That said, there is also no woman in the race."
There are relatively few women in elected office in New York City: none of the current citywide officials are women and while two of the five borough presidents are women, neither Manhattan's Gale Brewer nor Queens' Melinda Katz, who may be on the verge of becoming district attorney, is likely to run for mayor in the next election. Just 12 of the 51 members of the City Council are women. Quinn has been the subject of speculation with regard to the upcoming mayoral race, but few if any other names of women have been mentioned in the early chatter.
"I think I wouldn't rule it out because of the fact that New York City doesn't have, right now, a lot of women candidates," Glen said just after leaving City Hall, appearing in March on the What's The [Data] Point? podcast, adding, "There are an unbelievable number of young women out there who blow my mind every single day, but there's still a dearth of women who have executive experience, have run complex organizations, who've had multiple experiences, both in politics and the private sector, and in the nonprofit sector. You know, it's something I would obviously think about at the right time."
Arzt said Glen is behind. "If she started earlier, she could have been getting some publicity," he said. "Starting this late and going into it next year, I don't think she has the momentum going forward or the fundraising that the others do…She is way behind." Arzt also noted that, even if she chose to run, even real estate interests and business groups would be unlikely to rally behind her. Rather, they'll back the candidate most likely to win, he said. "I would view her potential candidacy as a real long shot," he said.
Another consultant who wished to remain anonymous in order to speak more freely said Glen doesn't have the progressive track record necessary to be successful in the upcoming Democratic primary. The consultant cited Glen's past as a Goldman Sachs executive, her lack of focus on NYCHA, and the city's unaffordability despite the much-touted affordable housing program.
"I think she would be an interesting foil for the rest of the candidates, especially Stringer, who is focused on running as a progressive, because I think she would turn off folks like DSA," the consultant said. "I'm not totally sure where she would actually get her votes from because it seems like Eric Adams is focused on Brooklyn, Ruben Diaz Jr. has the Bronx. Corey and Scott are sort of fighting over Manhattan. But Alicia seems like she would also be working on Manhattan...So I'm not totally sure where her base would be that wasn't overlapping with multiple other people."
Glen has hardly the level of name recognition as the others. Diaz Jr. and Adams are popular in their boroughs, each having won multiple borough-wide elections as well as legislative ones before those. Johnson is increasingly seen as stepping in for an absentee mayor as de Blasio runs for president. Stringer is ubiquitous at events around the city and the only one of the four already elected citywide (twice). "The everyday person does not know what a deputy mayor is," the consultant said. "Alicia Glen is not a known name outside of the political chattering class."
For her part, Glen says she will continue to work towards the city's future, whether she's in government or outside of it. She's currently the new chair of the Trust for Governors Island, but it's unclear what other moves may be on the horizon, near- or long-term.
"At the end of the day, New York City is a really, really, really complex organism and I do believe strongly that we need to have a mayor and a team of people who can appreciate that and sort of understand you have to get stuff done," Glen said during the recent sitdown with Gotham Gazette. "And that doesn't mean there aren't really important policy arguments going on, and policy informs implementation but you have to be able to play in a much more nuanced, complex world."
"[T]he economy is not necessarily going to stay as strong as it has been," she warned, "just as you look at historical cycles and that's going to require people who understand how to leverage resources really well, assemble great teams, manage the balance sheet and those are hard skills. I don't think you need Michael Bloomberg to come back. What he may have known about running a big company he may have lacked in understanding some of the other great things that our mayor has to do. But I do think I want to be part of the ongoing success story of New York and however that plays out, I'll be there."