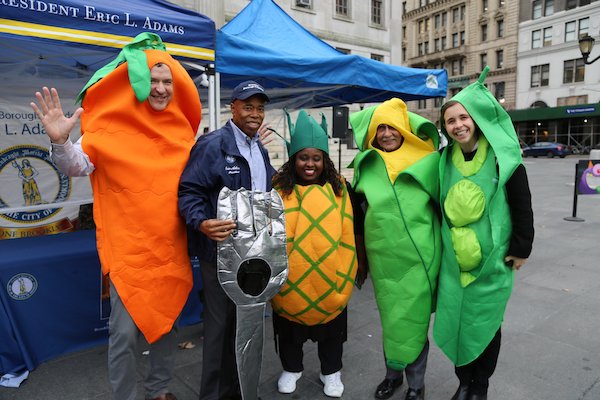 Eric Adams with healthy food people (photo: @BPEricAdams)
---
Eric Adams, Brooklyn's borough president since 2014, can always count on one place for good reviews: vegan magazines and websites.
Forks Over Knives, an organization dedicated to plant-based diets, collaborated with Adams for a 2018 mini-documentary about his lifestyle. Plant-Based News has written several stories concerning the measures Adams has championed as borough president. Vegan blog The Plantiful declared in 2018 that "we are lucky to have an inspirational Borough President" like Eric Adams.
After a 2016 diagnosis of Type 2 diabetes, Adams, a Democrat, transformed his lifestyle, switching to veganism and developing a rigorous exercise regimen. He dropped 30 pounds and became a crusader for health initiatives -- everything from yoga to biking to eating less meat -- in Brooklyn and beyond. His public health focus has earned him attention in more mainstream local media and among advocates, and he's spearheaded several public policy changes, including getting New York City schools to adopt "Meatless Mondays."
"At every event, I talk about how health is the cornerstone to our prosperity," Adams said in a 2017 New York Times profile about his response to his diabetes diagnosis and published shortly after he went vegan.
While Adams will not be running as a single-issue candidate, he appears likely to put public health front and center in making his upcoming New York City mayoral campaign pitch.
The public health programs he's backed, and the personal story behind them, have made him a popular figure in media devoted to healthy eating and a fairly unique political profile, especially relative to most other politicians, including his likely mayoral race competitors.
Now, as he gears up for a mayoral run toward the all-important June 2021 Democratic primary, Adams will have to see whether he can go citywide with his message of healthy living and gain traction among voters who will also want to hear about education, housing, transit, public safety, and other typical big-ticket issues, among others that may be more niche.
And while the former 22-year veteran of the NYPD and seven-year veteran of the state Senate will surely have plans and talking points on a wide variety of issues as the mayoral race unfolds, his focus on public health may help set him apart.
In a wide-ranging, hour-long interview with Gotham Gazette about his career and the upcoming campaign, Adams made it clear that health will indeed be a major component of his 2021 platform. "Health! Health is crucial!," he said. "It's not sustainable," he added, of the city's overburdened health care system. He went on to describe tele-medicine, one of many policies he has committed to focus on in order to address the city's purported health crisis, which includes higher than average obesity rates.
Under Adams' idea of expanded tele-medicine, patients would have increased options to talk to a doctor online rather than travel to the doctor's office, potentially a great help to seniors and others who may have difficulty leaving their houses. "There's no reason people should sit in the emergency room," Adams said, "when they can use tele-medicine and look right on the screen and speak to a doctor right away."
Adams also professed support for improving lunches in New York City's schools and hospitals, though he did not provide details. He's also making a push for adding yoga and meditation to school curriculum.
Along with specific healthfulness policies, Adams believes that the best way to reduce the healthcare system's woes is to reduce the need for so much institutional healthcare to begin with. "While other people are talking about making sure children have access to emergency rooms," he told Gotham Gazette, "I'm having a conversation about preventing families from going to emergency rooms…I'm going to wean people off being reactionary, and create a proactive form of dealing with health."
It's a philosophy born of Adams' approach to his own illness. He wrote retrospectively in 2018 that he "wanted to try lifestyle changes before signing up for insulin injections," and his goal is for everyone else to have the same choice he did. Calling on Mayor Bill de Blasio to increase plant-based medicine at New York City hospitals, Adams had a simple plea: "Give the patient the option."
Looking at his likely 2021 opponents -- including at least fellow Democrats Comptroller Scott Stringer, City Council Speaker Corey Johnson, and Bronx Borough President Ruben Diaz, Jr. -- Adams said that "what I am offering is different from everyone else that is running because no one else is looking outside the box the way I'm looking outside the box."
One key question Adams will face is how much voters want to hear about public health policy, and whether he can make them care enough about healthy living to base their mayoral vote on it, at least in part.
A poll conducted by Quinnipiac in October 2017, just ahead of de Blasio's re-election that November, asked likely voters in New York City what the most important issue would be for them in deciding who to vote for in that year's mayoral election; health was not considered notable enough by the pollster to include in its list of options. Only 1% of respondents volunteered an answer other than those provided: the economy, education, crime, housing, homelessness, and public transportation.
Similarly, an article on NY1's and Baruch College's The City Poll from May 2017 listed affordable housing, crime, jobs and the economy, and homelessness as the top four issues for New Yorkers, with no mention of health. Public health issues were little discussed in the 2013 and 2017 mayoral races.
Health care is, of course, a crucial aspect of many peoples' lives and often a central piece of the national discussion, whether it's Medicare for All, "Obamacare," or reproductive rights. The conversation also does come up locally -- there's been much discussion in New York state government about a state-level single-payer healthcare system, and de Blasio has made recent announcements around expanded city health care for uninsured New Yorkers, especially those who are undocumented. Issues related to health care access, including hospital closures, have been part of the local political discussion in recent years.
In a national poll conducted by Pew Research Center in 2019, health care costs were the second-most important policy priority for voters. This would indicate that voters pay more attention to health-related issues on the federal level, though perhaps more city residents need to be asked about it.
One challenge for Adams may be to convince voters that the mayor's office should play a greater role in lowering health care costs and making the city a healthier place. The issue certainly was central at times during the mayoralty of Michael Bloomberg, who instituted a ban on smoking in bars and restaurants and calorie counts on menus at chain restaurants. He also sought to limit the sizes of sodas that could be purchased at some establishments due to high sugar concentrations.
And de Blasio has made mental health a major focus through the at times controversial ThriveNYC program led by First Lady Chirlane McCray, which Adams has mostly expressed support of.
As a pair of studies from 2014 show, Bloomberg, Adams and others are not wrong to focus on health as a major concern. Between 2004 and 2014, obesity among New York City adults increased from 27.5% to 32.4%, while diabetes rates rose from 13.4% to 16.0%. The study's authors note in the abstract that they "observed increases in eating out and screen time over time and no improvements in physical activity."
A different study found a 2014 obesity rate of 27.0% in the whole of New York state; if the city had been its own separate state, it would have been the ninth-most obese state in the nation.
It is against this backdrop that Adams has waged his fight for a healthier Brooklyn, and New York. His first foray into health-related legislation was in 2011, when he was the sole sponsor of a quixotic bill in the State Senate to entirely ban the use of salt in New York restaurants; the bill was introduced twice, and died in committee both times.
Following his ascension to borough president, and his subsequent diabetes diagnosis, he has increased his efforts exponentially, oftentimes with much greater success. His Meatless Mondays initiative, which requires vegetarian school lunches every Monday, began as a pilot program in 15 schools across Brooklyn less than two years. This coming September, it will be rolled out across the entire city public school system.
"I stood beside Mayor de Blasio and then-Chancellor Fariña in 2017 to announce that fifteen schools in Brooklyn were undertaking Meatless Mondays," Adams said in March about the rollout. "In less than eighteen months, we can announce that Meatless Mondays has spread to more than one million children at every school across the city, putting us on the path to make our kids, communities, and planet healthier."
Adams was also successful shepherding a bill through the City Council in 2017 that created a city urban agriculture website, which informs residents about local community gardens and farms. And his general push to make Brooklyn Borough Hall a mecca for healthy lifestyles is evident, with bike-to-work events or vegan meetups happening nearly every month. As a former NYPD officer and now elected official, Adams has also taken a leading role in addressing gun violence as a public health issue, allocating and pushing for more resources to community-based solutions and proactive efforts to reduce vulnerable young people's propensity toward illegally carrying or using a gun.
Some initiatives that Adams has championed remain in limbo. A 2018 bill introduced at his request in the City Council to eliminate processed meats in public schools has not made it out of committee, though some of its provisions are present in de Blasio's "New York City's Green New Deal."
A more recent push this past April to ban junk food advertisements from city property has also made no apparent headway thus far.
With the 2021 primary now under two years away, Adams will soon intensify his citywide healthfulness pitch. He says his Brooklyn constituents have already felt the effects of his initiatives. "It may not be on everyone's radar," he said, "but it has taken flight."