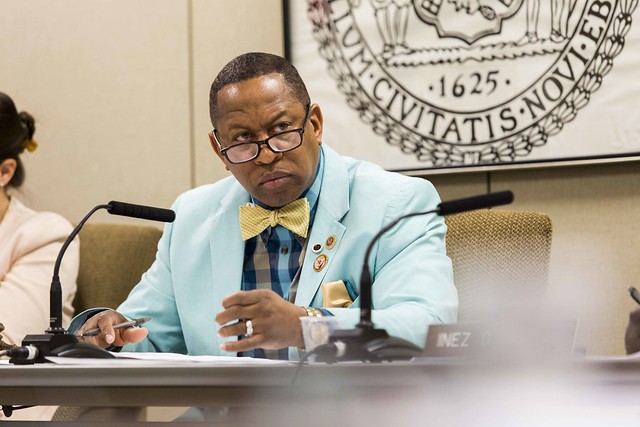 (photo: Emil Cohen/NYC Council)
---
The New York City Council's Committee on Standards and Ethics on Wednesday voted to issue formal disciplinary charges against Council Member Andy King, a Bronx Democrat, for allegations that include sexual harassment and conflict of interest violations.
Between 2015 and 2019, "Councilmember King either engaged in, encouraged, permitted, condoned or failed to prevent conduct that violated certain laws of the city, as well as the rules and policies of the Council," said Council Member Steven Matteo, a Staten Island Republican who chairs the committee, at an afternoon hearing. "More specifically, the charges are retaliation, disorderly conduct, conflicts of interest violations and harassment."
King's office did not respond to a request for comment. City Council Speaker Corey Johnson said in a statement, "These are disturbing allegations that come after a careful and thorough investigation. I trust Standards & Ethics to weigh all of the evidence in this case and make the right decision."
Last year, King had to undergo sensitivity and ethics training after the committee substantiated an earlier complaint of sexual harassment made by a staffer in his office. The committee ruled that he paid the female staffer unwelcome attention, violating Section 10.80 of the Council's rules regarding anti-discrimination and harassment.
The charges brought on Wednesday stemmed from additional complaints that were investigated jointly by the City Council's general counsel's office and special counsel Carrie Cohen, who was hired by the legislative body to prosecute the proceeding. Cohen was the lead prosecutor in the federal corruption trial of former State Assembly Speaker Sheldon Silver.
King is set to face a closed-doors disciplinary hearing on September 10. Under Section 10.80 of the Council's rules, King could face a range of punishments including removal as chair of the juvenile justice committee, a reprimand, censure, fine or expulsion from the Council.
In an April hearing, Matteo revealed some of the recent allegations against King that emerged from a preliminary inquiry. It was alleged that King permitted his wife, Neva Shillingford-King, who is executive vice president of the 1199 SEIU union, to engage in council business and in harassment of council employees. Council Member King also allegedly "created an environment where an employee in his office with supervisory responsibilities repeatedly threatened violence" against subordinates and even committed an act of violence against a subordinate employee. King was also accused of misuse of city resources.
Council Member King refused to be interviewed by the committee or cooperate with its preliminary probe, Matteo said in April.
King is the second Council member to face disciplinary charges this year. In May, Council Member Barry Grodenchik, a Queens Democrat, admitted that he sexually harassed a member of his staff and avoided a formal disciplinary hearing. He stepped down as the chair of the parks committee and was ordered to undergo sensitivity training.