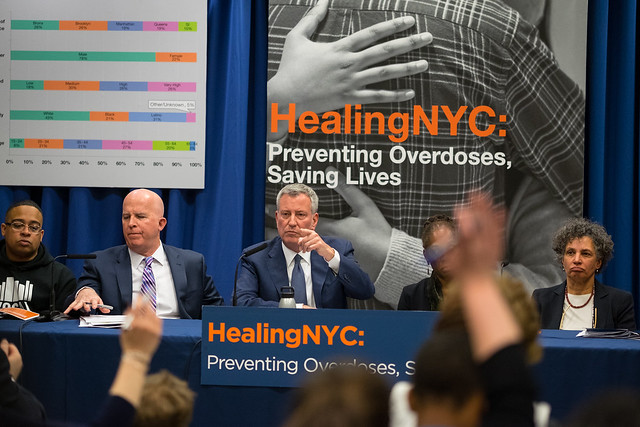 (photo: Edwin Torres/Mayor's Office)
---
New York City is showing modest progress in the fight to curb the explosion in drug overdoses, with the health department reporting 38 fewer deaths last year compared to 2017, after a concerted $60-million effort focused on substance abuse prevention, treatment, and education, especially with regard to opioids.
One aspect of that fight has been the expansion of access to medication-assisted treatment, which experts and activists say is a crucial element in preventing overdoses, curbing addiction, and helping those suffering from substance abuse disorders to reclaim their lives. The city has continued some advancement on that front, training thousands of more prescribers, while a state bill that could help that effort, which passed the Legislature this year, languishes unsigned by Governor Andrew Cuomo.
Medication-assisted treatment involves prescribing and administering drugs such as methadone and buprenorphine, which help mitigate the symptoms of withdrawal and curb cravings.
Methadone is itself an opioid, albeit a relatively weaker one, that can help those suffering from addiction wean off stronger narcotics. Buprenorphine acts similarly and is an even more effective treatment drug since its effects level out no matter the size of the dosage. Both, however, are stringently regulated.
Methadone treatment programs are subject to oversight by numerous federal agencies, and the drug must be administered to patients on site under observation. For buprenorphine, doctors must receive waivers to prescribe the drug after undergoing an eight-hour training. In the United States, compared to other countries, the treatment remains vastly underutilized.
"Medication-assisted Treatment (MAT) is a standard of care for opioid use disorder and it is critical for treating addiction, and also is a protective factor against overdose," said Dr. Denise Paone, Director of Research and Surveillance at the city Health Department's Bureau of Alcohol and Drug Use. "So we've invested a lot of effort into the expansion, particularly of buprenorphine, because as you know, methadone is federally regulated."
Since the March 2017 launch of HealingNYC, the city's multi-faceted strategy to combat the opioid crisis, the Department of Health and Mental Hygiene has trained 1,800 new buprenorphine prescribers, surpassing the original goal of 1,500. The aim of the program has been to increase buprenorphine prescriptions by 20,000 by 2022.
There has already been some success, with prescriptions up from 115,167 in 2017 to 126,002 in 2018.
Besides training new prescribers, the city has also expanded a Nurse Care Manager program – where registered nurses coordinate treatment for patients and with providers – to 26 primary care clinics around the city, and is funding 9 of 14 syringe service programs to provide on-site buprenorphine.
"In actual clinical practice, we are providing funding to these federally qualified health centers that serve those that are underinsured or not insured. And we provide support so that these primary care clinics can provide on-site buprenorphine," Paone noted.
It's hard to draw a through line from the investments in buprenorphine access to the reduction in overdose deaths, Paone said, because of the many elements of HealingNYC that work in concert. "But buprenorphine obviously plays a major role," she said.
There are still numerous challenges as the city attempts to increase the number of doctors prescribing the life-saving drug. The first is the required physician waiver. "There is an effort across the country, supported by a lot of attorneys general, as well as health departments to work at the federal policy level to have this waiver removed," Paone said, citing a letter sent by several attorneys general to congressional leadership, calling for eliminating the waiver. But that effort has seen little movement.
In New York State, buprenorphine prescribers are also required to get prior authorization from insurance companies. A bill sponsored by Assemblymember Dan Quart and State Senator Pete Harckham passed the Legislature earlier this year and would do away with that requirement but it has yet to be signed by Cuomo. "The bill is under review," said Caitlin Girouard, a Cuomo spokesperson, in an email.
"From social stigma to regulatory barriers, people seeking treatment for substance use disorders are faced with significant obstacles," Quart said in a statement. "While this bill won't remove all existing roadblocks, it will cut red tape and wait times, guaranteeing New Yorkers faster access to lifesaving treatment. The opioid epidemic has devastated communities across the state and I encourage the Governor to sign my bill into law, and ensure those seeking treatment have swift access to the care they need."
Harckham, a Democrat representing parts of Westchester and the Hudson Valley, chairs the Committee on Alcoholism and Substance Abuse and is also co-chair of Joint Senate Task Force on Opioids, Addiction & Overdose Prevention, which was created earlier this year and held its first hearing last month.
"We want to find out what's working, what the gaps are, what we need to do from a legislative standpoint, what we need to do from a regulatory standpoint," he said in a phone interview. "And certainly we have to break down any barriers we can to medication-assisted treatment because evidence shows, that's what saves lives." Harckham expects that next year, the Legislature will pursue a robust package of bills to fight the opioid crisis based off the task force's work.
Removing the stigma around buprenorphine and methadone also remains a priority for the city, and the Health Department has sought to fight it with a $2.8-million mass media and advertising campaign called "Living Proof" displaying real stories of individuals who have benefited from treatment.
The ads ran on local television (2,141 times), newspapers, online, in social media, and on the subway system. Besides the millions that saw the ads on the subways and ferries, the health department provided data that social media ads led to 2 million online video views and over 80,000 visits to NYC Health's "Opioid Addiction Treatment with Buprenorphine and Methadone" web page. "It was actually quite powerful, and then we're in the process of doing an evaluation of that campaign," Paone said.
"Expanding access to medication treatment is really probably the most critical response right now to the opioid epidemic," said Dr. Chinazo Cunningham, professor of medicine at Albert Einstein College of Medicine at Montefiore Medical Center, which has trained several hundred buprenorphine prescribers. "But what we also know from research is only about half of the people who are trained, actually go on to prescribe it and actually treat addiction and so we need to do more than just train people," she added.
Besides that, Cunningham said the city needs to invest more in nurse care managers and that service providers need more support for mentoring and education in addiction treatment. "I think that the issue is there's not one thing to turn this epidemic around," she said. "But all of these approaches are based in evidence to show that these are what the barriers are and these are the kinds of supports that are needed for providers to take this on and to provide treatment."
Jasmine Budnella, drug policy coordinator at VOCAL-NY, an activist group, was among dozens who protested outside the governor's New York City office last month, calling on him to take more action towards fighting the overdose epidemic. She said the prior-authorization bill is an important step to increase access to buprenorphine. "For low-income New Yorkers, that was the only bill that we were able to pass this last session that we know has proven evidence will work in reducing the overdose crisis," she said in a phone interview.
Budnella believes the city's approach to medication-assisted treatment needs to be more holistic and expanded past the areas where overdose deaths have been highest. She noted, for instance, that overdoses are a leading cause of death in homeless shelters.
"We need to continue expansion, but not just in areas of high need," she said. "We need to make sure that we're extending to all people." She urged the mayor to provide more funding to the health department and to the Department of Social Services, to ensure that the city tackles the nexus of the overdose and homelessness crises, particularly by investing in supportive housing for those who require addiction-treatment services.
"We need to make sure that we have wraparound services for folks," she said. "We also need to make sure that the criminal justice system is not the first to get employed for people who use drugs…What we really need is infrastructure where we have social workers and public health experts who are the ones employed to go help people with substance use disorder or mental health issues, so that the police don't have to police poverty."