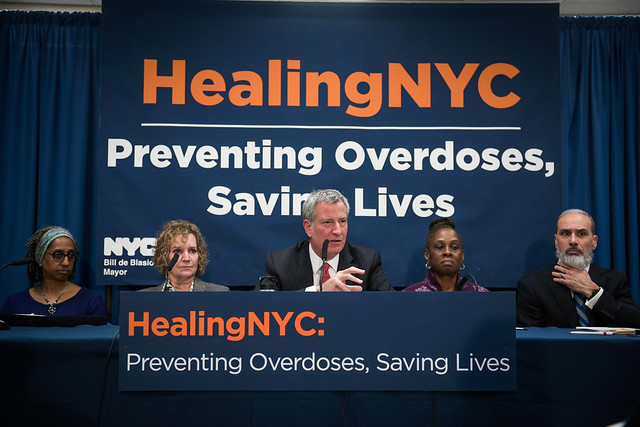 (photo: Ed Reed/Mayoral Photography Office)
---
The New York City Health Department announced on Monday that the city's efforts to curb the ongoing opioid crisis are showing progress, with 38 fewer drug overdose deaths in 2018 compared to the previous year. It is the first year over year drop in eight years, the city said.
There were 1,444 drug overdose deaths last year, down 3% from 1,482 in 2017, according to Health Department data. And the first three months of this year saw 331 overdose deaths, down 45 from the same time last year, and two fewer than the last three months of 2018.
"The decrease in drug overdose deaths is promising, but far too many New Yorkers are still dying," Health Commissioner Dr. Oxiris Barbot said in a statement. "We are closely monitoring the trends of the epidemic as they evolve and responding to upticks in emergency department visits and deaths with targeted strategies and community engagement. We remain firmly committed to expanding life-saving services and caring for New Yorkers who use drugs."
The announcement from the city did not include comment from Mayor Bill de Blasio, though First Lady Chirlane McCray was quoted saying, in part, "There is no one solution to the pain and tragic consequences of the opioid epidemic and New York City's multi-faceted response reflects that."
Although there was a reduction in overdose deaths citywide, disparities exist across boroughs. Deaths rose in the Bronx, Manhattan, and Staten Island but dropped in Brooklyn and Queens. Among New Yorkers between the ages of 55 and 84, overdose deaths increased for the fourth year in a row. The rates of overdose increased by 5% for Latinos, and decreased 13% for black New Yorkers and 5% for white New Yorkers.
In 60% of all drug overdose deaths in 2018, the deadly synthetic opioid fentanyl was detected.
The city has been undertaking a concerted effort for the last two years to decrease accidental overdose deaths. In March 2017, de Blasio and McCray launched HealingNYC, which has since invested $60 million in overdose treatment, prevention, and outreach measures, according to Monday's announcement.
Since then, the city has distributed 230,000 kits of naloxone, a drug that can counter an overdose, for free through programs across the city. The Health Department also conducts free trainings in administering naloxone and has launched nonfatal overdose intervention programs in 11 city hospital emergency departments, and will expand it to 15 private hospitals by June 2020.
The city has undertaken a broad outreach effort as well, working with 374 community-based venues, 88 substance use treatment programs, 140 pharmacies, and nine shelters in the Bronx and northern Manhattan.
The Health Department has trained 1,800 individuals to prescribe buprenorphine, which can reduce opioid dependency, and has funded 14 syringe service programs that helped 18,274 last year. Prior Health Commissioner Dr. Mary Bassett has identified expanded use of buprenorphine as one essential key to bringing down opioid addiction and overdoses. The city also wants to open safe injection sites, but has yet to receive state approval to do so.
Also in her Monday statement, McCray said, "Individuals struggling with substance use disorders and families caught up in this scourge are our responsibility, and we will continue innovating to make sure communities have access to the lifesaving resources, services, and treatment they need."
The city's five district attorneys – Darcel Clark of the Bronx, Eric Gonzalez of Brooklyn, Michael McMahon of Staten Island, Cyrus Vance Jr. of Manhattan, and acting DA John Ryan of Queens – welcomed Monday's news and called for greater action from the state to target the import of fentanyl and its variants, which remain largely unregulated. They called on the state Legislature to designate all those variants as Schedule I controlled substances and for increased funding for public awareness campaigns and police labs, coroners, and medical examiners.
"Fentanyl analogs serve no legitimate medical purpose and are produced by clandestine laboratories outside of the U.S. New types of fentanyl analogs are continually emerging as international labs slightly tweak chemical formulations. As long as fentanyl analogs in all their variants remain unregulated in New York State, they will proliferate unchecked and more lives will be lost," the DAs said in a joint statement.