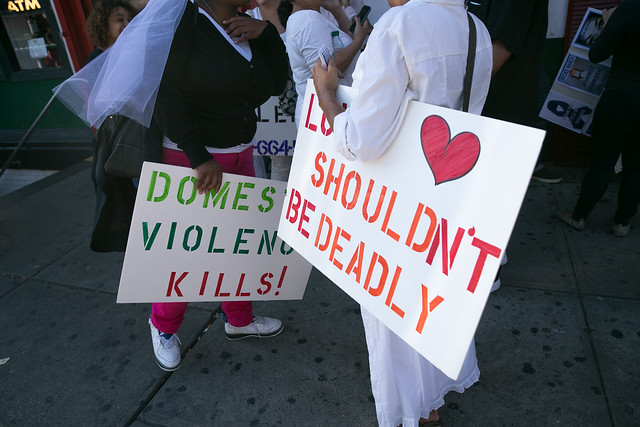 (photo: William Alatriste/City Council)
---
Domestic violence continues to be a leading cause of homelessness in New York City and ahead of Domestic Violence Awareness month, the New York City Council sought to examine how Mayor Bill de Blasio's administration has provided services to survivors of domestic violence who rely on the city's shelter system.
Under state law, counties are required to provide shelter and services to domestic violence survivors. In New York City, that responsibility falls to the Human Resources Administration (HRA), which administers the largest domestic violence shelter system in the United States, comprised of 55 confidential facilities across the city that house 2,514 emergency beds. Those 55 sites include nine "Domestic Violence Tier II transitional shelter facilities," with a total of 362 units where survivors are placed once they are stabilized in the emergency system.
According to HRA data, in fiscal year 2019, ending June 30, the city's domestic violence shelter system served 10,983 individuals, including 355 single adults and 3,877 families.
But there remain several challenges for survivors and Council members attempted to address them at a joint hearing on Tuesday of the Committee on General Welfare and the Committee on Women and Gender Equity. The hearing was largely dedicated to oversight of the system, but also focused on two bills and a resolution under consideration by the committees.
In 2018, the NYPD responded to 250,447 domestic incident reports, about 8% more than the national average, according to the committee's report from Tuesday's hearing. According to NYPD data, felony assault complaints related to domestic violence increased from 7,800 in 2017 to 8,200 in 2018.
One bill on the docket at Tuesday's hearing, sponsored by Council Member Stephen Levin (chair of the general welfare committee), would require HRA to report monthly disaggregated statistics on families with children living in shelter, while the second bill, sponsored by Council Member Helen Rosenthal (chair of the women and gender equity committee), calls for reports on services provided to transgender and gender non-conforming (TGNC) individuals in domestic violence shelters. The resolution, put forward by Council Member Farah Louis, calls on the state Legislature to authorize domestic violence shelters to be reimbursed for the payment differential for housing a single individual in a room intended for double occupancy.
Council Member Levin noted in his opening remarks that state law only allows survivors to remain in shelter for 180 consecutive days, after which they have few options at hand if they have failed to find permanent housing. Many end up trying to find shelter in the larger Department of Homeless Services (DHS) system, which doesn't provide the same services that would be available to them in the domestic violence shelter system. Another choice they often face after the 180-day period is to return to their abusers.
Levin noted that in 2016, among families with children entering the DHS system every month, an average of 31% had a history of domestic violence. "This is a reality that we must change and that we have an obligation to as the city address with every resource that we have," he said.
Rosenthal pointed out a dire problem. Citing a 2017 report from the National Coalition of Anti-Violence Programs, she noted that just 13% of intimate partner violence survivors attempted to access shelter; and about 43% of those who did seek shelter were denied and one-third of those were rejected based on gender identity.
She estimated that between 40 and 50 survivors were likely being turned away from domestic violence shelters in New York City each year because of their gender identity. "These numbers are clear. The TGNC community in New York is underserved," she said, pointing out that the domestic violence shelter system favors cisgender individuals and that no beds are specifically available for TGNC survivors.
Rosenthal said the city should not only be providing more training to ensure TNGC individuals do not face discrimination but called on the Mayor's Office to End Domestic and Gender-Based Violence (ENDGBV) to audit the work of domestic violence shelters to ensure equal compliance.
Testifying before the committees, officials from the de Blasio administration laid out a long string of efforts taken in the last few years to improve the city's domestic violence shelters.
Annette Holm, HRA's Chief Special Services Officer, said contracts for 300 additional emergency beds, announced by the mayor in 2015, had been awarded; a new shelter for families with pets opened last week; and 295 of 400 Tier II transitional units also announced in 2015 had been awarded. Three more Tier II shelters will open in 2020, she said.
"HRA addresses the scourge of domestic violence, a major driver of poverty and homelessness, by ensuring survivors and their families have access to a safe living environment and trauma-informed services, both within the shelter systems and as they transition back into communities," Holm said. The agency also collaborates with several other mayoral offices and agencies to provide mental health, economic empowerment, legal and social services to domestic violence survivors, she noted, and has conducted trainings to ensure shelters are more inclusive to LGBTQI and TNGC populations.
Holm said the administration would work with the Council to achieve the goals of the bills at hand but raised some concerns, "namely about ensuring that collection of such information about transgender and non-binary people does not create barriers to access, raise privacy concerns, and/or further traumatize a client in an already vulnerable situation."
She also noted that Levin's bill could run up against the strict confidentiality requirements under the law and that the city would require consent from sheltered individuals before collecting their information.
Some of the issues raised by the Council members were echoed by survivors who testified as well. Alida Tchicamboud, a survivor leader at Sanctuary for Families, a domestic violence survivor service provider, emphasized how the city's shelter system saved her life. But there were hurdles along the way, she explained. "It seems like the system works against survivors, especially for single women with dependent minor children, by forcing them to go back into the cycle of lifetime public assistance," she said.
She said the limit on stays should be extended to a year, and that the rental assistance vouchers provided to survivors to find permanent housing were insufficient. She urged the city to provide more trauma-informed services, to enhance prosecutions of landlords who often illegally refuse to accept rental assistance vouchers, and to build permanent housing that prioritizes domestic violence survivors.
Rosenthal raised several complaints brought by service providers and advocates about both HRA's processes and services. She urged HRA to ease the process of documenting attendance of survivors in shelter. Holm said that was already underway, with a new electronic attendance system that has been piloted in seven shelters and will be rolled out across the entire system in six months.
Rosenthal also called on HRA to share its annual reviews of shelter operational plans with ENDGBV, to ensure that shelters are providing adequate services for TGNC individuals. She also pushed HRA to be more flexible with paying service providers, and called on the administration to conduct greater outreach to domestic violence shelter and service providers who currently do not receive any government funding.
Levin encouraged HRA to increase access to mental health and financial literacy services, insisting that he wants to see some strides on those fronts before his City Council term expires in two years.
On one area, there seemed to be some disagreement. Holm insisted she had never heard of the shelter system turning away any individuals based on their gender identity. "We don't make a distinction. We treat them all the same. If they come in and we have an available bed and they meet the criteria, they will be housed," she said.
Elizabeth Dank, ENDGBV's deputy commissioner and general counsel, said her office conducts regular trainings for other agencies and service providers, particularly for screening and reception staff, to ensure they are sensitive to all domestic violence survivors, regardless of identity.
But Rosenthal echoed advocates who said it is a real problem.
Catherine Shugrue dos Santos, deputy executive director for programs at the New York City Anti-Violence Project, which contracts with the city, said that "there are precious few, if any, beds in New York City available at any time for survivors who do not identify as straight cisgender women with dependent children...Our clients regularly report being turned away from shelters and having nowhere to stay, thereby putting them at risk of further, potentially deadly violence." She supported Rosenthal's reporting bill and additionally called on the city to provide more funding for space to accommodate individuals across the sexual orientation and gender identity spectrum and more training for shelter providers.
Jimmy Meagher, policy director of Safe Horizon, reiterated the point: "TGNCB survivors face all of the same obstacles and challenges that many cisgender survivors do – trauma, confusing and controlling systems, economic insecurity, the herculean task of finding affordable permanent housing, etc. But they also face discrimination, hate, and additional forms of violence."