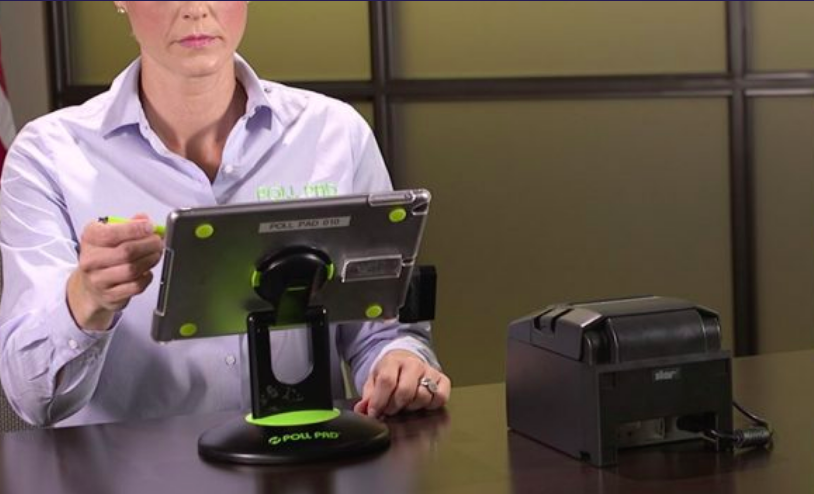 (photo: knowink)
---
With just one month before New York rolls out early voting for the first time, it is unclear exactly where the city's Board of Elections stands on acquiring and readying new technology considered essential to the new voting system.
BOE commissioners and staff have been discussing the acquisition of electronic poll books at board meetings since January, when the State Legislature passed and Governor Andrew Cuomo signed a law establishing early voting and authorizing counties to purchase the new tech, which enables implementation of early voting. In June, the State Board of Elections approved three vendors that counties could contract with, and the same month the city BOE appeared to have chosen one.
But as of late September, the city board has been silent on its progress toward purchasing the 10,000 e-poll books it says it requires, much less loading them with the voter rolls and training staff to use them.
Early voting sites in all five boroughs will open on October 26, but the BOE has given no word on the status of various aspects of the e-poll book rollout, despite repeated attempts by Gotham Gazette over the course of two weeks.
Electronic poll books are considered a necessary tool in the implementation of early voting because they better allow elections administrators to manage the flow of voters at polling sites scattered around each borough over the course of nine days of early voting, followed by the full slate of poll sites typically open on Election Day.
According to city Board of Elections meeting minutes, the commissioners moved to adopt a $19.1 million four-year contract with an electronic poll book company called KNOWiNK in July, but no contracts have been submitted to city or state fiscal oversight entities. The city BOE did not respond to multiple requests for information by email, phone, and text message leading up to the publication of this story. After an initial exchange with Gotham Gazette about scheduling an interview with Executive Director Michael Ryan, a BOE representative stopped responding.
A number of other unanswered questions remain. Where the city BOE is in terms of acquiring supportive technology like back-up generators and wireless network connections are under wraps, as well as any efforts to test machines, meet security needs, or transfer voter registration data.
"In theory, that's all done ahead of time and preloaded," said Jarret Berg, an attorney, election reform advocate, and founder of Vote Early NY, referring to programing each electronic poll book with the city's voter roll. Berg, who has met with elections administrators in counties throughout the state to monitor early voting implementation, believes the city BOE is already in possession of the new poll books. A BOE spokesperson provided no information to confirm or deny that possibility.
Running New York City elections has been a largely paper-based operation. Currently, poll workers use physical poll books to look up voter registration information and provide voters with a ballot. The paper books are cumbersome and limited to the names of voters assigned to a particular poll site.
Electronic poll books provide a way to track whether someone has already voted at one or another site, preventing overvoting during the early voting period. They can also contain larger voter rolls than the paper books, allowing poll workers to identify a voter's registration information and direct them to the proper poll site, even if they arrive at the wrong voting location. They should also speed efforts to look up registrations in the voter rolls at various points in the process.
"We are hoping the new electronic poll books will help us eliminate human errors in poll sites," wrote John Conklin, director of public information at the State Board of Elections, in an email. He said they will also enable county boards of elections and the five-borough New York City BOE to track wait times and voting patterns to identify where adjustments may need to be made in future elections.
"Most of all we hope it will improve the voting experience and get feedback from the electorate," he wrote, saying he did not have specific knowledge of the city BOE's roll-out of electronic poll books.
The Adjustment Period
Elections in New York City are run by county boards in each of the five boroughs under the umbrella management of the city BOE. The State Board where Conklin works is a separate entity that provides some policy-making and oversight around state elections and campaign finance laws, but does not in most cases directly administer local elections.
Under the new state law, counties are required to open poll sites for nine days in the lead-up to any primary, general, or special election. The first round of early voting statewide will take place from Saturday, October 26 through Sunday, November 3, ending two days before Election Day. By law, counties must have at least one early voting site for every 50,000 registered voters open during each day of the early voting period, and late hours are required on at least two weekdays. New York City will have 61 sites open across the five boroughs during the early voting period.
Each county is responsible for developing its own specific electronic poll book implementation plan, including procuring the technology, training staff, and deploying the machines, according to Conklin. Because this is the first year local boards have been authorized to use electronic poll books, the State Board may field questions and provide guidance to the jurisdictions planning on using them.
"While we hope that the e-poll book systems offer efficiencies in various processes, such as voter check in and updating of information, any time a new component, technological or not, is inserted into an existing process, there may be an adjustment period," Conklin wrote.
The city Board of Elections has already failed to meet in a timely fashion certain requirements of the law that created early voting. As The City recently reported, the BOE missed a deadline to notify registered voters of their assigned early voting location 65 days before an election, while also posting the information to its website late, and only after an inquiry from The City.
"We expect that there is a bit of a learning curve and we know that," Berg told Gotham Gazette. "This timetable, in fairness to the administrators, was very truncated."
Acquiring New Technology
Earlier this year, the State BOE began piloting electronic poll book systems in local elections in Albany, Tompkins, Madison, and Onondaga counties. In June, it issued a list of three approved vendors that county boards could contract with.
The decentralized nature of elections administration means the State BOE is not involved in local efforts to implement electronic poll books, like selecting an approved vendor or negotiating contracts. "We do not have direct oversight over procurement. Most counties bought them using their local procurement agencies," Conklin told Gotham Gazette.
New York City elections administrators, however, appear not to have gone through either the state or city comptroller's office to get approval for their contracts.
"The procurement did not fall under OSC [Office of the New York State Comptroller] jurisdiction and did not receive that contract. You should probably reach out to NYC BOE for it," wrote Matthew Sweeney, the assistant communications director at Comptroller Tom DiNapoli's office, which reviews contracts involving state funds.
A spokesperson for New York City Comptroller Scott Stringer told Gotham Gazette that no contract had been submitted to the office for registration.
Board minutes from June indicate the city BOE would follow rules set out by the Public Procurement Board when purchasing the new poll books. Those rules require "all contracts, agreements, contract changes, change orders, amendments, modifications, contract time extensions, and "Buy-Against" procurements [to] be presented to the Comptroller for registration."
It is not unusual for city agencies to submit contracts to the comptroller after they have already begun. According to a report by Stringer's office, "In FY18, 80% of all new and renewal contracts arrived at the Comptroller's Office for registration after their start date had already passed."
The city BOE's budget comes from New York City allocations, but the state has a plan to reimburse counties for certain early voting expenses, including equipment purchases like electronic poll books.
The city BOE's total budget in the current fiscal year is $246 million, of which $21 million will go to purchasing electronic poll books and another $75 million for early voting operations, according to the board's meeting minutes. Some of these expenses will be reimbursed by the state.
The state allocated $14.7 million in capital funding for electronic poll books in all 62 counties, and another $10 million from the aid to localities budget for early voting operations to be distributed at a rate of $15,000 per early voting site. The Auburn Citizen reported in June that New York City's five counties would receive a total of $8.5 million from the state for 57 poll sites (the city now plans to open 61 sites). New York City BOE meeting minutes from mid-July indicate the state will reimburse $5 million specifically for electronic poll books.
According to the BOE meeting minutes, the city Board began discussing the implementation of new early voting procedures and electronic poll books almost immediately after the law was changed. By mid-February, according to the minutes, the BOE's chief contracting officer was looking into potential vendors and the commissioners were already expressing concern with the truncated timeline to bring electronic poll books to the city.
By May, the city BOE's executive director, Michael Ryan, had met with numerous jurisdictions and an election consultant and reported the conclusion that, "Electronic Poll Books are essential to proper Early Voting management and operation," the minutes read.
After what appears to be extensive evaluations in which three committees were set up to score vendors based on "user experience," "technology," and "feasibility," the city BOE chose a St. Louis-based company called KNOWiNK, which sells electronic poll book systems and is one of the three vendors approved by the State Board.
KNOWiNK also had the capacity to provide another technology known as ballot-on-demand, which enables poll workers to print a voter's unique ballot on-site at a polling location, allowing individual early voting sites to accommodate a wider catchment of the electorate. Together, electronic poll books and ballot-on-demand create a streamlined voting experience and a simpler process for arranging poll sites.
On June 11, according to minutes, the city Board of Elections adopted a motion to begin contracting with KNOWiNK under Public Procurement Board rules. On July 16, the BOE approved a four-year contract for $19.1 million. The contract includes $405 per poll book, $4 million for software, and $1 million a year for maintenance and licensing.
KNOWiNK did not respond to multiple emails and phone calls requesting information about any contracts or contract discussions with the New York City Board of Elections.
The contract discussed in the minutes included another $48,000 for training, though it is unclear what exactly that money will go to. The last mention of training in city BOE meeting minutes was on August 27, when Ryan reported to commissioners that the poll worker training video had been updated to include information on electronic poll books. In that same meeting, Ryan told the Board that 12,000 of the roughly 21,000 general election poll workers had received training, but that "Early Voting poll workers will receive separate Early Voting training."
Challenges Ahead for the New System
New York City BOE meeting minutes provide a sense of the multifaceted operation to determine the new technological needs of the largest metropolitan democracy in the United States. But the city Board of Elections has provided no recent comment on how close it is to meeting those needs.
Adding new technology to the system comes with additional obstacles that must also be addressed before the early voting period begins. During the June 25 primary elections, the city BOE experienced connectivity issues with the mobile wifi hotspots it used and in July Ryan reported to the Board that his staff was exploring other providers.
Power is another concern. In late August, Ryan informed the Board of a discovery that some poll site outlets could not provide the amperage electronic poll books and ballot-on-demand require. The minutes state, "The Board's long term plan would be for the poll site to update their electrical capabilities in the designated poll room." In the meantime, it appears the Board is exploring options to secure generators, which are also necessary in the event of a power outage.
There may also be security steps that must be taken. According to The Citizen, KNOWiNK and other vendors were evaluated on cyber security as part of the state's pilot program by the state Division of Homeland Security and Emergency Services and the New York State Technology Enterprise Corporation. Chet Lasell of DHSES told Gotham Gazette the agency could not disclose specifics about its cyber assessments due to "internal protocols and security considerations." NYSTEC did not respond to a request for comment.
The new voting system, intended to make voting easier and improve the state's low turnout record, will change the way New Yorkers experience elections, not only next month, but for years to come. This year, with few items on the ballot and little voter turnout expected, is seen as an important warm-up for the 2020 election cycle, which is likely to see high turnout.
"This is not just about staff that needs to be trained and brought up to speed. I think we have to break a bunch of bad habits among the public," said Berg, adding, "I'm fond of saying, we need to grow a culture of early voting."