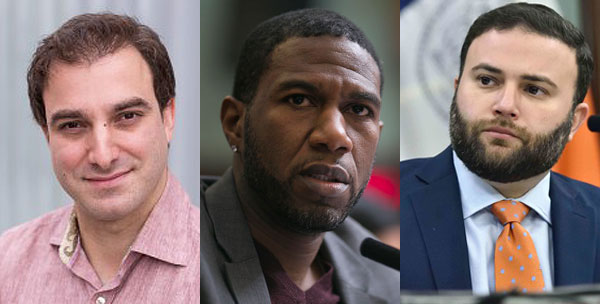 l-r: Devin Balkind, Jumaane Williams and Joe Borelli (photo: William Alatriste & John McCarten/City Council)
---
Public Advocate Jumaane Williams, one of three citywide elected officials, is up for reelection this fall, but it looks like the Brooklyn Democrat won't have to defend his (albeit short) tenure so far in a public forum with his two challengers. Neither Staten Island City Council Member Joe Borelli nor nonprofit leader Devin Balkind, the Republican and Libertarian nominees, respectively, seeking to unseat Williams, has qualified for the first of two official, televised debates scheduled in the public advocate race.
And from all indications, the second debate may also be out of the question, leaving it to Williams to decide whether to voluntarily debate his opponents in what is a special election to decide who is the public advocate for 2020 and 2021, the year of the next full city election cycle. Williams won the initial nonpartisan special election in February that decided the seat for the rest of this year after Letitia James stepped down after being elected New York Attorney General.
The New York City Campaign Finance Board hosts two mandatory debates before every citywide election for candidates who participate in the public matching funds program, which awards public money to match small dollar donations at either a 6-to-1 or 8-to-1 ratio, and meet the qualifying thresholds.
Those thresholds are meant to ensure that only viable candidates take the stage. For the first debate for this year's public advocate election, set for this Thursday, October 10, candidates had to have raised and spent $113,875 by October 4, the latest campaign finance disclosure deadline.
Only Williams met the criteria, having raised $133,009 and spent $138,953 so far. Borelli, a former Assembly member popular in his deep red South Shore district, has raised $42,959 and spent $22,683 on his longshot bid to replace a Democrat in an overwhelmingly blue city. The Libertarian Party's Balkind, who was also the party's nominee for the same position in 2017, has raised just $3,825 and spent only $1,313.
Borelli and Balkind also don't seem likely to qualify for the second debate, scheduled for October 29, which has higher qualifying thresholds including a raise-and-spend requirement of $136,650. Even Williams' expenditure is just short of that mark at this point in what is shaping up to be a sleepy race for a citywide post first in line to the mayor. The candidates must also show either an endorsement from a local, state, or federal official representing the city or from a membership organization (such as a union) with 250 members who live in the city; or must have at least 750 small-dollar donors, who gave $250 or less, from the city in order to qualify.
Nonetheless, both challengers are pushing Williams to agree to debate them in other forums, but he has been noncommittal so far.
"Our campaign is moving full speed ahead leading up to the November 5th general election," Williams said in a statement through a spokesperson. "We aren't taking anything for granted, so as we enter into the final stretch, we will be working aggressively to speak directly to voters to discuss the work we've done since entering office and plan moving forward to address some of the toughest challenges New Yorkers face today."
Early voting, being implemented for the first time in New York this year, kicks off October 26 and runs through November 3. Election Day is November 5. There are few elections on the ballot this fall, but there are several ballot questions of proposals from the 2019 New York City Charter Revision Commission to change aspects of city elections and governance. While there are some local races, the public advocate special election is the only other citywide vote at hand.
Manhattan Neighborhood Network is attempting to organize a debate and both Borelli and Balkind have expressed a commitment to participating, pending scheduling and Williams' participation. Williams' spokesperson, when asked if the public advocate would participate, said the campaign is "working to lock in our participation for a separate debate soon." It is unclear at this point if NY1 will successfully host a debate that is not part of the official Campaign Finance Board program. A spokesperson for Spectrum News, NY1's parent company, said in a statement, "We look forward to hosting a debate before the election with both candidates on NY1."
Borelli, who conceded that it's doubtful he'll qualify for the second debate, has for months been calling on Williams to do a series of podcast debates without a moderator that would be broadly accessible to members of the public. He made that request in a June 12 letter he sent to Williams, in which he freely acknowledged that the incumbent is the frontrunner and said neither of them should accept public funds from the CFB to reduce the cost of the election. "[I] am proposing a way to reach all New Yorkers in a novel, unique, and groundbreaking way," he wrote.
"I asked him to do a weekly podcast on whatever topics he wanted to discuss, for a few weeks leading up to the election," Borelli said in a text message on Monday. "I actually think it would be an entertaining show." Williams has not accepted the invitation.
Borelli also said he didn't want to attend debates limited to advocacy group members. "For example, I wouldn't waste my time at a debate hosted by a 'Close Rikers' advocacy group. I'd chalk their support up to a loss before I waste a moment," he said of the types of issue or community-based candidate forums that often dot campaigns, as they did ahead of the February public advocate special election, where more than 20 candidates appeared at many events to talk to voters. There were also two televised, officially-sanctioned debates in that special election, which Williams won in a runaway despite the crowded field including many sitting office-holders.
For Balkind, a public debate could potentially drum up some limited amount of support. "If I have a platform to share my solutions I'll prove there are more libertarians in this city than there are Trump supporters," he said in an email, pointing to a rapid growth in the Libertarian Party's membership. "We won official status in New York State for the first time in 2018. I'm the first candidate of the official party. The sky is the limit," he said. Libertarian gubernatorial candidate Larry Sharpe won 95,033 votes in last fall's election, coming in fourth, and therefore securing the party's ballot line for four years.
Balkind also chided civic institutions for not organizing debates outside the official ones sponsored by the CFB and its partners. "With modern technology it's never been cheaper and easier to produce a video broadcast," he said. "We need civic organizations to take more responsibility for the health of our city's democracy. Why are New Yorkers relying on a partnership between a government agencies (NYCCFB) and a for profit corporation (Spectrum Cable) to produce debates? We reap what we sow and this a reason why government bureaucracies and corporations are getting what they want from New York City's political class, but everyday New Yorkers aren't."
Note - this article has been updated to include a statement from a spokesperson for Spectrum News.