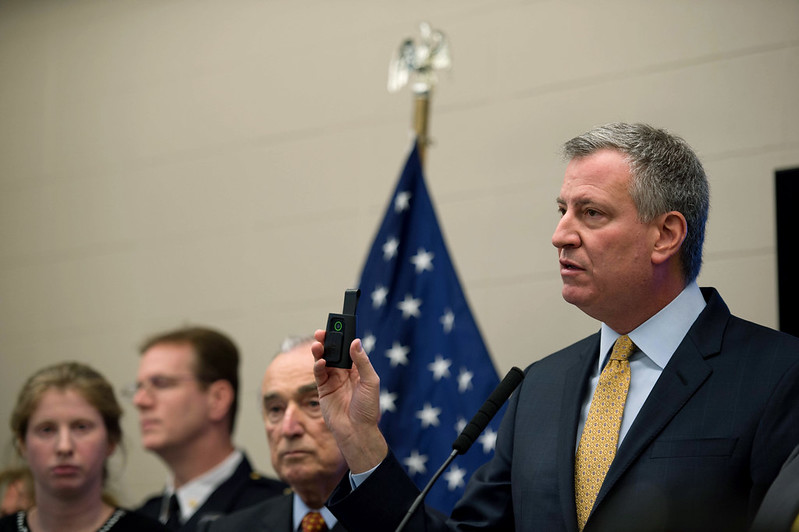 De Blasio with a body camera (photo: Rob Bennett/Mayor's Office)
---
The New York City police department is set to finally publish its formal policy regarding the release of body-worn camera footage, nearly seven months after every uniformed patrol officer was equipped with a body camera. While the signature reform has been touted by Mayor Bill de Blasio as a means to improve policing and to provide transparency and accountability to the public, there have been no clear guidelines on how the department determines when to release footage to the public and the press.
Indication of the impending announcement, given to Gotham Gazette by an NYPD spokesperson, comes amid questions about the death of NYPD Officer Brian Mulkeen in a 'friendly fire' incident last month – including when the city will make public the body-camera footage of officers involved in the shooting, which apparently occurred as Mulkeen wrestled with a suspect who was also killed by responding officers.
In March, the NYPD completed the roll out of body-worn cameras to every uniformed officer on patrol, roughly 20,000 in total, and began assigning another 4,000 to officers in specialized units. In the Mulkeen incident, all of the officers were equipped with cameras and had them activated, except for Mulkeen, according to news reports. While there are detailed guidelines on how officers must use those cameras, there is no formal policy on how footage is released to the public or the press.
NYPD spokesperson Devora Kaye told Gotham Gazette that policy will be posted to the department's website by the end of the month. Kaye did not provide any further details about what the policy will include or who was consulted on creating it.
The NYPD first began a pilot program to equip a limited number of officers with body-worn cameras in April 2017, after the settlement of a lawsuit over the department's policing tactics, specifically the unconstitutional manner in which officers employed street stops known as stop-and-frisk. The camera program was launched under the supervision of a court-appointed special monitor, Peter Zimroth, who has continued to assess its efficacy. In July 2018, a federal judge ordered the police department to begin recording all encounters, not just the more serious ones that officers had been recording thus far.
The body-worn camera program was to be fully implemented by the end of 2019 but was expedited last year by de Blasio and Police Commissioner James O'Neill. But, while the two have repeatedly said they support greater transparency in how the police operate, critics say they have been hesitant to act unless pushed to do so or become more secretive, as has been the case with the city's narrowed interpretation of a state law related to the public release of officer personnel records.
As early as December 2014, Mayor de Blasio emphasized the need to balance privacy and legal concerns as the city sought to implement a pilot body camera program. "I think part of this is seeing how it works in practice and helping us refine that balance...We're dealing with a lot of unexplored territory in this issue that the public...the media, and we in the police profession, and the courts for that matter, don't fully understand. We're going to all learn together," he said, quickly noting that an early issue that emerged was the Freedom of Information Law (FOIL).
In April 2017, the mayor noted that the program continued to be a "work in progress" for the police department. "It will build out over time. We are reserving the right to make adjustments in the policy as we go along," he said.
At a January 2018 news conference, when the city announced the accelerated implementation of the body camera program, police officials were reluctant to commit to time-bound policies for release of footage or a policy around doing so, emphasizing again that they believed it was too early to make such decisions. "I think what we are trying to do is gather the experience to inform that policy," said Assistant Deputy Commissioner Nancy Hoppock.
In the wake of several high-profile officer-involved shootings, police reform advocates and the families of individuals killed by officers have repeatedly raised alarms about the department's culture of secrecy and the apparent absence of a universal standard for releasing body-worn camera footage, and no public indication as to when such a policy would be forthcoming.
Such concerns were again raised last month, after Officer Mulkeen and a civilian, Antonio Williams, were killed in the Bronx in an attempted arrest gone wrong. Mulkeen had chased Williams after a street stop, and when the two struggled as the officer tried to restrain him, several fellow officers showed up and opened fire, killing them both.
At an October 8 news conference on the latest crime statistics, Commissioner O'Neill said the department would release some footage of the incident. "We're in discussions, this is an active investigation with the Bronx DA's office," he said, adding that the department was "going to end up releasing some of it but certainly not to the point where right before Detective Mulkeen gets shot, just to what led up to it." (Mulkeen was posthumously promoted to Detective by the NYPD.)
The previous week, the mayor defended his administration's "consistent" approach in terms of working with district attorneys first and noted the complexities of releasing body camera footage.
"[T]his is what we said from the beginning about body cameras, that we have to, in each instance, make sure that the release is appropriate and that begins with dealing with the District Attorney's Office," he said, in his weekly appearance on NY1's Inside City Hall on September 30. "And as you see, the release of footage has happened consistently in the days after an incident. But there are...legal considerations that have to be accounted for and then we proceed to release the footage."
But the police department has not always been forthcoming or consistent, as the mayor claims. In a June ruling in a lawsuit brought by New York Lawyers for the Public Interest, a judge ordered the department to release all relevant footage from the 2017 shooting death of an unarmed, mentally ill Bronx resident at the hands of police. An earlier collection of footage the department had made public excluded certain officers who were at the scene.
The NYPD had initially sought to prevent releasing the body-camera footage under the protection of Section 50-a of the state Civil Rights law, which the department and city lawyers have argued prohibits officers' personnel records from public disclosure. But the department later reversed its position, indicating it would release the footage. That did not, however, stop the Patrolmen's Benevolent Association, the largest police officers union, from filing a lawsuit on those grounds. The suit was struck down by a state appeals court in February this year.
Advocates continue to deride the fact that the NYPD itself is creating the policies around disclosure. Kesi Foster, an organizer with Communities United for Police Reform, a coalition of advocacy groups, said the department's current policies are "substandard and are designed to protect abusive officers instead of the public."
"We have no faith that the NYPD's expected revision of their policies will change this since body cameras can never be a tool for transparency or accountability while the NYPD owns the footage, controls release of footage and unilaterally dictates related policy," Foster said in a statement. "Despite promises from elected officials that body cameras will create stronger accountability or reform policing, it's clear in NYC and across the country they are another tool for officials to protect police departments from transparency and control the narrative around interactions between residents and police officers."
There is broad agreement that the department needs to have a detailed formal policy on handling the release of footage to the public and the news media. Before the initial launch of the body-worn camera program, the NYPD in 2016 conducted a survey of police officers and the public, and commissioned a subsequent report on the public feedback received by the New York University School of Law's Policing Project.
"A majority of respondents (57%) either agreed or strongly agreed that the NYPD should be required to show footage of a person's interaction with an officer to a news or advocacy organization upon request, noting that recordings were public documents, and that making footage available would promote transparency and accountability," the report noted. Those who believed footage should not be released pointed to privacy concerns or the effect it could have on police investigations.
Groups like the New York Civil Liberties Union (NYCLU) and more than a dozen media organizations urged the department to formulate a written policy and to ensure that exemptions to the city's Freedom of Information Law are only applied narrowly for maximum access. Additionally, the report noted, 51% of respondents said the police department should release footage of high-profile incidents – including a serious use of force or custodial death – "as soon as possible" while 25% said footage should be released after an internal department investigation.
Even a report from the Police Executive Research Forum, published in 2014 and commissioned by the Office of Community Oriented Policing Services, U.S. Department of Justice, notes that "Agencies should have clear and consistent protocols for releasing recorded data externally to the public and the news media." The report is linked on the NYPD's website.
The NYPD patrol guide minimally addresses these issues. Its eight-page body-worn camera policy details when and how officers should use their cameras, protocols for activating them, and circumstances when doing so would adversely affect their duties. It specifies which activities, individuals, and locations officers may not record – protests and other forms of political activity, victims of sex crimes, the inside of a medical facility, to name a few. And it outlines how the footage must be stored, maintained, and reviewed.
But it only briefly refers to how the footage can be made accessible to outside parties, including oversight and investigation agencies and the public. For instance, the NYPD's Internal Affairs Bureau handles requests for footage from the Civilian Complaint Review Board, which monitors and probes abuse of power and misconduct by officers. Those requests are not always handled in a timely manner, however.
For instance, in December 2018, about 8% of CCRB investigations had pending requests for body-worn camera footage (the number was never higher than 12% for any month last year). In September of this year, however, that number was at 30%, after hitting a high of 37% in June, according to the CCRB's latest monthly statistical reports.
"Oversight agency access to body-worn camera footage has the potential to revolutionize civilian oversight of police across the country," said Ethan Teicher, a CCRB spokesperson, in an email. "Currently, the CCRB requests body-worn camera footage from the NYPD in order to use it in agency investigations, and does so because this evidence is crucial to the CCRB's oversight function."
The patrol guide explicitly provides instructions to refuse access to body camera footage when initially requested. "Requests by a witness or victim to view a BWC recording must be declined and referred to the appropriate prosecutor handling the case. Requests by civilians to view a BWC recording that is not related to a criminal case must be declined and referred to the Legal Bureau's Document Production Unit," it reads.
City Council Member Donovan Richards, who chairs the Council's public safety committee, is hoping the upcoming policy will provide greater transparency and access to body camera footage.
"In a perfect world, they would be much more transparent – which they are not as of now – in terms of releasing body camera footage immediately after events, as fast and expedient as possible," he said in a brief interview at City Hall. He cited the recent police-involved shooting in Fort Worth, Texas, where an officer fatally shot a woman inside her own home. The shooting occurred on Saturday and the body camera footage was released quickly after, forcing the officer's resignation within two days of the shooting. (He was charged with murder just hours later.)
Richards said he wants to see a policy that details time-bound releases of footage. "Things are always going to be under investigation and it needs to be a policy that enables us to get access to body camera footage much faster. So we're going to look for timelines. That's what I'm most interested in seeing," he said. He is also pushing for an oversight hearing in November on the issue of body camera footage where the new policy would likely be up for discussion.
Richards did not commit to advancing legislation mandating timeframes should the policy not include any. "We will always use the power of the committee to push the NYPD to be more transparent and more accountable to the public. And we will use the full weight of our committee to do that," he said.
Note - this article has been updated.