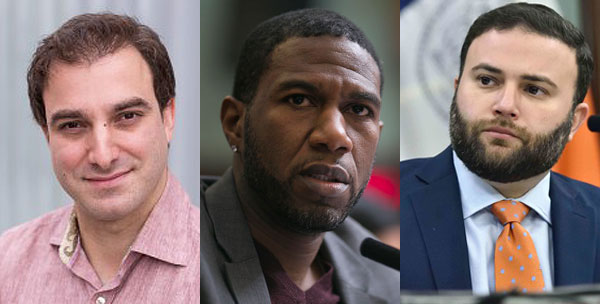 l-r: Devin Balkind, Jumaane Williams & Joseph Borelli
---
One of the few seats on the ballot this fall involves a citywide race, with Public Advocate Jumaane Williams defending his seat against two challengers in order to serve the remainder of the term, which runs through 2021, after he won a February special election. While the three candidates running have very different backgrounds and visions for the job of public advocate, Williams' opponents, Republican City Council Member Joe Borelli and Libertarian Party nominee Devin Balkind, both concede that their chances of victory are slim and seem more intent on making a principled point about the position.
Williams, a Democrat who previously represented parts of Brooklyn in the City Council, won the seat in a nonpartisan special election in February, triggered after Letitia James was elected New York State Attorney General. In a low turnout election and a crowded field of over a dozen candidates, Williams won with about 32% of the vote. Owing to quirks in election law, however, he must run again to serve out the rest of the term.
After facing no primary challenger, Williams heads into the general election the heavy favorite given how overwhelmingly Democratic the city electorate is. Turnout is again expected to be quite low, and little attention has been paid to the race. Borelli and Balkind have struggled to raise money and even Williams hasn't hit the threshold to receive public matching funds, in part a sign of how little mind New Yorkers are paying the race, with most Democrats who are aware of the election likely assuming an easy Williams victory.
The public advocate functions as an ombudsperson for New Yorkers and is largely seen as a springboard for higher office, though the position does come with several important powers and a bully pulpit. Before James, the office was held by de Blasio, who used it successfully to elevate his profile before becoming mayor. The office's budget for this fiscal year is only about $3.8 million and is currently subject to the whims of the mayoral administration, though that could change if a question on the ballot giving the office an independent budget is approved by voters. The public advocate can propose legislation before the City Council but does not get a vote.
Jumaane Williams
When he first ran for public advocate, Williams echoed his pitch from his unsuccessful bid for lieutenant governor last year, when he touted himself as an "activist elected official" who would transform the office he was seeking. He says the public advocate needs to be more than a "rubber stamp" for the mayoral administration and has taken a harder tack towards de Blasio than James did when she held the office.
Criminal justice reform and affordable housing have long been Williams' top issues, as an organizer, advocate, and member of the City Council for nine years. One of his key achievements was the Community Safety Act of 2013, which sought to end the overuse of stop-and-frisk policing by the NYPD and created an independent monitor for the department. Williams was also one of the more prolific members of the legislative body, and has been successful in passing 57 bills he sponsored.
Williams came into office with a different approach than James, who, as a former Legal Aid attorney, had employed litigation as a major strategy in attempting to hold the mayoral administration and city agencies to account.
"I came in as a community organizer, so it makes sense that I have a slightly different lens," Williams said. After four months in office, he announced a restructuring of the office, hiring five new deputy public advocates charged with focusing on select key issue areas: housing equity, justice, safety and health equity, education, civic and community empowerment, and infrastructure and environmental justice.
Williams says he wants to address the city's affordable housing crisis, increase government transparency, and advocate for more gun violence prevention efforts. More recently, he's been pushing the de Blasio administration and the NYPD to reform the city's approach to how it responds to people in mental health crises who may be a danger to themselves and others, releasing a report last month that recommended investing more resources in treating rather than policing people in such moments.
"This has empowered me to do a lot of things that we couldn't do simply as a Council member," Williams said in a Monday interview on the Max & Murphy podcast, referring to his ascension to the citywide office and citing the report as an example. He is also pushing legislation to place a moratorium on city-sponsored neighborhood rezonings and has sponsored another bill that would mandate a racial impact study before a rezoning.
Williams has repeatedly said that the city's Mandatory Inclusionary Housing policy, touted by the mayor as essential to solving the housing affordability crisis, is a failure. "The mayor pushed for a failed proposal and the city passed a failed proposal," said Williams, who was among the few who voted against it. On the other hand, he's working with de Blasio to pass Williams' bill to mandate that employers provide ten days of paid personal time each year, a cause de Blasio took up earlier this year after it had been sitting in the Council unmoved for several years.
Joseph Borelli
Council Member Borelli, one of three Republicans in the 51-member City Council, freely admits that he stands little chance of winning the race. But he's using his candidacy to criticize the "remarkably useless" public advocate office itself, saying he would either see it strengthened dramatically through changes to the city charter or eliminated altogether.
"It still doesn't perform any serious function that warrants spending millions upon millions of dollars to elect and staff this office," he said in a recent interview on the Max & Murphy podcast. He's also used the race as a vehicle to oppose de Blasio and "his radical, backward agenda" that he says is leading to higher costs on the middle class and a deteriorating quality of life.
Borelli, who represents Staten Island's South Shore and has previously been a state Assembly member, wants to see more powers for the office. He wants to place the Department of Investigation under the public advocate's purview, which would be a major structural change and require an amendment to the charter. He also proposes giving the public advocate a position on the MTA board, which would need to be approved by the state Legislature. "That would make the office instantly worth something to the taxpayer," he said.
Borelli is unlikely to receive broad support outside of the traditional Republican bastion of Staten Island and neighborhoods that skew convervative including those in Eastern Queens, South Brooklyn, and the Upper East Side of Manhattan. He's also an outspoken supporter of President Donald Trump, which earns him significant scorn from outside his base and has provided fodder for Williams' campaign.
Borelli nonetheless prides himself on being able to work with Democrats to get legislation passed. "I think a lot of people see this image of me as this Republican who likes to push people's buttons, which is certainly something I enjoy doing, but when it comes down to actually, you know, the brass tacks of governing New York City, I enjoy the work and I try to do it," he said. He pointed to his work leading the Council's Committee on Fire and Emergency Management.
"The office works better when you have someone that has a fundamentally different view than the mayor, offering an alternative," he said.
Devin Balkind
Balkind, a civic technologist who serves as president and director of the nonprofit Sahana Software Foundation, is the Liberatarian Party nominee, and is running on a five-point plan for the public advocate's office centered around creating more resources for New Yorkers and organizing the city's information.
He wants to strengthen the city's social safety net and create central open source repositories of all services provided by the city and by the nonprofit sector; he would help city agencies create Digital Service Organizations to reform government access through technology and break inefficient bureaucracies; he would use the office to conduct oversight of civic engagement efforts, particularly the work of the new Civic Engagement Commission; he would launch an online metro-regional hub to coordinate and compile data from local and state agencies across the New York metropolitan region; and he would reconvene the Commission on Public Information and Communication to provide more information to the public about the working of city agencies.
"Those five solutions are real things that I think I could achieve as public advocate that will deliver real value as individual projects that people can understand, and that they can see the effects of," Balkind said in an interview on the Max and Murphy podcast.
Balkind is pitching a "digital transformation" of city government and bureaucracy, deriving inspiration from best practices around the world. "Basically, you're creating an opportunity to rewrite how the bureaucracy works from a situation where the bureaucracy can actually be empowered," he said. "[City agencies] don't have to ask IT vendors for permission to make changes in their operations. They can do it themselves."
And he's hoping he can prove that "you can get on the ballot in New York City as a pragmatic technocratic, I say in the good way, technocratic person who thinks that they have better ideas for how to deliver services faster, better and cheaper than anybody else," he said.
Money and Debates
Besides the usual advantages of incumbency and of being a Democrat in New York City, Willams has expended far more campaign resources as well. At the last campaign finance filing, he had raised about $133,000 and spent nearly $139,000, leaving his campaign in debt. Borelli has only about $20,000 in cash on hand after raising about $43,000 and spending more than half of it. Balkind's fundraising has barely made a scratch – he has raised less than $4,000 since joining the race and spent $1,313.
Williams and Borelli are participants in the Campaign Finance Board's public matching funds program, but neither seems likely to meet the thresholds for public funds to be paid out. Thus, the candidates have limited means to make voters aware of the election taking place, where there is little on the ballot other than their race (there's the Queens District Attorney general election, several judicial races across the city, and the ballot questions on proposed charter revisions).
Borelli and Balkind's meager fundraising also means that the two official debates mandated by campaign finance law will not occur – the first scheduled debate was already cancelled and none of the candidates are on the way to qualify for the second, which has higher thresholds.
Instead, Williams and Borelli will face off in a live debate hosted by NY1 on Tuesday night. Balkind was not invited. "We invited candidates to participate in Spectrum News NY1's debate based upon criteria including ballot eligibility, being enrolled in the city's campaign finance program, and meeting fundraising thresholds," said a spokesperson for Charter Communications, NY1's parent company, in an email. "Devin Balkind does not currently meet the criteria to participate in our Public Advocate debate."
[LISTEN: Max & Murphy Podcast: The Public Advocate Candidates]