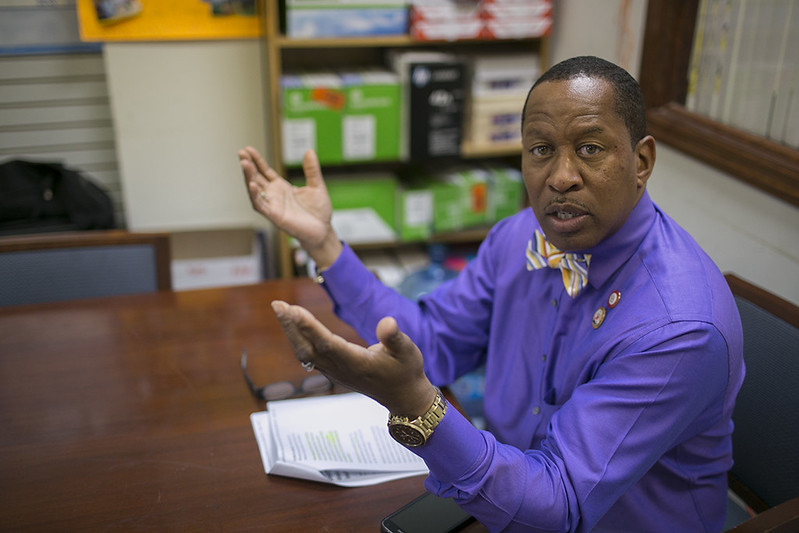 Council Member Andy King (photo: William Alatriste/City Council)
---
The New York City Council voted on Monday to suspend Bronx Council Member Andy King for 30 days without pay and imposed several other disciplinary measures following repeated ethics violations by King that were recently substantiated by the Council's ethics committee.
King, a Democrat, was the subject of a monthslong investigation by the Council's Committee on Standards and Ethics, the Office of General Counsel, and outside prosecutor Carrie Cohen, who found that the Council member engaged in a pattern of harassment against aides, retaliated against employees who filed ethics complaints against him, fostered a hostile work environment, misused office resources, and allowed his wife, Neva Shillingford-King, to supervise office staff in clear conflicts of interest.
By a vote of 44-1, the full Council approved a resolution that contained 10 disciplinary recommendations based on a 48-page report from the ethics committee. Besides the suspension, King will pay a $15,000 fine, be removed from all committee positions, and his office will be placed under an outside monitor for the remainder of his term. King was the only member to vote against the resolution. Council Members Inez Barron and I. Daneek Miller abstained from the vote. Council Members Fernando Cabrera, Ruben Diaz Sr., Alan Maisel and Francisco Moya were absent from the hearing.
The monitor will have the authority to review and approve all hiring and firing decisions for King's staff and will have access to email accounts of King and all his staff members. The Council will also ensure that employees who left King's office after facing retaliation will have the opportunity to return to Council jobs. If King does not abide by the disciplinary measures, the Council could reopen proceedings against him.
"Those violations outlined in the report are appalling, particularly coming from an elected official who is duty-bound to serve the public," said Council Speaker Corey Johnson, prior to the vote.
Speaking of the staffers that King had harassed and retaliated against, Johnson said, "I am sickened by what they have endured because of Council Member King's odious behavior. As for Council Member King, I deplore his cowardice and the disdain with which he treated his employees, the committee, and this entire body."
Though there have been calls for King's resignation, including from Speaker Johnson, Mayor Bill de Blasio, Comptroller Scott Stringer, several Council members, and others, there was broad hesitation from Council members at expelling King from the body.
Council members worried that there may be legal consequences to going beyond the ethics committee's recommendations. Speaker Johnson, a Manhattan Democrat, and Council Member Steven Matteo, a Staten Island Republican and chair of the ethics committee, repeatedly noted that King is facing the harshest punishment ever doled out by the Council and that the committee had undertaken a deliberative investigation and its recommendations were appropriate.
"The committee exhaustively deliberated and debated the terms of this resolution, and concluded that the suspension is significant enough that it will function both as a deterrent against future bad behavior, and also give us the chance to get a monitor in place in Council Member King's office who can develop a relationship with staff before Council Member King returns," Matteo said on the Council floor.
Council Member Jimmy Van Bramer, a Queens Democrat, was the only member to call for King to be expelled from the legislative body ahead of the vote. At Monday's hearing, he introduced an amendment to the resolution to expel King, but it failed with 12 votes in favor and 34 against in the 51-seat chamber. Besides Van Bramer, the Council members who voted for the amendment included Costa Constantinides, Rafael Espinal, Rory Lancman, Carlos Menchaca, Bill Perkins, Keith Powers, Antonio Reynoso, Donovan Richards, Helen Rosenthal, Mark Treyger and Eric Ulrich. Council Member Mathieu Eugene abstained.
Van Bramer said he felt compelled to introduce the amendment after King displayed a lack of contrition over his behavior. "While I was prepared to make the amendment, it was only after I heard Council Member King speak that I knew that I had to," he said. "And the absolute lack of remorse, the absolute lack of even understanding that anything had been done wrong, anything, blaming other Council members, blaming lawyers, blaming staff. That to me is just even more of the pattern of behavior that brought us to this moment in the first place."
The committee's report noted that King was uncooperative throughout its investigation, seeking to delay and obstruct its work. At Monday's hearing, King was defiant, alleging that he had been deprived of his due process rights and that the report contained "outright lies" about him.
"I'm a man who's very respectful, full of integrity, stands for something, doesn't fall for anything and everything. And because people say things sometimes, don't necessarily make it true," he said.
He even sought a temporary restraining order against the Council's vote in Manhattan Supreme Court but was unsuccessful. He could possibly seek an injunction against the enforcement of the resolution but Johnson was confident that the Council's move would hold up to legal scrutiny.
Matteo, however, rebutted King's arguments, pointing out that King and his lawyers had ample time to respond to the committee's charges and that King did not appear at a two-day trial held by the ethics committee. "Indeed, instead of cooperating Council Member King attempted to make a mockery of this committee, and the Council's rules and policies," Matteo said.
This isn't King's first run-in with the ethics committee. He was previously disciplined for paying unwanted attention to a female staff member and ordered to undergo additional sensitivity training. That Council employee, Chloë Rivera, who now works as senior legislative policy analyst for the Committees on Women and Gender Equity and on Higher Education, revealed her identity in an op-ed in the New York Daily News on Monday, calling on the Council to remove King from office.
"Our elected officials must choose to set the right precedent," she wrote. "They must establish a standard that worker abuse and witness intimidation and retaliation will not be tolerated, that repeat abusers are unfit to serve and will be removed from office."
Several Council members who approved of Van Bramer's amendment cited Rivera's experience as the reason for their vote. Rivera previously worked as a legislative aide for former Assembly Member Vito Lopez and was among several aides who filed sexual harassment complaints against him. Lopez eventually resigned when threatened with expulsion from the Assembly. Rivera watched Monday's hearing from the balcony in the Council chambers and later expressed her disappointment with the proceedings. "I'm very disappointed that the motion to expel did not pass but I am satisfied that he is going to suffer some consequences for his actions," she told Gotham Gazette in a brief interview.
Among the findings of the latest investigation into King was new evidence that the Council member had retaliated against Rivera after her 2017 complaint. At a staff meeting at his home, King disclosed Rivera's name, questioned her integrity, and called on his staff members to be loyal to him. "Following my first complaint in 2017...he did not receive adequate consequences for his actions," Rivera said Monday. "And so that resulted in a fallout, which ended up emboldening him and enraging him and taking it out on his staff. It's disappointing and I think it will put a chilling effect on other survivors or other victims from coming forward at the Council who are being victimized by members." She hoped that the Council would consider strengthening its rules regarding harassment so that there are more clear-cut consequences.
The Sexual Harassment Working Group, which is made up of former and current aides to state legislators and has been leading advocacy efforts for stronger sexual harassment protections in the state and city, said the Council should not let King off easy.
"If the City Council wants to keep any credibility in the arena of sexual harassment protections, it must lead now, by setting the precedent that it will not tolerate harassment or retaliation against its own workers," the group wrote in a statement. "City Council staff cannot afford to allow the Council to backtrack on progress made since #MeToo went viral. Anything less than expulsion will send a chilling message to victims that they will not only be denied justice, but they will not be protected from serial predators."
Johnson has also referred the case against King to outside investigators, which could potentially mean criminal charges for the Council member. Johnson would not say which authorities he made the referral to.
Note - this article has been updated.