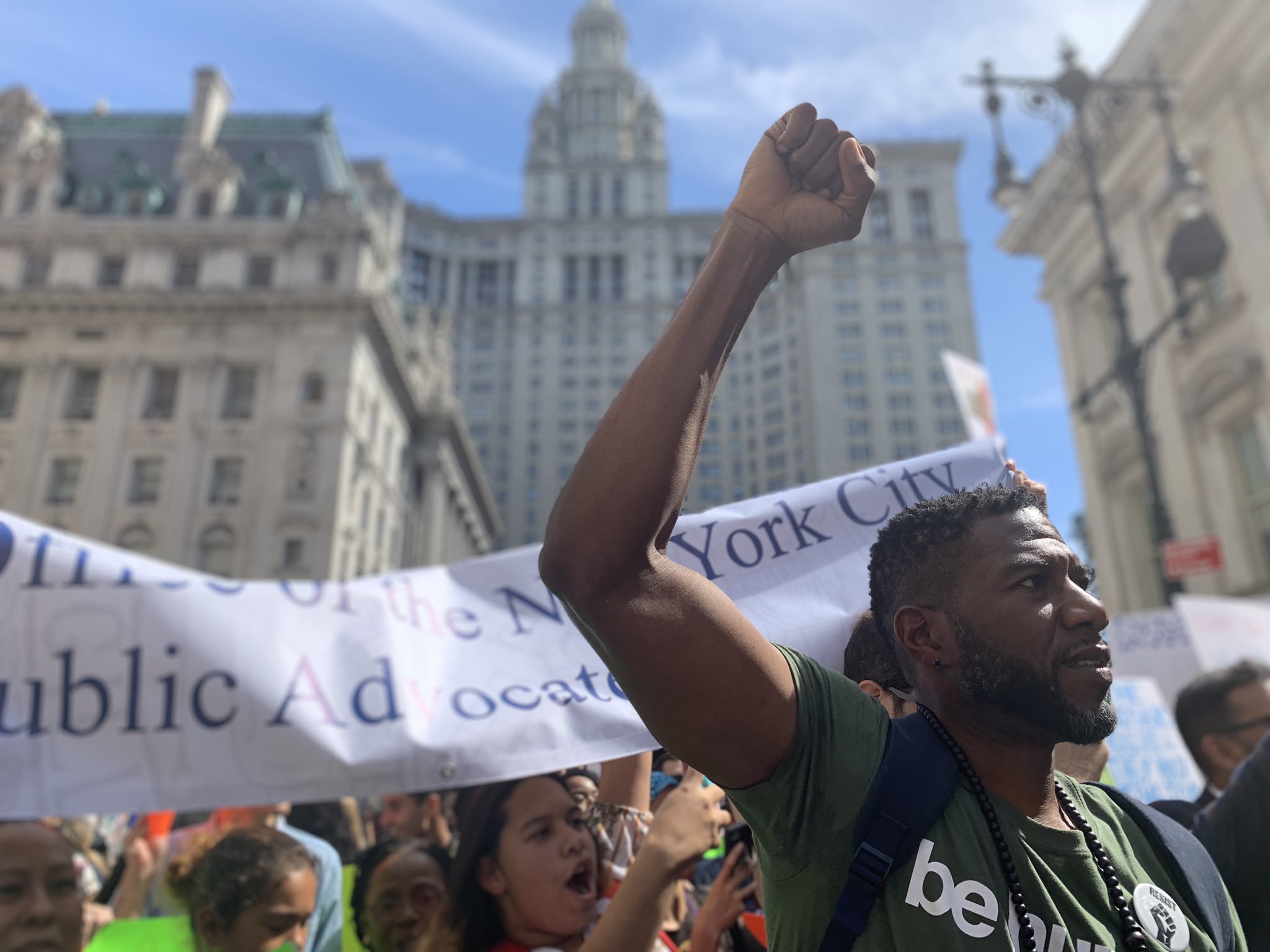 Jumaane Williams (photo: @nycpa)
---
Public Advocate Jumaane Williams, a Democrat, easily won his reelection bid on Tuesday, beating Republican Joseph Borelli, a City Council member from Staten Island, and Libertarian Party nominee Devin Balkind. With about 723,000 votes counted and 90% of election precincts reporting at midnight, Williams had received 78% of the vote (563,000 votes) to Borelli's 20% (144,400) and Balkind's 2% (14,500).
Williams previously represented Brooklyn in the New York City Council and was first elected to the public advocate's office in a crowded February special election, replacing now-Attorney General Letitia James. Election law required him to defend his seat in the November election, and after emerging victorious, he will now serve out the remainder of the term which runs through 2021.
Though the public advocate's office, with its annual budget of just under $4 million, has limited power, it is one of three citywide elected positions and gives its holder a bully pulpit to raise issues and to hold the mayoral administration to account. It is meant to act as an ombudsperson for the public, hearing and investigating complaints and advocating on New Yorkers' behalf.
The public advocate can also introduce legislation in the City Council but cannot cast a vote on any bills. The office is also considered a launching pad to higher office. Before James was elected in 2013, the seat was held by de Blasio for one term. Williams, however, has repeatedly pledged that he will not run for mayor in 2021. If he chooses to, and barring any electoral setbacks, he could serve as public advocate for two full four-year terms through 2029.
As a community organizer before he joined the City Council, Williams touts his activist credentials and has been a frequent critic, as well as an ally at times, of Mayor Bill de Blasio and his administration. Williams has been particularly critical of de Blasio on the issues of housing affordability and police accountability.
"I know sometimes it feels like pushing the boulder up the hill. That the challenge is too great, the goals too difficult. At times like that, we need to think about the victories, and that's what we're recognizing here today," Williams said in his victory speech Tuesday night. "I've had the honor of serving as your Public Advocate for the last eight months, and as the people's advocate in City Government for the last ten years. In that time we've fought to end the abuses of stop question and frisk. We've passed affordable housing laws and tenant protections. We've put in place protections against discrimination based on military service and reproductive rights. We've given formerly incarcerated people a fair chance and many people a first chance. We've done all that because of the combined power of people inside and outside of government, demanding transformational change."
Considering Williams' broad name recognition – he came close to winning the Democratic nomination for lieutenant governor last year – and the overwhelming enrollment advantage that Democrats enjoy in the city, he had small odds of being deposed by Borelli or Balkind, both of whom readily acknowledged that fact.
Borelli's rationale for the public advocate's office was simple: either bolster its authority significantly or eliminate it entirely. He also cited the importance of having a public advocate from the opposite political party from the mayor, and said the city needed someone to pull de Blasio back toward the center. Balkind, a civic technologist who runs a nonprofit, ran on a five-point platform of technocratic solutions to improve city governance, provide better social services, and increase civic engagement.
Williams' predecessor, James, was an experienced litigator and used the public advocate's office to regularly take legal action – to varying degrees of success – against the de Blasio administration. But Williams has taken a different tact and is seeking to pull the mayor to the left on various issues where he believes the city has failed. Shortly after being elected in February, he restructured the office and appointed five new deputy public advocates with specific portfolios that cover housing, criminal justice, health, public safety, education, civic engagement, and more.
Over the last few months, he has increased his criticism of the city's protocols for handling people with severe mental illnesses, several of whom have been killed in interactions with police officers. Williams has instead called for a comprehensive approach that eschews police involvement and emphasizes treatment and services.
Williams was one of the few City Council Members who opposed the de Blasio administration's Mandatory Inclusionary Housing policy, approved by the Council in 2016. MIH is meant to mandate that private developers build affordable housing in new developments that receive rezonings to allow more density. But it has proved controversial and critics say it does not go far enough to build housing for the lowest income New Yorkers who need it most.
Williams has called for a moratorium on all proposed neighborhood rezonings, and has also sponsored legislation that would mandate a racial impact study of rezonings prior to approval.
[WATCH: Public Advocate Jumaane Williams on his vision for the office and city.]