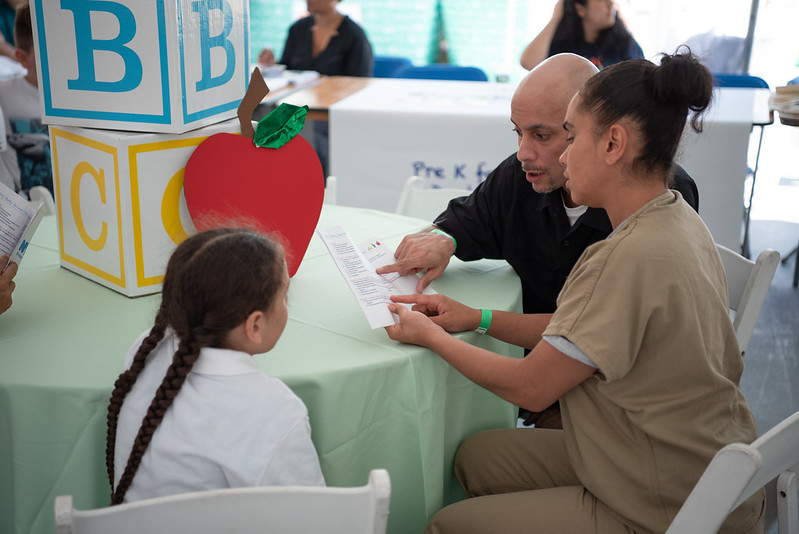 (photo: Michael Appleton/Mayor's Office)
---
In an historic vote last month, the New York City Council approved the plan to close the Rikers Island jail complex and replace it with four borough-based jails by 2026. When the Council voted through the plan, estimated at $8.7 billion in new construction costs, it also announced, with Mayor Bill de Blasio, a $391-million package of citywide and community investments in criminal justice reforms and initiatives to responsibly accelerate the reduction of the city's jail population.
For city officials, one of the most complex issues they face is ensuring that the new system is less punitive and more rehabilitative, particularly for the 43% of incarcerated individuals who suffer from some form of mental illness. Experts and advocates say the plan is taking an appropriate approach to that issue but also insist that it provides a novel opportunity to rethink how the criminal justice system deals with the mentally ill, especially those suffering from more acute problems.
Given that one of de Blasio's signature programs as mayor is the ThriveNYC mental health "roadmap" spearheaded by his wife, Chirlane McCray, the mayor's approach to services for those with severe mental illness, particularly those who wind up involved in the criminal justice system, has been the source of intense scrutiny, again heightened as the new jails plan was crafted.
With most major crimes at or near record lows in the city and recent shifts in law enforcement and prosecutorial policies, particularly around non-violent offenses, the number of people incarcerated in city jails has been consistently declining. That drop has been so sharp that the de Blasio administration projects the average daily jail population to fall to 3,300 by 2026, when Rikers is set to close, down from about 7,000 this year and aided by state bail reform that will go into effect in January.
The Rikers closure plan will involve building four new facilities in every borough except Staten Island, with roughly 885 beds each. The facilities are meant to be fairer and safer than the dilapidated jails on Rikers. Another 250 new beds will be created in existing public hospital facilities for those individuals who require continuing access to specialized medical services.
Mayor Bill de Blasio himself has acknowledged that the city has its work cut out for it when it comes to individuals with mental illness who are locked up in jails. The day after the Council's vote, the mayor made his weekly appearance on WNYC's The Brian Lehrer Show and a caller named Winston who was formerly incarcerated on Rikers prodded him on improving access to mental health services. De Blasio emphasized the decarceral aspects of the plan, which include greater investments in alternatives to incarceration, supervised release programs, and mental health initiatives.
"This thing is not in isolation. Six years of changing the approach to criminal justice and it's all been consistent with reducing crime at the same time and I'm very convinced that this is the right approach," said the second-term Democrat. "But you're right, it will take some important adjustments and investments and getting people more access to mental health services, which is the whole concept behind the Thrive[NYC] initiative, is absolutely necessary going forward, and providing better and more consistent mental health for those who do happen to be incarcerated, which is also in this plan."
One of the key elements of how things unfold will be the dichotomy of mental health services for those with serious mental illness who need treatment while serving jail time versus those who can be removed from or kept out of jail given appropriate treatment options and enrollment in such programming.
City Council Speaker Corey Johnson, in a statement to Gotham Gazette, said, "The time of locking people up because they're mentally ill has to come to an end. This is why we are creating new Intensive Mobile Treatment (IMT) teams to provide intensive treatment to adults with recent and frequent contact with the mental health, substance use, criminal justice, and homeless services systems. It is time to eliminate an unjust system that has criminalized mental illness and destroyed so many of our communities."
In a background briefing, an official from the Mayor's Office of Criminal Justice, which took point on the jails plan, laid out the various pillars of the city's approach. The official reemphasized what de Blasio said on the radio: that the administration's focus is to minimize the number of people in jail with behavioral health, mental health, and substance misuse problems, and to prevent reincarceration by providing services that address their needs.
Correctional Health Services, an arm of NYC Health+Hospitals, is charged with providing medical services to the city's jail system, from pre-arraignment through reentry. According to a H+H spokesperson, roughly one-third of the 43% of detainees who receive a mental illness diagnosis have severe mental illness – schizophrenia, bipolar or depressive disorders, and post-traumatic stress disorder – making up about 16% of the total jail population. For a population of about 7,000 detainees, that means just over 1,100 people with serious mental illnesses at any given time.
Currently, each jail has what H+H says is the equivalent of an outpatient clinic. For detainees with serious mental illness, intellectual disabilities, or who might be more vulnerable in the general jail population, there are 18 so-called mental observation (MO) units across the 10 jails and Horizon Juvenile Center. There are also inpatient psychiatric beds at Bellevue Hospital for men and at Elmhurst Hospital for women, all of whom are considered part of the city's jail population while being treated.
The community investments package that the City Council and mayor agreed to includes an expansion by Correctional Health Services of two programs that provide discharge and reentry services to the formerly incarcerated, the Community Reentry Assistance Network (CRAN) and Point of Reentry and Transition (PORT) programs.
Though the city is hoping for the best, it is planning for the worst. About 40% of the beds in the new borough jails will be therapeutic housing units to account for the percentage of the jail population that suffers at least some kind of mental illness.
The city plans to reduce the population through various efforts, including implementing recommendations from the city's Crisis Prevention and Response Task Force announced last month, which will change how police respond to people experiencing mental health crises. The city is putting $23 million in total towards those recommendations by 2023, which includes adding four Health Engagement and Assessment (HEAT) teams of clinicians and peers who have experienced mental illness to handle non-emergency responses, and six more mobile crisis teams (mental health professionals who respond to calls to the NYC-WELL hotline) to conduct home visits and respond to urgent situations.
These programs aim to ensure that people suffering from mental illness do not wind up in jail, or back in jail as the case may be.
Additionally, the city is investing $11.2 million to add 380 beds of "justice-involved supporting housing," for a total of 500 across the city, and is increasing the number of post-release transitional beds for those with mental health needs and a history of homelessness to 500 with a $25 million investment.
About $27 million in new funding will go to mental health services (for a total of $37 million) through various programs. And the Council also passed the Get Well And Get Out Act, which will allow those with serious mental illness to push for their release from custody if they improve with treatment.
But the official from MOCJ conceded that there will inevitably be individuals with serious mental illnesses in jails, despite the city's best efforts to reduce that population, which has stubbornly hovered in the 10-15% range even as the overall numbers of detainees have fallen. Almost all of the people held in city jails are either awaiting trial, locked up due to a parole violation, or serving sentences of under one year.
The new borough facilities and the Rikers plan account for the fact that some detainees will suffer from serious mental illnesses by expanding two key programs that address this population: Clinical Alternative to Punitive Segregation (CAPS) and Program to Accelerate Clinical Effectiveness (PACE).
The Council's agreement with the mayor includes $12.8 million to double the number of existing PACE units by the end of the current fiscal year. The city has yet to decide the breakdown of those units in the borough facilities, the MOCJ official said.
The 250 new Outposted Therapeutic Units outside the jail system, however, will be dedicated to those individuals who have some form of substance abuse disorder, mental health or behavioral health issue as well as a complex need for medical care. The MOCJ official said they had identified a gap in the current continuum of care for these detainees, who don't necessarily require inpatient hospitalization but benefit from proximity to specialized care. They can spend hours going to and from hospitals for even the shortest of check ups with specialists.
The city is currently in the process of identifying vacant sites for those units and has contracted Lothrop Associates to conduct a feasibility study that is expected to be concluded by the end of the year, the MOCJ official said. The study will help determine the costs and needs of the new facilities and the city will then put out solicitations for redesigning the new spaces to accommodate incarcerated individuals. The project is separate from the borough-based jails plan and the official said it would likely move much faster since it would not require approval through the city's land use process.
Insha Rahman, director of Strategy and New Initiatives at the Vera Institute, said a larger goal of the Rikers closure plan should be to minimize the harm that jails do to inmates, not just those with mental illness.
"If we're going to say, 'We are still going to have incarceration in this city,' which we are, for the foreseeable future, 5, 10, maybe even 20, 30 years from now, we should be constructing these new facilities as buildings first, and then outfitting them to be places of incarceration so that they're not built with just incarceration and jail design front and center," she said in a phone interview.
She cited the example of jails in countries like Germany and Norway. "To the extent that we're thinking about how do we address people's underlying needs and how do we provide therapeutic care and counseling for those who are in custody, anything that looks fundamentally like a jail is going to inflict some amount of harm and trauma," she added, insisting that the city should look not to prison architects but to behavioral and mental health experts for ideas for the new jails.
Rahman also urged the administration and Council to invest further at the community level in permanent affordable housing, community-based treatment and counselling that can preempt interactions with the criminal justice system.
A stark reality that the city faces is dealing with those individuals with serious mental illness who pose a threat to themselves and others, a concern that was brought to the fore last month when a mentally ill homeless man killed four men sleeping on the street in Chinatown. It prompted the city to review how it implements Kendra's Law, which allows courts to mandate involuntary "assisted outpatient treatment" for such individuals. That review is meant to be completed by next week. The number of individuals ordered into treatment under the law was 2,476 in fiscal year 2018, down from 2,517 in fiscal year 2017 but up from 2,368 in fiscal year 2016 and 2,176 in fiscal year 2015, according to data provided by the de Blasio administration.
Rahman warned against harsher enforcement of the law. "I think enforcing Kendra's Law more strongly is not necessarily going to get us fewer people in our jails that have serious mental health needs," she said. "I think the most important initial response is more community-based treatments and figuring out how can we actually resource families and neighbors."
There is some disagreement on that front, however. D.J. Jaffe, executive director of Mental Illness Policy Org, criticized the city's ThriveNYC mental health initiative and called for an expansion of Kendra's Law in an op-ed in the New York Daily News following the Chinatown murders.
Jaffe argues the City Council should require "the city's Department of Health and Mental Hygiene to start evaluating all seriously mentally ill people being discharged from Rikers; all seriously mentally ill leaving shelters; and all mentally ill patients being discharged from city hospitals after an involuntary commitment. Those are the three highest risk groups; evaluate them all to see if they are eligible for Kendra's Law and get them into it if they are."
Minister, Dr. Victoria A. Phillips of the Urban Justice Center Mental Health Project echoed Rahman's view, but also stressed that the new jails should prioritize interactions between detainees and health care workers, rather than with corrections officers.
"Behind correctional walls, it's never the health staff that takes the lead, and I think the Department of Corrections has shown itself to be unable to change its culture of violence," she said, pointing to the most recent report by a federal monitor with oversight of the city's Department of Correction, which showed that use of force by corrections officers has risen dramatically while the jail population has dropped.
Former New York Chief Judge Jonathan Lippman, who led the independent commission that proposed the leading Rikers closure plan, praised the approach the city is taking, while acknowledging that the overarching objective is to keep people with mental illness out of jails. "If you have people who the system decides to incarcerate, then you have to deal with that," he said in a phone interview. "In an ideal world...people who have serious problems with mental health should get help and not be incarcerated. But, you know, we don't live in the ideal world."
[READ: 'No One Should Enter the Criminal Justice System for Something Related to Mental Illness']
Note - This article has been updated.