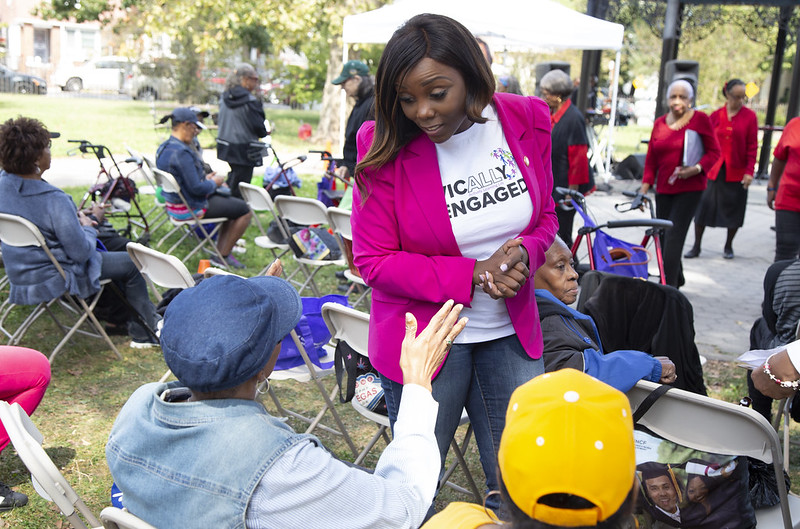 Council Member Farah Louis (photo: New York City Council)
---
The New York City Council is considering legislation that would create a new office to assist non-profit organizations in navigating regulations and applying for city contracts and funding.
Council Member Farah Louis, a recently elected Brooklyn Democrat, has proposed legislation that would mandate that the mayor institute an Office of Not-For-Profit Services. The bill is set to be examined by the Council's Committee on Governmental Operations at a hearing on Tuesday.
The legislation, which is thus far co-sponsored by Council Members Helen Rosenthal, Ben Kallos, and Justin Brannan, intends to create a resource center that can help nonprofits tackle the bureaucratic challenges presented by city government. Nonprofit human service providers are a crucial resource for the city, with more than 200,000 employees contracted out to deliver a range of services including housing, mental health care, job training, and care for the elderly, children, people living in poverty, and those experiencing homelessness.
"Across New York City, nonprofits are on the ground, doing vitally important work in schools, senior centers, libraries, and other public spaces, and providing services that our constituents rely on every day," Louis said in a statement to Gotham Gazette.
But the city's nonprofit sector has long been in crisis and is headed towards a fiscal cliff. Across the city, nonprofits suffer from perennial delays in the payment of contracts by the city and nonprofit leaders say Mayor Bill de Blasio's administration has been slow to respond to their calls for more funding to cover the costs of and related to their services.
A January report from Comptroller Scott Stringer's office noted that 89% of human services contracts in the 2018 fiscal year were sent to the comptroller for certification after the contract start date. "This is a higher retroactivity rate than the city-wide average, suggesting that non-profit organizations wait longer for their contracts to be submitted for registration than vendors that do business with the City overall," a summary of the report stated.
A separate study published in April by Seachange Capital Partners, a nonprofit merchant bank, found that contract delays in the 2018 fiscal year became "slightly worse" than the previous year. It found that social service contracts were registered an average of 221 days after their start date, up from 210 days in the 2017 fiscal year; only 11% were on time, slightly better than the 9% in 2017; and 20% continued to be unregistered after one year, marginally worse than the 19% in 2017. The report estimated that the fiscal burden on nonprofits from registration delays was as much as $744 million, up from $675 million in 2017.
"A nonprofit delivering services under an unregistered contract faces a growing cash flow burden associated with the unreimbursed expenses. It must also pay interest and fees on the debt it uses to finance this cash flow need – if it can be financed at all," the study reads.
Council Members Rosenthal and Kallos cited that study in a July joint op-ed, criticizing the city's "broken procurement system" and how delays affect nonprofits. "New Yorkers deserve the best services, and the CBOs providing those services deserve to be paid fairly and on time by a city government they can hold accountable. Overhauling the procurement system may be bureaucratic and slow in nature, but it is necessary if we are to properly serve the New Yorkers who are most in need," they wrote, citing separate legislation they introduced to achieve that goal.
Though leaders in the nonprofit sector credit the mayor for creating the Nonprofit Resiliency Committee in 2016, they say more must be done to ensure the survival of essential partners in city services. Earlier this year, when the City Council and mayor came to an agreement over the $92.8 billion budget for the 2020 fiscal year, they did not include a $106-million funding request from nonprofit service providers.
Louis' bill seems intended to address some of the needs of nonprofits, while creating a general structure to ensure more city accountability for support of the sector. She said it would "provide guaranteed resources to anyone seeking to incorporate and successfully maintain a non-profit."
The proposed Office of Not-For-Profit Services, which per the bill the mayor could choose to house under the executive office or as a separate office, would be charged with analyzing the problems plaguing the nonprofit sector and proposing solutions to them. It would act as a one-stop-shop to conduct outreach and give nonprofits advice and assistance, while also coordinating with other city agencies to refer organizations to services related to obtaining exemptions, waivers, permits, registrations, or approvals. It's aim would be to simplify application processes and regulatory mechanisms.
"This office will function as a liaison between nonprofits and any city agencies, work to devise solutions to any problems that organizations might have with incorporation, financing, or administration, and keep the Council updated on issues affecting local non-profits," Louis said.
But the bill does not solve the core issues facing the sector, said Allison Sesso, executive director of the Human Services Council of New York, which represents 170 nonprofits that provide 90% of human services in the city.
"The main issue facing New York City's human services nonprofit sector is not a lack of understanding of the City's policies and contracting processes, it's chronic underfunding," Sesso said in an email. "While providing nonprofits with educational resources and assistance is a positive goal, it falls flat in a system that is setting those same organizations up for failure. One out of five providers in New York City are technically insolvent and organizations across the City are being forced to scale back services or consolidate just to survive. We need fundamental change to address the underfunded contacts and unfunded mandates that impact services across the City and stifle the wages of the human services workforce."
Three other bills related to services for nonprofit providers are also being discussed at Tuesday's hearing. Council Member Antonio Reynoso has proposed creating a nonprofit ombudsperson within the Department of Finance (DOF), and exempting in certain cases the lien sale of property owned by a nonprofit organization.
A bill from Council Member Diana Ayala would require the DOF and Department of Environmental Protection to create a single application form for the nonprofit real property tax exemption and exemptions from water and sewer charges. The third, introduced by Council Member Carlina Rivera, would require DOF to create an informational guide on relevant taxes and exemptions for nonprofits.