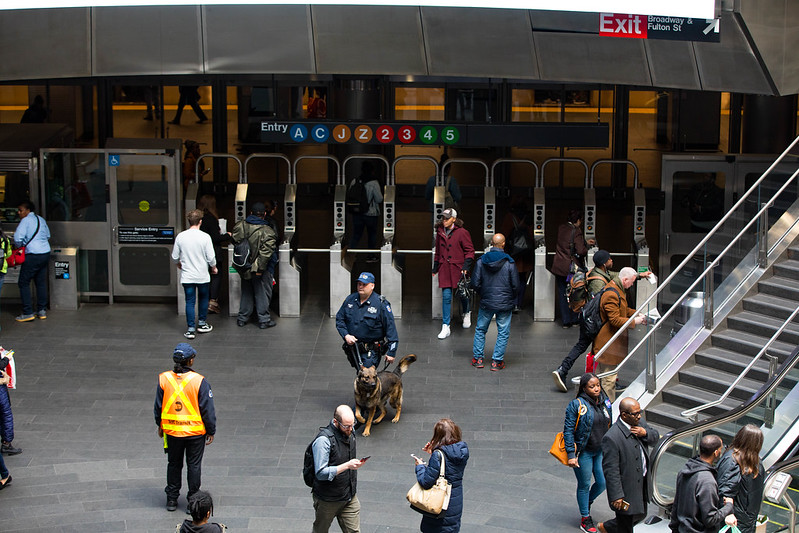 (photo: Benjamin Kanter/Mayoral Photo Office)
---
Last month, two videos of incidents in Brooklyn emerged on social media that led to a public furor over policing in the city's subway system. In one, several police officers aimed their guns at an unarmed young black man (and many fellow passengers nearby) and then aggressively arrested him despite him having shown no indication of resistance. In the second, an officer could be seen punching black teenagers in the face as other officers attempted to bring a stop to a brawl in a subway station.
Those incidents were widely seen as a result of increased police presence in the subways owing to an MTA and NYPD crackdown on fare evasion, homelessness, and other so-called quality-of-life issues that has prompted criticism from many quarters, amplified when two churro vendors were handcuffed by officers in separate recent incidents caught on camera.
These events and others have occurred during the already-announced crackdown and as the MTA, at the direction of Governor Andrew Cuomo and with support from Mayor Bill de Blasio, moves to hire 500 additional transit system police officers, a plan that has also been panned by many advocates and elected officials as misguided on fiscal and social counts.
On Monday, 24 New York City Council members cited the two Brooklyn incidents in a letter to MTA Chair and CEO Pat Foye, calling for an alternative approach that would address the root causes of fare evasion rather than its symptoms. The current approach, they wrote, "create(s) yet another platform for criminalization and over-policing in de facto poorer communities, often escalating into unnecessarily violent situations."
In an agreement between Cuomo and de Blasio, the MTA and NYPD have together diverted 500 officers to curb fare evasion, which the MTA has said cost it $215 million in lost revenue last year, though the authority's inspector general has called the numbers into question. The governor also insisted that the MTA add the 500 additional police officers to its payroll – estimated to cost nearly $260 million over four years and $663 million over ten years for the deficit-running authority – to address fare evasion, homelessness, and attacks on transit workers. The governor has cited an uptick in crime that is not shown in the data for the most serious crimes, though misdemeanor reports are up, in some ways the apparent result in increased reporting by straphangers physically assaulted or violated in some way.
In the letter led by Council Majority Leader Laurie Cumbo, a Brooklyn Democrat, the Council members said the MTA should reduce transit fares statewide and also institute community-based de-escalation and anti-bias training for its officers. They cited the city's Fair Fares initiative, which provides discounted MetroCards to low-income New Yorkers and has been rolled out to over 80,000 city residents already, and pointed to other reduced-fare initiatives of the MTA, the Atlantic Ticket and Freedom Ticket programs.
"Civilians' lives are in unnecessary danger and the racially-charged tensions of youth and police officers continue to grow. We believe these changes will result in fewer arrests, as over-policing Black and Brown neighborhoods is simply not the answer," the Council members wrote.
While he is not a signatory on the latter, in a statement to Gotham Gazette Council Speaker Corey Johnson said, "I know how important it is for New Yorkers to feel safe on the subways, but I have consistently voiced concerns about the additional 500 officers on the subway having the effects of criminalizing poverty and over-policing our mass transit system. I believe the funding for the additional police presence would be better spent on improving service for straphangers and that we should focus on programs like Fair Fares which try to get at the root of these issues."
Asked about the hiring plan several times in recent months, Mayor de Blasio has said he welcomes the additional MTA officers patrolling the subways and believes a vast majority New Yorkers do too.
MTA spokesperson Shams Tarek gave a similar rationale. "The safety of our customers and employees is our top priority and we've responded to calls from many of them to have more police to help provide a safe and secure transit environment," Tarek said in a statement to Gotham Gazette when asked about the Council members' letter. "Our multipronged approach to public safety and combating fare evasion is just one part of those efforts, with de-escalation and implicit bias training, programs to educate the public about how fare evasion hurts all riders, and our strong support for progressive programs such as Fair Fares and Atlantic Ticket, which are both underway and helping thousands of New Yorkers gain affordable access to the subway and buses."
While the letter is addressed to Foye and the MTA, the sentiment has also been shared by many Council members with respect to the ongoing crackdown on fare evasion and other subway-related issues that the NYPD and MTA have already been implementing.
A separate incident in East Harlem last week, where four police officers arrested and tackled a young black man accused of selling candy on the subway platform, prompted a rebuke from Manhattan's Community Board 11. The board adopted a resolution by an overwhelming majority vote on Tuesday night that called on Cuomo to scrap the plan to hire 500 new MTA police officers and spend that money on improving mass transit instead. It also urged Manhattan District Attorney Cy Vance, who is providing $40 million for the initial deployment of the 500 officers, to reinvest his funding in reentry programs for people leaving prison.
According to Jason Wu, a CB11 member who drafted the resolution, several elected officials or their representatives spoke at the Tuesday meeting and generally condemned the MTA's fare evasion enforcement, Wu told Gotham Gazette in an email.
The MTA Board will vote on the authority's new operating budget in December, at which time the initial investments in the new officers would be officially committed.
Along with Cumbo, the other 23 signatories of the letter to the MTA are City Council Members Farah Louis, I. Daneek Miller, Rafael Espinal, Margaret Chin, Helen Rosenthal, Alicka Ampry-Samuel, Stephen Levin, Carlos Menchaca, Jimmy Van Bramer, Diana Ayala, Vanessa Gibson, Donovan Richards, Adrienne Adams, Karen Koslowitz, Costa Constantinides, Ben Kallos, Mark Levine, Brad Lander, Carlina Rivera, Inez Barron, Keith Powers, Chaim Deutsch and Mark Treyger. They are all Democrats, half of the 48 in the 51-seat chamber.