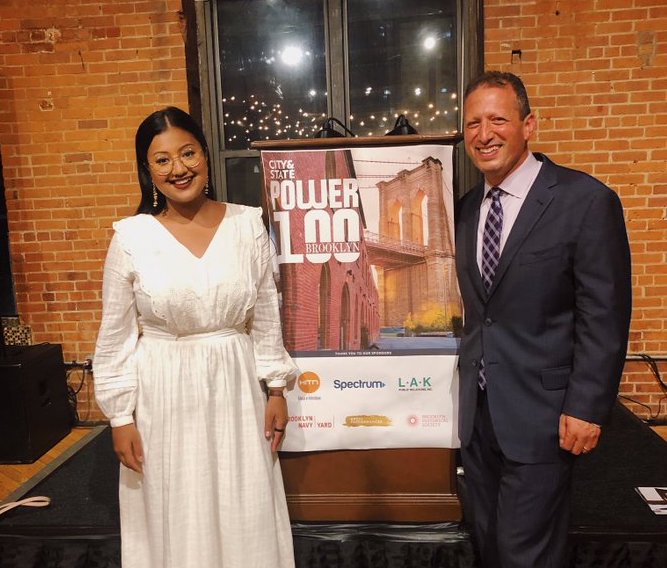 Council Member Lander, right, with Shahana Hanif (photo: @ShahanaFromBK)
---
New York City Council Member Brad Lander, a Democrat who represents parts of Brooklyn, has pledged to remain neutral in the crowded race for his current seat, which he'll vacate at the end of 2021. Lander cannot seek reelection because of term limits and has declared a run for city Comptroller.
Council District 39, where Lander has served since 2010, covers some of the highest voter turnout areas of the city and includes the neighborhoods of Cobble Hill, Carroll Gardens, Gowanus, Park Slope, Windsor Terrace, Borough Park, Kensington and the Columbia Street waterfront. Before Lander, the seat was held by Bill de Blasio, who went from Council member to Public Advocate to now two-term Mayor.
Lander is among the 35 Council members who will be term-limited out of office after the 2021 elections, along with the mayor, comptroller, and the five borough presidents (the public advocate will also be on the ballot but incumbent Jumaane Williams was only elected to the seat in a special election this year). Open seats tend to trigger competitive races in the city, at least in the Democratic primary where most contests are decided because of the party's staggering voter enrollment advantage.
District 39 is consistently one of the most politically active districts and shares ground with recent competitive State Senate and Congressional primaries. Lander will be looking to his vote-rich home district to help catapult him toward citywide office. Council Member Helen Rosenthal, from an even more vote-heavy district of the Upper West Side, is also a declared candidate for Comptroller, as is Queens Assemblymember David Weprin, while State Senator Brian Benjamin of upper Manhattan has said he's considering a run. All four are Democrats. Other candidates are expected into the race as well.
There are already four declared candidates for Lander's Council seat: Briget Rein, a United Federation of Teachers activist; Shahana Hanif, currently Lander's director of organizing and community engagement; Justin Krebs, a political organizer; and Brandon West, president of the New Kings Democrats.
Though he sings Hanif's praises and Council members often back aides to replace them, Lander told Gotham Gazette he would not weigh in on the race. "There are many great candidates to be the next Council Member for the 39th District, in the race already and considering it, including many people who I've worked closely with over the past decade," Lander said in a statement. "The voters in our district are going to have some dynamite choices -- and the great thing about democracy is that they will make this decision. I don't plan to make an endorsement in this race."
Asked specifically about Hanif, Lander said, "[S]he is an inspiration, to me and many others. The work she has done recently to support Ms. Zahan (a woman in our community who escaped domestic violence and an abusive marriage), Ahsan Ullah and his family, and our participatory budgeting district and youth committees show how lucky we are to have her leading the community organizing work of our Council office. I learn from working with her all the time and I think it's fantastic that she's running for public office."
Hanif credited Lander's mentorship for inspiring her to run for office. If she won, she would be the first South Asian and first Muslim woman to be elected to the 51-member legislative body. "Brad is a great example of how elected officials can really listen to and work with constituents at the grassroots," Hanif said in an email, saying she would follow through on Lander's efforts on participatory budgeting and school integration. Lander has also prioritized police accountability and workers' rights during his Council tenure, where he helped launch the Council's Progressive Caucus, which helped land Melissa Mark-Viverito the speaker's office from 2014 through 2017.
While it's still somewhat early in the current city election cycle, the all-important Democratic primary is scheduled for June 2021, just over a year-and-a-half away, and many candidates for Lander's seat and others are making their intentions known, fundraising, and campaigning more broadly.
Other than Rein, none of the other declared District 39 candidates have filed fundraising reports with the city's Campaign Finance Board. Rein has $23,527 in campaign cash after raising $51,382 and spending $28,855. Besides the UFT, she has also received support from several unions. The American Federation of Teachers, the International Union of Operating Engineers Local 891, the Mason Tenders District Council, the New York City Central Labor Council, the Plumbers Local Union, IBEW and RWDSU Local 338 have all donated to her campaign. "This district has a history of great leadership at all levels of government," Rein said in a statement. "I'm running to continue to do that great work, with a focus on innovative ideas and on our community, which is the most important. I know how to get things done in city government, and I plan on bringing that expertise to accomplish great things for my community."
In an email, Krebs had effusive praise for Lander. "I imagine most of us would want Brad's vote of confidence—but while none of us may get his endorsement, we all get the benefit of his years in the district, as we wrestle with how to build upon and expand beyond his work," he said.
He added, "He may not dive into the campaign for the 39th, but we'll make sure the district lands with passionate, innovative representation. The voters of the 39th wouldn't allow anything less."
West said in a message, "I generally think it's a good move because I think it's not great when legislators try to become "kingmakers" and dictate the politics and future of the communities they were once legislators in. Especially with ranked choice voting, people should just get a chance to meet all the interested candidates and pick their preferences."
Other rumored candidates for the seat include Doug Schneider, the Democratic District Leader of the 44th Assembly District; and Josh Skaller, the Democratic District Leader in the 52nd Assembly District. State legislators, especially from the Assembly, often also pursue open City Council seats. It is to be seen if either Jo Ann Simon or Robert Carroll, Democrats whose Assembly districts partially overlap with Council District 39, show any interest in the 2021 race. They are both up for reelection to the Assembly in 2020.
One name that would vault the race into headlines is First Lady Chirlane McCray who, with her husband Mayor Bill de Blasio, owns two properties in Park Slope. They continue to cast their votes in the district and McCray said last year that she was considering a run for office. "It could be something in Albany, it could be Brooklyn, local, citywide, I don't know," she told the New York Times. "But certainly I would consider it."
Note - this article has been updated with comments from Brandon West and Briget Rein.