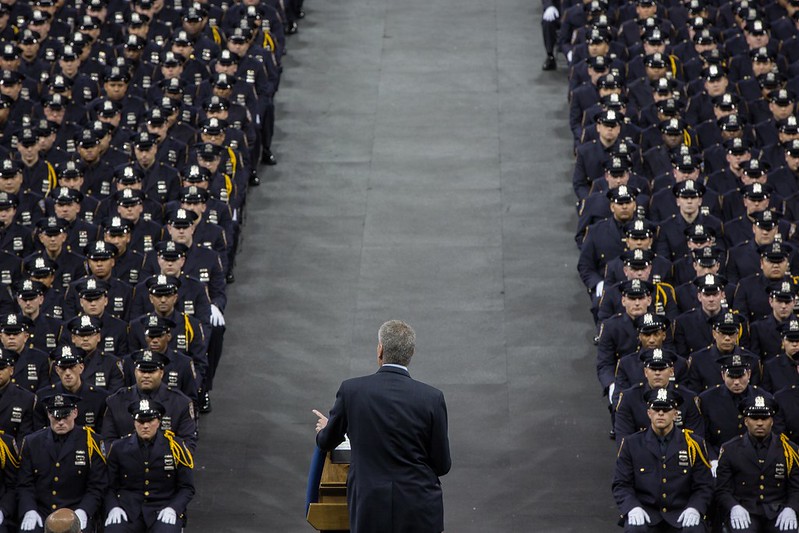 Mayor de Blasio (photo: Michael Appleton/Mayor's Office)
---
In the five years following Eric Garner's death at the hands of then-NYPD Officer Daniel Pantaleo, Mayor Bill de Blasio has repeatedly fallen back on the same argument to defend the police department when questions are raised about apparent incidents of excessive force or other misconduct by officers: deescalation training.
"[T]he goal is always to de-escalate," the mayor said at a news conference on crime statistics on November 6, addressing a recent "chaotic" incident on a Brooklyn subway platform where an officer was caught on video punching two teenagers in the face amid a crowded brawl. The officer was later placed on desk duty while the department investigates the incident.
"That officer's obviously been modified, there's obviously a concern there being investigated, but we want our officers to engage members of the public in a way that de-escalates conflict," the mayor continued. "That's what they're being trained to do."
It's what Pantaleo had failed to do before he decided to try to take Garner into custody back in 2014. The encounter, caught on cellphone video, showed Garner objecting to what he said was repeated and unnecessary harassment by police as Pantaleo and his partner told him they were responding to complaints that Garner was illegally selling loose, untaxed cigarettes. When Garner refused to cooperate with the arrest and be handcuffed, Pantaleo placed him in a chokehold – banned by department policy – from behind and pulled him to the ground instead of attempting to reason with him to get him to comply. Multiple officers then restrained Garner who said "I can't breathe" 11 times before losing consciousness. He was later pronounced dead at a hospital.
When then-NYPD Commissioner James O'Neill fired Pantaleo in August of this year, in carefully worded remarks he stressed how difficult the decision had been for him. "I served for nearly 34 years as a uniformed New York City cop before becoming Police Commissioner. I can tell you that had I been in Officer Pantaleo's situation, I may have made similar mistakes," he said. "And had I made those mistakes, I would have wished I had used the arrival of back-up officers to give the situation more time to make the arrest. And I would have wished that I had released my grip before it became a chokehold. Every time I watched the video, I say to myself, as probably all of you do, to Mr. Garner: 'Don't do it. Comply.' To Officer Pantaleo: 'Don't do it.' I said that about the decisions made by both Officer Pantaleo and Mr. Garner."
In December 2014, on the heels of a Staten Island grand jury's decision not to indict Pantaleo for Garner's death, de Blasio announced that the NYPD would begin retraining all of its tens of thousands of officers in de-escalation techniques.
"[T]he training that's going to happen here in this building will change the future of this city," the mayor promised at the time, speaking from the Police Academy in Queens. "It will have not just an impact on thousands of people, it will have an impact on millions of people, because every interaction that every officer has with their fellow New Yorkers after they are trained again will be different. And that will multiply many times over, for years and years to come and a whole new generation of officers will be trained with a new approach."
But it has taken more than five years for the department to slowly adopt best practices and recommendations from outside watchdogs who say its training curriculum must be strengthened. And major questions remain about how effective the training has been, whether officers who don't follow department protocols are held accountable, and whether the NYPD has truly been transformed to the extent the mayor claims.
Incidents like the one on the Brooklyn subway platform, where full details remain murky, have also led to some public outcry that the mayor's and departmental rhetoric often does not match the actions of officers, and that retraining cannot ameliorate the effects of the broken windows policing paradigm that, even if modified, disproportionately targets and criminalizes people of color.
De Blasio and NYPD officials repeatedly stress that incidents where officers escalate or fail to de-escalate situations are aberrations for a department that employs 36,000 uniformed officers and that the department as a whole has been transformed, in large part by the new training regime. Even after the latest NYPD report showed that incidents of use of force by officers had increased, particularly the deploying of tasers, de Blasio defended the department.
"De-escalation is the dominant approach now. It has been for years," he said at a December 5 news conference on crime statistics. "The retraining of the entire police force...the meaning of that was not fully felt because there are so many other things happening. But if you really stop and think about it and look around this country, retraining an entire police force and then continually reinforcing that training in the name of de-escalation, is a seismic change."
But there are significant questions about whether de Blasio is right.
In October 2015, the Office of the Inspector General for the NYPD, an independent watchdog under the Department of Investigation, issued a lengthy report that critiqued the department's use-of-force policy and made sweeping recommendations for reforms to policy, reporting on incidents, disciplinary measures, and training. Based on its review of the NYPD patrol guide procedures, Police Academy curriculum, and in-service training, the report "identified little to no substantive focus on de-escalation in NYPD's training programs."
The report made five specific recommendations on deescalation training: create specific Police Academy and in‐service courses that involve classroom and scenario‐based training; create a formal evaluation system for all scenario‐based trainings on the use of force; increase funding and personnel at the Police Academy to train recruits and in‐service officers; train officers to intervene when other officers escalate a situation; and review use‐of‐force trends to identify and retrain the serving officers that most need deescalation and use‐of‐force training.
Almost immediately after the report, the NYPD issued new use-of-force guidelines that it had been crafting. The new policies mandated documentation of each use-of-force incident, created a new division to investigate those incidents, and included instructions for officers to de-escalate situations.
For instance, it outlined that if an individual refuses to answer questions or walks away during a Level 1 encounter (the lowest level, where officers are simply asking for information), that does not constitute escalation.
The new policy has yielded three annual reports on use of force, with the long-delayed latest released on December 3, for data on 2018. In total, there were 7,879 NYPD use-of-force incidents reported last year, an increase of 500 from 2017.
Meanwhile, for this year there have been 1,911 arrests for resisting arrest as of September 30, compared with 1,891 in the same time period last year.
"The use of force by a police officer is often the result of a subject resisting arrest," the report reads, though it does not indicate how often. "Resisting arrest is a crime under New York State law."
Similar to the use-of-force guidelines, the department's new deescalation training methods have evolved and grown from the early stages where it simply involved a three-day retraining course.
According to the NYPD, deescalation has been incorporated into the curriculum for recruits and is reinforced over an officer's career. Training involves academic teaching as well as lessons taught by a Scenario Based Training Unit, which, as the Department of Investigation report shows, was slow to be adopted.
The department also conducts workshops on interacting with people experiencing mental health crises and, as of October, more than 15,000 officers have received Crisis Intervention Training (CIT) to respond to situations involving such individuals. Part of the CIT instruction, which includes uniformed instructors and mental health clinicians, involves scenarios by professional improvisational actors. Recruits are also taught to review actual body-camera footage from incidents involving tense encounters. (The mayor's office and NYPD also recently released a long-delayed new set of protocols for officers responding to people experiencing a mental health crisis).
The NYPD did not make Chief of Training Bureau Theresa Shortell available for an interview despite multiple requests.
The mayor and NYPD leadership have emphasized the results of the new training paradigm along with the shift towards so-called neighborhood policing, which involves cops working the same beats and attempting to forge relationships in communities. They point out that arrests and summonses have dropped precipitously in the last few years, as have use-of-force incidents, all while major felony crimes have mostly continued to drop as well.
The new policing model has its critics on both sides. Many conservative voices and elected officials say the mayor has tied officers' hands and deprived them of the ability to safely do their jobs, including in incidents when use of force could be necessary. They say that no one wants to be the next Pantaleo, vilified for using force to arrest a non-compliant suspect, and that this puts cops and the public at greater risk because officers often don't have time to think twice. They point to incidents like an arrest in the Bronx in August caught on video, where officers clearly seem hesitant to force a man in handcuffs into a police car despite his repeated resistance. Then there were the multiple instances of officers being doused with water over the summer, none of which prompted immediate action on the scene by the officers. Some praised these officers for their restraint.
On the other hand, some progressives say that the city's policing and police department are inherently broken, racially biased, and harmful, with officers enjoying far too much leeway and experiencing little accountability for wrongdoing. They say that despite talk of deescalation, officers still abuse their power with impunity and in fact escalate encounters with civilians, especially in communities of color. Repeated instances caught on video demonstrate their point.
In its fifth annual report of investigations by the NYPD Inspector General's Office, issued in April of this year, DOI noted that out of the five recommendations made in 2015 on deescalation training, three were implemented while two were "accepted" by the NYPD but remained "unchanged." (DOI's recommendations are not mandatory and an agency can either choose to accept or reject them. Accepting a recommendation does not necessarily mean it can or will be implemented.)
The report acknowledged that one of those recommendations, on adding courses on deescalation with classroom and scenario‐based training, has been partially implemented by the NYPD.
The second recommendation, to review use‐of‐force trends to identify officers for retraining, was accepted in principle but not yet implemented. The department reported to DOI that it was adjusting its early intervention system for officers.
"While NYPD's early intervention system may be able to identify at-risk officers based on their involvement in force incidents, NYPD has not commented on whether such officers will receive de-escalation and/or use-of- force training, as recommended," the report read.
"DOI continues its oversight in this area, including the two recommendations from our 2015 report that remain open," said DOI spokesperson Dianne Struzzi, in an email.
NYPD spokesperson Al Baker said in a statement that recruits and officers "actively participate in always evolving scenario-based training exercises that amplify our emphasis on deescalating what are often the most difficult encounters in policing."
"For recruits, these scenarios hone their communication skills in answering domestic violence calls or aiding those in emotional distress…Later, officers who receive our Crisis Intervention Team training work to sharpen their de-escalation proficiency by immersing themselves in realistic jobs that are play-acted by professional actors and members of various city communities," he said.
For elected officials seeking to see a more just police department, particularly when it comes to treatment of New Yorkers of color, the answers around training haven't been satisfactory.
"Each situation obviously is unique, but we still have some ways ago," said City Council Member Donovan Richards, a Queens Democrat who chairs the Council's public safety committee with NYPD oversight.
"In a department with 36,000 people, there will be individuals who, no matter how much training you give them, will still unfortunately use excessive force...So until there's accountability, you can't train your way out of this," he added, echoing an ongoing concern of the de Blasio years, that a mayor elected in large part on policing reform has made some significant strides but done little on officer accountability.
Part of the problem, Richards pointed out, is officers enforcing so-called quality-of-life violations and creating situations that can then escalate further. He cited two examples: Garner's death, which happened when the officers involved attempted to arrest him for allegedly selling untaxed cigarettes and Garner resisted; and the incident at an HRA benefits office when two officers violently tried to rip a child from his mother's arms as they sought to arrest Jazmine Headley, the mother.
He also noted that the culture of the department needs to reflect the diversity and lived experience of the city, without which systemic issues will continue to persist. He pointed to the recent elevation of Chief of Detectives Dermot Shea, who is white, as the new NYPD Commissioner, over First Deputy Commissioner Benjamin Tucker, the top African-American officer in the department.
"How could you train a department of 36,000 people to really understand what that feeling is about stop and frisk, about excessive force, if the people at the top and the executive office have not necessarily had that lived experience," Richards said.
He did end the interview on an optimistic note, however, noting that new officers coming into the department, which is now the most diverse it has been in generations, maybe ever, are receiving training at the start. "I would hope that in a decade or two decades from now – god willing before then but I'm just being cautiously optimistic – that as the department diversifies, as individuals come into the department from these newer classes with certainly much more training and much more of a lived experience around these issues, that things will get better."
Brooklyn Borough President Eric Adams, a former NYPD officer himself, conceded that officers may be slow to change even with the new training. "In policing, it's called mental muscle," he said in a phone interview. "When you're changing the culture of policing, it's not about what you do in one course."
"Not only must we do it when an officer is in the Police Academy, but every time he or she goes through in-service training, we must do role-plays of what do you do when you respond to the job," he added. "We need to put a greater level of repeated training on deescalation. Half of the madness you get involved in in policing is because we don't know how to deescalate, we escalate." He said the recent subway incident presents a crucial teachable moment for the department and should be used in subsequent trainings to show officers exactly what not to do.
Adams did say there should be mutual understanding, that the NYPD should be training people on how to interact with police officers, something he recently held a workshop on for Brooklyn youth that also incorporated a "know your rights" theme. "When my lights go off on the car, and I'm pulling you over, I need to understand I'm approaching a person who's already dealing with a high level of anxiety," he said, "because they're being stopped by the symbol of authority."