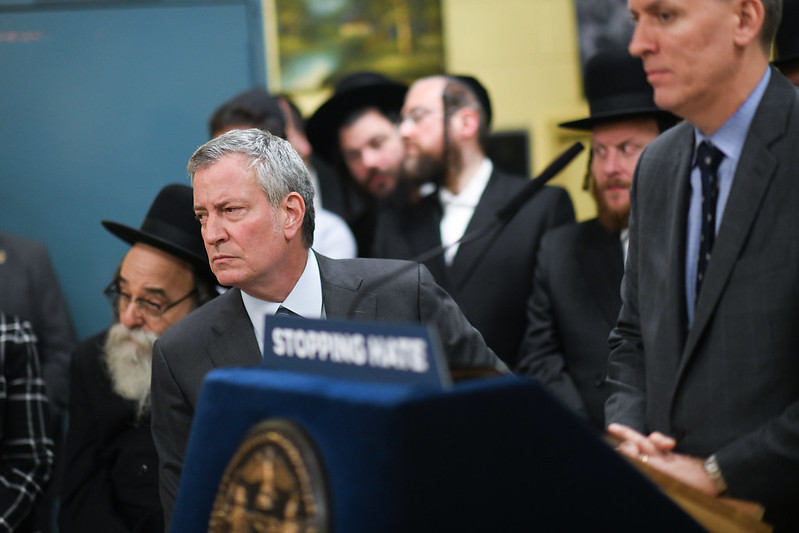 Mayor de Blasio & NYPD Commissioner Shea (photo: Michael Appleton/Mayor's Office)
---
Hate crimes in the city have skyrocketed over the last three years, to the point that the City Council passed a bill to create an Office of Hate Crime Prevention and Mayor Bill de Blasio on Wednesday announced the creation of a new unit in the NYPD to tackle the problem. But, as the number of complaints about incidents of hate have risen, arrest rates are generally flat at just over 40%, even as the mayor and NYPD commissioner say they are "consistently" capturing those responsible at a "high arrest rate."
The increase in hate crimes has been driven by a significant uptick in anti-Semitic incidents, from physical attacks to the drawing of swastikas, and following a fatal shooting at a kosher market in Jersey City where three people were killed in a targeted attack of terror, the mayor announced that the NYPD had been building a new Racial and Ethnically Motivated Extremism unit in its Intelligence Bureau. "The unit is focused on identifying any trends and any signs of racially and ethnically motivated extremism so that it can be acted on before any terror or any bias crime occurs," de Blasio said Wednesday.
The next day, as the mayor and new NYPD Commissioner Dermot Shea discussed the city's response to the Jersey City incident in greater detail, both said the NYPD had a good record of making arrests for hate crimes. "I can tell you that they have a high arrest rate," Shea said of his detectives, when he was asked how often perpetrators of hate crimes are caught. "I cannot quote it to you, it's a number that fluctuates on a daily basis, but we have a significant amount of arrests in dealing with these incidents of hate that come up."
Mayor de Blasio then jumped in to add, "The NYPD consistently finds the perpetrators of these actions – that is the big picture story here. If someone commits an act of hate, particularly a more serious act of hate, they are found, they are prosecuted, and they will pay the price for what they did. So it sometimes is right away, sometimes it may take weeks or months, but overwhelmingly they find the individuals involved and they bring him to justice. We'll get you the exact numbers."
The exact numbers, however, don't support the language used by de Blasio and Shea. Through September of this year, there have been 309 hate crimes with 127 arrests made, a rate of about 41.1%, according to NYPD data. That rate has been relatively stable for the last two years – in 2018, there were 353 hate crimes recorded and arrests were made in 42.4% of those cases; in 2017, there were 325 hate crimes and arrests in 41.5% of cases. NYPD data on hate crimes and arrest rates appears fairly limited, with only a handful of years. According to the data on the police department website, in 2013 there were 59 hate crimes recorded for the entire year, though the posting does not show how many relevant arrests were made.
The mayor's office did not comment on why he and the police commissioner, despite the NYPD making no arrests in nearly 60% of cases, believe there is a high arrest rate for hate crimes. According to the latest NYPD clearance report – which shows the rates at which eight major felonies are solved – in the third quarter of 2019, there was a citywide clearance rate of 33%; that included a clearance rate of 52.9% for murders, 49.7% for robbery, 67.4% for aggravated assault and 35.3% for burglary.
Sergeant Jessica McRorie, an NYPD spokesperson, also did not address that fact when Gotham Gazette requested follow-up on the press conference comments and also did not provide a comparison with rates for other crimes. "We will never tolerate hate in our city in any form," McRorie said in an email. "The NYPD has the largest Hate Crime Task Force in the country comprised of the best hate crime investigators that work tirelessly with our patrol officers, detective squads and community leaders to vigorously investigate every reported hate crime. The NYPD extensively reports on hate crimes consistent with local law on our website and provides the latest data to the media on a weekly basis."
Note - this article has been updated with the latest NYPD clearance rates.