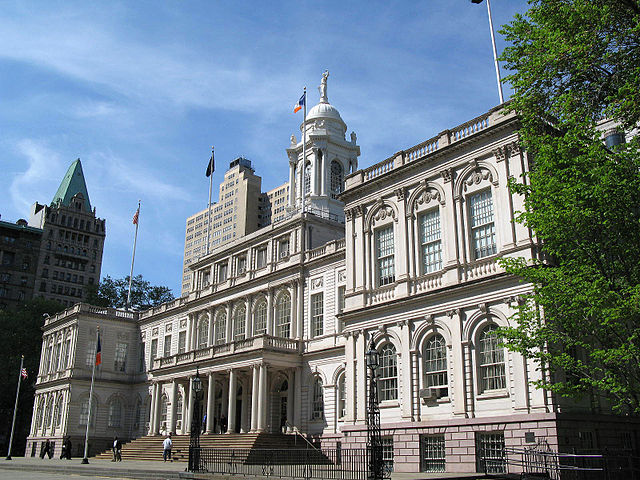 New York City Hall
---
What to watch for this week in New York politics:
This week begins with continued focus on Governor Andrew Cuomo's recently-unveiled 2020 State of the State policy agenda, anticipation of Cuomo's executive budget plan that's due by January 21, and the ongoing debate over reforming the state's bail reform laws passed last year.
The City Council has its first busy week of hearings this year, and the state Legislature is in session on Monday, Tuesday, and Wednesday in Albany.
There's also plenty of politics this week: candidates for office in New York City, mostly for the 2021 election cycle, will have to file their latest fundraising and spending disclosures with the Campaign Finance Board by Wednesday night. The board quickly makes those filings publicly available. Particularly of note will of course be the latest numbers from the declared and expected mayoral candidates, as well as those from candidates for city comptroller, the borough president posts, and City Council offices that will be "open" due to term limits.
Meanwhile, in Brooklyn, Democratic Party leader Frank Seddio is stepping down from the post, according to the Brooklyn Paper, which will make for a likely quick and interesting contest to replace him. There's also another Democratic presidential primary debate this week, on Tuesday night.
The week will also see two of the city officials with the most responsibility -- schools Chancellor Richard Carranza and NYCHA CEO Gregory Russ -- give public speeches. See details of those events and others in our day-by-day rundown below.
***Do you have events or topics for us to include in an upcoming Week Ahead in New York Politics?
e-mail Gotham Gazette editor Ben Max: This email address is being protected from spambots. You need JavaScript enabled to view it.***
The run of the week in detail:
Monday, January 13
Mayor de Blasio begins his week with one public event: his weekly appearance on NY1's Inside City Hall.
Governor Cuomo has one public event Monday: he'll make an announcement at 11 a.m. in Airmont.
The New York State Board of Regents will meet on Monday and Tuesday in Albany.
On Monday morning, Teens Take Charge members and allies will hold a walkout and "strike for integration" of city schools, outside Brooklyn Borough Hall. At 8:15 a.m., Public Advocate Jumaane Williams "will join Brooklyn students walking out in protest for equitable resources, opportunities, and diversity in New York City schools."
Comptroller Scott Stringer is delivering keynote remarks at a Monday forum hosted by Center for an Urban Future focused on expanding and improving services for older adults in New York City. The conference will also feature City Council Members Margaret Chin and Adrienne Adams, among others.
At 9:30 a.m. Monday, Public Advocate Jumaane Williams will tour "Mobile Low-Dose CT Unit Providing Free Lung Cancer Scans" at "the Center for Early Detection (CEDC) mobile unit providing lung cancer screenings to underserved communities" in Brooklyn.
At the City Council on Monday:
--At 10 a.m. the Committee on Oversight and Investigations will hold an oversight hearing on "Strengthening Whistleblower Protections" and hear a bill, sponsored by committee Chair Ritchie Torres, that would "expand whistleblower protections for individuals facing adverse personnel action as a result of cooperating with a Council oversight or legislative matter," among other changes.
--At 10 a.m., the Committee on Housing and Buildings will hold a hearing on two bills, including to make "Modifications to the Department of Housing Preservation and Development housing portal and another "Excluding cooperatives from the housing portal."
Lieutenant Governor Kathy Hochul will deliver two State of the State presentations on Monday: at 11 a.m. at the Equal Rights Heritage Center in Auburn and at 2:30 p.m. at SUNY Schenectady Community College.
At 11 a.m. Monday at Bowling Green, "The grassroots Riders Alliance together with 'Build Trust' coalition partners TransitCenter, Tri-State Transportation Campaign, and Reinvent Albany will reveal a new analysis of MTA alert data showing that subway signal problems delayed trains during 78% -- nearly four of every five -- weekday morning commutes in 2019. The news comes at the official conclusion of the emergency Subway Action Plan and outset of the 2020 - 2024 MTA Capital Program. Advocates will call on Governor Cuomo and the MTA to release the timetable for signal upgrades promised to legislators last fall in the run-up to the approval of the agency's largest-ever capital plan."
At 1 p.m. Monday at Atlantic Terminal in Brooklyn, "Brooklyn Borough President Eric Adams and advocates will join LIRR President Phil Eng to introduce a new, private ADA-Accessible space available for nursing moms who travel through LIRR's Atlantic Terminal."
At 1:15 p.m. Monday, city schools "Chancellor Carranza will attend the NYC Teaching Collaborative (NYCTC) Welcoming Event and deliver brief remarks." "In the evening, he will attend a town hall meeting of District 27's Community Education Council" at Goldie Maple Academy in Queens.
At 6 p.m. Monday, Manhattan Borough President Gale Brewer will swear in new members of the West Side Urban Renewal (WSUR) Brownstones board.
At 6:45 p.m., Comptroller Scott Stringer will attend the Korean American Association of Greater New York 60th Korean American Night Gala.
Tuesday, January 14
At 8 a.m. Tuesday, Crain's New York Business will host a breakfast forum with Gregory Russ, Chair and CEO of NYCHA.
At 9:30 a.m. Tuesday in Albany, the Assembly Standing Committee on Real Property Taxation will hold a public hearing on "real property taxation budget implementation," particularly "To discuss changes in the 2019-2020 New York State Budget regarding the STAR Program."
At the City Council on Tuesday:
--At 10 a.m., the Committee on Youth Services will hold an oversight hearing on "Afterschool Programming (COMPASS and SONYC)" and related bills to mandate creation of a "Universal after school program plan" and new reporting requirements on afterschool programs.
--At 10 a.m., the Subcommittee on Zoning and Franchises will meet.
--At 1 p.m., the Committee on Contracts will hold an oversight hearing on local food procurement.
--At 1 p.m., the Subcommittee on Landmarks, Public Sitings and Dispositions will hold a hearing.
At 1 p.m. Tuesday in Albany, the State Board of Elections will meet for "Public testing of the ES&S ExpressVote XL voting system tool, a component of the State Board's voting system certification program."
Wednesday, January 15
At the City Council on Wednesday, the Committee on Public Housing will hold an oversight hearing on NYCHA's winter preparedness.
On Wednesday at 11 a.m. at the Queens Public Library in Flushing, "the de Blasio Administration will celebrate five successful years of the IDNYC program by holding a press conference to announce a historic addition to the card to increase accessibility and new national, regional, and local benefit partners. The program recently launched its #RenewYourIDNYC campaign. New Yorkers whose IDNYC is expiring in less than 60 days, or whose card has been expired for less than 6 months, are able to apply to renew their IDNYC through an online portal or in person at an Enrollment Center."
This week's Max & Murphy show will air on WBAI radio, at 99.5FM or wbai.org, from 5 to 6 p.m. Wednesday.
On Wednesday at 6:30 p.m. at Brooklyn Historical Society, "Gentrification 2.0: The Good, the Bad, and the Blurry," with "Matthew Schuerman, author of Newcomers: Gentrification and Its Discontents; Kay Hymowitz, Fellow at the Manhattan Institute and author of The New Brooklyn: What It Takes to Bring a City Back; and James Rodriguez, professor of history at Guttman and contributor to the book Racial Inequality in New York City Since 1965, for a balanced examination of a heated topic. Moderated by Jarrett Murphy, executive editor of City Limits."
Thursday, January 16
At noon Thursday, the State Board of Elections will meet in Albany.
On Thursday at 6:30 p.m., Manhattan Borough President Gale Brewer is hosting "Trash Talk," a discussion for participants to "learn more about innovative sustainability projects in Manhattan and across the city to help New York reach its "Zero Waste to Landfill" goal by 2030. Each presenter will speak for 5 minutes on their project. The event will also include networking time for New Yorkers passionate about sustainability to meet and spark ideas with one another." Speakers will include: Diana Blackwell, President of Frederick Samuel Houses Resident Association; Matthew Civello, Chair, Manhattan Solid Waste Advisory Board; Melissa Iachan, Senior Staff Attorney, Environmental Justice Program at New York Lawyers for Public Interest (NYLPI); Mark Prehn, Food Justice Coordinator, Hell's Kitchen Farm Project; Martin Robertson, Facilities Manager, Strivers Gardens and President of HHM Consulting; Nelson Villarrubia, Executive Director, Trees New York; NYC Department of Sanitation (invited)."
Friday, January 17, and the weekend
At 8:15 a.m. Friday, the Center for New York Law and New York Law School will jointly host a CityLaw Breakfast with Richard Carranza, Chancellor, Department of Education.
Mayor de Blasio may make his weekly appearance on WNYC's The Brian Lehrer Show on Friday at 10 a.m.
Saturday will be the annual Women's March in New York City and elsewhere around the country.
***
Have events or topics for us to include in an upcoming Week Ahead in New York Politics? E-mail Gotham Gazette executive editor Ben Max any time: This email address is being protected from spambots. You need JavaScript enabled to view it. (please use "For Week Ahead" as email subject).
***
by Ben Max
@GothamGazette