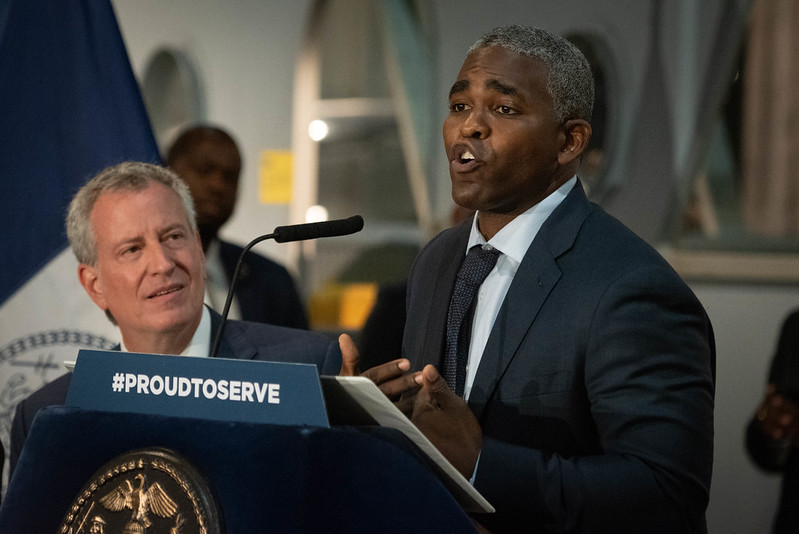 DVS Commissioner Hendon (photo: Michael Appleton/Mayor's Office)
---
At a City Council oversight hearing on Tuesday, the new commissioner of the city's Department of Veterans' Services (DVS), James Hendon, outlined two main priorities for the next chapter of his department's work and its efforts to help the city's hundreds of thousands of military veterans.
Testifying before the Council's Committee on Veterans, Hendon, who was appointed by Mayor Bill de Blasio in October 2019, said he is focused on internal restructuring of DVS and outreach to the city's veterans.
DVS was established in December 2015, becoming a stand-alone city department after having been a mayoral office, after a push by City Council members and veterans. That background and other key information was outlined in a report released by the Council's Committee on Veterans before the hearing. According to the report, DVS provides four main services for veterans living in New York City, including engagement (such as educational resources), housing and career assistance, and the VetsThriveNYC health plan, which connects veterans with mental health resources in the city specifically for them.
The goal of the oversight hearing was to "examine how DVS has changed since replacing the Mayor's Office of Veterans Affairs in 2015, the lessons it has learned, the new Commissioner's plans for the future, and what goals the agency has to improve upon to ensure that all veterans in New York City are properly served," according to the report. All five Council committee members were present, and Vincent Garcia, director of intergovernmental affairs and ombudsman, testified along with Hendon on behalf of DVS.
To begin, Hendon focused his prepared testimony on an internal restructuring that he's leading at DVS.
"To be able to best assist the constituency we serve we must first be able to examine our internal agency operations," Hendon said. "As we began this phase shortly after my arrival, DVS is presently undergoing a reconfiguration into three teams: current operations, future operations, and administration."
He drew a distinction is between the current and future operations teams. The current operations team will serve to maintain the commitments that have already begun, such as housing and engaging outside organizations, veteran service providers, and nonprofits, while the future operations team will develop strategic proposals, based on data, to introduce to expand DVS' work.
Council Member Chaim Deutsch, a Brooklyn Democrat who chairs the Council's veterans committee, pressed Hendon on how DVS will further reduce homelessness among the city's veterans. Hendon said the key is to pre-empt homelessness before it happens, breaking down the problem by the teams created by the restructuring. The current operations team will tackle ongoing housing challenges that will be eased by the restructuring. Meanwhile, the future operations team will work to streamline relevant processes.
During Hendon's initial testimony he discussed DVS' outreach work, saying, "there is no substitute for boots on the ground or in-person connections. Veterans, and the subgroups we serve, including the elderly, students, family members, LGBTQ persons, women, those transitioning from service, and even those just entering the service requires a unique, diverse, and personal approach."
Hendon said the major change in their approach to outreach is going from geographic to demographic. DVS is seeking to connect with veterans who are young professionals, students or elderly, versus those who live in a specific area. Hendon said this would allow DVS to meet veterans where they are, and a better way to begin to have a relationship with veterans.
Deutsch pressed the new commissioner on this point, asking what DVS staff was doing, and if there could be a coordinated effort by the City Council, DVS, and advocates to spread the word and make sure everyone is aware of DVS and the services it provides.
Hendon hesitantly responded saying that it is a "delicate area" to ask employees to do this other work on top of their other responsibilities. Hendon agreed to ask DVS' general counsel about an effort like Deutsch suggested.
Deutsch emphasized the need for a DVS presence at community board meetings, civic meetings, and community council meetings in all five boroughs, and Council Member Alicka Ampry-Samuel, also a Brooklyn Democrat, cited the opportunity for outreach in the waiting rooms of federally-run VA hospitals. The need for greater outreach was reiterated by many of the advocates who also testified at the hearing -- they cited the need for awareness in order for veterans to receive the full benefits of government services they may access.
Hendon also mentioned that DVS has previously focused on the city's most vulnerable veteran populations, but that DVS could also expand services to other groups, saying "young working professionals, middle class families and those looking to purchase a home, is an area of opportunity."
"Entering this next chapter we will focus our efforts on engaging the larger market share of veterans while maintaining our commitments to more vulnerable members of our community," Hendon said.
When asked about suicide rates among the city's veterans, Hendon said he could not provide numbers, but Garcia said DVS is actively working to "determine what those numbers look like, where that population is and how best to actually access that data" in an effort to know what we can do better as a society to address the prevalent issue of veteran suicide. Deutsch said he would like the numbers for the next hearing.
Jeremy Butler, the CEO of Iraq and Afghanistan Veterans of America (IAVA), said during his testimony that 43% of IAVA's members expressed suicide ideation and that nationwide, there were 6,139 veteran suicides in 2017, according to a September 2019 report released from the VA.
Advocates testified to push for services from DVS. Butler also highlighted a gap his organization has identified in DVS' work.
"A clear deficit we see within DVS is the lack of a comprehensive case management component and an over-reliance on third-party programs to make referrals and connections to resources," Butler said.
To increase DVS' ability to act quickly for veterans, such as those with suicidal ideation, IAVA is advocating for an in-house case manager and veteran officer who could streamline the process.
Kent Eiler, project director of the City Bar Association's Justice Center's Veterans Assistance Project, emphasized the need for outreach to service partners to avoid overlap in programming.
"It's vital that DVS is engaged with the city's veteran community. Its size and budget mean that to be effective, it must, prior to prescribing policy, consult with service providers and subject matter experts to learn what services are being provided to veterans, to avoid unnecessary duplication of existing services," Eiler said.
Ampry-Samuel asked about DVS' asks as the Council moves ahead in the city's budget season. Hendon said he would get back to her with specific asks and budget implications. Hendon will likely testify at a Council budget hearing in the next couple of months.
Hendon said DVS is holding a partnership convening event on February 6, to meet with the communities and advocates the department works with to better determine the path forward under new leadership.