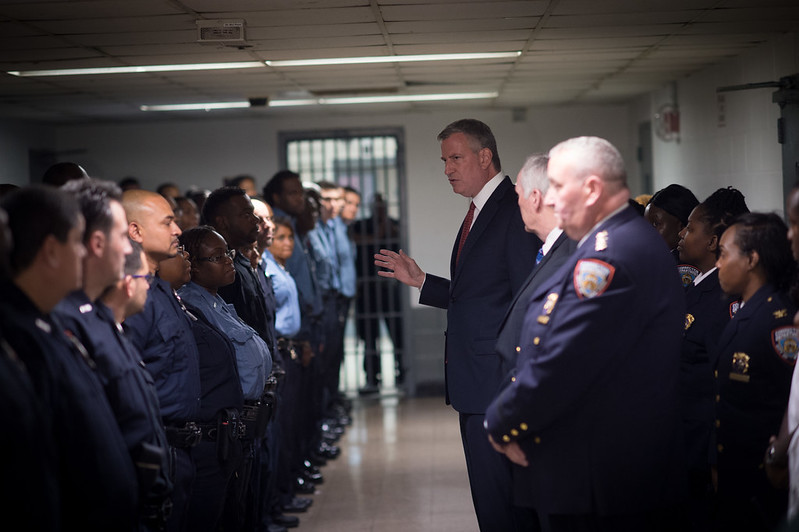 Mayor de Blasio on Rikers Island (photo: Michael Appleton/Mayor's Office)
---
In the wake of a series of damning reports showing a rise of violence and use of force in city jails -- even as the inmate population has plummeted and city government has significantly increased its spending on the Department of Correction -- lawmakers are looking at ways to address the problem, beginning with court-mandated reforms, which seem to have fallen by the wayside.
The City Council's Committee on Criminal Justice will be holding an oversight hearing next week to examine the issue of jail violence, which is increasing -- both in terms of detainee assaults and officer use of force. Council members say they will be focusing on the feasibility and potential impact of reforms discussed in a recent report by an independent federal monitor and the de Blasio administration's progress towards implementing them, together with the administration's own violence-reduction platform.
"We want to have a better understanding of which reforms are put into place, which continue to have progress that needs to be made on them, and get a better understanding of how they're actually doing it," Council Member Keith Powers, who chairs the committee, told Gotham Gazette.
The two most pressing areas to lawmakers, which they plan to raise at the February 3 hearing, are the upward trend in jail violence involving detainees, of which there are currently about 5,600, and the safety of correctional employees. Over the past decade, the rate of fight or assault infractions recorded by the Department of Correction has tripled to approximately 1,500 per 1,000 detainees, according to a December report by Comptroller Scott Stringer.
In October, a federal monitor reported officer use of force is also on the rise, with monthly incidents reaching their highest point in nearly four years, despite new policies aimed at reducing them. City spending on DOC personnel has gone up over the past decade while violence indicators increase and the total daily cost to detain an individual in a city jail is $925 in fiscal year 2019, an 85 percent increase in five years, according to Stringer's report.
Asked about the federal monitor's report showing an uptick in use of force, Mayor Bill de Blasio said on WNYC radio in November, "I would be careful to not to...read too much into that given all the programmatic changes that are being made and given – most importantly – that we're about to entirely transform our corrections system and close down the facilities that have been the root of this problem."
According to Council staff, the Department of Correction and the Board of Correction, which sets some departmental policy and plays an oversight role, have been invited to testify at the upcoming oversight hearing. DOC representatives did not say whether Commissioner Cynthia Brann, appointed by de Blasio in 2017, would be testifying. A spokesperson for the Correction Officers' Benevolent Association (COBA) said the union is likely to have a representative testify.
"We continue to hear concerns both from advocates and those representing people who are incarcerated around use of force and other measures of violence, and then we hear from folks who work there who are concerned about attacks on employees and staff," Powers said.
In response to the monitor's October report, Brann said changing the culture of violence in city jails is a long-term endeavor. "We will not be satisfied until we see substantial improvement across the board," she reportedly said in a statement at the time. "The safety and wellbeing of the people who work and live in our facilities is our top priority."
New York City jails have a long history of brutality with spikes and falls since the 1990s, when the total daily jail population was nearly 22,000 and violence was at the highest point in recent decades. Since then the jail population has dropped dramatically for a number of apparent reasons, from declining crime rates and the end of the crack epidemic, to changes in law enforcement practices and recent reform to bail laws. DOC reported a daily jail population of 7,938 for fiscal year 2019, which ended last June 30. According to the city's Open Data Portal, the city jail population on Monday (January 27) was 5,642, the lowest in decades.
But amind new scrutiny over jail conditions and a city-backed plan to close Rikers Island jails and build four borough-based replacements, recent reports show that despite the downward trend in jail population, incidents of violence by both detainees and correction officers has risen over the past decade, leading to renewed efforts to identify and curtail the causes of such incidents.
Violence in city jails became a key part of the push to close the Rikers facilities. Now, as the plan to close the Rikers jails and build new, modern facilities has moved ahead, a key yet quieter portion of the conversation has been about how to change the city's jail culture to reduce violence, increase safety, and ensure that city jails are as rehabilitative as possible. Some who opposed closing the Rikers jails said they feared the culture at Rikers would simply be replicated at new jails, while supporters of the plans talked about modern, humane jail design with more effective programming.
The court-appointed federal monitor, overseeing the implementation of recommendations following a 2015 ruling, reported in October 2019 that the city's Department of Correction "remains in Non-Compliance with four of the most consequential provisions of the Consent Judgment," including implementing a use of force policy, conducting "timely and quality investigations" and "meaningful and adequate discipline," and minimizing violence among young people.
The Department of Correction says it is working on a problem that has existed for many years and requires extensive retooling to overcome.
"Increasing safety and reducing violence always lie at the very core of our mission, and we look forward to updating the City Council on our efforts to create enduring culture change that not only makes our jails safer, but more humane," wrote Peter Thorne, DOC's deputy commissioner of public information, in an email to Gotham Gazette.
In 2015, spurred by a class-action suit over widespread use of force and civil rights abuses in city jails, de Blasio announced a 14-point plan aimed at reducing violence among detainees, with an emphasis on cracking down on dangerous contraband, changing the logic of housing placements, and enhancing video surveillance. Other elements of the plan stressed inmate-enrichment with educational opportunities and programming to "reduce idle time," according to a press release at the time. The platform also included an effort to launch specialized crisis intervention teams to target inmate violence more quickly.
A different spokesperson for the Department of Correction said that the 14-point plan has evolved since it was first announced, partially because of the ongoing work with the federal monitor established later that year. The spokesperson pointed to a number of new initiatives like state legislation authorizing the use of ionizing body scanners to better detect contraband, reducing the work-hours of correction officers, and the revamping of an investigation division, a change that has been credited with reducing sexual assaults on Rikers Island.
Yet the most recent monitor's report from October, covering the six-month period from January to June 2019, shows the total number of use-of-force incidents by correction officers was between 500 and 600, compared to approximately between 300 and 400 incidents during the first monitoring period from January to June 2016. Since January 2016, the jail population fell by roughly 2,000 detainees, indicating a higher rate of use-of-force per detainee despite recent reforms and a higher officer-to-detainee ratio.
"The Department's use of force rates during the Eighth Monitoring Period reached their highest levels since the Consent Judgment went into effect," the October 2019 report reads.
According to Nicole Triplett, policy counsel at New York Civil Liberties Union, the monitor's report shows that "the rise in violence in the jails, not from people who are detained there but actually from [correction officers], is contributing to this culture of violence."
She said NYCLU is urging the city to do a better job addressing the culture of violence. "It seems like what they have not done is look at the Department of Correction with the scrutiny that it's due to address this. And I think it's going to be necessary if not critical to move forward with their 'close Rikers' plan," she said.
Levels of violence in other areas have also increased over the last decade. The report from Comptroller Stringer, published in December, shows the rate of assault infractions per 1,000 inmates rose three-fold, from about 500 in fiscal year 2009 to 1,500 in 2019.
The comptroller's report shows correction officer safety has worsened over the same period of time: roughly 35 assaults on staff per 1,000 inmates in fiscal year 2009, compared to approximately 151 in 2019. Between fiscal years 2018 and 2019 the number of assaults on officers jumped 37 percent, according to Stringer's office.
"Our message at the upcoming City Council Hearing on jail violence will be consistent with our message over the past four years- we need safer jails now!," wrote COBA President Elias Husamudeen in an email. "We will continue to outline our proposals to make the jails safer for everyone. The question for the committee and the Council as a whole is whether or not they will actually listen and adopt our recommendations." Among COBA's biggest recommendations are to rely more heavily on solitary confinement to separate more violent detainees from the general population, a request that contradicts an ongoing advocate-led effort to reduce if not eliminate the use of solitary in city jails.
One member of the Council's Committee on Criminal Justice, Council Member Robert Holden, a Democrat representing parts of Queens, wants to see a crackdown on inmates who commit violence, especially as the use of solitary confinement has been drastically cut down since de Blasio took office in 2014. According to a DOC spokesperson, the population in punitive segregation in 2014 was nearly 700, with a backlog of 1,700 more ordered to solitary, compared with a population of 117 on November 28, 2019.
"It seems like violence in jails has been increasing, especially against correction officers, and detainees aren't given additional punishment for it," Holden said in an email to Gotham Gazette. "I believe that the most violent inmates should be separated from the general population, from other fellow gang members, or put in punitive segregation."
"I'd like to see an explanation as to how the most violent people in our jails will be dealt with going forward. I proposed two bills in 2019 related to this topic, and I don't know why they aren't at least being heard in the committee," he added. One of Holden's bills would allow DOC to place detainees ages 18 to 21 in punitive segregation (solitary confinement) when they commit violence and have already received counseling. The other would require DOC to take gang affiliation into account when assigning housing to detainees.
"The focus of the hearing is to do oversight and the Chair looks forward to hearing Members' input," wrote Liz Peters, a spokesperson for Powers, in response to Holden's comments.
One trend that has accompanied the reduction in jail population is the smaller ratio of detainees to correction officers. According to the latest monitor's report, "The Department enjoys the largest staffing compliment for jails in the United States with an inmate-to-staff ratio of 1 to 1.3."
According to Michael Jacobson, the executive director of CUNY's Institute for State and Local Governance and a former correction commissioner in the 1990s, "the staffing has basically stayed the same" since the '90s as the jail population has dropped by approximately three-quarters.
"The ratio of staff to inmates now is unbelievable. I believe it's probably the most richly-resourced correctional system on the planet," he recently told Gotham Gazette.
Another issue is staff turnover, which is extremely high, with some jail facilities cycling through up to six wardens in a three-and-a-half year period from January 2016 to June 2019, according to the latest report from the federal monitor. Powers told Gotham Gazette this would likely be a focus at the upcoming oversight hearing.
The causes of rising jail violence are likely many, Powers said. "We want to have a better understanding of why it's happening and what steps the Department of Correction can take to reduce violence in the coming year."